Over the years, we've watched many American basketball players compete in international tournaments; however, very few players like Tim Duncan have successfully made it to the top of NBA chart.
Duncan is an accomplished professional basketball player who successfully spent his nineteen-year career with San Antonio Spurs as the team's power forward. The pro basketball player was born on April 25, 1976, in Saint Croix, U.S, Virgin Islands, to Ione Duncan and William Duncan. He was raised in his birthplace by his mason father and mother who was a midwife.
The only son of his parents, Tim grew up together with his two sisters – Cheryl and Tricia Duncan, his older sister who rose to prominence after representing U.S. Virgin Islands as a swimmer at the 1988 Summer Olympics.
Growing up, Tim's childhood dream was to become a successful swimmer like his elder sister. Although his parents gave him their blessings on becoming a swimmer, his ambition crashed like a pack of cards due to the destruction of Virgin Island's only standard swimming pool in 1989 by Hurricane Hugo and the painful death of his mother a day before his 14th birthday.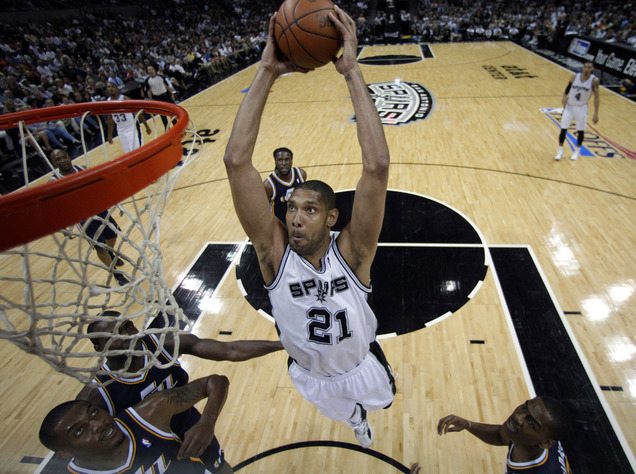 Ione Duncan lost her battle with breast cancer, leaving Tim and his sisters devastated and dejected. Stricken by the painful loss and the negative effect of Hurricane Hugo, Tim lost interest in swimming and competition. He eventually ended up turning to basketball after he was inspired by his brother-in-law.
At first, adapting to basketball was very difficult for the Saint Croix-born athlete. But with the help of his huge figure and consistent training, Duncan gradually metamorphosed into a high-powered basketball player, becoming a star by his ninth grade.
As time moved on, Duncan began drawing the attention of renowned universities such as the University of Delaware, Providence College, and the University of Hartford. The Wake Forest University, in particular, developed an interest in him after he drew with NBA legend Alonzo Mourning in a 5-on-5 pick-up competition.
In the long run, Duncan settled for Wake Forest Demon Deacons after the university's basketball coach, Dave Odom, eventually believed in his rare basketball talent and self-assurance.
Tim's stint at Wake Forest came to end in 1997, having begun a career with the team in 1993. He officially retired from basketball in 2016 after a 19-year career with San Antonio-based basketball team, the San Antonio Spurs.
Tim Duncan's Wife, Kids, Divorce
Tim Duncan was previously married to Amy Duncan. The couple got married in 2001 but called it quits in 2013 following cheating allegations against both of them. According to multiple reports, Amy was the first person caught in the cheating scandal as she reportedly had an affair with her personal trainer.
As things got messier and attracted huge media coverage, she publicly accused her husband of being gay and having something with his boyfriend who was staying in the same apartment with them even after their wedding.
Some sources claimed that Tim knew about his wife's extramarital affairs with her trainer but decided to keep it under wraps because he never wanted Amy to find out about his relationship with his boyfriend, who he reportedly met while playing for Wake Forest basketball team.
Through their twelve years of marriage as husband and wife, the 14-time NBA All-Star and his ex-wife, Amy share two children – Sydney Duncan and Draven Duncan.
Girlfriend
Duncan is currently in a relationship with his longtime girlfriend Vanessa Macias, with whom he welcomed his third child, Quill Duncan. The retired basketball player reportedly named his daughter (born March 2017) after Marvel Comics superhero character, Peter Quill.
Born to Gloria Macias and Joe Macias on August 4, 1980, in San Antonio, Texas, Vanessa is a popular American radio personality. She is best known as the host of The Amazing Race TV show. Quill Duncan is her first child as she has never been married to any man – unlike her hunky baby daddy.
Is Tim Duncan Gay?
Tim Duncan may be gay but there's no authoritative evidence backing his wife's claim that he cheated on her with his longtime boyfriend. While Amy may want to go to any length to validate her claim, many NBA players and Tim's supporters believe she made up the story to escape blame for her wrongdoing and that the professional basketball couldn't have cheated on his wife.
For now, we will assume Tim Duncan is not gay since he actually got married to a woman and recently welcomed his third child. Until he sorts out his differences with his wife and publicly set the records straight on his sexual orientation, we'll assume he is straight.
Salary
Described as the finest power forward in basketball history, Duncan had an impressive career as a basketball player. He holds the record as a three-time NBA Finals MVP, two-time NBA MVP, and NBA Rookie of the Year, five-time NBA champion, and NBA All-Star Game MVP.
See Also: Esperanza Spalding Bio, Husband And Facts About The Musician
The 15-time NBA All-Star player also made history in all of his first 13 seasons as the only basketball player to be included in both the All-Defensive and All-NBA teams. His net worth is estimated to be around $130 million as of 2017.
Height
With a decent height of 6 feet 11 inches and weight of 113 kg, Tim Duncan is nothing short of a 'perfect' basketball player. The good-looking star is also blessed with a well-toned body which complements his huge figure.