Tim Allen is one of America's high-profile personalities whose personal life and professional career are of interest to the world as he is always in the spotlight.
Allen is undoubtedly one of the finest actors Hollywood has ever produced, having begun his acting career since 1975 till now. He has at least, forty films, twenty television series, four video games, twelve awards and honors, and eight nominations to his name. In addition to his acting career, he also makes money as a comedian and an author.
Only a few people know that Allen had an ugly past which included addiction issues and a two-year jail term for drug trafficking while many others only know him as Hollywood's leading actor. In this article, you'll get to know more about the iconic actor, particularly lesser-known facts about his family, sexual orientation, if he is dead or alive, and many more.
Tim Allen's Biography (Age)
Tim is professionally known as Tim Allen but was born Timothy Alan Dick on June 13, 1953, in Denver, Colorado, in the U.S. His parents are Gerald M. Dick and Martha Katherine. Gerald was a real estate agent while Martha is a community service worker.
Tim lost his father to a fatal accident when he was eleven years old. This tragic incident led to his mother marrying her high school darling after two years. The third oldest of five brothers, Tim, together with his mother and brothers later moved to Birmingham, in Michigan, to live with Martha's new husband and his three kids.
The American actor had his high school education at Seaholm High School which is situated in Birmingham. He later proceeded to Central  Michigan University, from where he moved to Western Michigan University, graduating in 1976 with a Bachelor of Science degree in Communications in radio and production with a split minor in philosophy and design.
Career 
Tim Allen has a robust acting career which actually began during his days at Seaholm High School in Birmingham, where he was a member of the school's theatre and music group. The Denver-born star began his career in 1975 as a comedian. His years in comedy saw him perform at high-profile events. One of his notable performances was at Mark Ridley's Comedy Castle in Royal Oak, from where he was hired to make appearances at late-night talk shows and make a special recording on films.
Tim Allen's acting career began sometime around the late 80s in Detroit. He started out on local television commercials and then on comedy shows like Some Semblance of Sanity. The A-lister later moved to Los Angeles from Detriot to become a full-time comedian at The Comedy Store. He had his career breakthrough in 1991 when he was cast as the main character in Home Improvement, an ABC sitcom which ran from 1991 to 1999. Produced by Wind Dancer Productions, Tim played the character Tim "The Tool-Man" Taylor and was paid US$1.25 million per episode. He also starred in Disney's high-grossing films, The Santa Clause in 1994, Jungle 2 Jungle in 1997, Galaxy Quest (a 1999 sci-fi parody), Christmas with the Kranks (2004 as Luther Krank), Zoom (2006), The Santa Clause 2 (2002) The Shaggy Dog and The Santa Clause 3 (2006), sitcom Last Man Standing (2011–2017), and many more.
Net Worth
In Hollywood, becoming a superstar entails tirelessly working your way up the rank and Tim Allen seems to have gotten to the top of the list with his flawless acting skills. We may not know how much he makes from each movie he appears in but his eye-popping net worth shows how much he has successfully made in the movie industry, from commercials, and as a writer.
As a writer, Allen has done wonderfully well. His book, "Don't Stand Too Close to a Naked Man", is one of the finest, having topped the New York Times best-seller list sometime in 1994. Allen, in 1995, provided the voice of Buzz Lightyear in Toy Story and also in Toy Story 2 in 1996. He also worked with the "Travel Michigan" agency as the narrator of "Pure Michigan" on television and radio.
In 2010, he was the host of the 8th Annual TV Land Awards and later became the official voice of the "Chevrolet Cruze" in the same year. In 2017, Tim was unveiled as part of the cast of El Camino Christmas, a Netflix comedy film. The A-lister also has an honorary Fine Arts degree and the Distinguished Alumni Award presented by Western Michigan in 1998 under his name.
The American actor's fortune is valued at $80 million.
Family – Wife and Daughter
Tim Allen has been married twice. His first wife is Laura Deibel, an American producer, actress, and director. The pair got married on April 7, 1984, and legally got divorced on March 1, 2003. Their marriage was blessed with a daughter, Katherine Allen, who was born in 1989.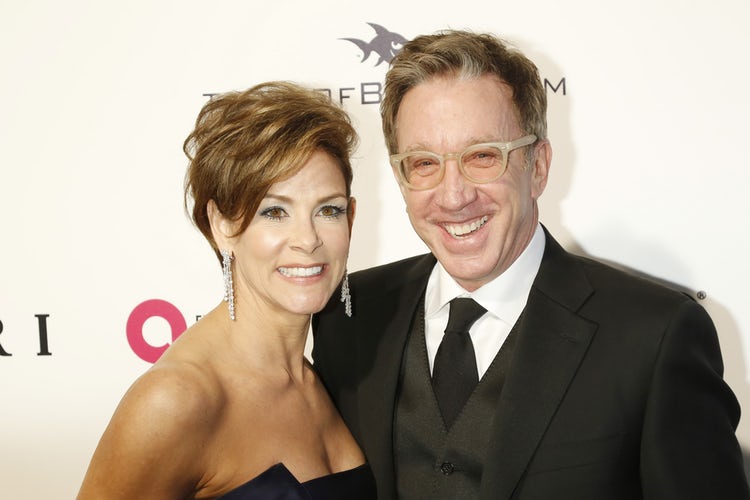 Shortly after separating from Deibel, he began dating Jane Hajduk, an American television personality and voice actress. The lovebirds got married in a small private ceremony held in Grand Lake, Colorado, in 2006, after dating for five years. Tim and Hajduk welcomed their first child together in March 2009. Her name is Elizabeth Allen.
Height – How Tall is Tim Allen?
Tim Allen is 5 feet 10 inches (1.79m) tall, which makes it possible for him to be easily identified in a crowd.
Is He Gay?
Hollywood powerhouse Tim Allen is not gay. He has never given us reasons to question his sexual orientation. Moreover, he has been married twice and has two lovely daughters.
See Also: Nicola Peltz Net Worth, Age, Height and Other Facts To Know
Is He Dead or Alive?
The stand-up comedian is still alive, healthy, and kicking strong. He was recently reported to have passed away in his home but the news later turned out to be a hoax.
News about his passing started spreading after an 'R.I.P. Tim Allen' Facebook page surfaced with nearly one million of 'likes', leading to hundreds of fans sending in their condolences.
Allen's reps would later confirm that the actor is still alive and was a victim of the celebrity death hoax.