From living in foster care and being homeless to becoming one of TIME Magazines Most Influential people in the world in 2018, as well as the first female African American to host the SNL in 2017, Tiffany Haddish's life tale is a typical example of a rise from grass to grace. Her journey to the top has no doubt inspired many. The actress and comedian began her show business career officially in 2005.
Her first ever taste of fame came when she began performing stand up at Bill Bellamy's Who's Got Jokes? a comedy competition. Following a period of playing supporting roles in various TV shows, Tiffany gained recognition for her role as Jackie in OWN (Oprah Winfrey Network) TV's TV show, If Loving You Is Wrong.
Her next big show was The Carmichael Show before she scored big with the feature film, Girls Trip (2017) which remains her biggest big screen outing yet. Tiffany got more fans on her side after she stole the show at the Oscars in 2018. Later that year, she deployed her comic abilities to host the MTV Movie and TV Awards. Follow us as we discuss some details about her personal life.
Father, Mother
Tiffany Haddish had a rough childhood, to say the least. She was born on December 3, 1979, in Los Angeles, California to Tsihaye Reda Haddish and Leola. Her dad, Tshihaye was a refugee who immigrated to the US from his native country Eritrea in Africa. His own family was Jewish. Tiffany's mother, on the other hand, was African-American. She was a Jehovah's Witness and ran a small business.
Three years after Tiffany was born, her father abandoned the family to the sole care of her mother, Leola who would later marry another man that would become a father-figure to Tiffany.
From her mother's new marriage, Tiffany came to have four step-siblings including two half-brothers and two half-sisters. Tragically in 1988, Tiffany's mom, Leola, was nearly killed by the plot of her stepfather. He had tampered with the brakes of her car which resulted in an accident that left her with severe brain injuries causing her to develop schizophrenia. Tiffany's stepfather's original plan was that Tiffany and her siblings get involved in the accident but fortunately, they didn't join their mom on the day of the tragic incident.
As a result of the schizophrenia, Tiffany's mother, Leola became abusive towards Tifanny as well as her siblings. As a result, Tiffany had to be placed in foster care alongside her siblings.
After years of being estranged from her biological father, Tiffany reunited with him thanks to the help of her then husband-to-be William Stewart who is a detective. It was Tiffany's lifelong dream to have a dance with her father on her wedding day and she couldn't be happier when her detective flame told her he could make it possible. Tsihaye was found in Philadelphia. Though Tsihaye didn't want his daughter to get married, he fulfilled her dreams and walked with her down the aisle on her wedding day, a day Tiffany describes as the happiest of her life.
Unfortunately, on May 11, 2017, her dad passed after suffering from pneumonia and heart failure. Tiffany visited Eriteria for the first time in her life in January 2018 to bury the remains of her father. In honor to him and her native land, Tiffany, for her Oscars 2018 look, dressed in an Eriterian ensemble.
Is Tiffany Haddish Married? Who is her Husband?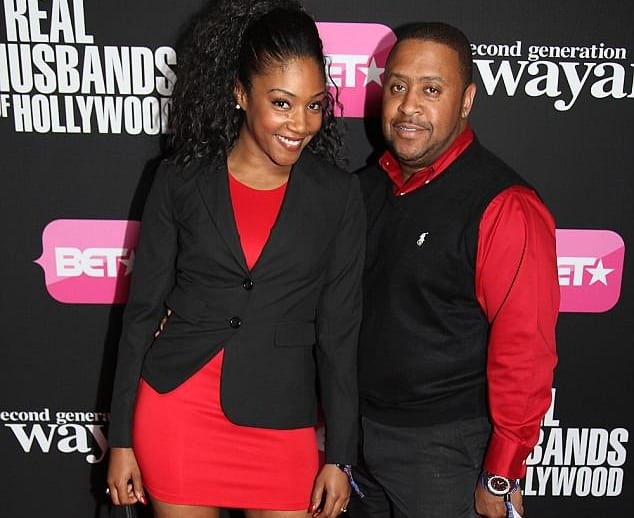 Tiffany Haddish was previously married to William Stewart. However, Stewarts own side of the story debunks Tiffany's claim that they were married and divorced twice in 2011 and 2013.
In her New York Times best-selling memoir, The Last Black Unicorn, Tiffany in a chapter titled The Ex-Husband, detailed how Stewart was abusive to her physically and caused her to have a miscarriage.
However, Stewart in May 2018 sued Tiffany for defamation and denying both claims. He denied abusing Tiffany and also said that she had an abortion. Stewart sued her for over $1,000,000 in a libel.
Read Also: Rashida Jones Parents, Husband, Sister, Family, Net Worth and Tupac
Height and Other Quick Facts
Tiffany Haddish stands 5 feet 6 inches tall.
Net Worth: $4 Million
Kids: None
Spouse: William Stewart (divorced – 2013)
Parents: Tsihaye Reda Haddish and Leola
Education: El Camino Real High School, Woodland Hills, San Fernando Valley, Los Angeles, California.