Mindy Kaling has faced some controversies in her career and life, including plastic surgery speculations. It is rumored that she has undergone multiple plastic surgeries and cosmetic procedures such as rhinoplasty, Botox, and lip fillers.
It is alleged that this has radically altered her looks from what they used to be when she first came to the limelight in 2005. Kaling has yet to address these rumors, but her fans have defended her, ascribing her present appearance to makeup, better lighting, Instagram filters, etc.
Mindy Kaling's Plastic Surgery Rumors First Surfaced Around 2018
Mindy Kaling first shot to fame in 2005 due to her multi-faceted work, as an actress, writer, and producer, on the hit TV show, The Office. She has since enjoyed an upward trajectory with several hit TV shows to her name. She has become a regular fixture at award ceremonies over the years, and her red carpet looks have accordingly transformed as she grew more popular.
Fans have noticed this transformation and have commented on it over time. However, by 2018, many started speculating that Mindy Kaling had undergone plastic surgery as well as other cosmetic procedures to alter her appearance. This led to vigorous arguments on several platforms, including Lipstick Alley as well as Reddit.
Some of the Plastic Surgery Procedures Mindy Kaling has Allegedly Undergone 
Some people believe that Mindy Kaling has undergone multiple procedures such as rhinoplasty, chin manipulation, lip fillers, etc.
Rhinoplasty
A rhinoplasty is a plastic surgery procedure for altering and reconstructing the nose. A few sections of the public accuse Mindy Kaling of having done a nose job, but this has never been confirmed as true. Then again, even a glance at some of her old and recent photos doesn't show any marked difference in the shape of her nose.
Chin Manipulation
Mindy Kaling is also alleged to have undergone chin manipulation, which is more accurately known as a genioplasty. A genioplasty is a form of cosmetic surgery that involves repositioning or reshaping the chin to achieve better facial harmony.
Some fans point to past and present photos of Kaling as evidence that she has undergone this procedure, but other people have asserted that the difference may just be down to her putting on weight and wearing better make-up.
Botox Fillings
Botox fillings can be used to treat conditions such as excessive sweating or an overactive bladder, but they are famously used for reducing facial wrinkles. It has been speculated that Mindy Kaling has gotten Botox fillings on her face to smooth out some wrinkles, and this may well be true given that her face looks quite smooth for someone in her 40s. Then again, this may not necessarily be due to Botox but rather proper skin care as well as genetics.
Skin Lightening
Mindy Kaling has Indian parents, and when she first shot to fame in 2005, her skin was noticeably dark in line with her ethnic origins. It is now alleged that she has gotten fairer with the passage of time and a look at her old and new pictures seems to confirm this.
This does not necessarily mean that Mindy Kaling has bleached her skin. Many point out that her glowing looks may be down to simple explanations such as better make-up, lightning, and better skin care. They also feel that better hair, clothes, and a good fitness regime also contribute to the supposed fairness.
Chemical Peel
There is also the possibility that Mindy Kaling has gotten a chemical peel. A chemical peel is a technique that can be used to smoothen the texture of facial skin. It can be used to improve the appearance of acne scars, melasma, sun-damaged skin, wrinkles, and several other conditions. It can also be used to lighten dark spots.
Seeing all the remarkable things that one can possibly achieve with this procedure, it is very highly likely that Mindy Kaling has gotten a chemical peel which explains her glowing looks rather than any plastic surgery procedure.
Lip Fillers
Lip fillers are injections that are used to increase the volume of the lips and make them look fuller. This is one cosmetic procedure that many people are in agreement that Mindy Kaling has undergone.
The comic and producer even made it to a top ten list of celebrities who have had lip fillers. Many people believe that Kaling's lips are as swollen as a duck's, while others point out that her lip fillers are negligible. Some people also think that she looks terrible in it, while others are of the view that the outcome is quite good.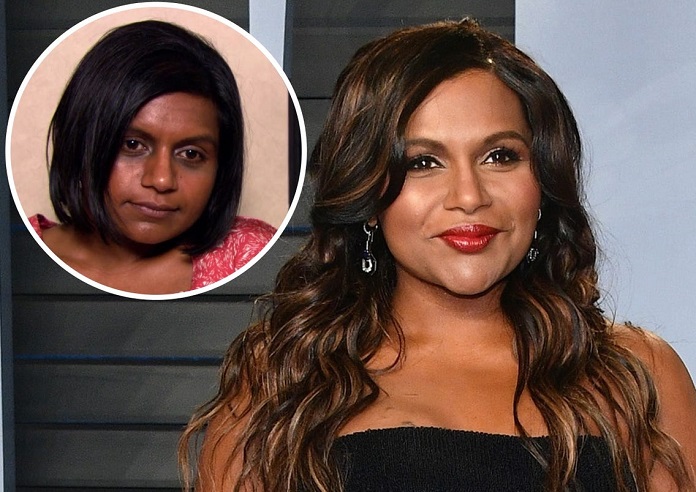 Mindy Kaling Is Yet to Directly Respond to the Plastic Surgery Rumours
The plastic surgery rumors surrounding Mindy Kaling have led to several debates online. There are those who believe that she looks artificial and horrible. There are, however, others who have defended her stoutly. They believe that she still looks great and has the right to do whatever she wants with her body.
Through it all, Mindy Kaling has never directly addressed her rumored plastic surgeries. She, however, once posted a before and now picture of hers on Twitter and boldly declared that there was no difference in her looks.
Kaling also revealed in a 2020 Washington Post interview that she did not have vices like an addiction to plastic surgery. Such a statement reasonably means that while she is not above undertaking one or two common cosmetic procedures to enhance her look, she is not crazy about undergoing multiple plastic surgery procedures.
Has Mindy Kaling Undergone Plastic Surgery?
There is no reliable confirmation of the rumors that Mindy Kaling has undergone plastic surgery. It is more plausible that her stunning looks, even as she gets older, are due to better skincare, make-up, clothes, and minor cosmetic procedures such as a chemical peel and lip fillers.
The plastic surgery rumors surrounding Mindy Kaling won't go away anytime soon, but through it all, she will likely remain an icon. Back in 2014, Mindy Kaling was praised for being one of the Indian-American media personalities who had shaped cultural standards of beauty in mainstream media.
According to experts, her presence has so inspired many ladies that even if they want to undergo a plastic surgery procedure on a particular feature of their body, they still maintain that they don't want to lose their racial and ethnic identity.