Marriage is often complicated and it takes lots of conscious and deliberate effort to make it work. Lane Kiffin and Layla had so much in common that their love appeared to have been made in 'sports heaven'. They are both from families with a long history of commitment to sports. Lane's father (Monte) is a long-time defensive coordinator in the NFL while Layla's father (John) was a quarterback player for several years before becoming a coach after retirement. Most of their siblings also pursued a career in sports. While they appeared to have had it all together, appearing side by side at several public events, things began to fall apart for them and it ultimately led to their divorce in 2016 after 16 years of being married.
Post-Divorce Lane Kiffin Has Been Very Private With His Family Life
From the shame of being dubbed a cheater to having to shell out a huge chunk of his wealth for divorce settlement, the 2016 divorce from Layla really did take a toll on Lane Kiffin. During the divorce proceedings, the coach had said in his statement that he would want the media to allow them some privacy so that they can focus on the difficult situation they were going through at the time.
Years have passed since then and Lane Kiffin has continued to shroud his family life in secrecy. He did say that he would focus on co-parenting alongside his ex-wife and maintain an amicable relationship with, and as far as we can tell, the coach does seem to be doing this away from the media eye. After their divorce, Layla had relocated with the kids to Manhattan Beach, California, however, it is uncertain if they still reside here, even Layla who was once active on social media became very private, operating no social media accounts after the divorce.
While our guess is as good as anyone's regarding what might be going on with Lane Kiffin's family, on the career front, things do seem to be going smoothly. After his 2-year stint as the offensive coordinator at Alabama Crimson Tide, Kiffin got another job, this time one with more responsibilities – the head coach of Florida Atlantic Owls where he served for three years before receiving the head coach job at Ole Miss.
It would not be entirely wrong to insinuate that Kiffin's family life is going well, judging by the success of his career. He has also bounced back from the financial woes of the divorce. His head coach job at Ole Miss. paid him $3.9 million in 2020, the four-year contract is worth over $16 million and for the next three years, he would be receiving a $100,000 yearly increment.
Lane Kiffin Met His Ex-wife Layla Through His Father, Monte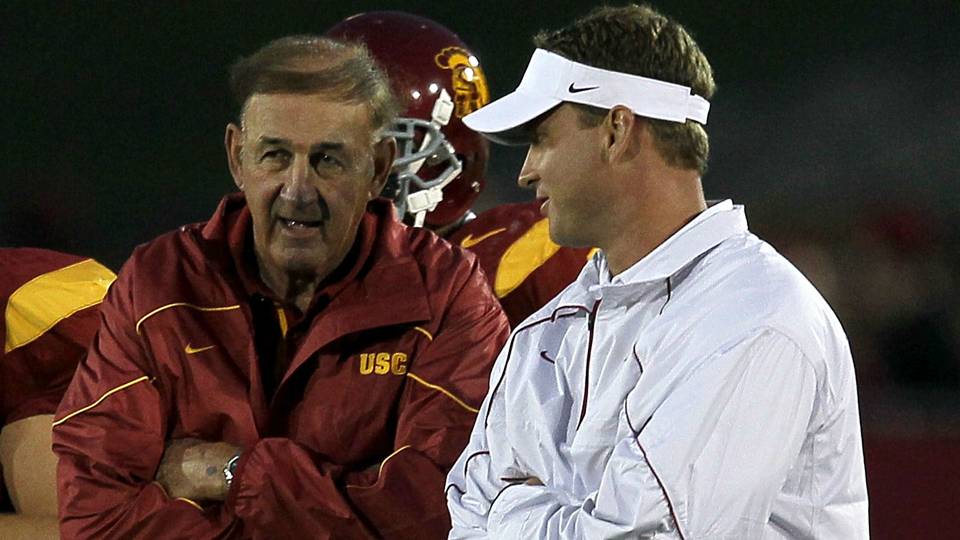 For core football lovers, Lane Kiffin's father Monte Kiffin needs no introduction. He is a man who has been successful both on and off the field and has taken his son Lane by the hand through his pursuits in football coaching. The father-son duo has worked together in football in many capacities. Being that close to your father would also mean that he could likely have an effect on your personal life and that seemed to be the case with Lane. His father Monte brought him and his ex-wife together.
It was in 1999, Lane was working as a graduate assistant in Colorado State while Layla was working at the special events department of the Tampa Bay Buccaneers where Lane's father Monte also worked, serving as the team's offensive coordinator. Lane decided to go pay his father a visit and at the team's facility and there he met Layla, it was love at first sight for the duo who began dating almost immediately after they met. Theirs was a whirlwind romance as they were ready to be married just after three months of dating.
Before popping the question to Layla, Lane, in true conservative style sought the permission of her father John Reeves who out of shock spoiled the engagement surprise for his daughter, however, it was a happy moment for the family. Dan Reeves who works in real estate once spoke of the experience to the media, saying that his receptionist called him to say that Lane was in his office to see him. Reeves said he thought Lane had quit coaching and was there to seek a real estate job but instead he asked for his permission to marry his daughter, in expressing his shock, Reeves called his daughter Layla to ask if he was serious. The couple got engaged on that same day. Lane Kiffin and Layla got married that same year in 2000.
What We Know About His Wife Layla Reeves
Born Layla Reaves in 1976, Kiffin's ex-wife attended Bucholz High School and rounded up her education in 1997 at the University of Florida where both of her parents attended. After college graduation, Layla began working in the special events department with the Tampa Bay Buccaneers which brought her and Lane together.
Her father John Reeves was a popular Florida footballer back in the day, he was a quarterback at the University of Florida. He played in the NFL from 1972 to 1987, sandwiched between in NFL stints was his playing time at USFL between 1983 and 1985 when the league was dissolved. He played for NFL teams such as the Philadelphia Eagles, Cincinnati Bengals, Minnesota Vikings, Houston Oilers, and of course the Tampa Bay Buccaneers. Layla's father battled with drug abuse and was said to be sober in 2009.
Though Layla was on a promising career path before meeting Lane, she chose to become a stay home mom after welcoming kids with the football coach. According to her, she loved the way her career was progressing but she needed to devote all her time to her kids. Apparently, she found it more satisfying to stay at home and care for her children.
Her husband's career took off after their marriage and he ended up being the youngest head coach in NFL in recent history. The support and stability that Layla provided for the family afforded Lane the freedom to nurture his career.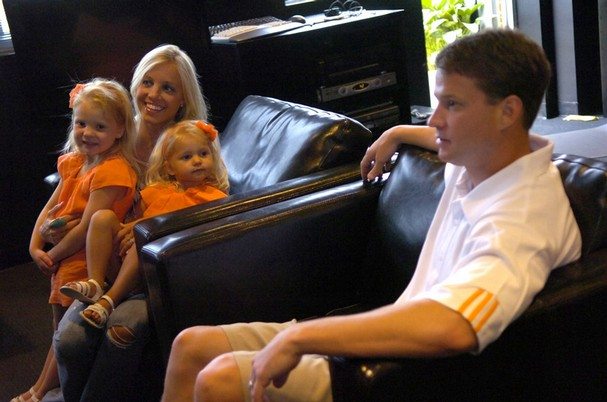 Layla has a brother named David Reaves who is also in football. When Lane was at Knoxville, he hired his brother-in-law to serve as the Volunteers quarterbacks coach for one season. David would later move to work on the coaching staff at USF, before joining the Bulls staff in January 2013 as the wide receiver's coach, he served as the assistant head coach in the 2016 season. In 2002, he was serving as the Defensive Coordinator @UAB.
It is uncertain if Layla has found another lover since the divorce. Layla used to be very active on social media but is hardly seen on such platforms of late.
Their Divorce Came After Infidelity Rumors
On the 28th of February 2016, Lane Kiffin and Layla announced that they were getting a divorce, citing irreconcilable differences. The news of their impending divorce didn't come as a surprise considering the reports about Lane's alleged affair with Kristen (Nick Saban's daughter) and another mystery woman.
While the affairs were never confirmed, the reports were potent enough to sow a seed of discord in their marriage. Anyway, due to the 'irreconcilable differences', they decided to go their separate ways while concentrating on raising their children together.
It appeared that the divorce settlement financially wrecked Lane Kiffin a great deal. He once disclosed that the court ordered him to pay Layla 34.5% of his income. Lane pointed out that his taxes amount to about 52%, with his agent also getting 3%. With that, he cried that he hardly had any income left.
Lane and Layla Share Three Kids Together
Lane grew up in a tight-knit family and enjoyed a close relationship with his father. It's no wonder he was eager to start his own family. He has shared in a series of interviews that fatherhood made him a better coach as there are lots of similarities in the roles. He strives for both his children and players to thrive in all their endeavours.
After their 2004 wedding, Lane and Layla welcomed their first child named Landry in 2005, their second child, Presley, was born in 2007 while Monte Knox, named after Knoxville was born in 2009.