Tempestt Bledsoe is an American actress who is in a long-term relationship with Darryl M. Bell, her partner of over 3  decades. Tempestt rose to fame as an 11-year-old when she began playing the role of Vanessa Huxtable in The Cosby Show. The Illinois native was on the show from 1984 to 1992 and has since gone on to appear in many other projects.
Bledsoe's career has been a topic of interest to many but even more, is her love life. Tempestt Bledsoe is not married but has been in a 30 year relationship with actor Daryl Bell. The pair have no kids together and also appear to have no intention of making their union official with a wedding.
Tempestt Bledsoe's Profile Summary
Full name: Tempestt Bledsoe
Gender: Female
Date of Birth: August 1, 1973
Place of Birth: Chicago, Illinois, United States
Tempestt Bledsoe's Age: 50 years old
Ethnicity: African-American
Nationality: American
Zodiac Sign: Leo
Sexual Orientation: Straight
Marital Status: In a relationship
Tempestt Bledsoe's Partner: Darryl M. Bell (1993–present)
Tempestt Bledsoe's Parents: Willa Bledsoe (mother)
Tempestt Bledsoe's Height in Inches: 5 feet 8 inches
Tempestt Bledsoe's Height in Centimetres: 173 cm
Tempestt Bledsoe's Weight: 60 kg
Tempestt Bledsoe's Net Worth: $6 million
Famous for: The Cosby Show as Vanessa Huxtable
Tempestt Bledsoe's Instagram: tempesttbledsoe
Twitter: @TempesttBledsoe
Tempestt Bledsoe Was Born in Chicago
On the 1st day of August 1973, Tempestt Bledsoe was born with a birthmark on her right arm. Her parents welcomed her in Chicago, Illinois. Facts about her growing up years are not out in the public space and it is not clear if she grew up as an only child of her parents.
One thing is certain though, Bledsoe is well-educated and furthered her studies to tertiary level. She acquired a degree in Finance from New York University but details of her prior educational background have not been made public. She, however, started honing her acting skills right from childhood.
Her debut role as an actress came as far back as the 1980s and she literally hit the ground running in her foray into the entertainment industry.
Tempestt Bledsoe Began Made Her Acting Debut in 1984 On The Cosby Show
Apart from a few appearances on the big screen, Tempestt Bledsoe's entire career has focused on the small screen. She started as a child star on the renowned Cosby Show which ran from September 20, 1984, to April 30, 1992. The actress was a regular on the show throughout its run and met her longtime friend Pam Potillo on the set. On The Bill Cosby Show, Bledsoe played the role of Vanessa Huxtable.
Her character is the fourth child of Cliff and Clair Huxtable. While The Cosby Show lasted, it attracted a massive fan base with millions of people tuning in for every episode and this made the stars more famous. As such, Bledsoe enjoyed the fame that came with the show as she played her role for almost 10 years and became of the favorites. She also ranked #51 in VH1's list of the "100 Greatest Kid Stars".
Aside from The Bill Cosby Show, she reprised her role as Vanessa Huxtable on other TV shows, including Instant Mom and a spin-off of The Cosby Show – A Different World. The latter is also an NBC sitcom that aired from 1987 to 1993, focusing on the life of Denise Huxtable.
Her Other Works as an Actress
My Character Sheriff Hooper in Paranorman, in theaters August 17th…she's no joke! http://t.co/5xx2IGoF

— Tempestt Bledsoe (@TempesttBledsoe) August 5, 2012
The Illinois-born actress has worked on several television productions since her professional acting career took off in 1984. She began as a child star in The acclaimed Cosby Show as Vanessa Huxtable and starred in the regular role in 157 episodes. Before the end of the decade, she has appeared in at least ten more shows, including Hollywood Squares, ABC After School Special, Monsters, A Different World, and The Earth Day Special.
From 1990 to 2000, Bledsoe was still basking in the glory of her Vanessa Huxtable role and bagging new roles on the small screen. She appeared as herself on The Fresh Prince of Bel-Air in 1995 and the same year, she started hosting her own show – The Tempestt Bledsoe Show which ran from 1995 to 1996. Other notable shows she appeared in include The Practice, The Parkers, Jenny, and Santa and Pete. Bledsoe also made her big-screen debut in Johnny B Good (1998)
Tempestt Bledsoe played herself in 3 episodes of Pet Star in 2003 and 3 episodes of South of Nowhere in 2006. She also played Tanika in the TV movie The Expendables in 2000. The biggest role she played in the 2000s should be when she replaced Erica Hubbard in season 2 of The Replacements and appeared in 21 episodes.
Her most recent roles can be found in Family Reunion where she appeared in one episode as Katrina in 2019, Instant Mom as Vanessa Huxtable in 2014, Guys with Kids as Marny (2012-2013), and she also hosted 12 episodes of Clean House from 2010 to 2011.
On the big screen, she voiced Sheriff Hooper in 2012's ParaNorman, her role in the animated comedy horror film produced by Laika is one of her prominent gigs in movies. Aside from ParaNorman, Tempestt also played roles in other movies like Bachelorman (2003) as Janey, N-Secure (2010) as Jill, and Jingle Belle (2019) as Jackie.
Has Tempestt Bledsoe Retired From Acting?
The Cosby Show star is yet to take a bow from acting, at least she has not said otherwise. However, with her last screen appearance being in 2019, it's easy to assume that she has retired from acting, but this does not seem to be the case.
She played the role of Katrina in Family Reunion in 2019 and depicted Jackie in Jingle Belle in 2018. She may not be visible in any recent project but Tempestt Bledsoe is still active in the entertainment industry with a number of acting works to show for it.
Some of her notable acting works
The Cosby Show (1984-1992)
Hollywood Squares (1986-1988)
ABC Afterschool Special (1986-1994)
A Different World (1989)
The Earth Day Special (1990)
The Tempestt Bledsoe Show (1995-1996)
The Practice (1998)
Pet Star (2003)
South of Nowhere (2006)
The Replacements (2008-2009)
Clean House (2010-2011)
Vietnam in HD (2011)
Guys with Kids (2012-2013)
Instant Mom (2014)
Family Reunion (2019)
Tempestt Bledsoe Husband, Kids
Tempestt Bledsoe Is In A Longtime Relationship With Darryl M. Bell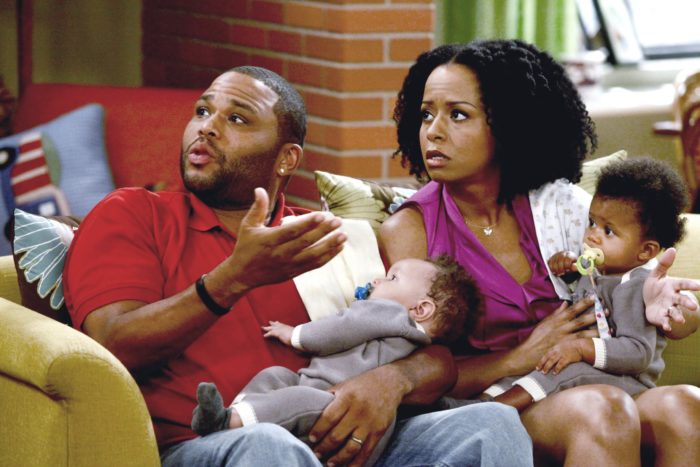 When she played the role of a working mom in Guys With Kids opposite Anthony Andrson as Gary, speculations went rife that Tempestt was a married woman with children. But the truth is, the actress is not married and doesn't have children either.
The Cosby Show star has not been single either, she has been in a relationship with Darryl Bell since 1993. The lovebirds co-starred in A Different World in 1989, a spinoff of The Cosby Show spin-off. Working on the show tightened their bond and they have remained together since then.
According to the actress, they are cool with the way things are, not being married and all, and would want to keep it that way. The 30 year-long partnership has seen mostly good blissful days with no scandal in the public space.
What is Tempestt Bledsoe's Net Worth?
Tempestt Bledsoe, who is widely known for her long-running role on The Cosby Show among other projects, has a net worth of $6 million.
Who is Tempestt Bledsoe's Husband?
The actress is not married but has, however, been in a 30 year-long relationship with actor Daryl Bell. The duo began dating in 1993.
How Many Kids Does Tempestt Bledsoe Have?
Tempestt Bledsoe does not have any children. She and her long-term partner Daryl Bell appear to be enjoying each other's company without seeking to start a family.
What is Tempestt Bledsoe's Age?
Tempestt Bledsoe is 50 years old. She was born on the 1st of August, 1973 in Chicago, Illinois, USA.