Taylor Nicole Dean is a YouTube star who has met fame thanks to her enthusiasm for animals which led her to create contents about them and teach people how to care for their pets. While you can sometimes get goosebumps watching her with her snakes, she is adored by her large followers on YouTube as well as on other social media sites. Here is all to know about her.
Taylor Nicole Dean Biography and Age
Taylor was on March 25, 1997, in San Antonio, Texas. It was there that she was raised by her mom, Jennifer Dean and her dad whose name is Matt Dean. She has an elder brother named Justin Dean, and another (younger brother) whose name we haven't obtained.
For her education, Dean attended the O'Connor High School and later the Texas Connections Academy from where she completed her grade 12 education online.
The celebrity is famous for her collection of many animals like snakes that would make you cringe, hedgehogs, alligators, cats, and many others, that are not commonly kept by people. For her unique penchant and devotion to animals, she has amassed a huge followership on social media sites like Twitter and Instagram where people throng to see this beauty's pictures with animals they have never imagined owning. The woman who describes herself as pet mom has close to 250 thousand followers on Instagram as of the middle of 2018 and also close to 150 thousand followers on Twitter.
What has brought her more fame than any other thing as earlier stated is her YouTube channel which she makes use of to give animal care advice. She began the channel in 2015 and by the second half of 2018, she had already amassed close to 1.3 million subscribers. Taylor Nicole Dean has also had more than a hundred million views on the channel. She began another channel, Taylor Dean Vlogs in 2017 and it has already gotten close to a hundred thousand subscribers.
Boyfriend
The young and beautiful YouTube star has not been in many relationships in the past. In fact, she has been known to only be in a single relationship and that is with her boyfriend, Jonny Craig. Born Jonathan Monroe Craig, the boyfriend who is a singer and songwriter was born on March 26, 1986, and he is said to have had a child from a previous relationship.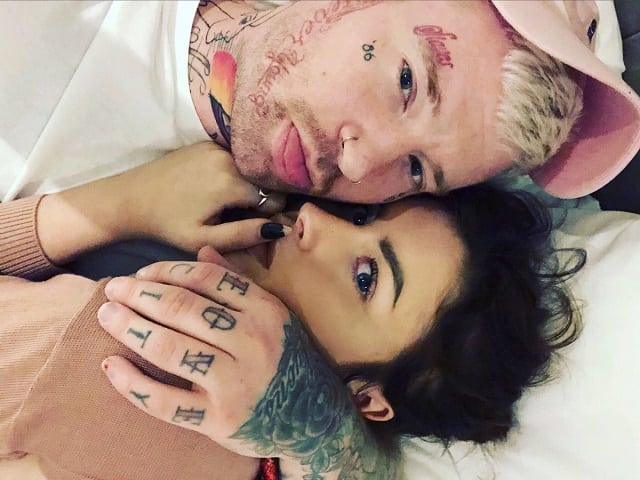 Taylor Nicole and Jonny Craig were first said to have started dating in 2017, and thus far, they have been close. That stated, the singer has not had what can be said to be a life without its troubles as he has been involved in many things including various arrests for things such as damaging property and disorderly conduct. More so, Craig who is a member of the band known as Slaves has also had other problems including drug addiction problems and sexual misconduct allegations that forced Artery Recordings to part ways with the band.
See Also: Who Is Brandon Calvillo? Is He Gay? How Old Is He? Here Are The Facts
As regards their relationship, however, everything seems to be going smooth and they don't fail to publicize their love on social media.
Other Important Facts 
Before starting out, she had a hedgehog that was named Nala. It was a celebrity hedgehog that was known as the cheering hedgehog. Nala had its own Twitter account with close to 40 thousand followers before it died in 2015. The reason for the death of the pet which gained the attention of celebrities like Khloé Kardashian that made a retweet about it was said to be cancer.
Nala is the motivation for Taylor to use social media to share her pets with people and also help them with education on how to care for their pets.
Taylor Nicole Dean has names for her pets. Some of the popular ones apart from Nala which was the only celebrity pet she had are Cersei the tarantula and Jupiter the frog.
As the Animal hoarder that she is, Taylor has collected over 30 exotic pets. Although she is popular for speaking about how to care for animals, she has been accused of manhandling and neglect her pets.
Her mom, Jennifer Dean is very popular on Twitter and the two engaged in a Twitter beef as a result of her relationship with Jonny Craig who was accused of domestic and sexual violence by his ex-girlfriend.
Taylor has moved in with her boyfriend with whom she has been living for some time even against the insistence of her mother.
She worked in a pet store for a little while. At the time, Nicole Dean took a year off her education to work there.
Her love for animals was fuelled by the ill health she has suffered since she was a child. She has a condition known as the Ehlers danlos syndrome and also complex regional pain syndrome.