Tarek El Moussa's net worth is currently estimated at $15 million and he accumulated the fortune from his career as a real estate investor and television personality. He rose to fame through Flip or Flop, a television series that has been airing on HGTV since April 2013. Tarek and his ex-wife Christina Haack co-hosts the show which revolves around them purchasing bank-owned homes or foreclosures, renovating, and quickly reselling them. Through the show, Tarek and Christina walked their way into the hearts of many viewers who found what they do to be inspiring. They were nothing but a perfect couple who takes delight in working together and consolidating on their bond.
So it was quite a huge shock when it emerged in May 2016 that the two were separated. If there was any hope of them reconciling their differences, it dwindled when Tarek filed for divorce from Christina in January 2017 and evaporated when it was finalized the following year. Many imagined that it would be the end of their show and work together; this is not so. The former couple has continued to work together since they parted ways. This does not mean they are working towards rekindling their love. Since their marriage packed up, Haack has married and divorced Ant Anstead and is currently engaged to Joshua Hall. Tarek has also moved on as he has been married to Heather Rae Young since October 2021.
Profile Summary of Tarek El Moussa 
Full Name: Tarek El Moussa
Tarek El Moussa's Net Worth: $15 Million
Gender: Male
Date of Birth: August 21, 1981
Tarek El Moussa 's Age: 42 Years Old
Ethnicity: American of Middle-Eastern and Belgian Descent
Nationality: American
Zodiac Sign: Leo
Sexual Orientation: Straight
Religion: Christian
Marital Status: Married
Wife:

Heather Rae El Moussa (2021 – Present)

Tarek El Moussa's Ex-Wife: Christina Haack (2009 – 2018)
Tarek El Moussa's Parents: Dominique El Moussa (Mother)
Sibling: Angelique (Sister)
Tarek El Moussa's Height in Inches: 6 Feet 2 Inches
Tarek El Moussa's Height in Centimetres: 189 cm
Famous For: Career as a Television Personality and Real Estate Investor
Tarek El Moussa's Instagram: therealtarekelmoussa
TikTok: tarekelmoussa
Facebook: Tarek El Moussa
The 42 Years Old Is an American of Middle-Eastern and Belgian Descent
After Flip or Flop premiered, Tarek El Moussa became popular and soon had a lot of people asking questions about his family background and early life. Bloggers stepped in to fill the void but only provided a series of inconsistent information about Tarek. First, it was claimed that he was born in Alexandria, Egypt, on the 9th of October 1978. According to this narrative, he was raised an orthodox Christian and immigrated to the United States in August 1999. Thereafter, he worked as a sushi chef and did various kinds of jobs, learning English in the process and seeing himself through school. He eventually obtained a degree in electronic technology and began working in the industry until 2003 when a talent agent discovered him in a mall in Boston.
As inspiring as this story is, it is for Tarek Moussa and not Tarek El Moussa. They are two different people. Because of his surname, it has also been speculated in various quarters that he is a Muslim from Egypt or a Jew of Moroccan and Egyptian descent. All of this misinformation stemmed from the fact that much wasn't known about his background details. Be that as it may, we can confirm that Tarek El Moussa is a citizen of the United States of America, where he was born, and of Middle-Eastern and Belgian Descent.
The real date of birth of the 42 years old Flip or Flop star is on the 21st of August 1981. He was born and raised in Long Beach, California, to Dominique El Moussa and her ex-husband whose name is yet to be ascertained. Nevertheless, it has been confirmed that the man was raised a Catholic in the Middle East, first in Lebanon and then in Egypt. Tarek El Moussa's father immigrated to Europe in his late teens. His mother, on the other hand, is originally from Belgium. Much is yet to be learned about his parents and siblings but he has at least one sibling, a sister named Angelique. The real estate agent has a good relationship with his parents, including his stepfather.
How Rich Is Tarek El Moussa?
Tarek has come a long way since he co-founded Next Level Property Investments LLC with his ex-wife. In 2019, he founded The Agentcy, an establishment that is out to become the biggest real estate organization in the United States through building a massive real estate team and a media marketing empire. The Agentcy has some form of partnership with eXp Realty which describes itself as the first agent-owned cloud brokerage. The company incorporated in 2009 was founded by Gleen Sanford who began his real estate career in 2002.
In 2021, he co-founded TEM Brands, an investment company committed to exploring the diverse opportunities the real estate industry avails. He also runs HomeSchooled By Tarek El Moussa, a platform through which he educates people on how to carry out real estate investments. Given all of these and what he has made from his TV shows, it is not hard to see how his net worth is currently estimated at $15 million. Back in 2013, it was said that Tarek and his ex-wife were pocketing as much as $10,000 for each episode of their show, Flip or Flop.
With that amount in mind, and the fact that the show has aired 142 episodes as of January 2022, it wouldn't be out of place to assert that he has made over $1.4 million only from the show. For reasons that are not clear, several platforms have suggested that his ex-wife Christina Haack is richer than him. Her net worth is estimated at $25 million.
How Tarek El Moussa's Net Worth Accrued
He Got His Real Estate License at Age 21 and Has Been In The Business Ever Since
The real estate investor must have received formal education at some point in his life but the public is yet to learn anything about the schools he attended and the certificates he has acquired. Even on his Linkedin page, Tarek listed "Hard Work" as his education. As culled from HGTV's profile on him, the California native has been in the real estate business since he was 21 years old. It was at this age that he received his real estate license and it didn't take him long to popularize his name in the industry. He sold so many multi-million mansions that he became a famous agent in Orange County, California. This was at the height of the housing boom.
During the 2008 economic crisis and the housing bubble burst that came with it, Tarek's income nosedived and he needed to adapt if he must survive the realities on the ground. He restrategized and created a niche for himself in the troubled industry by flipping distressed properties. He would leave his house every day in the early hours of the morning to check out the properties listed on auction sites. Even though he had no practical experience when it comes to flipping houses, Tarek and his ex-wife cum business partner Christina Haack were convinced its the way to go. It wasn't something easy for them to pull off as they had no capital for starting up the venture. They came up with a plan and decided to get a loan but it proved to be a difficult quest as their friends and family thought they were being silly.
Somehow, they managed to kickstart the enterprise and founded a company called Next Level Property Investment LLC in 2008. The operations of the company based in Orange County, California revolve around buying distressed properties, renovating them, and flipping them for a profit. As you would soon learn in detail, this became Tarek and Christina's pathway to fame.
How Many Real Estate Shows Has Tarek El Moussa Been In?
While Tarek had recorded several successes since he started flipping houses in 2008, he recorded a breakthrough that pushed his career forward and saw him become a notable television personality in 2011. While working on a home he had acquired, Tarek made an audition take out of the process and sent it to HGTV. The following year came and he received a weekly slot from the television channel to co-host Flip or Flop with his ex-wife. This marked the beginning of his career in show business. Due to uncertainties over how the show would be received, Flip or Flop was allocated the 11 p.m. time slot. To the surprise of many, the show gained millions of viewers and quickly became one of the highest-rated on the channel.
As hinted all along, the premise of the show revolves around Tarek and Christina acquiring distressed homes, renovating, and then selling them for profit. Released first on the 16th of April 2013, the reality series, as of January 2022, is on its tenth season which premiered in late 2021. It has become a franchise with other shows like Flip or Flop Follow-Up which Tarek El Moussa also hosts with Christina Haack. Other shows in the franchise include Flip or Flop Vegas, Flip or Flop Atlanta, Flip or Flop Fort Worth, Flip or Flop Chicago, Flip or Flop Nashville, and Christina on the Coast.
Disregarding Flip or Flop and Flip or Flop Follow-Up, Tarek has been seen in dozens of other TV shows and even a movie. Below is a list of all the shows he has been seen in over the years:
Flip or Flop (2013 – 2022)
Brother vs. Brother (2013 – 2014)
Flip or Flop Follow-Up (2015)
HGTV Insider (2015)
Live from E! (2017)
Daily Pop (2017)
Home & Family (2017)
The Doctors (2017 – 2018)
Extra with Billy Bush (2017 – 2019)
Entertainment Tonight (2017 – 2021)
Celebrity Page (2017 – 2022)
The Dr. Oz Show (2018)
Today (2018 – 2020)
Face The Truth (2019)
RuPaul (2019)
GMA3: Strahan, Sara & Keke (2019)
What's Up Orange County (2019)
Access Hollywood (2019 – 2020)
Rock the Block (2019 – 2021)
The Talk (2020)
Extreme Makeover: Home Edition (2020)
Flipping 101 (2020 – 2021)
Daily Blast Live (2021)
Tarek's Flip Side (2021)
Tarek & Heather: The Big I Do (TV Movie; 2021)
Tarek El Moussa Began Dating Heather Rae Young In July 2019 and They Got Married In October 2021
Following his separation from his first wife Christina Haack, it started circulating that Tarek was pursuing a romance with his kid's nanny, Alyssa Logan. Later, he was romantically linked to lingerie model Patience Silva before his current wife Heather Rae came along. An American model and actress, Young was the Playboy Playmate of February 2010. You will find her in movies and series like 'Till Death, Chillerama, Christmas in Compton, Mafia, Dead Reckoning, The Internship, Love in the Time of Monsters, Comedy Bang! Bang!, and most recently, Malibu Horror Stories.
Also a real estate agent, she reportedly met Tarek for the first time on the 4th of July 2019 through a bunch of mutual friends at Newport Beach, California. Before the month ran out, rumors of a relationship between the two emerged as they were spotted together on a boat in Redondo Beach, California. The following month, Tarek El Moussa confirmed their relationship in an Instagram post wherein he claimed he has been single for three years. Thereafter they went about loving each other freely. It soon became clear that the relationship is serious as they seized every opportunity to talk about how happy they are, with their loved-up pictures littered across their social media pages.
They moved in together in early 2020 and just after they marked their first anniversary, Tarek asked Heather to become his wife. The model accepted the proposal and would later disclose that it didn't come as a surprise; she was expecting it. They began planning their wedding almost as soon as they got engaged but it was not until October 2021, precisely on the 23rd, that they got married. They had an outdoor wedding in Santa Barbara, California. Judging by what they say about each other, their love has only grown stronger since they got married.
Tarek and Heather are yet to have a child together but they seem to be working towards that. Nonetheless, she has been a wonderful stepmom to Taylor and Brayden El Moussa, the two kids her husband had with his first wife Christina Haack.
Why Did Tarek El Moussa Divorce His First Wife?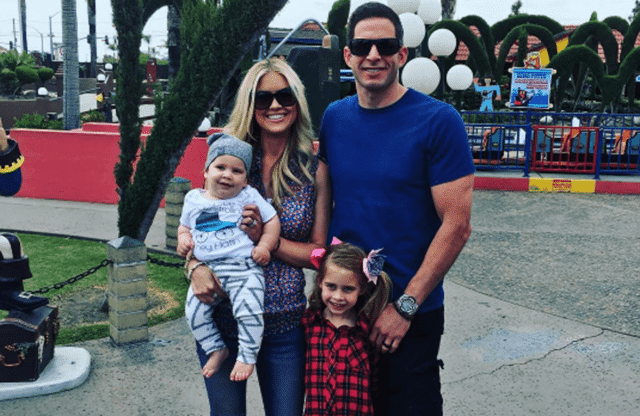 Based on the foregoing, it has been established that Tarek's business partner and co-host of Flip or Flop was his first wife. Their union lasted from 2009 to 2016: even though they finalized their divorced in January 2018, they had parted ways since 2016. What brought them together was their careers in real estate. They reportedly met at a real estate office and it marked the beginning of their relationship, first as colleagues and then as lovers.
While their union lasted, it produced two kids: a daughter named Taylor El Moussa who was born on the 22nd of December 2010, and her younger brother named Brayden El Moussa. He was born sometime in August 2015, not long before his parents separated. Tarek filed for divorce in January 2017 which was finalized a year later. The fact that the two are still business partners and have sustained their show despite the end of their marriage has left many wondering what led to their divorce.
The simple answer to that is that they faced a series of challenges within a short time frame and it was so overwhelming it drove them apart. First Tarek was diagnosed with thyroid cancer, and then testicular cancer. While dealing with this and undergoing radiation, Christina struggled to get pregnant through in vitro fertilization. Then she suffered a miscarriage in 2014, and Tarek, an enfeebling back injury. They were both bedridden which made it difficult for them to support and encourage each other.
The last straw that broke the camel's back happened in May 2016. Tarek left home with a handgun, he was thought to be suicidal and the police were invited over. He explained he went out for a hike with the gun to protect himself from mountain lions and other dangerous animals he might encounter. The incident degenerated into a big misunderstanding between him and Christina, ultimately leading to their separation. In 2018, Christina Haack got married to Ant Anstead. They separated in September 2020, a year after they welcomed their son Hudson London Anstead, and their divorce was finalized in June 2021. That same year, she got engaged to Joshua Hall.