Have you ever heard of Tamron Hall, the African American broadcast Journalist whose sister Renate was murdered in cold blood and left to float in her own pool? The death of her sister which was as a result of bouts of domestic violence remains a mystery till date and in a bid to unravel the unsolved cases of domestic violence, Tamron started hosting a new series captioned 'Deadline: Crime with Tamron Hall', on investigative discovery which she dedicated to her late sister. The series aims at exposing details of each crime and uncovering why they happened.
Biography
Tamron was born in Luling, Texas, on the 16th day of September 1970. She was raised by her mother Mary Newton alongside her stepfather Clarence Newton Sr who had served for a long time with the military. Tamron also had an elder sister named Renate who was murdered in cold blood following a bout of domestic violence. According to Tamron, her stepfather is God's sent. Even though Clarence Newton Sr is not her real father, he has contributed immensely to what she is today through his encouragement and positive inspiration.
Tamron's educational background can be traced to Temple University where she graduated from with a Bachelor of Arts degree in Broadcast Journalism. The Black- American broadcast journalist gives a lot of credit to her stepfather for inspiring her to attain greater heights both in her personal life and her career where she has continued to record tremendous success beyond her imagination
Is Tamron Hall Married to Lawrence O'Donnell or David Hall, who is The Husband?
From all indications, it appears that Tamron is taciturn with information on her love life although titbits of information leak out to the public from time to time. At one time, information was passed through the grapevine that Tamron was married, and the name of her spouse was revealed to be David Hall. Since neither Tamron nor David came forward to either confirm or refute this claim, the rumor was concluded to be unfounded. It is a pity that the public will continue to be confused about Tamron and David's last name which happen to be the same, one cannot help but wonder whether Tamron is bearing the last name Hall as a result of marriage to David or it is just a mere coincident.
Again, Tamron's name was linked to another man, Lawrence O'Donnell, the presenter of 'The Last Word with Lawrence O'Donnell' and a fellow anchor with MSNBC news. It appears that just like Tamron, O'Donnell is also stingy with personal information and up to date, neither of them has either confirmed or refuted the claim and the public is left even more confused as they keep sighting the duo together at several occasions. If at all there is anything going on between the two, they appear to be keeping it wrapped up and confidential, well away from prying eyes.
Read Also: Alex Wagner Bio, Married, Husband, Kids, Parents, Net Worth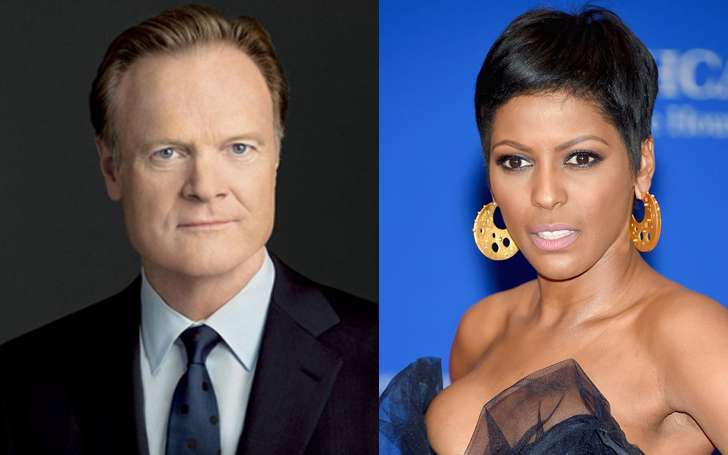 From the little titbits of information gathered on Tamron's private life, it is obvious that she does not take romantic relationships seriously because sometime in January 2017, Tamron herself mentioned that she was in a love relationship with a man named Tony, and up to date, no one was able to say whether she was joking or serious since the so-called Tony never materialized.
Again, the rumor about Tony died a natural death since there was no physical evidence to confirm it. In addition, Tamron's unserious attitude towards romantic relationship was glaring when she told the public in an interview that she has been engaged twice and both times, she has managed to escape the noose of matrimony. According to Tamron, the two weddings which were scheduled to take place in Cozumel and Las Vegas never came to pass.
For what it's worth, the question of who the husband of Tamron Hall is cannot be answered since everything about her is shrouded in mystery. Even the men who were said to be involved in relationships with her are not helping matters since none of them is ready to proffer any information to clear the air. However, Tamron's queue of fans Lee's getting longer, the beautiful broadcaster has acquired a long list of male admirers since her marital status suggests that she is single and still searching.