The American movie space is not particularly awash with elite Asian American actors; there have been a few others that have also made a name for themselves. While the likes of Bruce Lee, Jackie Chan, James Hong, and Randall Park have all flown the Asian flag in Hollywood, some other stars like Tamlyn Tomita have also paid their dues. When Tomita graced the limelight with her performance in Karate Kid, it was obvious she was a talent that was here to stay.
Since she began her career in 1986, Tamlyn has made appearances in a plethora of films and TV shows. Some of her notable works include Picture Bride (1994), Four Rooms (1995), Robot Stories (2003), and The Day After Tomorrow (2004). In recent times, she has become a regular feature in TV Series such as Will & Grace, The Mentalist, Private Practice, and True Blood.
Tamlyn Tomita's Early Life and Forray Into Pageantry
Although she has become widely known as an actress, it is noteworthy that Tamlyn Tomita did a bit of modeling before she eventually switched to acting. She was born on the 27th of January 1966 in Okinawa, Japan, to parents Shiro Tomita and Asako Tomita. Tamlyn is of mixed ethnicity and also possesses American nationality. When she was very young, her parents moved to the United States, where she was raised.
Growing up, Tamlyn attended Granada Hills High School in San Fernando Valley, Los Angeles. After high school, she enrolled at the University of California Los Angeles (UCLA), where she majored in History. While in College, Tamlyn gravitated towards modeling as she's blessed with a charming smile and gorgeous physique.
She began signing up to participate in beauty pageants, and in 1984, she won the 1984 Nisei Week Pageant – a prestigious annual festival celebrating Japanese culture by Japanese in the diaspora. The following year 1985, Tamlyn Tomita was crowned Queen at the Miss Nikkei International. This pageant also sought to promote the Japanese Heritage in America.
With these crowns, Tamlyn was slowly coming into National consciousness. On one of her trips as a reigning Miss Nikkei International, she traveled to Hawaii, where she met the director of the movie Karate Kid, John G. Avildsen, and was offered the role of Kumiko in 1984's The Karate Kid. The movie was a huge commercial success, and her outstanding performances paved the way for her to land more acting gigs and set her permanently on a path of acting.
Tidbits About Her Acting Career
Following the success of Karate Kid, Tamlyn Tomita also reprised her role in its sequel, Karate Kid II. Amazingly, the two films were incredibly successful, making huge box office returns and getting critical acclaim. After the Karate Kid, Tamlyn landed a role in the 1990 movie titled Come See the Paradise. Come See The Paradise is a World War II movie that tells the story of the life of Japanese Americans living in America after the Pearl Harbour attack.
In 1993, she appeared in the film The Joy Luck Club, and later in 1994, she played the role of Kana in Picture Bride. Her next movie was Four Rooms, an American anthology comedy, which was released in 1995. Tamlyn's acting career continued to be active through to the new millennium. In 2008, she made an appearance in Shonda Rhimes' TV series Private Practice. Four years later, in 2012, she had a role in gymnastic drama Make It or Break It.
Some of her most recent films include The Good Neighbor (2016) and Berlin Station (2016). In the course of her career, Tamlyn has also made guest appearances in the following TV Shows Quantum Leap, Will & Grace, The Mentalist, True Blood, Law & Order: Los Angeles, Glee, and How to Get Away with Murder, among others. Her most recent role as Allegra Aoki on the ABC medical drama The Good Doctor remains one of her biggest as has received high praise for her performance.
Additionally, when EA Sports released its anticipated video game James Bond 007: Nightfire in 2002, Tamlyn Tomita portrayed the character of Makiko Hayashi. While it is an odious task narrowing down on how much she earns per movie role, a fair estimation is possible. Tomita's net worth is put at an estimated $3 million. At some point, she dabbled into singing, releasing her debut single and album under the British label Polydor in 1987.
Tomita has equally won a few awards, including an Asian American International Film Festival Award in 2001. She was also nominated for a Young Artist Award in 1989.
Does Tamlyn Tomita Have a Husband?
For reasons best known to her, Tamlyn shuts everyone out when it comes to her personal life. At some point in the mid-2000s, she was rumored to be in a relationship with fellow Asian native Grey Wantabe. These rumors were never confirmed by either party and after some time, it died a natural death.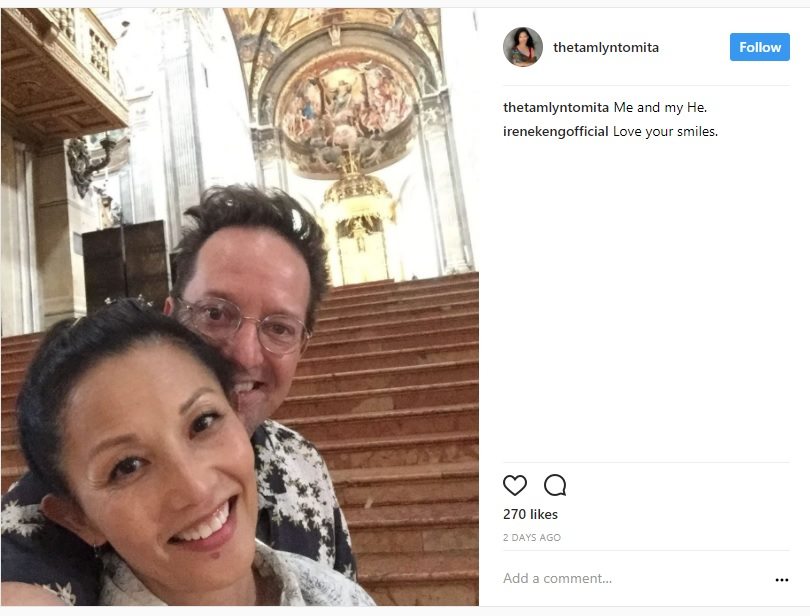 While everyone had the impression that Tomita was single or at best, dating someone discreetly, pictures began to surface on her Instagram page of her and a white man. A close look at these pictures shows that this man is indeed married to Tamlyn as both parties spot wedding bands. It's obvious Tamlyn Tomita has opted to have a very private love life. She hasn't changed her last name and is yet to talk about her mystery wedding in any interviews.