Music producer extraordinaire, rapper, fashion designer, shoe designer, art collector, and painter, Swizz Beatz portrays the true hustling spirit of the Bronx, New York. With a net worth of over 70 million USD, Swizz Beatz is arguably one of the most successful entrepreneurs in the African American community of the United States of America.
Swizz Beatz has a street in the Bronx named after him, he is the first 'Producer in Residence' at New York University and The Source magazine named him among the 20 greatest producers on their 20th anniversary. He has also been referred to as the best rap producer of all time. Swizz started gaining accolades and recognition at the early age of 16.
Bio
Swizz Beatz was born Kasseem Dean on the 13th of September 1978 in the Bronx, New York. He is of Afro-Jamaican and Puerto Rican descent, his father is believed to be an Eritrean immigrant who divorced his mom while Swizz was still very young. He was raised a Muslim by his mother in the North East Bronx, attended Harry S. Truman High School and recently in November 2017, became an alumnus of Harvard Business School's Owner/President Management executive program.
See Also: Alicia Keys Married, Husband, Kids, Parents, Mother, Father, Family, Wiki
Musical Career
Swizz Beatz began his career as a disc jockey (DJ) and with the help and influence of his uncles, who were affiliated with Ruff Ryders Entertainment record label, he ventured into music production. Within a few years, Swizz had produced tracks for prominent artistes like Ruff Ryders' DMX; Ruff Ryders Anthem – this was the first beat Swizz sold; Jay-Z – Money, Cash, Hoes; Eve, Noreaga etc.
Over time, Swizz Beatz would go on to float a record label called Full Surface Records. Under his label, he signed the likes of Cassidy, Eve, and Bone Thugs-n-Harmony. Swizz dropped singles and released albums with features and guest appearances from critically acclaimed artistes like Pharrell, Kanye West, Lil Wayne, Busta Rhymes, Pusha T, Mary J. Blige, Alicia Keys, Estelle and John Legend, to mention a few.
He won the Grammy Award for Best Rap Performance by a Duo or Group in 2011 with his track titled On to the Next One featuring multiple award-winning rapper, Jay-Z. Kasseem has also earned himself some filmography credits with his cameo appearances in the following movies: I Tried (2007), Dumb and Dumber To (2014), Empire (2015) and the American TV series Marriage Boot Camp (2018).
Swizz Beatz – Kids
Kasseem Dean has 5 kids from 4 different women, staying true to his Muslim belief which permits polygamy. Swizz had his first child named Prince Nasir Dean on the 25th of October, 2000 with Nicole Levy. The second child Kasseem David Dean, Jr. came in December 2006 from his then wife and American songwriter Mashonda Tifrere. His third child and first daughter Nicole was born in May 2008 by Jahna Sebastian however, Swizz only came to know about her existence in 2009.
After the first three, Swiss went official and had his fourth and fifth children by his current wife Alicia Keys. They had their son Egypt Daoud on October 14, 2010, and another son Genesis Ali Dean on December 27, 2014.
Relationship With Mashonda Tifrere
Swiss Beatz met American songwriter Mashonda Tifrere in 1998 and the pair dated for about 6 years before they decided to tie the knot in 2004. Two years later, after losing their first pregnancy to an unfortunate miscarriage, Swizz and Mashonda welcomed their baby boy named Kasseem David Dean, Jr.
However, in 2008, Swizz Beatz and Mashonda mutually decided to call it quits and seek for a divorce after 4 years of marriage. Rumors of infidelity hovered over the divorce, and these rumors were not far-fetched because Swizz apparently had an affair with Jahna Sebastian, UK singer, producer, and songwriter while he was still married to Mashonda and she gave birth to their daughter Nicole in May 2008.
Relationship With Jahna Sebastian
Jahna kept her pregnancy and the eventual birth of her daughter a secret from Swizz and the general public until July 2009. According to her, she did this because she didn't want her daughter to be caught up in the hysteria and hullabaloo surrounding Swizz's divorce case with Mashonda.
Jahna Sebastian currently resides in London with her daughter Nicole and Swizz gets to see Nicole 3 to 4 times in a year.
Swizz Beatz Relationship With Alicia Keys – Wife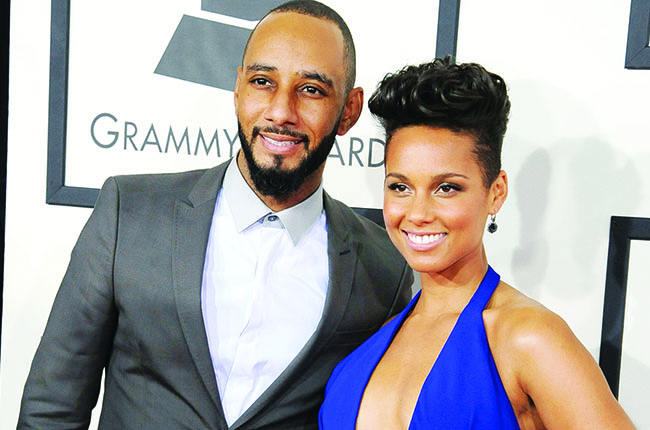 Although rumors had it that Swizz started dating Alicia keys in 2008 while he was still legally married to Mashonda and apparently expecting a child (unknown to him) with Jahna; these rumors were only confirmed in 2009 and in May 2010.
Swizz Beatz confirmed his engagement to Alicia Keys and announced that they were already expecting a child together. Swizz and Alicia got married on the 31st of July, 2010 on the French island of Corsica and Alicia gave birth to their son Egypt Daoud a few months later on the 14th of October 2010.
On their fourth anniversary which is 31st of July 2014, the couple announced that they were expecting another child and on the 27th of December 2014, Alicia gave birth to their second son, Genesis Ali Dean. The couple seems happy together and we can only wish them many more years of marital bliss.
See Also: Dr Dre Wife, Brother, Son, Kids, Net Worth, Height, Wiki, Bio
Brother and Mother
Swizz Beatz has a brother named Andre King. Andre was born on the 1st of May, 1987 and is a model, designer as well as a TV personality. He is currently in the cast of the reality TV series Growing Up Hip-Hop.
Andre King was previously dating a girl named Sanchali but he recently came out as gay and has received a lot of support from his family.
Swizz is very close to his mom, he sometimes posts videos of her dancing by herself or with him to Afrobeat sounds on his Instagram page. Despite his really busy schedule he always makes out time for her and she has been spotted accompanying him to several celebrity functions. She is beautiful and looks really young for a grandmother.