Steve Stricker is an American professional golfer who plays on the PGA Tour Champions and the PGA Tour. He is known for having 12 victories so far on the PGA Tour.
Along with the likes of Tiger Woods, Justin Thomas, Phil Mickelson, and Corey Conners, Steve Stricker has made it big in the highly exclusive PGA Tour, where he holds a record 12 titles. The American golfer has also advanced into the PGA Tour Champions. Apart from the fact that he has been on the global top 10 of the official list of golfers for many years, Steve became the World Number 2 in late 2009. Well, as you should have expected already, what is said above is only the tip of the iceberg when it comes to talking about the golf pro. So, read on as we go deeper into the discussion of his personality and everything you need to know about his career and family below.
Summary of Steve Stricker's Biography
Full name: Steven Charles Stricker
Nickname: Mr. September, Strick
Gender: Male
Date of birth: February 23, 1967 

Place of Birth: Edgerton, Wisconsin, U.S.
Steve Stricker's Age: 56 Years Old

Ethnicity: White
Nationality: American
Zodiac Sign: Pisces
Sexual Orientation: Straight
Marital Status: Married
Steve Stricker'sWife: Nicki Tiziani (married in 1993 )
Steve Stricker's Children: Two daughters, including Bobbi Maria Stricker
Steve Stricker'sParent: Bob Stricker
Education: University of Illinois
Steve Stricker'sHeight in Inches: 72
Steve Stricker'sHeight in Centimetres: 1.83 m to cm
Steve Stricker'sWeight: 190 lb (86 kg)
Steve Stricker's Net worth: $20 million
Famous for: His success as a professional golfer
Steve Stricker's Instagram: stevestrickpga
Twitter: Steve Stricker
Facebook: Steve Stricker
Steve Stricker's Fact Sheet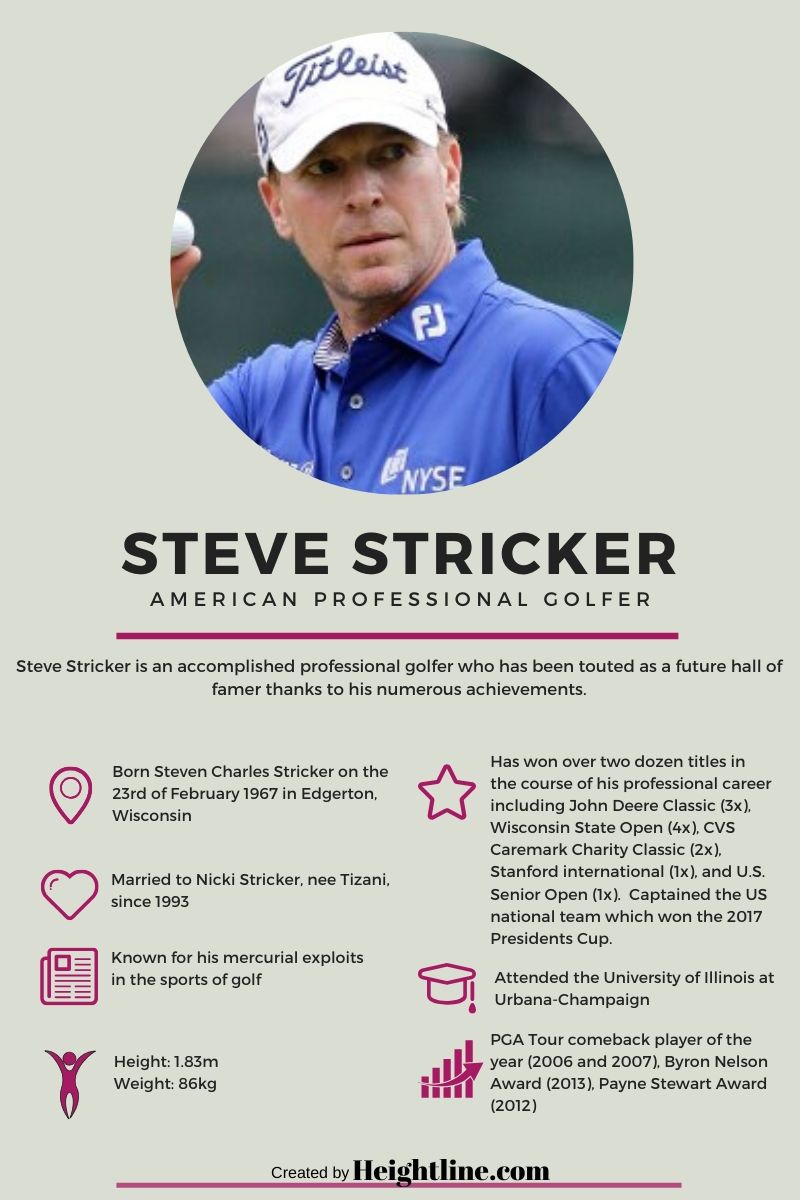 Steve Stricker's Early Life and Education
Winners begin early as they say. In line with this, we have found that Steve Stricker hasn't been winning in golf just out of the blues. Instead, it is because he started quite early. He was born as Steven Charles Stricker on February 23, 1967, to a local farmer named Bob Stricker. He is a native of Edgerton Wisconsin, located about 20 miles from Madison, the state capital. It is also where the author Sterling North was born.
As early as 1979, Steve was already notable as a kid golfer at the Edgerton Towne Country Club on Jensen Street. He eventually grew popular beyond Edgerton and began to also play at Lake Ripley Country Club Golf Course at the nearby town of Cambridge by the time he was in high school.
Later on, Steve Stricker proceeded to the University of Illinois at Urbana-Champaign for his college education. As everyone would expect, he made it into the Illinois Fighting Illini men's golf team, where he earned All-American honors for two seasons.
What is Steve Stricker's Net Worth?
By the end of the 2019 season, Steve Stricker's career earnings was placed at just above $44 million. However, the latest reports show that Steve Stricker has a growing net worth of $20 million. Here's an account of how he has gathered this much.
It was in 1990 that Stricker graduated from college. It was also that same year that his professional career kicked off in earnest. Hardly against what many expected of him, his professional debut began with an outstanding two-tournament win after his participation in the Canadian professional tour. Soon enough, he joined the PGA Tour in 1994, and two years later, he made news headlines when he emerged victorious in two major tournaments – the Kemper Open and the Motorola Western Open.
Steve Stricker continued his winning streak. Then, in 2001, he pulled off another big historical credit when he defeated Pierre Fulke in Australia with the score, 2 and 1. Among other reasons, this particular win was significant for giving his career an earning head start with the $1 million cash prize he got from it. Although he fell out of form in 2004 when he also lost his tour card, he managed to stage a comeback in 2007 with a fourth PGA Tour win. From the win, he was also able to earn himself a place on the Presidents Cup team the same year.
By June 2011, Steve Stricker had won his tenth tour title after participating in the Memorial Tournament in Ohio. This win shot him to the top spot as the highest-ranked golfer in America and the fourth-best on the Planet. It was a memorable time in his career as he bested the likes of Tiger Woods and Phil Mickelson.
Steve Stricker made an announcement in 2013 regarding his plans to cut his schedule in half, with hopes of playing about 10 or 12 tournaments. Though he was dealing with a ruptured disc, he managed to finish the season's Hyundai Tournament as a runner-up. Four years later, in 2017, Stricker requested a special exemption from USGA for a chance to play in the 2017 U.S Open held in his home state.
Despite this, his request was not approved. Luckily for him, he gained entry via a qualifying tournament held in Memphis. The year 2018 thus saw him win the Cologuard Classics by two strokes, and a second straight start at the Rapiscan Systems Classic in Saucier, Mississippi.
Apart from the earnings that have accrued to Steve Stricker from his winnings, he has also earned from a couple of endorsements. Some of the brands with which he has signed endorsement deals are Foot Joy, Sentient Jet, Titleist, and American Family Insurance.
As of this writing, Steve's PGA Tour profile shows that he has played 497 games in his career with the tour, among which he has 108 top 10 finishes, 10 3rd place finishes, 16 2nd place finishes beside his 12 career wins. His best year remains 2009 when he had 3 PGA Tour wins.
Details of Steve Stricker's Family Life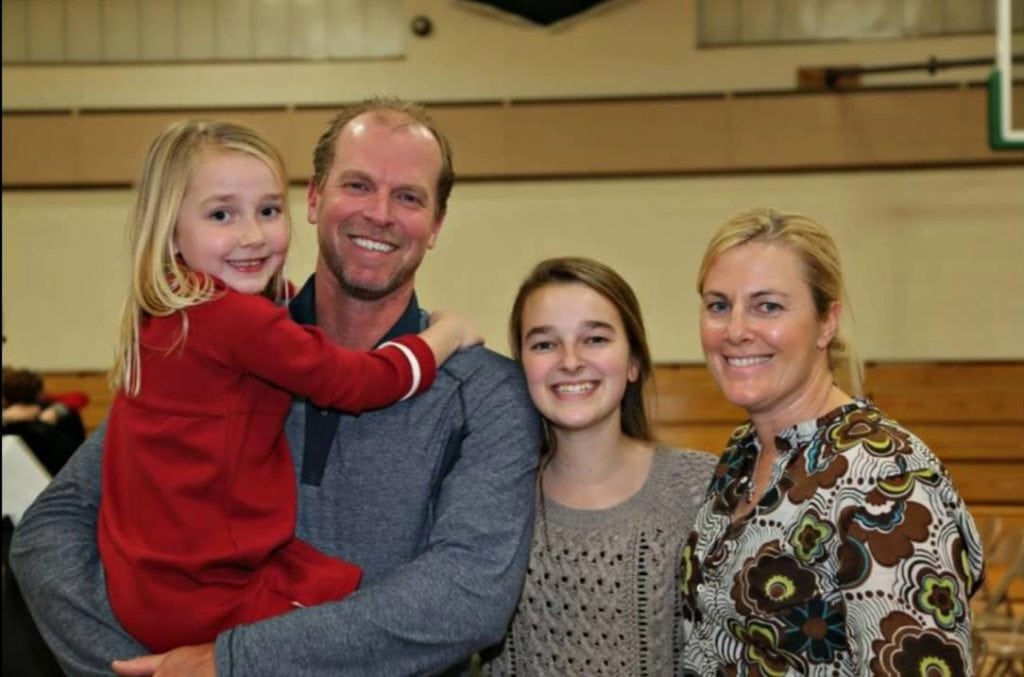 As a Professional golfer, Stricker can be said to be a lucky man as he got married into a family that loves golfing just as much as he does.
His wife's name is Nicki Stricker (nee Tiziani), the daughter of Dennis Tiziani and sister to Mario Tiziani, both of whom played on the PGA Tour.
Of course, as you might expect, such similar backgrounds have provided a firm ground for shared interests between the couple. This has helped the couple to bond even more, with the positive resultant effects of the bond to be seen in the success of their union and Steve's career itself. So, it is hardly any surprise that their marriage is such a fulfilled one.
Children
In terms of children, Stricker and his wife are proud parents of two adorable daughters. Their eldest daughter Bobbi Maria Stricker is also training to become a professional golfer herself. We will be following her progress hoping to see her become just as awesome as or even better than – her dad.