Steve Stricker is an American golfer who plays professionally on the PGA Tour. To date, he is popular for his victories while on tour which rounds up to twelve titles in total with his most prominent being two FedEx Cup playoff as well as a WGC-Match Play title in 2001. He has also managed to appear in the top 10 list of the Official World Golf Ranking where he spent an impressive 250 weeks. In 2009, he finished as a runner-up and cliched three victories making it one his most successful seasons on tour. By the year 2010, he was number 2 on the world golf ranking. Here are more interesting career and family facts.
Steve Stricker Bio, Age
Steven Charles Stricker was born in Edgerton Wisconsin on the 23rd of February 1967. His childhood was spent playing golf, especially in Edgerton Town Country Club as well as Lake Ripley Country Club located near Cambridge. For his University education, he studied at the University of Illinois and also played golf while at it to the point of earning himself an All-American honor as a member of the "Illini" golf team both in 1988 and 1989. Having fulfilled every requirement as an undergrad student, he graduated successfully in 1990.
Turning Pro 
The very year he graduated from the university, which is in 1990, Stricker also turned professional. It was more like a continuation of what he had been exposed to back in his collegiate days. His debut as a pro golfer began with an outstanding two tournament win after his participation in the Canadian professional tour. Soon enough, Steve Stricker joined the PGA Tour in 1994, and two years later, he had emerged victorious in two major tournaments – the Kemper Open and the Motorola Western Open. In 2001, Steve defeated Pierre Fulke in Australia with the score, 2 and 1, and also earned himself a whopping $1 million cash prize as well as his third most prestigious PGA title. Though he fell out of form in 2004 when he also lost his tour card, he managed to stage a comeback in 2007 with a fourth PGA Tour win. From the win, he was also able to earn himself a place on the Presidents Cup team the same year.
By June 2011, Steve Stricker had won his tenth tour title after participating in the Memorial Tournament in Ohio. This win shot him to the top spot as the highest ranked golfer in America and the fourth best golfer in the world – as per the Offical World Golf Ranking. It was a memorable time in his career as he bested the likes of Tiger Woods and Phil Mickelson. Incredibly, his eleventh tour win was recorded at the John Deere Classic after finishing ahead of his opponent and runner-up Kyle Stanley, having sunk a 30-feet (9m) birdie putt at the 72nd hole. Steve Stricker made an announcement in 2013 regarding his plans to cut his schedule in half, with hopes of playing about 10 or 12 tournaments. Though he was dealing with a herniated disc condition, he managed to finish the season's Hyundai Tournament as a runner-up.
In 2017, though Stricker requested for a special exemption from USGA for a chance to play in the 2017 U.S Open held in his home state; his request was not approved. Luckily for him, he gained entry via a qualifying tournament held in Memphis. The year 2018 thus saw him win the Cologuard Classics by two strokes, and a second straight start at the Rapiscan Systems Classic in Saucier, Mississippi.
Net Worth
The game of golf happens to fall into those classy sporting categories that rake in a lot of cash, especially if one is good at it. This because aside from winning titles every now and then, professional players get the opportunity to increase their fortunes a notch if they are able to get endorsements from popular brands. When it comes to Stevy, not only does he rake up a fortune from his winnings, he has got the endorsement of not just one but 4 different brands, including; Foot Joy, Sentient Jet, Titleist, and American Family Insurance. This brings his total estimated net worth to be well over $20 million dollars.
See Also: Francesco Molinari Wife (Valentina), Height, Weight, Body Stats
Family- Wife And Kids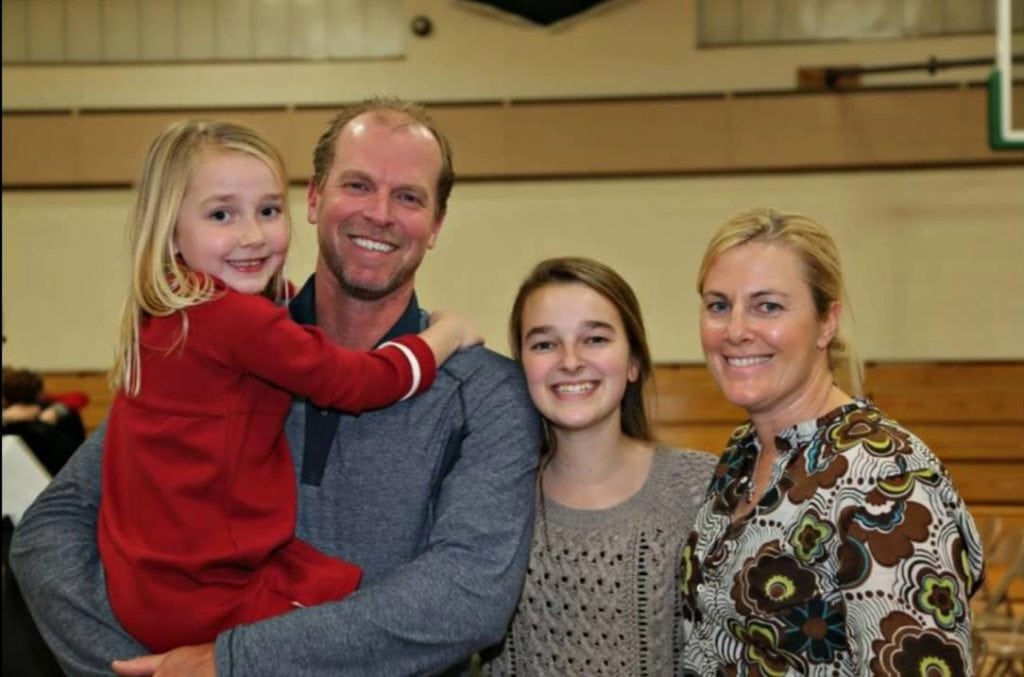 As a professional Golfer, Stricker can be said to be a lucky man as he got married into a family that loves golfing just as much as he does. His wife's name is Nicki Stricker (nee Tiziani), the daughter of Dennis Tiziani and sister to Mario Tiziani, both of whom played on the PGA tour. In terms of children, Stricker and his wife are proud parents of two adorable daughters. Their, eldest daughter Bobbi Maria Stricker is also training to become a professional golfer herself. We will definitely be following her progress to see her become just as awesome as her dad.