Quite a number of commercially successful hit series and indie films including Mystery Train, New York Stories, Reservoir Dogs and Parting Glances, brought Steve Buscemi to the limelight and he didn't rest on his oars but held his ground and rode the wave of fame to become a renowned American actor Screenwriter and director to date. The actor's talent does not end with acting, he is also a very successful film director with films like Lonesome Jim, The Sopranos, Oz and 30 Walk to his credit.
His numerous exploits in the entertainment industry have earned him many prestigious awards over the years. Accolades which include the Independent Spirit Award for Best Supporting Actor for Reservoir Dogs, in 1992; the Chicago Film Critics Association Award for Best Supporting Actor for Ghost World. Also for the same movie, Ghost World, he received the Vancouver Film Critics Circle Award for Best Actor in addition to bagging the coveted Golden Globe Award for Best Actor – Television Series Drama for Boardwalk Empire in 2011. The same role bagged him two Screen Actors Guild Awards for Outstanding Performance by a Male Actor in a Drama Series in 2011 and 2012 respectively.
Brief Bio of Steve Buscemi
Steven Vincent Buscemi was born on the 13th of December 1957 to John Buscemi (Father) and Dorothy Wilson (mother). The actor had humble beginnings because his father was just an ordinary sanitation worker and a Korean war veteran while his mother worked as a host at Howard Johnson. Steve was raised as a Catholic along with his three brothers – Jon, Ken, and Michael.
In 1975, Steve finished from Valley Stream Central High School in Nassau County, New York. While in high school, he took part in the drama troupe and also participated in wrestling for the varsity squad. We can say that Steve is emotionally attached to his hometown since he went back to his childhood village of Valley Stream to shoot his film titled Trees Lounge. Steve actually starred in and served as a screenwriter in the film which he also directed. He was at Nassau Community College briefly before he moved to enrol in the Lee Strasberg Institute in Manhattan (1980).
Read Also: Johnny Galecki Height, Net Worth, Married, Wife, Dating, Girlfriend, Gay
At the age of 18, Steve took a civil service test and became a firefighter in New York City in 1976. He worked in FDNY's Engine Co in Manhattan's Little Italy neighbourhood in New York City for four years. Because of his philanthropic nature, Steve returned to Engine 55 After the 9/11 disaster and worked for days on a rescue mission at the World Trade Center. After that gruesome experience, he was moved to make a speech in support of higher wages for firefighters at a union rally. He earned an appointment as an Honorary Battalion of the FDNY for his effort.
Wife, Son, Brother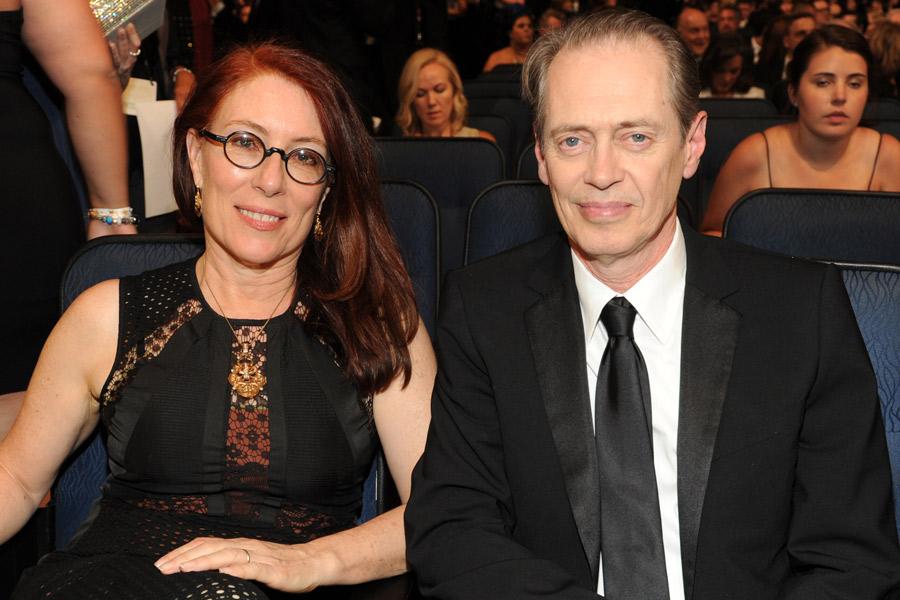 Steve Buscemi and Jo Andres got married in 1987 after two years of courtship. During their courtship, Steve was inspired to write many romantic songs for Jo Andres. Their courtship was a unique one which may be the reason why the couple is still together and enjoying a happy marriage after 30 years of matrimony. There is no sign or rumours of any impending divorce till date.
Despite his celebrity status, Steve has been faithful to his wife. He claims that he has never cheated on her and will never cheat, their union has been unshakable right from the start. The couple had their first child Lucian Buscemi in 1990. He is currently following in his father's footstep. Steve has three brothers, Ken Buscemi Jon Buscemi and Michael Buscemi who is in the same profession as Steve.
Steve Buscemi Eyes, Teeth, Height
The actor has a dental disorder which he has refused to correct. The Hollywood Reporter said he has been adamant about his dentition being altered, in an interview with them, the actor said he has had offers from dentists to fix his teeth but he's not having any of it.
Like his misaligned dentition, his eyes are distinguished by their old appearance and wrinkles. His eyes are a wonder when you photoshop them onto other people although according to him, he doesn't find it amusing. His physical appearance contributes greatly to the characters which he portrays in films which are often crooked or demented characters.
Read Also: Jeremy Sisto Bio, Wife, Kids, Family, Net Worth, Quick Facts
Net Worth
Steve has earned quite a tidy sum of money in his career, he garnered his egg nest through several films and TV series he has featured in and also from films he has directed. It is on record that during his hit TV series Boardwalk Empire, he took $75,000 per episode and per movie he took $600,000 to $800,000. In totality, Steve's net worth is estimated at $35 million.