How Tall is Snoop Dogg? Snoop Dogg is 6 foot 4 inches (1.93 m) tall, this makes him one of the tallest rappers in the world today. A 1993 Spin Article described him as "Lanky at six feet four" although one of his videos for 'Upside ya head' claims his actual height to be around 6 feet 3 inches tall
The American rapper is a musical icon who first popped on the rap scene in 1992 after he was signed by the incredible Dr. Dre and today, he is reckoned to be among the people that changed the course of hip hop, thanks to his lyrical prowess and ability to spit hardcore bars at a much calmer tone.
Known for his penchant for making hit songs, Snoop is credited to have some of the biggest bangers in the '90s with songs like "Drop It Like It's Hot" and "Gin and Juice", being rated highly on that list. In the course of his career, he has collaborated with several top emcees such as 2Pac, Tha Dogg Pound, Nate Dogg, Dr. Dre, Wiz Khalifa and Too Short among several others.
While he has achieved so much from his rap career, it comes as a surprise that the Dogg master is yet to bag a Grammy award. Thankfully, a Grammy award isn't the only tool used in defining music accomplishments else he would be one of the most underrated music acts.
Moreover, his failure to win a Grammy doesn't translate to an empty trophy cabinet for the star. As a matter of fact, Snoop can boast of being one of the most decorated Hip-Hop artists of his era. He has an award list that comprises of 2 Emmys, 1 BET, 1 American Music Award, 2 AVN Awards, 3 Billboard Year-End Chart Awards to name but a few.
Besides being a successful rapper, Snoop also doubles as an actor and he made his acting debut in the 1994 film Murder Was the Case, in which he played the infamous role of Slick Slim; a gangster who gets shot and goes into a spiritual trance where he makes a huge deal with the devil.
Snoop Dogg's Profile Summary
| | |
| --- | --- |
| Full Name | Calvin Cordozar Broadus, Jr |
| Date of Birth: | 20 October 1971 |
| Age: | 52 years old |
| Country of Citizenship: | United States of America |
| Height: | 6 Feet 4 Inches |
| Popularly known as | Snoop Dogg |
| Nick Name | Snoopy |
| Father's Name | Vernell Varnado |
| Mother's Name | Beverly Tate |
| Nationality | American |
| Birth Place/City | Long Beach, California |
| Ethnicity | African-American |
| Profession | Rapper |
| Net Worth | $150 Million |
| Eye Color | Dark-Brown |
| Hair Color | Black |
| Face Color | Black |
| Weight in KG | 75 KG |
| Famous for | rap |
| Married | Yes |
| Wife | Shante Broadus (m. 1997) |
| Children | Cordell Broadus, Corde Broadus, Cori Broadus, Julian Corrie Broadus |
| Education | Long Beach Polytechnic High School |
| Awards | MTV Europe Music Award for Best Hip-Hop 2005 |
| Movies | Pitch Perfect 2 |
| TV Show | Trailer Park Boys |
| Number of Siblings | 2 |
| Albums | Doggystyle, The Dogfather |
Snoop Dogg's Fact Card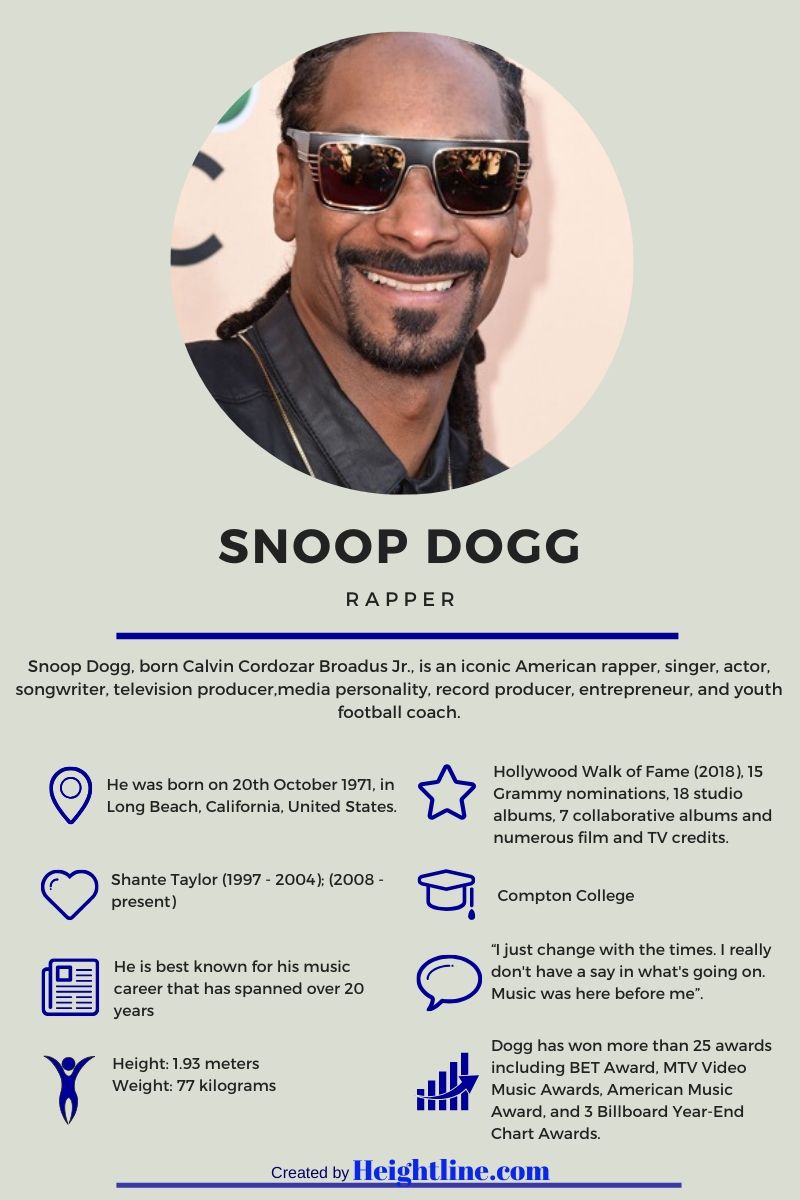 Snoop Dogg's Height and Body Statistics Compared To Other Stars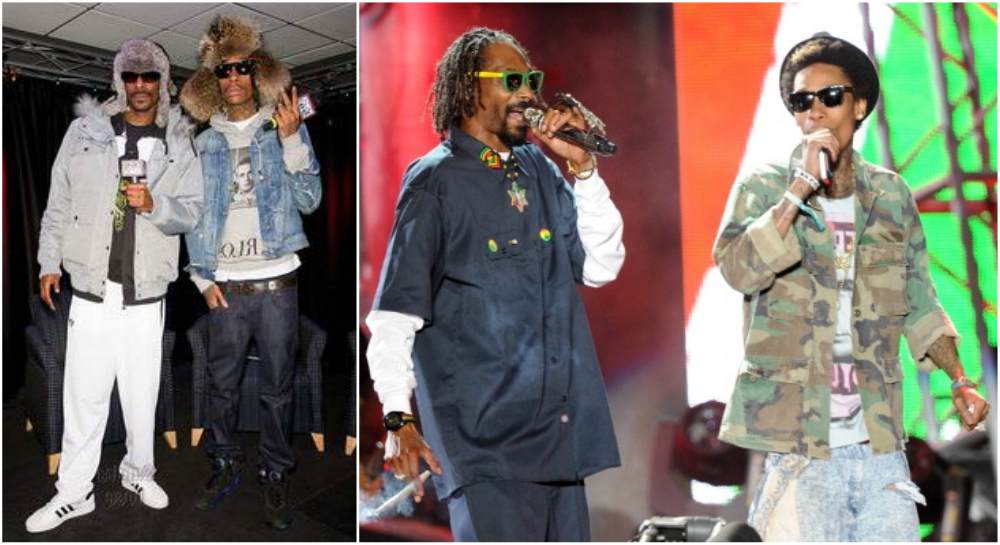 In a rap industry dominated hugely by rappers with average height, Snoop Dogg clearly stands out. As a matter of fact, it might interest you to know that the California-born rapper is 6 feet 4 inches (194 cm) tall. With such a height, it makes it easy for him to stand out in a crowd of people.
However, in a general comparison, Snoop Dogg is not even among the top 5 tallest rappers in the game. Top on that list is an underground rapper from Upstate New York who is 7 feet 4 inches tall, followed closely by Shaq (7'1), Ab Liva (6'9) and Chali2na and Slim Dunkin who are both 6 feet 8 inches. It only puts him in the same category as entertainment stars such as Drake, Wiz Khalifa, and Clint Eastwood.
Although the artist appears slim, he weighs 75 kg (165 pounds), which simply means he is above average weight, however, given his height, he is not overweight. His other body measurements are not known but apparently, he is not ripped and doesn't look like he is interested in chasing body image. His shoe size is 12 (US) and 11.5 (UK).
His Cannabis Addiction and Health Issues
Celebrities and Controversies are two C's that go hand in hand so far show business is concerned, and Snoop Dogg, like most celebrities, is not averse to this norm. The iconic rapper right from his early days has been highly controversial; he is fond of finding himself at the top of the news for the wrong reasons – one of which is his love for weed.
It really is no news that Snoop Dogg has a very sacred bond with marijuana; some might go-ahead to call him a marijuana addict and to be fair, that is exactly what Snoop is, unapologetically. The famous rapper is known for his chronic usage of marijuana. He is often credited by most for making marijuana a mainstream thing. The story gets even interesting once you find out he has his own line of marijuana as well as a legal company that helps in the delivery of marijuana to customers. The company goes by the name 'Leafs By Snoop', and is located in the state of Colorado where recreational marijuana has been legalized since 2013. The company sells edibles (foods infused with cannabis extracts), hand-weighed marijuana flowers and concentrates.
Despite all the dangers posited by several doctors and health personnel on the dangers of excessive usage of marijuana such as heart failure, testicular cancer, memory loss, loss of weight and its tendency to make one look older, one might notice that Snoop Dogg seems to be looking better and younger by the day.
His good health and looks can be attributed to his lifestyle choices, as the Gin and Juice crooner is a huge advocate of exercise and proper diet. He also stated sometime in 2002 that he was quitting weed to become a good dad. This led people to think that he had a cancer diagnosis but the star quickly dispelled the rumor and has stayed healthy since then.
In an interview, he described his new personality as someone who is full of water, proteins, cholesterols, and all kinds of stuff to keep him alive.
In 2018, he released a cookbook titled Crook to Cook: Platinum Recipes from Tha Dogg's Kitchen, which unlike other cookbooks written by professional chef's focuses on simple healthy meals that anyone can cook from the comfort of their homes with few additions of luxury cuisines.
FAQs
Q. How tall is Snoop Dogg?
A. Snoop Dogg is 6 feet 4 inches tall.
Q. What is Snoop Dogg's age?
A. Snoop Dogg is currently 51 years old. He was born on October 20, 1971.
Q. What is Snoop Dogg's original name?
A. Snoop Dogg's original name is Calvin Cordozar Broadus Jr.