Popularly known as the winner of the famous American music reality TV show X-Factor, Sierra Deaton stands out with her crystal clear voice that rings above the normal soprano harmonic you may know. She is regarded by fans as the lady with the smoothest voice in the industry and believe it or not, Sierra has proven beyond every reasonable doubt that it is possible to have an angelic voice just so long as one recognizes the fact that talent is never enough but that one also has to work extra hard to achieve one's dreams.
Let's take a journey into Sierra Deaton's world, see how she attained fame and what she is currently up to.
Sierra Deaton's Bio
Sierra Deaton was born on 11th February 1991 in the US city of Philadelphia, Pennsylvania to John and Vu Deaton. Her father, Dr. John Deaton, is an Englishman and her mother, Vu Deaton, is Vietnamese which explains why Sierra is considered to be of mixed roots even though she is American by birth.
She has an elder sister, Lara Deaton, with whom she shared her childhood with in Orlando, Florida. Her father was a former adjunct professor at the University of Central Florida but now teaches at FL tech. Lara, her elder sister graduated from the same University in 2012 with a degree in nursing.
Sierra herself attended the Lake Howell High School after which she went ahead to acquire a bachelor's degree in advertising and public relations from the University of Central Florida.
Career Achievements
She has always loved to be a singer right from she was a child. According to reports, she started dancing at age two and would run around the house singing and dancing with sticks as supposed microphones. Sierra, would later on go for further study in jazz, ballet dance, hip hop, modern and others.
Sierra used to do music collaborations with her high school sweetheart, Alex Kinsey. They began dating sometime in 2011 and since they had a common interest in music, they started taking lessons in music and doing voice training and soon formed the music duo, Alex and Sierra.
Alex and Sierra had their big break in 2013 when they decided to participate in the third and final season of the famous American music competition television show X-factor. They got to the next round of the show after they performed Britney Spears song 'Toxic' in the audition in New Orleans Louisiana thrilling the audience and getting the mentorship of one of the judges Simon Cowell.
The couple made it to the top 12 after they performed their own version of Robin Thicke's hit 'Blurred lines' which wowed both the judges and audience who gave them a standing ovation. They made it to the semi-finals and eventually to the finals winning American X-Factor competition in December 2013.
They broke records as the first and only group ever win the American X-Factor competition before then. Winning the X-Factor competition became a platform upon which they launched their musical career as they immediately began working towards the production of their debut album in collaboration with Grammy Award-winning singer and songwriter John Legend. After working tirelessly, they dropped their debut single 'Scarecrow' with the title of their debut album 'It's About Us' in May 2014.
The group was controversially dropped by their record label in 2015 after a number of promotional videos were done on some of their other songs. They later announced their working towards the release of an extended play on September 30, 2016. However, sometime in 2017, they left fans agog as they announced their breakup as regards their dating life and making music together after eight years of beautiful relationship but still remained friends.
Sierra started hanging out with Australian singer Luke Hemmings after her breakup with Alex Kinsey. It has been rumored that they're currently in a relationship as there have been pictures of them in passionate hugs going around but the duo has rather decided to keep mute on public speculations.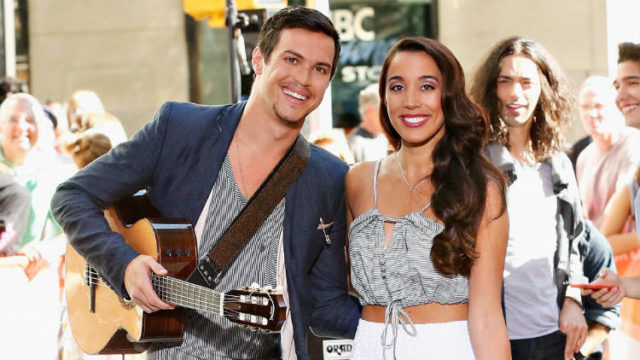 What Is Sierra Deaton Doing Now?
In a bid to further advance her career after her breakup and disbanding from the group 'Alex and Sierra', Sierra adopted the stage name, Essy and sometime in 2018, she released her debut solo single 'Don't Hurt' to the wide acceptance and joy of her fans. Currently, she is set to show the world that she is capable of blazing her trail and achieving her big dreams as a solo singer in the music industry.
Also Read About: Madysyn Rose – Biography, Facts About The American Singer-Song Writer
Other Facts About The Singer
Net Worth
Although Sierra has been doing a lot of work over the years as concerns her career and has achieved a whole lot, the exact figure of her net worth is not known but there are speculations that her net worth should be within the range of $1-10 million. At some point in her career, she received a $1 million contract with Sony music and made a lot of cash from her collaborations with her former music partner Alex Kinsey. Sierra also makes cool cash for herself during live performances.
Height
Sierra Deaton is at the moment 5 feet 3 inches tall which is about 160 cm. She is regarded as tall enough for herself.
Social Media Presence
Sierra has accounts on social media platforms including Facebook, Twitter, Instagram. Her fans follow her online to get updates on her musical events and lifestyle.