Age/Date of Birth:

Born: 16 April 1971
Died: : 31 March 1995
Height:

5 feet 5 inches (1.65 m)
Ethnicity/Race:

Multiracial
Nationality:
American
Husband or Boyfriend:
Chris Pérez (married from 1992–1995)
Parents:
Mother: Marcella Ofelia Quintanilla (née Samora)
Father: Abraham Quintanilla Jr.
Net Worth:
$10 Million
Music biopics are presently dominating Hollywood with the likes of Freddie Mercury and Elton John getting their own films about their lives and legacy. Another musician whose biopic was much anticipated was Selena Quintanilla due to her tragic death. The first one, Selena, released in 1997 had J Lo playing the titular role. The Mexican-American singer who held sway in the 90s and released several chart-topping albums was tragically shot dead by her friend turned business partner, Yolanda Saldivar who was later found guilty of murder and sentenced to life imprisonment. Selena's demise led to an outpouring of grief, especially in her home state of Texas. Her funeral attracted tens of thousands of mourners and she was buried on the 3rd of April 1995.
Quintanilla popularised the Tejano subgenre of Latin music and rose to become one of the bestselling Latina artists of all time. Her family produced the Netflix biographical drama Selena: The Series which premiered in 2020 and hopes to shed more light on the life and death of the music star. The Netflix series has no doubt refreshed memories in the hearts of those who hold the singer dear including her late husband Chris Pérez.
Selena Quintanilla's Husband Chris Pérez Has Been Committed To Sustaining Her Legacy
Theirs was a love story that could make for an interesting romantic movie which makes its tragic ending even more unfortunate, they would have gone on to become one of the biggest power couples in the Latin entertainment industry.
They had first met when Perez joined her band in 1989, they soon fell in love but Selena's father disapproved of it because he viewed Perez as a chauvinist who would hinder his daughter's career. Selena and Perez succeeded in hiding their romance for some time but her father later found out he fired Perez from the band, but this was not enough to quench their flame as the couple continued to see each other clandestinely.
They eventually eloped and tied the knot on the 2nd of April 1992 and following their nuptials, Selena's family had no choice but to accept her husband. The couple thus remained together until the singer's death in 1995.
Following Selena's death, Chris Pérez has been committed to honoring his wife. One of such times was in 2012 when he released the book To Selena, with Love, the book which chronicled their life together and their love story quickly became a best-seller, receiving rave reviews from fans and critics alike. Perez expressed his appreciation to Selena for teaching him the meaning of love and embracing life while expressing sadness about how it was not possible for them to start the family they always dreamed about. Additionally, the book dispelled rumors that were rife on the tabloids that Selena was pregnant when she died.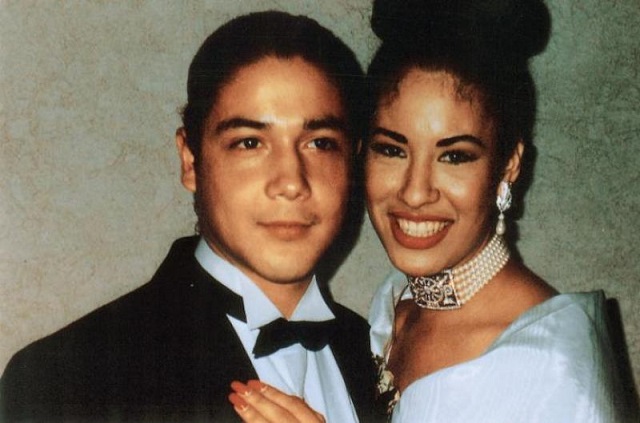 After the book was published, Perez was interviewed by CNN, he expressed shock about just how well the book was well received and the outpouring of love from fans. He also reflected upon the time of Selena's demise and said that the reception and response from fans when the book was released shocked him even more than the public's response at the time of her demise in 1995.
Perez has together with Selena's family members attended several events held in honor of his passing wife. He attended the unveiling of Selena's likeness in LA.'s Madame Tussauds wax museum in 2016, and also a year later in 2017 when she was given a star on the Hollywood Walk of Fame. The Grammy-winning singer has also performed several benefit concerts in the name of his wife including the Selena For Sanctuary charity concert which was truncated due to the ravaging Covid pandemic.
Perez Has Continued to Pursue His Music Career 
Perez has attributed his success with life especially with the music industry to the legacy his wife left behind. As Selena y Los Dinos, the band he was a part of with Selna became defunct after Selena's death, Perez resumed recording new music under his Chris Pérez Band. The band released its debut album titled Resurrection in 1999, the album included songs that Perez wrote about his wife while he grieved her demise, "Best I Can," one of the songs in the album was particularly dedicated to Selena. At the 2000 Grammy Awards, the album won Perez a Grammy for Best Latin Rock/Alternative album.
Perez's band released their second album Una Noche Más in 2002. It would also be his final album with the band, however, this does not mean that Perez has since remained idle in the music industry, in the subsequent years that followed, he joined two cumbia groups that recorded more than average success. One of those bands was the Kumbia Kings and the other, Kumbia All-Starz. Though the later band last released an album in 2010, Chris Perez has continued to record music, in April of 2020, Perez with his Chris Perez band,  released a song titled "Just Say Goodbye."
He Remarried A Mystery Woman In 2001, Six Years After Selena's Death
Six years after Selena's demise, Chris Perez was ready to give marriage another try. He married a lady named Vanessa Villanueva in 2001. They kept their romance very private as not so much is known publicly about the woman.
In 2008, news surfaced that the two had gone their separate ways, however, the reason for their split has remained unknown. Perez had kids with Vanessa, a daughter named Cassie who was born in 1999 two years before they were officially married, and a son named Noah born in 2005.
From Perez's Instagram posts, it is obvious that he maintains a close and loving relationship with his two kids. They seemed to have inherited their dad's love for music, while son Noah plays the drums, his daughter Cassie is a vocalist.
Selena Quintanilla Family Members Have Also Been Committed To Keeping Her Legacy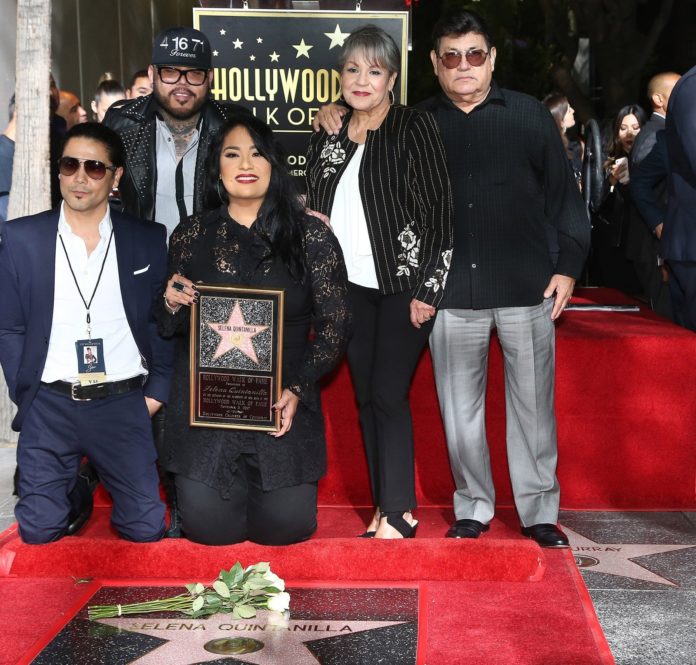 Selena Quintanilla hailed from a family of five. Her father's name is Abraham Quintanilla Jr. while her mother's name is Marcella. Abraham Quintanilla Jr. is also a musician as well as a record producer. He spent much of the 50s and 60s touring with a band known as the Los Dinos. He later set up the band Selena y Los Dinos for his 3 children. Since his daughter's demise, Quintanilla Jr. has been involved in the production of several projects aimed at honoring her legacy. He also runs a charity foundation in her name.
Selena's two siblings are Abraham Quintanilla III (brother), and a sister, Suzette. Both siblings were part of her band; Quintanilla III played the bass and provided backup vocals while Suzette played the drums and provided backup vocals as well. Following their sister's death, Quintanilla III has pursued a thriving music career with various groups including Kumbia Kings, Kumbia All Starz, and Elecktro Kumbia. Suzette, on the other hand, has largely flown under the radar. She has however revealed that her sister's death still hurts and that she still misses her.
Selena's family members with the exception of Perez were involved in the making of the 2020 Netflix biographical drama Selena: The Series with her sister and dad serving as the executive producers. There have been reports that Perez and Selena's family, especially his father do not have a smooth relationship. Perez later revealed that he was not consulted for the making of the Netflix series where he is played by Jesse Posey. Quintanilla Jr. had in 2016 reportedly blocked the adaptation of Perez's book To Selena, with Love into a TV show. Legal documents obtained by Billboard revealed that Selena's father owns all of the proprietary rights to her name and likeness.
Profile Summary
First Name:
Selena
Last Name:
Quintanilla-Pérez
Also Known As:

"Queen of Tejano music"
Sex/Gender:

Female
Profession:

Singer, songwriter, model, actress, and fashion designer
Famous For:
Signature sonf , "Como la Flor"
Colleges/Universities Attended:

Pacific Western University
Educational Qualifications:

Degree in Business administration
Religion:

Jehovah's Witness
Birthday & Zodiac

Age/Date of Birth:

Born: 16 April 1971
Died: : 31 March 1995
Zodiac Sign:
Aries
Birth Place:

Lake Jackson, Texas, United States
Nationality:
American
Ethnicity/Race:

Multiracial
Country of Residence:

United States of America (USA)
Physical Attributes

Height:

5 feet 5 inches (1.65 m)
Weight:

57 Kg (126 lbs)
Eye Colour:

Dark Brown
Hair Color:

Black
Other Body Measurements:

N/A
Relationships

Marital Status:

Married
Spouse/Partner:

Chris Pérez (married from 1992–1995)
Family and Relatives

Father:

Abraham Quintanilla Jr.
Mother:
Marcella Ofelia Quintanilla (née Samora)
Children:

2 children- Noah and Cassie
Siblings:
Suzette Quintanilla - Sister
A.B. Quintanilla III- Brother
Other Relatives:

N/A
Net Worth
Estimated Net Worth:

$10 Million
Salary:
N/A
Source of Wealth:

Showbiz