Sean Pertwee is an accomplished English actor with a career history as a narrator and producer in television and cinema productions since the 1980s.
Born into a family of legendary actors, Pertwee kind of had the table set for him from a young age and he made the most of the opportunity. He had an early start, a feat that must have been inspired by the fact that both his grandfather and father were known actors, in addition to other members of his family who are involved in the entertainment industry.
Pertwee has carved his own niche away from his intimidating background in the entertainment industry to rise to the top echelons. He is known for his appearances in British blockbusters such as Dog Soldiers and the American TV series Gotham, among several others.
Sean Pertwee's Profile Summary
Full name: Sean Carl Roland Pertwee
Gender: Male
Date of birth: June 4, 1964
Sean Pertwee's Age: 59
Place of birth: Hammersmith, London
Ethnicity: Caucasian
Nationality: English
Zodiac Sign: Gemini
Sexual Orientation: Straight
Marital Status: Married
Sean Pertwee's Wife: Jacqui Hamilton-Smith
Sean Pertwee's Children: Alfred Pertwee, Gilbert Pertwee
Sean Pertwee's Parents: Jon Pertwee, Ingeborg Rhoesa
Siblings: Dariel Pertwee
Sean Pertwee's Height in Inches: 6 ft
Sean Pertwee's Height in Centimetres: 183 cm
Sean Pertwee's Weight: 72 kg
Sean Pertwee's Net worth: $5 million
Famous for: being an actor
Sean Pertwee's Instagram: seanpertwee
Twitter: @seanpertwee
Background and Early Life – Who is Sean Pertwee?
The British actor was born in Hammersmith, London on Jun 4, 1964. He is the son of Jon Pertwee, an English actor, and comedian who also served in the Second World War under the Royal Navy and the Naval Intelligence Division. Pertwee's mother is a German woman named Ingeborg Rhoesa but her footprints cannot be found in the entertainment industry. Ingeborg Rhoesa is known as a food writer.
Growing up with an eccentric father must have been a fun experience for Pertwee who was born into a theatrical family with entertainers who were good in their crafts. His early life was filled with many fun memories and to date, his father still inspires him. For his education, Pertwee attended Teddington Boys' School in Middlesex before he proceeded to further his studies at Sunbury College, Surrey.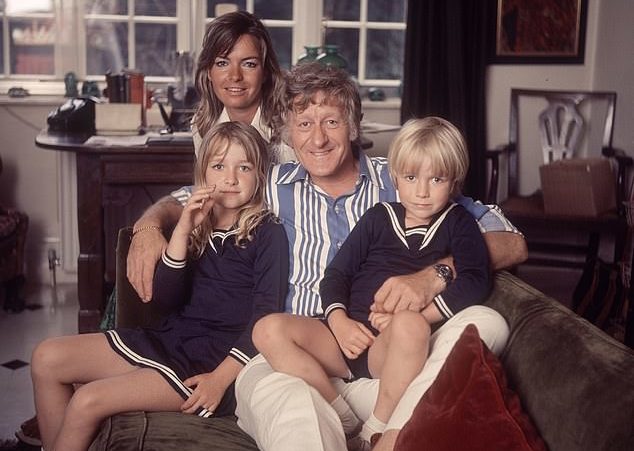 10 Interesting Facts To Know About Sean Pertwee
1. Sean Pertwee is a Bristol Old Vic Theatre School Alum
For someone who already knew the career path to follow from a young age, graduating from a regular high school and college wasn't enough for Pertwee. Thus, he enrolled in the prestigious Bristol Old Vic Theatre School located in Bristol, England, to hone his skills in the performing arts. The actor graduated from drama school in 1986 and went straight to the theatre as a professional thespian.
2. He Toured with the Royal Shakespeare Company At The Budding Stage Of His Career
Fresh out of Bristol Old Vic Theatre School, Pertwee joined the Royal Shakespeare Company and gradually transitioned from theater to the screen. One of the biggest British theater companies, The Royal Shakespeare Company helped him perfect his craft as he toured with the group for three years from 1986 to 1989. Afterward, he appeared in his first credited role in Poirot: The King of Clubs as Ronnie Oglander and Hard Cases as Dominic Lutovski – both in 1989.
3. Which Is Sean Pertwee's Most Famous Work?
Sean Pertwee has been in a slew of movie and television projects but some of them stand out among the rest. So far, his most famous roles are as Captain Fitzpatrick in the theatre rendition of Tom Jones (1997), as Sergeant Wells in the British horror film titled Dog Soldiers, and as Alfred Pennyworth in the popular American TV series Gotham. Other notable projects in his portfolio include Event Horizon – a 1997 horror science fiction movie where he played the role of Pilot Smith and Elementary – a CBS American procedural drama TV series where he portrayed Inspector Lestrade. Pertwee is also the narrator of the popular MasterChef: The Professionals, as well as Zero Hour.
4. Awards Sean Pertwee Has Won
Through his filmography containing 120 credits as of March 2022, Sean Pertwee has garnered nominations from prestigious award bodies and won some. The first award recognition recorded in his name was in 2013 for Best Vocal Ensemble in a Video Game – PlayStation All-Stars Battle Royale (2012) at the BTVA Video Game Voice Acting Award. He was also nominated. In 2020, Pertwee won two awards he was nominated for. The two awards came in honor of his role in The Reckoning (2020) for which he won a Best Actor award at the Festival Award and LAIFF Summer Award. Below is a summary of his awards.
Nominee: Best Vocal Ensemble in a Video Game – PlayStation All-Stars Battle Royale (2012) by BTVA Video Game Voice Acting Award
Winner: Best Actor – Festival Award (2020)
Winner: Best Actor – LAIFF Summer Award (2020)
5. Is Sean Pertwee Related to John Pertwee?
Professionally known as Jon Pertwee, John Devon Roland Pertwee was the father of Sean Pertwee. Before his death on May 20, 1996, Jon left a lasting legacy as an English actor, comedian, entertainer, cabaret performer, and TV presenter and his feats also left a big shoe for Sean to fit into. Jon died in his sleep from a heart attack in Connecticut at the age of 76. One of his most famous works is Doctor Who from 1963 to 1989.
6. Was Sean Pertwee in The Army?
Sean Pertwee did not serve in the Army but his father did. The older Pertwee served under the Royal Navy and the Naval Intelligence Division during the Second World War. He spent six years in service to his country and was a crew member of HMS Hood. He began his career as a comedian cum actor after the war ended, his time in the Navy inspired some of his works at the budding stage.
7. Sean Pertwee is Married To Make-up Artist Jacqueline Jane ″Jacqui″ Hamilton-Smith
The English actor went out of the thespians circle to fall in love. Sean Pertwee has been married to Jacqui Hamilton-Smith since 1999 and their union has been rock solid. Their wedding ceremony took place at the House of Lords – Palace of Westminster, London, United Kingdom, on June 12, 1999. Jacqui Hamilton-Smith is a makeup artist and her claim to fame is her marriage with Sean Pertwee. However, she was born into the influential family of Anthony Hamilton-Smith (her father) who is a British politician and dentist.
8. Sean Pertwee Had Twin Boys But Lost One
The English actor is currently a proud father of one but what many don't know is that he had two sons. In December 2001, two years after their wedding, his wife gave birth to twin boys named Alfred and Gilbert but they were born prematurely. Alfred is the lucky twin who survived while his brother Gilbert died in April 2002. Sean Pertwee doesn't spare any moment to share how proud he is to be a father.
9. He Comes From a Theatrical Family
The Pertwees have made a statement in the entertainment industry with their career achievements and talents. Pertwee's father, Jon still takes credit as the all-time most iconic Doctor Who. He played the Third Doctor in the Doctor Who science fiction series from 1970 to 1974 and those four years were spent making history. Jon Pertwee also played the title character in Worzel Gummidge. Sean Pertwee's grandfather, Roland Pertwee, was also an English actor who doubled as a playwright, as well as a film and television screenwriter.
Other members of the Pertwee family who carved a career in the entertainment industry are Sean's sister Dariel Pertwee (an actress), his uncle Michael Pertwee (an English playwright and screenwriter), and his third cousin Bill Pertwee (an English comedy actor known for his role in dad's Army) Sean has dreams of being cast as the Doctor in, Doctor Who to honor his father's memory.
10. Sean Pertwee Once Owned a Production Company
Beyond acting, Sean Pertwee has tried his hands in other lucrative ventures. The English actor co-founded a production company called Natural Nylon alongside Jude Law, Jonny Lee Miller, and Ewan McGregor. The company was founded in 1997 and operated for about six years before it folded in 2003.