Sean Murray is an American actor primarily known for appearing on the television drama NCIS, where he plays the role of Special Agent Timothy McGee. He's been married to Carrie James since 2005 and together they have two children: Caitlyn Melissa Murray and River James Murray. 
The actor who has always been chubby suddenly lost a lot of weight in 2017 and addressing speculations surrounding it, he explained that his weight loss was strictly for the purpose of good health.
NCIS is one of those American TV drama series that have sustained for a long time. Just as it has become very popular, so has its cast members, one of whom is the American actor, Sean Murry, come to be well known.
Famed for portraying Special Agent Timothy McGee on the show, Murray has many appearances under his belt since he started his acting career in 1991 with appearances in Backfield in Motion and Civil Wars. Many years later, he has got many more roles and has achieved so much in both his personal and professional life.
A Look at the Family Life of Sean Murray
It was on the 15th of November 1977 in Bethesda, Maryland that the actor was birthed as Sean Harland Murray into the family of Craig Murray and Vivienne Bellisario. Unfortunately, his father who was a naval officer would later divorce from his mother who went on to marry the TV producer, Donald Bellisario.
While growing up, one thing that he always fancied is showbiz. It was something that surrounded him as his relatives were mostly involved in the movie industry. Thanks to their influence, he began acting as a teenager in 1991.
He was brought up in a large family alongside a biological brother and five step-siblings. His younger brother, Chad W. Murray is also in the showbiz as a TV producer. He has been involved in a number of productions including  NCIS: Los Angeles (2009) and  NCIS (2003). The actress Troian Bellisario is among his step-siblings. She is most popular for her lead role in the series Pretty Little Liars and has won several awards. Aside from being an actress, she is also a writer, producer, and director. She started her career in 1993 and since then, has come to record many roles to her name.
Sean Murry also has another step-sister, Julie B. Watson who is a TV producer known for Dimensions. His other siblings are Michael Bellisario and Nicholas Bellisario, who are both actors; as well as the lesser-known members of the family Joy Bellisario-Jenkins and Leslie Bellisario-Ingham. There is also David Bellisario, a TV producer.
Who are His Wife and Kids?
Away from his parents and siblings, the on-screen sweetheart is also a loving partner at home. He is married to Carrie James with whom he walked down the aisle on the 26th of November 2005. Since then, the two have been riding the waves and sticking together.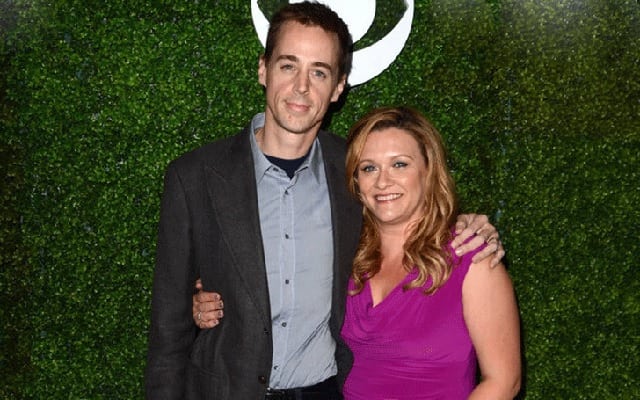 Unlike her husband, Carrie James is not the most popular person one would meet on any day. However, she has been involved in a lot of things on her own. A graduate of San Francisco State University where she got her Bachelor's degree and Antioch University where she got her Master's degree, Carrie is the founder of Bra Network (Business Relationship Alliance). She created the network to help advance female-owned businesses.
The couple has been blessed with two kids; a daughter named Caitlyn Melissa Murray who was born on the 3rd of May 2007 and a son called River James Murray, born on 22nd April 2010. Sean holds his family so dearly and does his best to keep them happy. For now, it still remains to be seen if the kids would follow their family tradition of delving into the world of entertainment.
The Truth About Sean Murray's Weight Loss
The NCIS actor has always been on the chubby side, which is the reason his fans began to worry when he suddenly lost a lot of weight. The main concern of fans was that the weight loss which occurred in 2017 was rather too sudden and pretty much very clear for all to see.
Sean Murray was quick to put the minds of his fans at ease by assuring them that his weight loss was strictly for the purpose of good health. The actor explained that he strictly focused on organic intakes and stayed away from alcohol and sugar which has helped in lowering his calorie intake significantly.
Sticking to a diet and losing 25 lb within that short period of time does take hard work and discipline but Sean did it. After a successful weight loss journey, the actor now has a body that goes well with his looks. Standing at 6 feet 2 inches, he weighs about 75 kg, which is equivalent to 165 lb.