Sean Murray, the talented, handsome, baby-faced actor is famous for his role in the American TV drama NCIS. Before his stint with NCIS he first appeared in a motion picture with 'Hocus Pocus' in 1993, and since then, he has relentlessly moved up the ladder, starring in a great number of hit movies. Ever since his debut in 1993, Sean hasn't slowed down and isn't showing any sign of doing so. Here are some interesting facts about this talented actor.
Sean Murray Biography
Sean Harland Murray was born on 15th November 1977 in Bethesda, Maryland. His father, Craig Murray was a US Naval officer and his mother is Vivienne Bellisario. After his parents divorced, his mother married Donald Bellisario, a TV producer. He attended Bonita Vista High School in California. Sean has always fancied being an artist and with the influence of his family and siblings who are mostly in the movie industry, he began acting in his teens and never looked back.
Sean's acting career began as far back as 1991 when he appeared in the movie 'Backfield' which was his first movie. He starred in TV series 'Civil Wars' which gradually pushed him to prominence. In 1993, he starred in three different movies; 'Hocus Pocus' which won him an award nomination for Best Youth Actor, 'River of Rage' and 'This Boy's Life'.
Sean Murray appeared in the series 'ER' and 'Trial by Fire' in 1995. In 1996, he starred in 'For My Daughter's Honor', 'The Lottery' and 'Fall Into Darkness'. His fans could not get enough of him and the public loved his movies. Keeping up the speed, he featured in the movie 'sleepwalker' in 1997. The following year, it was the show 'JAG', and in 1999, he featured in 'Touched By an Angel'. In 2000, Murray featured in an episode of 'Boston Public'. He stars on America's number one TV series NCIS which he joined in 2003, and has gained the love of fans across the country.
Personal Life – Family, Wife, Siblings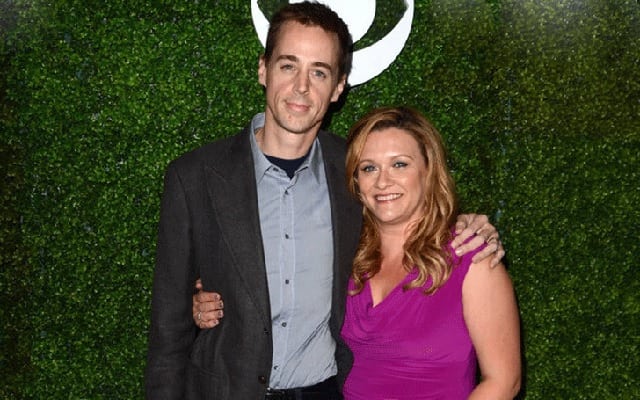 Sean Murray is not only a sweetheart on screen but is also a loving partner at home; judging from pictures of his family which he posts on his social media page, and how strong his long-spanned marriage has been. He got married to his wife Carrie James on 26th November 2005 and ever since, they have been riding the waves and sticking together. The couple has two children together; their first daughter, Caitlyn Melissa Murray who was born on 3rd May 2007, and their son River James Murray, born on 22 April 2010. Sean holds his family so dearly and does his best to keep them happy.
See Also: Adam Scott (Actor) Wife, Kids, Height, Age, Net Worth, Biography
The actor has a brother Chad Murray, a TV actor and producer who produced NCIS: Los Angeles. Sean also has seven step-siblings from his mother's marriage to veteran producer and screenwriter, Donald Paul Bellisario. One of his step sisters is famous actress Troian Bellisario who also played the role of his sister in NCIS. She is most popular for her lead role in the series 'Pretty Little Liars' and has won several awards and nominated five times for the Teen Choice Awards which she has won twice. Aside from being an actress, she is also a writer, producer, and director. Sean's other step sisters include; Julie Bellisario Watson who is also a producer and a writer, Leslie Bellisario Ingham, and Joy Bellisario Jenkins.
Sean Murray has three stepbrothers; Michael Bellisario; an actor, and scriptwriter, David Bellisario; a producer, and Nicholas Bellisario. It is clear to see that Sean is from a 'showbiz family' who undoubtedly influenced his career decisions.
Weight Loss, Is He sick?
The NCIS actor has always been on the chubby side, which is the reason his fans began to worry when he suddenly lost a lot of weight. His fans were concerned about his health, especially those who followed the NCIS series. There had been rumours that the actor was terminally ill or had some kind of cancer.
Sean Murray was quick to put the minds of his fans at ease by assuring them that his weight loss was strictly for the purpose of good health. The actor explained that he strictly focused on organic intakes and stayed away from alcohol and sugar. Well, sticking to a diet and losing 25Ibs within that short period of time does take hard work and discipline but Sean did it.
Body Measurements – Height, Weight
After a successful weight loss journey, Sean surely has a body that goes well with his looks. Standing at 6 feet 2 inches, he is more than average in height. He weighs about 75kg, which is equivalent to 165Ibs; and has an average body type.