Scottie Pippen is a former professional basketball player who played in the NBA for 17 seasons. He notably played alongside Michael Jordan on the Chicago Bulls team that won six NBA Championships in the 1990s. Scottie enjoyed a very successful career as he is regarded as one of the greatest players in NBA history. However, the same cannot be said for his marital life as he has been married and divorced twice.
Scottie Pippen was an Outstanding High School and College Basketball Player
A couple of years after he was born in Hamburg, Arkansas, on the 25th of September 1965, Scottie Pippen began his legendary journey as a basketball player. He began playing for the Hamburg High School team as a point guard, taking advantage of his incredible 6 feet 1-inch height at a young age.
During his high school years, his scoring abilities led the team to the state playoffs. He also recorded one of his early individual achievements, getting named among the All-Conference Honors. His high school exploits eventually earned him a place in college, playing for the University of Central Arkansas.
Through basketball, Scottie Pippen became one of the few children of his parents to attend college. Scottie turned out to be a remarkable gem in college. Following another growth spurt to a height of 6 feet 8 inches, Pippen became one of his team's best defensive players. Over four years and 93 games in college, Pippen averaged 17.2 points per game, as well as 2.7 assists and 8.1 rebounds per game.
His college performances earned him a place in the Consensus NAIA All-American honors, drawing a wide range of interest from NBA teams as a result.
He was Among the Top Picks in His Professional Career Debut
Scottie Pippen's college career helped him secure a first-round fifth overall draft pick in the 1987 NBA drafts by the Seattle Supersonics. However, he was traded to the Chicago Bulls, where he started a career that would forever go down in basketball history.
Despite playing for other teams in the NBA like the Houston Rockets and the Portland Trail Blazers and a year stint playing for two teams in Finland and Sweden, it is his Chicago Bulls career that stands out the most.
Even though he had a lackluster rookie season with the Bulls, where he averaged 7.9 points per game, a partnership with Michael Jordan quickly helped transform him into one of the league's best players. Both of them, as part of the Bulls' core of young players.
The initially mixed bag of success quickly turned into league domination as Pippen helped the team to three championships in a row between 1991 and 1993. After Michael Jordan retired just before the 1993-94 season, Scottie Pippen emerged from his shadow. He led the Bulls in scoring, assists, and blocks, earning him the All-Star Game MVP honors.
After two years without a title, he won three championships between 1995 and 1998, solidifying his place among players with the highest number of NBA Championships with six titles. Following the end of his second three-peat with the Bulls and 11 seasons, Pippen, who averaged 19.1 points per game, left the team for the Houston Rockets.
Scottie Pippen spent a season with the Houston Rockets and three seasons with the Portland Trail Blazers before he returned to the Chicago Bulls, where he spent his last season in the NBA in the 2003/04 season. After he left the NBA, he went to Finland, where he played for Torpan Pojat and Sundsvall Dragons, before retiring from the game in 2008.
He Maintains An Impressive List of Career Achievements
Outside of his six remarkable NBA titles with the Bulls, Scottie Pippen's amazing career also saw him win and record several individual accolades of his own. He was named in the NBA All-Star seven times and won the MVP award once. Others include the All-NBA First-Team thrice, All-NBA Second Team twice, and All-NBA Third Team twice.
The Chicago Bulls No. 33 was also named in the NBA All-Defensive First Team eight times and was part of the Second Team twice. Other accolades earned during his playing career include USA Basketball Male Athlete of the Year, and he was named in the NBA 50th Anniversary All-Time Team.
Since he retired, Scottie Pippen has been inducted into the Basketball Hall of Fame, twice, for his exploits with the Bulls and being a part of the US Olympics winning team in 1992. Two of his jerseys, No. 33 for the Central Arkansas team and No. 33 by the Chicago Bulls, were retired by the respective team in further acknowledgment of the greatness of his performances during his playing career.
Scottie's Personal Life is a Mixed Bag of Success
While Scottie Pippen's professional career is an undisputable success, his personal life can, at best, be said to be a mixture of highs and lows. The Hamburg, Arkansas-born legend has been married twice, and both of them have failed. He also has children from a couple of other relationships
His Marriages Does Not Share The Same Level of Successes As His Career
Scottie Pippen's first marriage was to a woman named Karen McCollum in 1988. Before they got married, they had a child, Antron Pippen, who was born a year before. Unfortunately, while like everyone else, Scottie would have hoped for his first marriage to be his only one, it did not turn out to be.
After two years of being married, they separated and got divorced in 1990. The exact reason for the divorce is unknown. And while many speculate incompatibility and infidelity on the part of Scottie, nothing has been confirmed by either party.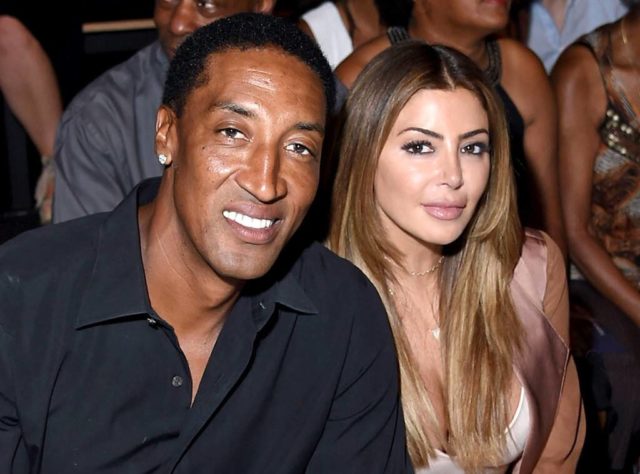 As a man who has made it to the highest level of basketball, Scottie Pippen is well familiar with failure and knows the trick to succeeding is trying again after you have failed. So, in 1997, he gave marriage another try with Larsa Younan Pippen.
Despite their significant age difference of ten years, their marriage looked poised for success. While they were together, they gave birth to four children – Scottie Pippen Jr. Preston Pippen, Justin Pippen, and their only daughter, Sophia Pippen.
However, having four children and being together for more than two decades was not enough ingredients to keep the Scottie Pippen/Larsa Younan romantic story alive. After weathering the storm of divorce rumors in 2016 when Larsa was alleged to have cheated on the basketball star with hip hop star, Future, the two of them eventually got divorced in 2018.
The straw that broke the camel's back was a decline in the quality of their marriage. According to Larsa, who denied cheating on the basketball icon, their marriage ended because she felt alone in the marriage. She suggested Scottie had abandoned the family, failing to show up for several family holidays, including her birthdays.
He Has Been in a Number of Relationships That Didn't End Well
Outside of his marriages, Scottie Pippen has also had a mixed bag of results when it comes to his relationships, some of them leaving permanent marks. He was once engaged to a woman named Yvette De Leon. While they were together, they had a daughter, Sierra Pippen, who was born in 1994.
He was also involved with a Chicago model, Sonya. The exact nature of their relationship is left to speculation, but it did result in the birth of twin children – Taylor and Tyler Roby Pippen. Tyler did, however, die shortly after birth.
Public information suggests the basketball legend has found it challenging to maintain a great relationship with his children, particularly those he had outside wedlock. However, having reportedly gotten back in the relationship saddle with a yet-to-be-named woman, the Chicago Bulls legend continues his search for a successful relationship that mirrors his professional career.
How Many Rings does Scottie Pippen Have?
Scottie Pippen has six rings. He got them for winning the NBA championship in 1991, 1992, 1993, 1996, 1997, and 1998.
How Much is Scottie Pippen Worth?
Scottie Pippen's net worth is estimated to be around $20 million, a fortune he largely made from his NBA career.
Is Scottie Pippen still Married?
No! Scottie's second and latest marriage was to socialite Larsa Pippen but their divorce was finalized in December 2021.
How Many Kids Does Scottie Pippen Have?
Scottie Pippen has eight (8) children. His son Antron came from his first marriage while he welcomed four kids; Scotty Jr., Preston, Justin, and Sophia, from his second marriage. The basketball player welcomed daughter Sierra with an ex-fiancee and twin girls named Taylor and Tyler with another former girlfriend. Taylor, however, passed away nine days after birth.
How Many Championships does Scottie Pippen Have?
Scottie Pippen has six NBA championships to his name. He won it with the Chicago Bulls in 1991, 1992, 1993, 1996, 1997, and 1998.