If superstars are born and not made, Sasha Pieterse, the South African-born American actress, model and singer-songwriter would probably appear on top of the list. She has been in the arena since age 6 and is popularly known for her role as Alison DiLaurentis, the queen bee of Rosewood High in Pretty Little Liars. Pieterse also participated in the 25th season of Dancing with the Stars in 2017.
Some time ago, she was bullied for her weight gain but has lost a ton since then. Read all about it here.
Sasha Pieterse – Bio
Sasha Pieterse was born in Johannesburg, Gauteng, South Africa on the 17th of February 1996. Five years after her birth, her family relocated to the United States and settled in Las Vegas where she was subsequently raised before their eventual move to the nation's hub of entertainment, Los Angeles.
Both of her parents are acrobatic dancers who performed internationally and as such, she got an early start in the entertainment industry. She loved getting on stage with her parents as a child and by the time she was 4, she had already signed a modelling and acting contract and started appearing in commercials. Thus, she didn't have a regular school experience but was homeschooled and graduated at the age of 14.
In 2002, Sasha debuted on TV as Buffy on the sitcom Family Affair. She started making waves immediately and scored a guest-starring role as Grace in 2004 on Stargate SG-1 and in two episodes of the short-lived TNT series Wanted (2005) as Millie Rose. She portrayed a terminal cancer patient, Andie on the Fox medical drama House (2005). Though she appeared in only one episode, Autopsy, her performance got her a Daytime Emmy Award nomination. Shortly after, she got her first film role as Marissa, the Ice Princess in the 2005 adventure film The Adventures of Sharkboy and Lavagirl in 3-D.
Sasha Pieterse starred in the 2007 films Good Luck Chuck, and The Air I Breathe alongside Kevin Bacon, Forest Whitaker, and in the lead role in the Hallmark original film Claire. She also appeared in shows such as CSI: Miami (2007), Without a Trace (2009), Heroes (2009-2010) and Heroes: Slow Burn (2009) prior to landing the main role as the enigmatic Alison Dilaurentis through the 7 seasons of the ABC's teen drama mystery-thriller Pretty Little Liars (PLL, 2010-2017). She is set to reprise her role in the sequel series titled Pretty Little Liars: The Perfectionists on Freeform in 2019.
While filming PLL, she was cast as Amy Loubalu in Disney Channel original movie Geek Charming (2011), an episode each of Medium (2011) as Marie DuBois, Hawaii Five-0 as a terrorist pupil Dawn Hatfield in 2014, and as Destiny in the web series Sing It! (2016). In films, Pieterse had a cameo appearance in X-Men: First Class (2011), starred as Fawcett Brooks in the teen comedy G.B.F. (2013), Japonica Fenway in Paul Thomas Anderson's Inherent Vice (2014), and as Aria in the 2015 indie film Burning Bodhi.
After 7 seasons of PLL, Sasha continues pursuing her passion for movies and television with her most recent works including films Coin Heist (2017) and The Honor List (2008). She also appeared in the 25th season of Dancing with the Stars where she was paired with professional dancer Gleb Savchenko and the couple finished in 10th place.
Sasha is a talented singer. She sings the rock and country genre and released four singles in 2013 including This Country is Bad Ass (April 12), R.P.M (June 13), I Can't Fix You (July 12), and No (December 10) with plans to release an album soon. As a model, Pieterse appeared on the covers of December 2014 issue of BELLO magazine Young Hollywood and the 2015 issue of TeenProm magazine.
Her impressive performances have been acknowledged on a lot of platforms and have also earned her several awards as well as nominations. She won the Young Artist Award for Best Performance in a TV series in 2003 and two Teen Choice Awards (2014, 2016).
Family
Sasha Pieterse is the only child born to her dancer parents; Sean and Zizi Pieterse.
On December 22, 2015, she became engaged to her childhood friend and boyfriend of 6 years, Hudson Sheaffer. The duo tied the nuptial knots on May 27, 2018, at Castle Leslie in Glaslough, Ireland. They have two dogs; Lady and Levi.
Before Sheaffer, she dated Cayden Boyd. Her fourth single No which is about standing strong in one's convictions and saying no when an unfaithful, lying ex-boyfriend asks for a second chance, could be an allusion to her ex. Just guessing, though.
Her Weight Gain, Weight Loss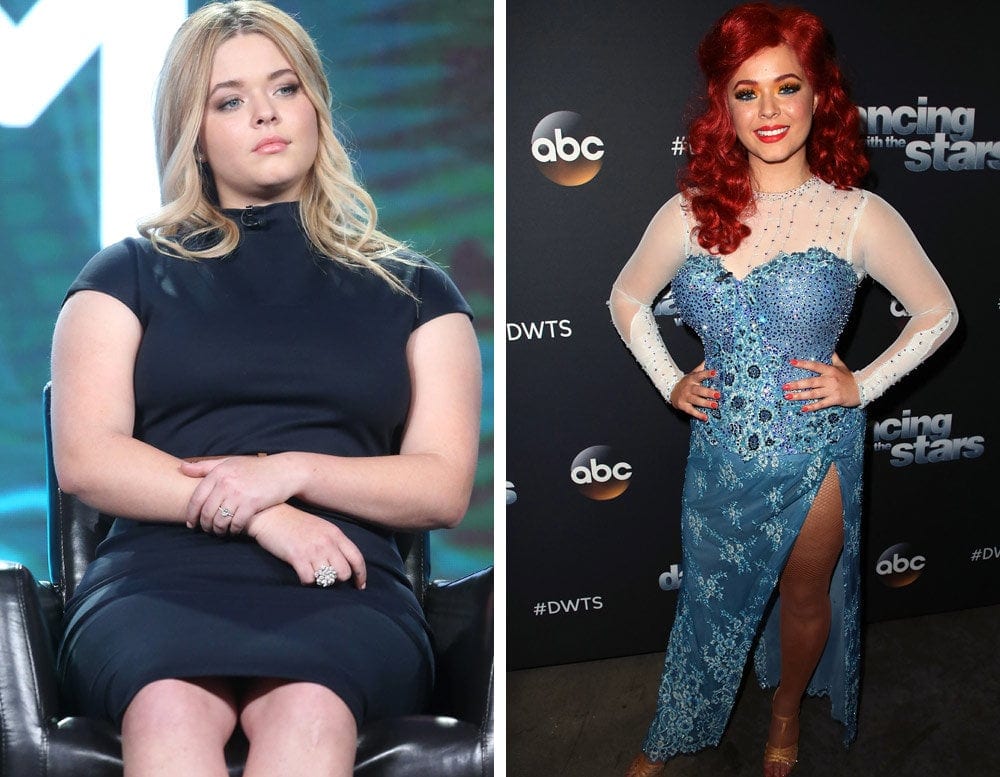 While weight gain could be attributed to a number of factors including lifestyle and diet, a number of people pack on body mass due to situations that are a little over their control like hormonal disorder as per medical condition. Sasha Pieterse belongs to the latter group.
Although she prefers healthy eating, hits the gym about 4 or 5 times a week where she does mostly cardio, spin class and yoga, Sasha couldn't help but wonder what fuelled her weight gain. The answer wasn't long in coming. She revealed in DWTS that she was diagnosed with Polycystic ovary syndrome (PCOS), which contributed to her weight gain. She gained 70 pounds in two years but gracefully dropped 37 pounds while starring on the reality dancing competition.
Sasha Pieterse continues to lead a healthy lifestyle and adopt pro-health practices.
See Also: Lucy Hale Biography, Boyfriend, Net Worth, Age, Height, Weight Loss Journey
Facts About Sasha Pieterse
The PLL actress has a height of 5′ 6″ (1.68 m).
She is also an Instagram star with more than 9 million followers.
Her net worth is estimated to be $2 million.
She wasn't the only South African on PLL, Tammin Sursok who portrayed Jenna also hails from the country.
She loves horse riding and started doing it when she was only 9.
Sasha is pro-arts and loves what it offers as well as delves into them. She loves interior and exterior designs, photography, modeling, and travelling. She developed the travel bug as a child as she had to travel with her parents.
Additionally, she launched her jewelry line, Rigid Creations, in 2010 and her lifestyle blog site with a focus on food and decor, Sasha in Good Taste in 2015.
Her PLL co-star Ashley Benson portrayed a teenage Jean Grey, a character her physical look inspired in the 2008 comic book, X-Men Origins. Besides, she turned down the offer to play Jean, a role ultimately played by Sophie Turner, in X-Men: Apocalypse (2016).
She is credited as the executive producer of her RPM music video.
Fellow South African born actress Charlize Theron occupies the place of her favorite actress while Matthew McConaughey takes up the actor position.