Ryan Seacrest is not gay but straight as he has dated several women over the years. Even though his sexuality has been questioned time and again, he has made little effort to clarify the question of him being gay, hence fuelling the idea that he might be gay.
Ryan Seacrest has been in a relationship with model Aubrey Paige Petcosky following his split from Shayna Taylor. He has also been in relationships with Larissa Schot (2019), Hilary Cruz (2015), Shayna Terese Taylor (2013 – 2019), Dominique Piek (2013), Julianne Hough (2010 – 2013), Jasmine Waltz (2009), Sophie Monk (2008), Tara Conner (2008), Holly Huddleston (2008), Sheryl Crow (2006), Debbie Gibson (2003), Shana Wall (2003 – 2005), Erica Lancellotti (2002 – 2003) and Tiffani Thiessen.
Is Ryan Seacrest Gay?
Ryan Seacrest's sexuality has often been questioned by fans, perhaps, this is as a result of how he takes so much care of his looks or his banter with Simon Cowell, an American Idol judge. Cowell would always refer to Ryan Seacrest as "Sweetheart." suggesting that he "should know" whether a contestant's high heels were fashionable, he even told Seacrest to "come out."
Since the start of his profession, rumors have been flying around that Seacrest is gay but it's simply not true.
Is Ryan Seacrest Married?
Ryan, who has dated several ex-girlfriends for extended periods, has never been married. Despite his admiration for the institution of marriage, he has been transparent about his reluctance to wed. During an interview with Kelly Ripa on Live!, Ryan revealed that he has a personal belief that has deterred him from getting married.
As Ryan explained, "I love the idea [of getting married]…I know you're going to ask me of marriage because my parents have been married for 47 years, and so I have this thing." He continued, "I figure the longer I wait, the older I'll be, the closer to death I am, so I can get it in, and not screw it up."
While Ryan has remained steadfast in his views on marriage over the years, he hinted at a possible shift during a Live! interview in August 2022. When asked about settling down, he replied, "I'm happy. I'm happy in the present moment," before adding, "I think having kids at the right time would be great." It appears that Ryan's current relationship may have inspired him to consider starting a family, despite his previous reservations about marriage.
So, in essence, Ryan Seacrest is not married, not gay, and has a number of girlfriends to prove it. Meet them
A Timeline of Ryan Seacrest's Girlfriends and Relationships
Many would expect a man with such tremendous success as Ryan Seacrest to be a family man. That's not the case. Nevertheless, he has dated several women since he became famous. Below is a list of all the women he has been with.
Ryan Seacrest and Erica Lancellotti (2002 – 2003)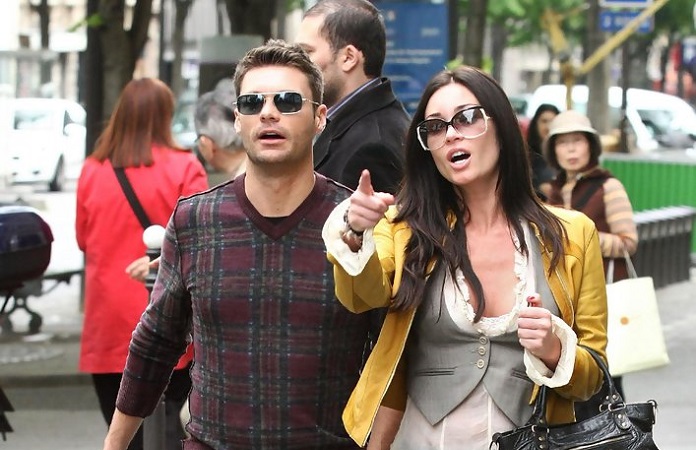 As earlier mentioned, Ryan Seacrest came to widespread media attention in 2002 after becoming a co-host of American Idol. During this time, Ryan took to his side a Bar Candy entrepreneur called Erica Lancellotti. The two dated for about a year during which Erica made a few public appearances, including an interview on Howard Stern's radio show.
Ryan Seacrest and Shana Wall (2003 – 2005)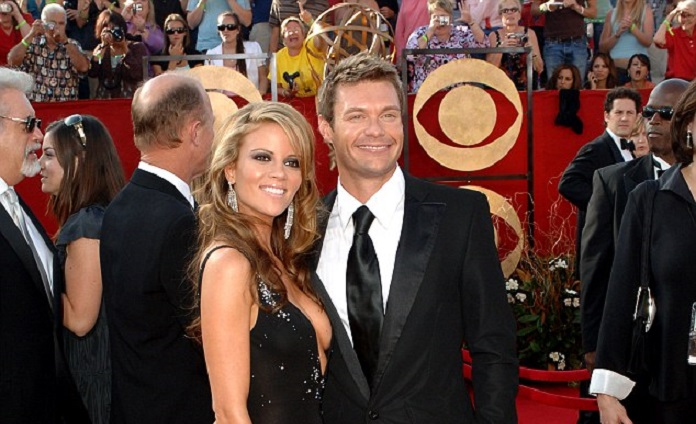 After parting ways with Lancelloti, Seacrest found a new lover, an American television actress cum model called Shana Wall. Shana is popular for taking part in the 2001 CBS reality competition series, The Amazing Race. Seacrest and Wall dated for about two years before going their separate ways.
Ryan Seacrest and Julianne Hough (2010 – 2013)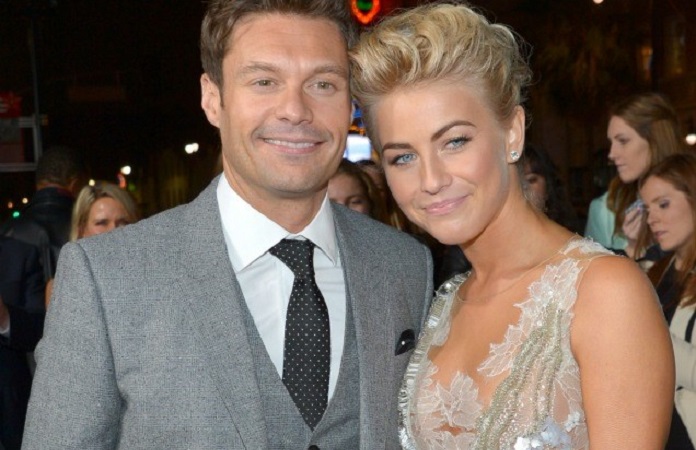 April 2010 saw Ryan Seacrest begin his relationship with Julianne Hough. They were pretty serious and it was thought that they would become life partners. This didn't happen as news broke in March 2013 that they have parted ways.
Some sources blamed their busy schedules as the reason for the split. Although none of them confirmed this, it was apparent that they separated amicably. When Hough married Brooks Laich in 2017, Ryan sent a congratulatory message to the couple.
Dominique Piek and Other Women He Briefly Dated 
Following his breakup with Hough, Ryan Seacrest briefly found solace in a Sports Illustrated Swimsuit model called Dominique Piek. The pair dated for just about five months before things packed up.
In 2006, Ryan briefly dated American singer Sheryl Crow. That same year, he had a fling with Desperate Housewives star, Teri Hatcher. The duo only had a few dates before Ryan called it off. He briefly dated another singer named Sophie Monk in 2008. After splitting from Monk, Seacrest had his time with Playboy Playmate, Sara Jean Underwood.
That's not all, two months in 2009 saw Ryan date a bartender named Jasmine Waltz.
Ryan Seacrest and Shayna Taylor (2013 – 2014)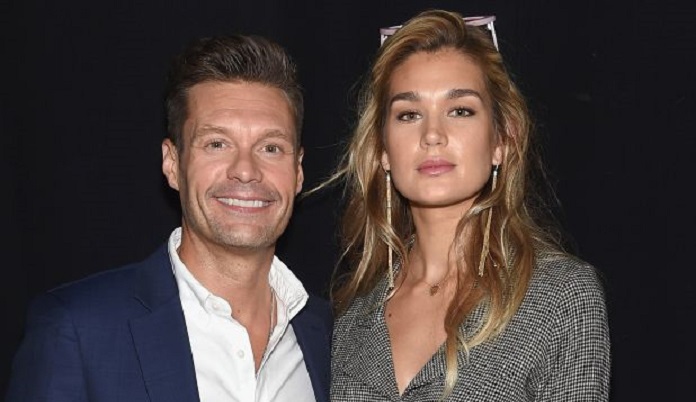 After Dominique Piek came Shayna Terese Taylor; a chef, wellness coach, and former model. Not long after meeting through some mutual friends in Los Angeles, Ryan Seacrest made his first public appearance with Shayna in November 2013 during a vacation in Uruguay.
Ryan and Shayna initially kept their relationship away from the media but that would not last as they soon began vacationing together and getting cozy publicly. Be that as it may, what became of Seacrest's previous relationships befell his romance with Taylor. The duo broke up before 2014 elapsed.
Ryan Seacrest and Renee Hall (2015 – 2016)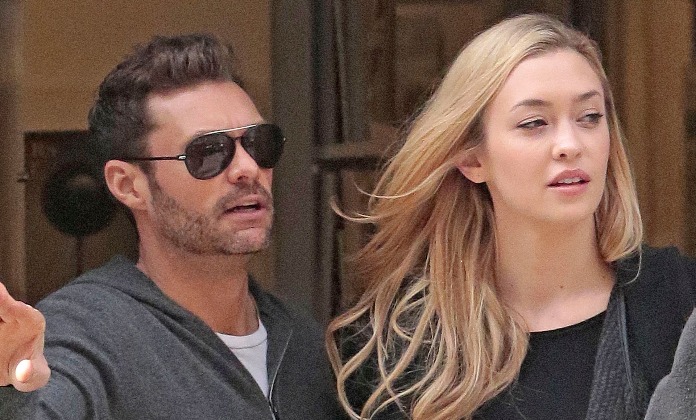 He reportedly met the model at his 40th birthday bash in Napa Valley, California, but the duo was first spotted together in March 2015 when Ryan took Renee to see an art gallery in New York City.
One peculiar thing about Renee among all the women Ryan had dated was the fact that she is a single mother. She has a cute son called Levi with her ex-husband Zachary. Hardly can anyone tell what happened to this relationship. As of 2016, they were obviously no longer together.
Who Is Ryan Seacrest Dating Now?
Ryan Seacrest and Shana Taylor reignited their love sometime in 2016. The pair made public appearances and Shana even had to move to New York in 2017 to be with Ryan. 2019 came and it emerged that they had parted again, only to reconcile in September of the same year.
On 2020's Valentine's Day, Shana posted a romantic photo of herself and Ryan, with a caption that suggests they intend to take their relationship to a lifetime level. However, that wasn't meant to be as they broke up again
Aubrey Paige Petcosky is Ryan Seacrest's Girlfrend
Sometime around June 2021, rumors started making rounds that Ryan was dating an influencer named Aubrey Paige Petcosky. Paige is an influencer with about 50,000 followers on Instagram, but like many other exclusive influencers, her account is private. So far, Ryan has not confirmed whether he is currently in a relationship or not, however, both have been seen in public several times since then and are believed to be together.