Russell Wilson stands at a height of 5 feet 11 inches, making him an inch shorter than an ideal NFL quarterback. He was born on November 29, 1988, this makes him 35 years old 
However, with several accolades, records, and a Super Bowl trophy to his name, Russell is widely recognized as one of the best quarterbacks to grace the NFL. Many also know that the NFL player is married to superstar singer Ciara, and they have managed to sustain their marriage for about five years while welcoming two kids.
Did you, however, know that Wilson is not only skilled at football but is also a good baseball player? Did you also know that he and his wife maintained an oath of celibacy before their marriage? All these mind-blowing facts and more are unveiled for you below.
1. Russell Wilson Is 35 Years Old
Russell Carrington Wilson was born on the 29th day of November 1988 in Cincinnati, Ohio. He grew up in Richmond, Virginia alongside his parents and two siblings. His father was a lawyer named Harrison Benjamin III while his mom is a nursing director named Tammy.
Wilson and his siblings were introduced to sports at an early age by their father. The senior Wilson had played baseball and football during his college days at Dartmouth and would often wake his children up before 6 am to practice. That practice would eventually lead to a pro career but the senior Wilson was not there to witness it as he passed away in June 2010.
2. He Is The Shortest Quarterback To Win a Super Bowl
It is ideal for an NFL QB to be tall (6 feet and above) but Russell Wilson is only 5 feet 11 inches tall. It, therefore, means that he was shorter than the requirement and this threatened to derail his career.
Prior to being drafted into the NFL, Wilson enjoyed a brilliant college career that should have seen him emerge as the No. 1 draft pick. This failed to materialize though as several teams passed on him as a result of his height. He was eventually picked in the 3rd round (75th) and quickly set about proving the naysayers wrong. In just his second year in the league, he took the Seattle Seahawks to victory at Super Bowl XLVIII. In doing this, he set a record as the shortest QB to win a Super Bowl.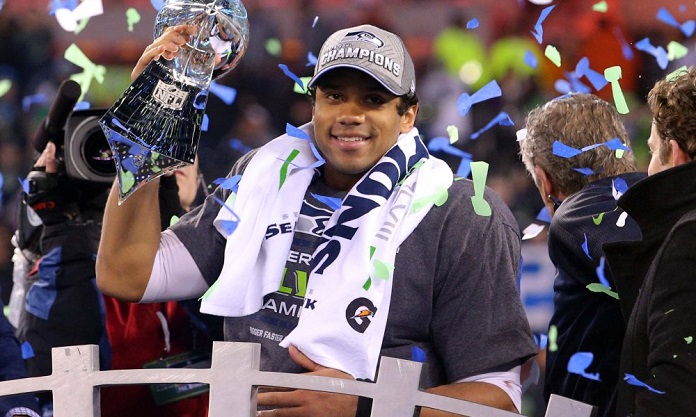 3. He Is The Second African American QB To Lead A Team To The Super Bowl
Society has made great strides in fighting racism but the battle is not yet over. Most NFL teams prefer having white quarterbacks because of the belief that they are taller and have greater arm length. Such a mindset has hindered the progress of black QBs but some have gone on to excel, including Russell Wilson.
In leading the Seahawks to the Super Bowl trophy in 2014, he made history as just the second black QB to achieve such a feat. The first was Washington Redskins QB, Doug Williams, who achieved that feat in 1988. The next person to achieve that feat will be Kansas City Chiefs QB, Patrick Mahomes, in 2020.
4. Russell Wilson Can Choose To Play Professional Baseball If He Decides
Most American sports stars pursue multiple sports in the school system before settling on one later but Wilson is different. He is also skilled at baseball and juggled the sport alongside football all through his college days at North Carolina State University. After college, he spent two years as a second baseman with some minor league teams before being drafted by the Colorado Rockies in 2010.
The NFL would come calling two years later and Wilson has focused on football. He has not totally abandoned baseball though as his professional baseball rights are held by the Somerset Patriots, the New York Yankees Double-A affiliate team. He usually appears at their spring training each year and serves majorly as a motivational speaker, mingling with and inspiring the younger players.
I love my mom & dad so much. I'm #grateful for both of them teaching me how to play football, life & loving me for me pic.twitter.com/i9cnAwFHhk

— Russell Wilson (@DangeRussWilson) May 29, 2014
5. The Quarterback Holds a Master's Degree in Educational Leadership and Policy Analysis
Most pro athletes don't even get to finish their college degree but Russell Wilson is an exception. The quarterback completed a degree in broadcast communications at NC State while juggling baseball and football. He would later transfer to the University of Wisconsin where he completed a master's degree as well. Wilson's determination to get a good education may not be unconnected with his background. Asides from his lawyer dad and nurse mom, his paternal grandfather, Harrison B. Wilson Jr, was a former president of Norfolk State University while his paternal grandmother taught at Jackson State University. His great great grandfather was a freed slave who ensured that all his 15 children were educated.
6. Wilson's Maternal Grandfather is Renowned Painter, A.B. Jackson
It is already clear that Russell Wilson has some impressive lineage on his father's side but his maternal side is also not slacking. His maternal grandfather was renowned painter, A.B. Jackson.
Jackson spent much of his career teaching at universities such as Norfolk State and Old Dominion University. He painted actively with a range of materials, such as pastels, watercolors, charcoal, and acrylic, and exhibited at several galleries. In 1968, his drawings were included in a Smithsonian Institution traveling art exhibition.
7. His Sister, Anna Wilson, is a College Basketball Star
Russell Wilson has two siblings, an elder brother named Harrison IV and a younger sister named Anna who both boast of impressive athletic prowess. Harrison played football and basketball at the University of Richmond while Anna has chosen basketball and presently plays for Stanford University. The guard and her teammates were crowned NCAA champions in 2021 and she is looking forward to the WNBA when her college stint ends.
8. Russell Wilson is a Part Owner of MLS Side, Seattle Sounders F.C.
Most pro athletes are making moves to go from just playing to also owning a stake and Wilson is not left out. In August 2019, he and his wife, Ciara, joined a consortium of other individuals to acquire a stake in the MLS side, Seattle Sounders FC. Other members of the consortium included rapper Macklemore and his wife, Tricia Davis, as well as Microsoft CEO, Satya Nadella and wife, Anu Nadella. The diversity of the group attracted praise from far and wide and the Sounders have since gone on to win the 2019 edition of the MLS Cup.
9. Wilson and His Wife Maintained an Oath of Celibacy Prior to Marriage
Members of the public would readily lap up any personal information they can get about their favorite celebs. As such, it was quite momentous when Wilson's then-girlfriend, Ciara, revealed that the NFL star had proposed that they remain celibate until marriage. The reason was obviously his Christian faith and the singer agreed to abide by it. It wasn't easy by any stretch of the imagination but the couple stuck to their vow from early 2015 until July 2016 when they tied the knot.
10. He Has Supported Several Philanthropic Initiatives Over the Years
Russell Wilson has endeared himself to people over the years with not just his athletic exploits but also his generous heart. The NFL star has supported organizations such as Charles Ray III Diabetes Association, Seattle Children's Hospital, and Boys & Girls Clubs of America. He also has his own Why Not You Foundation which supports food security initiatives, children's health, and access to equal education opportunities. Wilson has maintained consistent community service throughout his career and this saw him receive the Walter Payton NFL Man of the Year Award in 2020.