Not every day we get to see persons who are multi-talented and diverse in every area of entertainment. When we talk of an individual with many talents, we talk of the likes of Rudy Mancuso. Still in his mid-20's and making a huge name for himself, he doesn't look like he is stopping anytime soon.
Rudy Mancuso: Bio, Age
Rudy Mancuso, born to an Italian-American father and a Brazilian mother, joined his family on February 28, 1992. He is an American actor, producer, internet personality, comedian, musician and singer. Rudy is widely recognized for his comedy videos on Vine and YouTube. His first passion was for music, he started playing the piano when he could barely walk. Rudy graduated from Glen Ridge high school, New Jersey and was raised along with his elder sister, Marianna Mancuso, in New Jersey. He lived in Rio de Janeiro, Brazil for a couple of years before going back to the States. He is fluent in English, Portuguese, Italian and Spanish, owing largely to his multiracial background.
Rodolfo, as he is nicknamed, started out as a musician. He learnt to play the keyboard when he was five years old. He clearly did not limit himself to one area of specialization in the entertainment industry. His favourite actor and comedian is Charlie Chaplin. He is undoubtedly Rodolfo's role model when it comes to run a one-man show.
The social media star initially gained recognition on Vine, where he had over ten million followers on his channel prior to the social media platform being shut down in January 2016. With such a huge number of followers on Vine, he was regarded as one of the most popular Vine users. His first video on Vine was a short clip of himself singing one of the tracks from The Lion King along with some of his friends.
Rudy joined YouTube on September 2011, but only started posting videos from December 12, 2015. He now has over four million subscribers on his YouTube channel. His videos are related to comedy and music. Most of his videos posted on his YouTube channel gets an average of over a million views each. The most popular video on his channel, Circle of love was uploaded in February 2017 and has been viewed more than ten million times. The first video he posted on his YouTube channel was titled Hispanic Titanic, which he collaborated with fellow YouTube star Lele Pond.
He is managed by John Shahidi of Shots Studios. Shots Studios is also one of the companies that produce Rudy's YouTube videos. He has posted over half a century of videos on his YouTube channel.
Modelling could most likely fall among his long list of professions. He modelled for Dolce & Gabanna in 2017, where he walked the runway in Milan men's fashion week.
Rudy likes reading comic books. His hobbies are watching movies, playing the piano and drinking wine. His favourite destination Is Spain and he likes Spanish foods also. He loves Dogs as pets just as he loves BMW cars.
He has over four million YouTube subscribers, over six million followers on Instagram, over a million followers on Twitter and over three million likes on his Facebook page. He used to have over ten million followers on his Vine channel prior to the shut down of the social media platform.
 See Also: Who Is Alex Wassabi of Wassabi Productions? His Age, Height, Net Worth, Girlfriend
Net Worth
Rudy gets $25 thousand per episode he features and charges about $25 thousand as advertisement fee. He has different sources of income and his current net worth is estimated to be $2million.
Height and Body Statistics
Height — 5feet 8inches
Weight — 66kg-68kg approximately
Chest size — 40inches
Waist size — 31inches
Arm size — 14inches
Shoe size — 8[UK]
Eye colour — dark brown
Hair colour — dark brown
Rudy Mancuso's Girlfriend, Who is he Dating?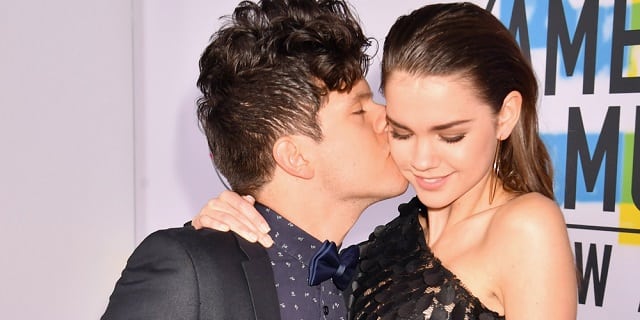 Rudy is in his mid-20's and has had two breakups already. He is currently dating Maia Mitchell. Maia is an Australian Actress, born August 19, 1993, a year younger than her boyfriend Rudy. She is famously known for her role as Brittany Flune for Nine Network Australia children's TV series Mortified, and her role as Natasha Hamilton in Trapped, a teen drama for Seven Network. She currently Co-stars in the American TV series The Forsters. She is two inches shorter than her boyfriend Rudy at 5 feet 6 inches and weighs 54kg. Her body measures – 33-26-34 inches. She is worth more than her boyfriend at a net worth of $3million.