While some believe that exceptional sportsmen are born not made, it has become a known fact that talent without hard work might not amount to much. Rudy Gobert is an exceptional sportsman, who has stood out almost all of his life; not only for his outstanding height but also for his distinguished talent on the basketball court. From a young age, he showed lots of prospects of becoming the well-celebrated player he is today. Although a little rough around the edges, he is known for being hardworking, fierce, dogged, and very talented with a passion for competition.
All of his hard work has culminated in the outstanding career he now enjoys at the NBA. He has won the NBA Defensive Player of the Year Award back to back in 2018 and 2019, respectively. This feat makes him one of the 10 players, who has won that honour at least twice in NBA history. He also plays for the French National Basketball team and was named the 2019 French Player of the Year. As Rudy continues to shatter set records and setting the new precedent, the French-born player is definitely at the peak of his career.
Rudy Gobert's Fact Card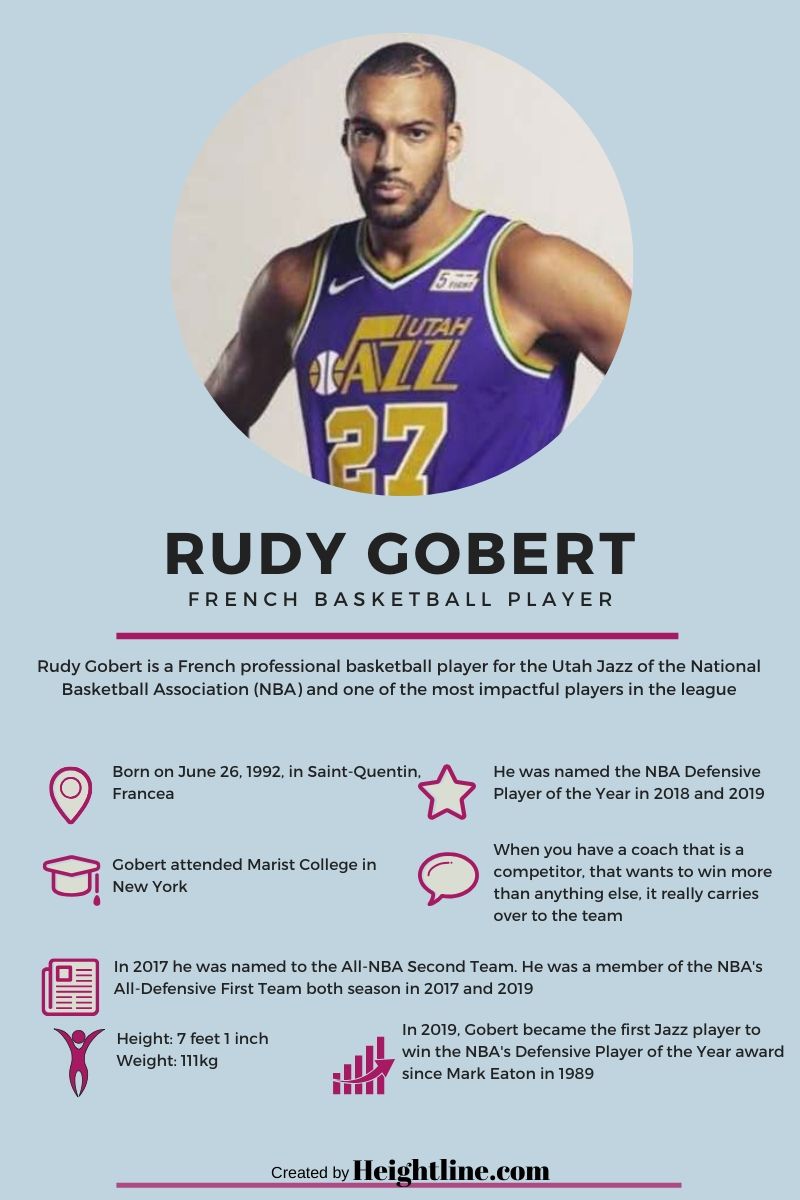 Early Life and Career Inception
Born on the 26th of June 1992, in Saint-Quentin, France, Rudy Gobert discovered his love for basketball early. His love for the game might have been inspired by his father, who was once a professional basketball player. While growing up in his home town, he began to play for the JSC St-Quentin club in 2003. He later joined the Saint-Quentin BB club.
By 2007, he had joined the Cholet Basket's cadet categories training center. As his hard work and dedication didn't go unnoticed, he was chosen to join the French under-18 national team in 2010. With the team, he participated in the FIBA Europe Under-18 Championship. During the championship, he finished as the team's best rebounder and best goal scorer. He played for both Cholet Basket junior and senior teams from 2009 to 2013.
How Rudy Gobert Became A Successful NBA Star
With an outstanding amateur career record, Rudy Gobert declared for the NBA draft in 2013. He was selected by the Denver Nuggets on the 27th of June 2013 as the 27th overall pick. He was then traded on draft night to the Utah Jazz, where he featured in the 2013 NBA Summer League.
With his 7 feet 1 inch height and a wingspan of 7 feet 9 inches, he quickly earned the nickname 'Stifle Tower.' As he played, he continued to improve his game and also finished third in the NBA Most Improved Player Award in the 2014- 2015 season.
By 2016, after his initial contract had expired, he signed a 4-year $102 million contract extension, which made him the highest-paid French athlete at that time. In the same year, he had a career-high of 22 points in the 112-105 win over Phoenix Suns. His other career-high came in 2017 with 27 points and 25 rebounds in a 112-107 win over Dallas Mavericks.
He had another career-high in March 2017 with 35 points and 13 rebounds in a 108-101 win over the New York Knicks. Some of the other major highlights of his NBA Career includes NBA block leader in 2017, All-NBA Second Team in 2017 and 2019; three times NBA All-Defensive First Team from 2017 to 2019.
His Parents Influenced His Career From Different Angles
Rudy has admitted not experiencing lots of racism while growing up, despite being born to a white mother and black father. His mother Corinne Gobert raised him in Saint Quentin. He has been quite vocal about his humble beginnings and admits not having much but a place to sleep and a mother, who was ready to go all out for him during his early years.
His father, Rudy Bourgarel, was a French professional Basketball player from 1988 to 1994. Asides his parents' nationality, Rudy has chosen not to talk deeply about his childhood. He has constantly alluded that he was raised by his mother, which implies that his parents weren't together while he was growing up. From all indications, his father seems to be a part of his life as he shared what his father told him when he began to play basketball.
His father advised him not to play basketball because of him and should always remember to have fun while playing. He has also admitted how proud his father was about him playing in the NBA, a dream he had but never actualized. Sports analysts continue to point out the similarities between Rudy and his father as they both have terrific physical traits with good size, strength, good length, and ability to run the floor.
Does Rudy Gobert Have a Girlfriend?
Rudy has done all he can to concentrate on his professional career, which has paid off. Presently, there is no information about who he is currently dating or if there's anyone in the picture in the first place. The amazing basketball prodigy hasn't been photographed hanging out with any female asides his family, thus making it difficult to ascertain if he is in any relationship. For now, the basketball star is currently focused on reaching the climax of his career.