Admittedly, almost a greater population of people would say they love their parents and feel lucky to have been raised by them but deep down, we can all admit it would be pretty awesome to be the child of one of Hollywood's biggest actresses, Scarlett Johansson. Aside from the obvious wealth and fame that such parentage comes with, the sheer coolness of Scarlett Johansson makes us drool. However, there is someone who is living our fantasy and that is Rose Dorothy Dauriac. The singular child of the actress who she had in 2014 with her now divorced husband, Romain Dauriac. Here are a few facts to know about the child that might one day, grow up to rule Hollywood like her mother.
Who Is Rose Dorothy Dauriac?
The Kardashian-Jenner kids might be the dominating name for celebrity children in the news but one child who is quietly going about the business of enjoying life as the child of a superstar is Rose Dorothy. The adorable girl who was born on the 30th of August 2014 to a French journalist, Romain Dauriac and megastar actress, Scarlett Johansson. She's of French, Danish, Polish and Swedish descent due to her parents' origins. Born to two white parents, Rose Dorothy has deep blue eyes and a fair skin complexion.
Her parents, who were married briefly for three years had met through a tattoo artist in 2012. The two hit it off and were almost immediately officially engaged in September of the same year. They did not, however, get married until 2014 after they had Rose Dorothy Dauriac. In what is perhaps normal for Dorothy's mother's relationship at this point, the couple had a falling out shortly after their marriage, a reminisce of Scarlett's previous relationship with Hollywood heartthrob, Ryan Reynolds. The couple got separated just two years after their marriage and became officially divorced in 2017.
Before separation when it was all going good in the Johansson family, Dorothy's parents split their time between New York City and Paris which were both the homes of Scarlett (New York) and Romain (Paris), who was the head and owner of an advertising agency. However, separation led to a battle for custody that Scarlett Johansson ultimately won.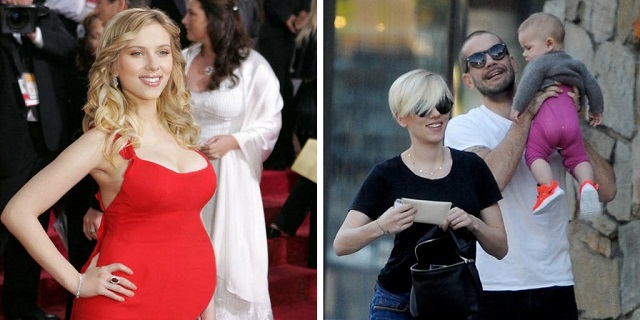 Rose Dorothy Dauriac might still be a kid, but she has been exposed to the heavy media attention that comes with being the daughter of the world's highest paid actress. She's had her photos plastered all over the internet while she's on walks with her mother. Rose can also prepare to grow up in a family of actors and actresses. Her grandmother, Melanie Sloan is a film producer. Her uncles and aunts, Vanessa Johansson, Adrian Johansson, Hunter Johansson are all active in the acting career.
Although still a child, Dorothy is already enjoying the perks of being a celebrity child, donning the finest robes and apparels. As the daughter of a native of New York, Dorothy's childhood is also happening in the historic city. Surrounded by art, glamour, and a family of creatives, it is perhaps a reasonable bet to expect Rose Dorothy to follow in the footsteps of her mother when she comes of age.
In recent interviews given by her mother, Rose Dorothy Dauriac has shown she possesses the intelligence and wittiness shared by her mother. While details of her education are currently not of public knowledge as a matter of privacy and security, she's currently a pre-school student.
It may be too early in Dorothy's life to determine what her beliefs will be, but her mother who is half Jewish celebrates both Christmas and Hanukkah. It is left to be seen if Dorothy will go with the Jewish culture or be neutral.
Rose Dorothy Dauriac's Net Worth
As far as money goes, Rose is currently heir to an empire worth over $100 million. Her mother's net worth built over decades of making movies and becoming the highest grossing actress of all time with over $4 billion has created a life for Dorothy where she never has to worry about money when she grows up. Her father is also the head of a successful advertising agency which has helped him build a net worth of $1.5 million.
It is left to be seen what Rose will do with all that money when they finally become hers.