Ronnie Mund is an American radio personality and professional limo driver known for his services on The Howard Stern Show. The radio show which is hosted by the multitalented personality, Howard Stern has been on for four decades and has been exclusive to Sirius XM Radio since 2006. Ronnie the Limo Driver as we have come to know him serves as Stern's driver and bodyguard as well as head of security for the Stern show complex.
Ronnie Mund is one of a kind personality. He has some developmental and personality disorders but has become a memorable cast member on the Show for his strange sayings, short temper, and habitual presence at strip clubs.
Ronnie Mund Bio, Age
Ronnie the Limo Driver was born in the United States of America on the 28th of October, 1949 and given the name Ronald Mund but is more commonly known as Ronnie Mund. Before he got on the Show as behind-the-scenes personnel, Stern's chauffeur in 1986, he has had a career in the military and almost became a police officer but ultimately decided that driving was his calling and started the limo business in turn.
Although he does not appear regularly on the show, Ronnie is an on-air personality nonetheless, at least in the Stern world. The regular casts include the main man Howard Stern who is the host, co-host and news anchor Robin Quivers, writer Fred Norris, show announcer George Takei, and executive producer Gary Dell'Abate.
As a staff member of the popular radio show, he has earned a slew of nicknames in line with his personality therein. They include Ronnie the Limo Driver, Scoresman, Ronnie the midget, Ronnie the Angry Dwarf, and Ronnie the fidget. Ronnie Mund is known for his work on Howard Stern's Butt Bongo Fiesta (1992), Private Parts (1997), Howard Stern on Demand (2005), Howard Stern Birthday Bash (2014), Limitless (2015), and The Week Off (2018).
Although he is one of the oldest members if not the title holder on the show and has numerous works to his credit, Mund still has the reputation as one of the most disliked cast members of the show as far as fans are concerned. He is usually mocked for reasons and traits ranging from his New York accent and dull personality to a perceived sense of self-importance. Moreover, far away from the fandom other members enjoy, the boards light up with Ronnie-haters whenever he appears on the show.
Notwithstanding, Ronnie has actually garnered a good fandom including Jimmy Kimmel. Where his personality has failed, his sex tips – which reportedly help fans have a good bedroom time with their partners – has succeeded.
Outside the show, Ronnie Mund in 2011 began touring the United States with other members of The Howard Stern Show on the Ronnie Mund Block Party. The same year, in July, he auditioned for the Wheels sitcom in New York City. He has hosted an event in Jamaica called the Ronnie Mund Jamaican Getaway which lasted for four days in March 2013. Additionally, he works as a spokesperson a gentleman's club franchise known as Ricks Cabaret.
The 1.71-meter tall celebrity is a self-proclaimed huge fan of Cher's music and often listens to them on the weekends. He has a fair presence on social media with over 16k followers on Instagram
Mom, Wife, Girlfriend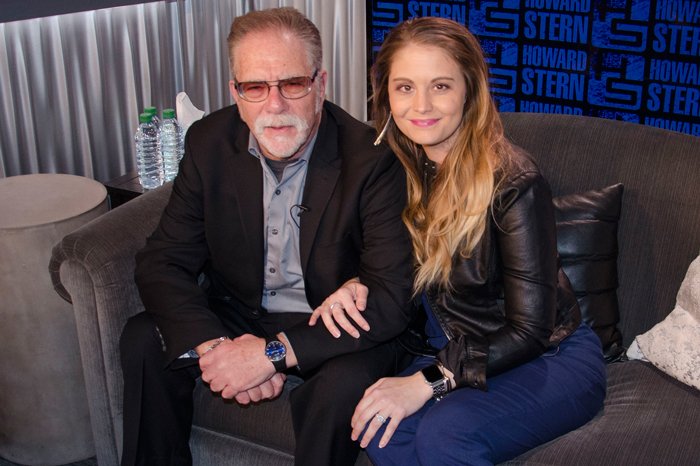 Very little is known about Ronnie's familial background but seems to have some good relationship with his parents, especially his mom who takes the credit for her son's sexual appetite. She has also made an appearance on the Show.
Ronnie was married to Bonnie Mund but left the marriage according to his former wife on her Twitter page, at the age of 65 to play around with whores and strippers. However, he has since got onto another committed relationship with Stephanie Carney whom he got engaged to in 2016 in the most romantic way. He popped the question over the phone live on the Stern Show after dating for a long time, and eventually got married in late 2018.
See Also: Who Is Sal Governale (Sal The Stockbroker), Wife, Divorce, Salary
The golden-tressed Carney was born in 1983 and is 33 years his younger but doesn't view the huge age difference as an issue, after all, she has always taken a liking to older men though Ronnie remains her oldest. She graduated from a veterinary technician program in 2018. The duo co-hosts a radio show called Embedded and has also appeared together in several other shows.
Net Worth, Salary
A former military man turned professional limo driver, Ronnie Mund first met Stern after he drove him to a live show. Following the ride, he hand-delivered a crayon, "Thank You" note, to Stern's house and was subsequently hired as his private limousine driver and bodyguard. He has since become the oldest and one of the most popular characters on the Show and earns cool cash in turn.
According to sources, the radio personality and professional limousine driver has amassed an estimated net worth of $500,000. His salary details are however not known.