Ronnie DeVoe is an American singer, rapper, and a bit of an actor famous for being a part of the R&B/pop groups New Edition and Bell Biv DeVoe. He began his professional music career in 1981 and has remained active ever since, amassing an estimated net worth of $15 million.
His career aside, Ronnie is also a husband and father. He is married to Shamari Fears-DeVoe, a member of the R&B group, Blaque, and together they have twin sons named Ronald III and Roman Elijah.
The American entertainer began his career as a member of New Edition, a group formed by Bobby Brown in 1978. As the story goes, his uncle, Brooke Payne, the choreographer of the group, brought him to join the band which went on to become one of the biggest-selling boy bands in the 1980s. Since he stormed the limelight as a member of the group, Ronnie has been able to stay relevant in the cut-throat world of entertainment by exploring other facets of the industry instead of sticking to music.
He has been involved in the production of several movie and television projects in various capacities. This has buoyed up his net worth as much as it has spread his fame beyond music. All of these have made the singer someone who piques the interest of many people who are not only interested in keeping up with his career but also in following his personal life.
Biography and Profile Summary of Ronnie DeVoe
Full Name: Ronald Boyd DeVoe Jr.
Nationality: American
Place of Birth: Roxbury, Massachusetts, U.S.
Date of Birth: November 17, 1967
Age: 56 Years Old
High School: Newton North High School
Occupation: Singer, Rapper, and Actor
Years Active: 1981 – Present
Net Worth: $15 Million
Mother: Flo DeVoe
Father: Ronald Boyd DeVoe
Wife: Shamari DeVoe (née Fears)
Duration of Marriage: (2006 – Present)
No. of Children: Twin Boys (Ronald and Roman DeVoe)
Height: 6 feet (1.83 m)
Instagram: @bigrondevoe (618k Followers)
The 56 Years Old American Rapper Was Born and Bred In Roxbury, Massachusetts
A lot of things about the early life of Ronnie DeVoe may never be known, but it is no secret that he was born and raised in Roxbury, a neighborhood you would find within the city of Boston in Massachusetts. He was born on the 17th of November 1967 to Ronald Boyd DeVoe and Flo DeVoe. Hardly can anyone tell anything about his father, but some reports have it that the man born sometime in 1947, is late. Ronnie is very fond of his mother Flo DeVoe who has supported his career from day one. She was born on the 27th of October 1949 and was portrayed by La La Anthony in The New Edition Story, a miniseries biopic about the members of New Edition which aired on BET in late January 2017.
DeVoe isn't the only child of his parents but their first son. He has a good family life that, apart from his wife and kids, revolves around two sisters named Regina and Tonya; twin brothers named Robert and Roland, and of course his maternal uncle Brooke Payne.
Many people got to learn about DeVoe's twin brothers through the aforementioned miniseries biopic about the members of New Edition. It had a scene that featured one of the singer's brothers, Roland, who made fun of Ronnie while he struggled to get his moves right for an audition with New Edition. The scene left a lot of people curious about the brothers, especially when it emerged that Roland has a twin brother and, that Ronnie is older than them.
Judging from the picture below, it is not difficult to see why people were surprised to learn that Ronnie DeVoe's twin brothers are his younger brothers. Robert and Roland look older than the singer. Much isn't known about his sisters but in all, the singer has a close-knit family.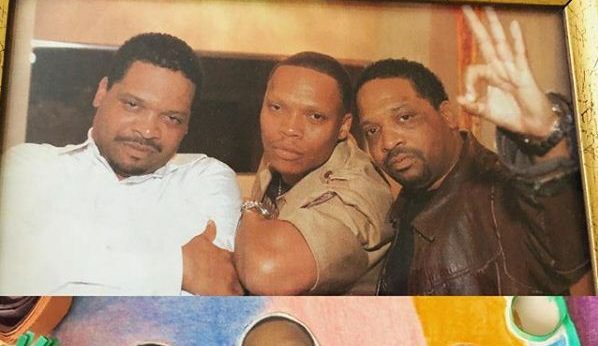 Ronnie DeVoe's Career Journey Began As a Member of New Edition
Being the nephew of Brooke Payne, it was through the producer who was the choreographer of New Edition that Ronnie DeVoe got his start in the entertainment industry. He was the penultimate member to join the R&B band from Roxbury.
DeVoe was a teenager then and a student of Newton North High School, a public school in Newton, Massachusetts. It is hard to tell if he is college-educated or not, we can only confirm that he started gaining recognition as an entertainer in 1982 when the band competed in a talent show, Hollywood Talent Night, which was organized by The General (Maurice Starr), a prominent record producer. New Edition didn't win the $500 prize as they finished second. Nonetheless, their performance gained them the attention of The General.
Maurice was so impressed with New Edition that he invited them over to his studio to record some songs. This ultimately led to the making of their debut album titled Candy Girl. Produced by The General and Arthur Baker, the album released by Streetwise Records on the 1st of March 1983 peaked at No. 90 on the US Billboard 200 and made Ronnie DeVoe a famous teenager.
With the band, DeVoe got to release four more albums before the group went on hiatus to pursue solo projects – having been inspired by the 1988 multi-platinum album of Bobby Brown, Don't Be Cruel. Earlier in December 1985, Brown was ousted from the group he formed, which forced him to embark on a solo career.
With New Edition on hiatus, Ronnie DeVoe partnered with two members of the band, Ricky Bell and Michael Bivins, to form another music group called Bell Biv DeVoe (BBD) in 1989. The following year, precisely on the 20th of March, the group dropped its debut studio album titled Poison.
It was a successful project that topped the US R&B/Hip-Hop Albums chart and went on to attain Platinum certification four times. BBD has been active since it was founded and has released more albums over the years. None of their subsequent albums has, however, been able to equal the success of their debut album.
Ronnie DeVoe's Net Worth Is Currently Estimated at $15 Million
Ronnie DeVoe has multiple sources of income in the entertainment industry through which he attained the status of a multi-millionaire. Based on the timeline of his career, it has been concluded in some quarters that he became a millionaire when he was a teenager.
As he has remained relevant in the business of entertainment, it is only natural for one to expect that his wealth would continue to soar in years to come. In the meantime, the following are the sources of his $15 million fortune.
Proceeds from Record Sales 
Nobody should be told that music is the major source of Ronnie DeVoe's wealth. The Roxbury native has been in the business since his teenage years and his body of work includes multiple albums released as a member of New Edition and Bell Biv DeVoe.
With the former, he has released seven studio albums in addition to two-holiday albums, eight compilation albums, and a total of 29 singles thus far. New Edition was regarded as the biggest-selling boy band in the 80s and has reportedly sold no fewer than 20 million records across the globe.
Bell Biv DeVoe has also sold millions of records. Apart from Poison which pulled four Platinum certifications, they released other albums like Hootie Mack, BBD, and Three Stripes. Hootie Mack was certified Gold. Although we might never get to know what the rapper has earned from record sales, there is no doubt it amounts to a significant amount that makes up a large chunk of his wealth.
Revenue Generated from Concert Tours 
Concert tours are known to be one of the major ways music artists make money and the case is not different for Ronnie DeVoe. Right from the early days of his music career, the singer has toured with his music groups. DeVoe's first prominent tour was the Candy Girl Tour of 1983 with promoted the debut album of New Edition. Since then, he has toured with the band multiple times.
After the 1983 tour came the Fantasy Tour (1984 -1985) and then All For Love Tour (1986), Heartbreak Tour (1988 – 1989), Home Again Tour (1996 – 1997), One Love Tour (2004 – 2005), 30th Anniversary Tour (2011 – 2012), All Six Tour (2014), and the Greatest Hits Tour (2016).
Of course, he has also toured and performed in various locations with his second band. What was generated from each of these tours was never disclosed to the public but it has contributed to DeVoe's net worth in no small manner.
Earnings From His Endeavors In The Movie Industry
As hinted earlier, Ronnie DeVoe has not limited himself to the music industry. He is a bit of an actor with at least three credits. You will find the New Edition Rapper in the "Knight Song" episode of the TV series created by Glen A. Larson, Knight Rider.
Most recently, he made an appearance in Girls Trip, a 2017 adventure comedy-drama film starring Regina Hall, Queen Latifah, Jada Pinkett Smith, and Tiffany Haddish. Before this, he had a minor role in a 2013 short family drama film titled Habeas Corpus. That's not all, DeVoe has been appearing alongside his wife as a guest in The Real Housewives of Atlanta since 2018.
Disregarding the above, the singer has also made good money from appearing in shows like Unsung, The 202, Hip Hop Squares, Retrosexual: The 80's, Soul Train, and dozens more. More so, he is a producer who has as well made money from providing the soundtrack of multiple TV shows.
Ronnie co-produced The New Edition Story, the biographical mini-series that chronicled the ups and downs of his music group. Amongst other things, the singer has been involved in the creation of soundtracks for shows like Pose, The Breaks, Think Like a Man Too, Tropic Thunder, and Beverly Hills, 90210.
Again, what he has made through all of these are best known to him but have added to his wealth in no small manner.
Meet Ronnie DeVoe's Wife Shamari Fears
Full Name: Shamari DeVoe (née Fears)
Nationality: American
Place of Birth: Detroit, Michigan, U.S.
Date of Birth: 22nd of February 1980
Age: 43 Years Old
Occupation: Singer-songwriter, Dancer, and Actress
Years Active: 1999 – Present
Ronnie DeVoe's wife is a triple threat entertainer as she sings, dances, and acts for a living. Shamari was born and raised in Detroit, Michigan. She is 43 years old as she was born on the 22nd of February 1980. Apart from these facts, it is hard to tell anything else about her family background and early life. Nonetheless, we can confirm that she is college-educated. Shamari graduated from Georgia State University.
Shamari is known to many as the wife of a famous singer but it is not what made her popular. She had been building a career in entertainment for years before DeVoe came along. Reports have it that her career took off in 1999 as the lead singer of Blaque, a girl group that reached the peak of their success in the 1990s. "Bring It All to Me", "808", and "I Do" are some of the popular songs the group released before they went quiet for a while.
The group was planning a reunion in 2012 but the tragic death of its founder Natina Reed thwarted the efforts that were been made. Although the group still exists, it has been struggling to regain its former glory.
Apart from singing, Shamari is an actress. You will find her as Lava in Bring It On, a 2000 teen cheerleading comedy film, and in the 2003 dance film directed by Billie Woodruff, Honey. She joined the main cast of The Real Housewives of Atlanta in 2018 and has been seen in other TV production over the years, including V.I.P., Say Yes to the Dress: Atlanta, and BET Presents: The Encore.
The Couple Have Been Married Since 2006 and Have a Set of Twin Sons
Ronnie DeVoe has been married to Shamari Fears since 2006; they got married that year on the 10th of March. Of course, that's not where their love story began. The couple met about five years earlier, in 2001. According to Shamari, they met at the Janet Jackson Icon Awards. She said they decided to get together the next day and dived right in at being intimate. Yes, they had sex on their first date and it didn't ruin the relationship as often claimed.
Shamari is 13 years younger than Ronnie but that as well has not constituted any problem for the couple. Their marriage has thus far been blessed with two sons, a set of identical twins named Ronald and Roman DeVoe. It was in February 2017 that the couple announced that they were expecting twins. In November that year, Ronald and Roman became a part of their lives. The boys have their own Instagram page, DeVoeTwins.
Key Takeaways 
What is Ronnie DeVoe's Net Worth?
Ronnie DeVoe's net worth is currently estimated at $15 million and he made almost all of it from his exploits in the entertainment industry.
Who is Ronnie DeVoe's Wife?
Ronnie is married to a singer-songwriter, dancer, and actress named Shamari DeVoe (nee Fears). The 43-year-old is best known as the lead singer in the pop/R&B girl group Blaque.
Does Ronnie DeVoe Have a Twin Brother?
No, Ronnie was not born a twin. However, he has twin younger brothers named Robert Anthony DeVoe and Roland Antone DeVoe who were born on on May 9th.
How Many Kids Does Ronnie DeVoe Have?
Ronnie and his wife, Shamari DeVoe, are parents of two sons – Ronald III and Roman Elijah. They welcomed the boys, who are twin, in November 2017 and they already have their own verified Instagram page, DeVoeTwins.
What is Ronnie DeVoe's Age?
The entertainer is 56 years old. He was born November 17, 1967, in Roxbury, Massachusetts, U.S.