Joe Anoaʻi a.k.a Roman Reigns is an American professional wrestler. He comes from a family of professional wrestlers to which the famous WWE superstar-turned-actor "The Rock" belongs to. After playing collegiate football, he was unable to fully launch his professional career. Therefore he quit football in 2008 and returned to what he was born to do, wrestling.
He joined the WWE on a developmental deal in 2010 and by 2012 he made the main TV roster. He performed under a three-man team for 2 years before launching out as a solo competitor in 2014. His solo career has been nothing short of phenomenal as he got to win several titles within a couple of years. Roman Reigns is the 2013 WWE Raw Tag Team Champion (with Seth Rollins), 2015 Royal Rumble champion and three-time WWE World Heavyweight Champion. In November 2017, Roman Reigns equally clinched the WWE Intercontinental Championship.
His stats are brilliant and he is also favoured by the WWE network, however, he hasn't totally won the hearts of all wrestling fans. Since 2014, WWE network has made unrelenting efforts to project him as the new "face of the company" and heir apparent to John Ageena, however, their efforts have continued to be met with overwhelming negative reactions from the fans and critics. He remains one of the most polarizing figures among fans of professional wrestling, but one thing is certain, Roman Reigns has made his way to the top and is determined to remain there for a long time to come.
Roman Reigns Bio, Age
He was born Leati Joseph Anoaʻi on May 25, 1985, in Pensacola, Florida. He played collegiate football as a student at Georgia Institute of Technology. He began his professional football career in 2007 with a brief stint at two NFL teams followed by a move to a Canadian Football League (CFL) side. After one season at the CFL side, he decided to retire from football to pursue a career in wrestling.
He signed a developmental contract with WWE in July 2010 and his initial stage moniker was "Roman Leakee". He adopted the moniker "Roman Reigns" in August 2012. His main TV roster debut came in November 2012 at the Survivor Series, where he got to perform as part of a trio alongside Dean Ambrose and Seth Rollins. The trio was titled "The Shield" and as a team, they had a pretty impressive run against some major WWE superstars.
Roman Reigns entered for the singles category in June 2014 after the dissolution of The Shield. Since 2014, WWE has been working tirelessly to make him their next "flagship star". He was crowned WWE 2014 Superstar of the Year in 2014. He has headlined several WWE network events including 3 consecutive WrestleMania events (WrestleMania 31, 32 and 33).
As a solo competitor, Roman Reigns has recorded major wins against WWE legends such as Triple H at Wrestlemania 32 and a showdown against The Undertaker at WrestleMania 33. His rise to the top however has been met with astounding negative reactions from the fans and critics who think that the WWE is trying to make Roman Reigns a megastar by all means, at the expense of other wrestlers.
Family, Brother and Cousins
Roman Reigns was born into the large Samoan American family of professional wrestlers known as the Anoaʻi family. His father Sika Anoaʻi was also a professional wrestler and a WWE Hall of Famer.
His older brother Matthew Tapunu'u Anoaʻi who went by the stage name "Rosey" was also a professional wrestler. Rosey was trained by their uncle Afa Anoaʻi. However, he passed on in April 2017 due to a congestive heart failure.
Twin brothers Jimmy Uso and Jey Uso who make up the wrestling tag team "The Usos" are also first cousins to Roman Reigns. The Usos are three-time WWE Tag Team Champions. His cousins also include famous former professional wrestlers Yokozuna, Rikishi, Umaga and The Tonga Kid. Before leaving WWE in 2003, Umaga often teamed up with the late Rosey in a tag team.
Roman Reigns is also a non-biological cousin to WWE superstar-turned Hollywood actor Dwayne "The Rock" Johnson, whose father Rocky Johnson was also a wrestler.
See Also: Is John Cena Dead? His Net Worth, Height, Weight, House, Wiki, Salary
Wife and Daughter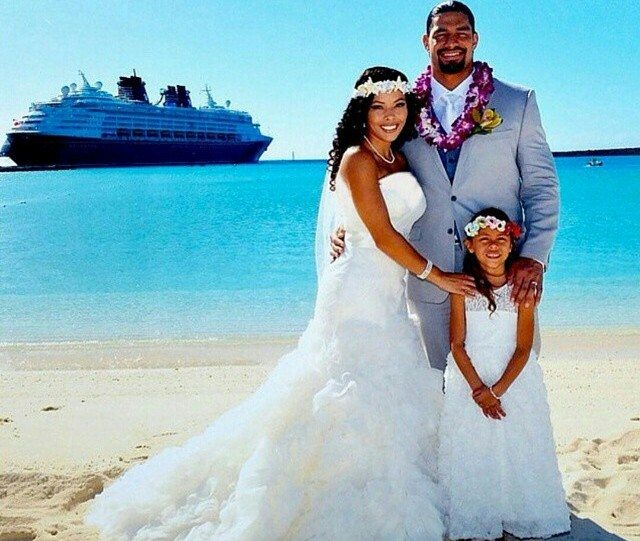 Roman Reigns is married to Galina Joelle Becker. Like her husband, Galina was also an athlete in college. The two met in their college days at Georgia Tech University. They got engaged on February 26, 2012.
Galina came into the limelight when she accompanied the WWE superstar for the 2014 Hall Of Fame ceremony. Prior to that, they had been together for 9 years. They tied the knot in 2014 at Disney's Castaway Cay, a private island in the Bahamas.
The couple has one child together, a daughter named Joella "JoJo" Anoa'i. She was born on December 14, 2008. She performed a crucial role at their wedding in 2014.
Net Worth
With persistent hard work and massive support from the WWE network, Roman Reigns has claimed his place as one of the big shots in professional wrestling. Even though fans are not very accepting of him as the network would want, his YouTube viewership and his merchandise sales have remained impressive.
The income of WWE superstars usually consists of their base salary, bonuses and outside income. In 2017, Roman Reigns made a total of $3.5 million making him the fourth highest paid wrestler of the year. The previous year, he had earned $2.1 million and so he is definitely making financial progress.
Roman Reigns is estimated to be worth about $9 million and seeing that he is at the peak of his career, this figure is expected to get even higher.