From his voice to his dexterity with musical instruments and of course, his unique stage looks, Robert Smith has made it possible for the world to distinguish him from all other musical acts to have appeared on the rock music scene.
Who Is Robert Smith?
Robert was born the third of four children on April 21, 1959, in the town of Blackpool in Lancashire, United Kingdom. His father is James Alexander Smith and his mother is Rita Mary Smith.
Though the Smith family were devout Catholics, Robert later identified himself as an atheist. His family moved to Horley, Surrey in December 1962 where he began primary school. He and his family would later be on the move again; they arrived in Crawley, West Sussex in March 1966. It was here that Robert began his earliest forms of academic enlightenment, attending the popular Notre Dame Middle School and St. Wilfrid's Comprehensive School, Crawley.
Robert was fortunate to be born into a family with a musical background, his dad was a good singer while his mom played the piano proficiently. Among the Smith kids, music was not lost; sibling rivalry during childhood piano lessons between Robert and his sister Janet made Robert take up the guitar because of Janet's talent on the piano. Robert's first ever guitar tutor was his older brother Richard.
It is said that Smith's fascination with rock music began when he was in his early teens. Meanwhile, his academic life was shaky to say the least, according to him, while at Notre Dame Middle School, the school's laissez-faire approach didn't help him focus much on his studies. His move to St. Wilfrid which was a lot stricter helped him. Here, he began to organize his musical legacy, being part of a school band and playing at school shows. They were known as the Crawley Goat Band.
By 1976, Smith formed the band Easy Cure with schoolmates, Michael Dempsey, Laurence Tolhurst and Porl Thompson. Two years later, the band would be renamed 'The Cure' partnering with the record label, Fiction Records.
Between 1978 and 1979, The Cure having Robert as its main songwriter, released singles 10:15 Saturday Night and Killing an Arab. They began working with Siouxsie and the Banshees as well and Smith would go on a UK tour with Steve Severin. Down the years, Smith has had to revamp the band with members leaving and joining.
His singles and albums have gone on to attract high praise. When the album Wish was released, it rose to No. 1 on all UK music charts and at No. 2 in the US. Lullaby, one of his singles in 1989 earned an award – the Brit Award for British Video in 1990. Also, the album Disintegration sold over three million copies worldwide.
Over the years, Robert Smith has been lauded for his poetic prowess, a gift he has laced into producing some of the most lyrically enthralling songs of his generation.
His Wife Mary Poole
For men and women of entertainment, it tends to be a tricky road when it comes to love and relationships. For Robert Smith, it has been a different story. Smith met Mary Poole while they were both attending St. Wilfrid Comprehensive School. Smith was just fourteen years and the pair were in the same drama class. During the early stages of his music career, Smith recalls that Mary was a constant motivation to achieve his dreams.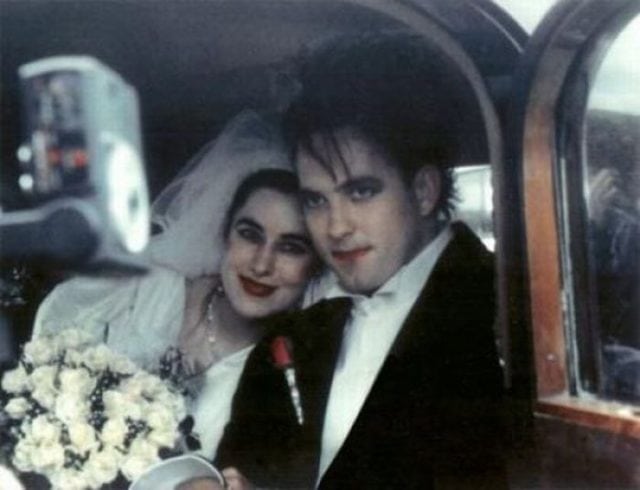 Robert and Mary were married in 1988 and Smith wrote the single Love Song as a dedication to Mary. Whilst reflecting on the beauty shared between them for over three decades, Smith claimed that it was as a result of them being both compatible mentally.
See Also: Who Are The Members Of N.E.R.D Rock Band? What You Need To Know
Where Is She Now?
Mary Poole used to be a model but on the side, she worked as a nurse with disabled children. Smith is a musician and this entailed that they did not get to spend much time together as they desired.
However, by the time Smith was well established and financially stable, Mary left her day job to spend more time with him. Despite their many years together, the couple decided not to have children with Robert himself alluding to the fact that he doesn't feel responsible enough to have kids.