Mary Poole is the wife of Robert Smith, an English musician who is the lead singer of the rock band The Cure. Mary Poole became Robert Smith's wife in 1988 and have been married for over 35 years, earning a reputation as one of England's longest-lasting gothic celebrity couples.
A former model, video vixen, and nurse, 65 year-old Mary has worked in different capacities, but most of what we know about her comes from Robert's interviews and music where he always talks about his love for her. In most of his interviews, you will find the star guitarist fervently declaring his love for Mary, and he never misses an opportunity to remind the world about exactly how much she means to him.
Mary Poole's Bio Summary
Full Name:

Mary Theresa Poole

Date of Birth:

3 October 1958

Age: 65 years old
Nationality:

British

Place of Birth:

London, United Kingdom

Ethnicity:

White

Zodiac Sign:

Libra

Height:

5 Feet 6 Inches

Occupation:

Ex-model, Nurse

Spouse:

Robert Smith (m. 1988)

Net Worth:

$30 million
How Old Is Mary Poole?
Mary Theresa Poole is 65 years old and was born in 1958 on the 3rd of October, in England. We do not know much about her background, including her family history, and whether or not she has any siblings. We do know, however, that she attended St. Wilfrid's Catholic Comprehensive School located in Crawley in the urban county of West Sussex.
The nature of her high school education suggests that her parents (or guardians) were devout Catholics who wanted her to remain in the faith as this was the case with most of the students who found themselves at that school. While at Wilfrid, Mary took acting classes and it was in one of those classes that she met her future husband, Robert. Unfortunately, no further information has been given about where she had her tertiary education, even though we know she got one because she is a trained nurse.
Robert Smith's Wife Was a Model and Nurse Before Retiring To Become a Full-Time Housewife
By reason of the fact that she possessed very striking physical features, Mary decided to walk the runway as a model. Her modeling stint was very brief though and the Daily Express newspaper also records that it happened sometime in the '80s. Mary then worked as a nurse who took care of disabled people and children with special needs. Her career as a nurse was stressful for her and she wasted no time in dropping it as soon as her beau made it big as a musician. It is also rumored that she worked as a stripper prior to her career as a nurse but there has been no confirmation of that subject from Mary herself. She also featured in some of The Cure's music videos like Just Like Heaven where she could be seen dancing a waltz number with her husband.
In the past thirty years or so, Mary has devoted most of her time to cater to her husband, his career, and their pets. And even though Mary can afford all the luxuries you could possibly think of, courtesy of her husband's wealth, she has chosen to live a very modest life with very simple pleasures. She also enjoys cosplay and costuming but prefers to practice them as hobbies rather than a possible career pathway. We guess it's alright if Mary never goes to work another day ever, in her life.
Mary and Robert Met as Drama Partners in Junior High School
It is not unheard of for people to meet their significant others at different stages of their education, especially in senior high school and college. Mary and Robert, however, met each other a little earlier, while still in their pre-teens. Initially, they started out as partners in drama class at the St Wilfrid's Comprehensive School. Robert told The Guardian in 2004 that he had to summon lots of courage to – not ask her out – but ask her to be his partner in a drama class project.
At that time, he was 14 while she was 13. The mischievous Robert admitted that he had to ask her quickly because she had a "good girl" reputation and also to steal her away from fellow classmates who had their eyes on her. They were good friends for the next seventeen years after then and during that period, Mary and Robert became closer.
Mary Poole Has Been Robert Smith's Wife For 35 Years
Mary and Robert's wedding story is the stuff fairytales are made of. They got married on the 13th of August in 1988 after deciding that they had known each other long enough and needed to be together officially.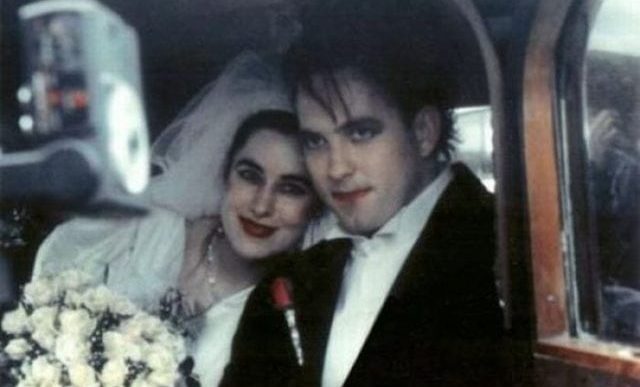 Their marriage was conducted in a very private ceremony and took place at the monastery of Worth Abbey. When they tied the nuptial knot, Mary was 30 and Robert was a year older. Shortly after they got married, Robert wrote a song called 'Love Story' dedicated to his new bride as a wedding present.
The song was released in 1989 as the lead single from the band's Disintegration album. That song went on to become the best performing single of The Cure's discography, hitting the number two spot on the Billboard Singles Chart on the 21st of October, 1989. It was the perfect wedding present. Robert wasn't the only one of the duo who loved to give presents and Mary reciprocated with a gift of her own: A platinum heart.
Eight years into their marriage, Robert revealed in an interview with a pop magazine that he was utterly dependent on his wife for emotional support. He also revealed that she was his constant source of strength during the times he had struggled with his mental health. The star guitarist even admitted he would end his life if she left him. While it might not be too healthy to applaud this display of obsession, we understand what Robert is trying to express and why. 33 years later, it looks like the feelings never changed as this eccentric couple has continued to thrive together against all odds. In 2019, they arrived together for Robert's induction into the Hollywood Walk of Fame.
Mary and Robert Felt Unfit to Raise Kids
In a decision unsurprising to fans and followers aware of their peculiar ways, the couple refused to have biological children. In an interview, Robert Smith admitted that he was opposed to having kids because he felt that "life shouldn't be imposed on anyone". He also added that he did not feel responsible enough to raise children. This was a decision seconded by Mary who also felt unfit to be a mother. Ironically, the couple has 25 nephews and nieces whom they adore. They live together in Sussex with their two dogs.