Robert Conrad is a retired American actor, director, writer, singer and radio host. He gained much fame in the 1960s as the ruggedly handsome undercover agent James T. West in the American adventure series The Wild Wild West (1965-1969), alongside Ross Martin. Conrad was however highly displeased with the 1999 Wild Wild West reboot in which Will Smith was cast as agent West.
Conrad is also known for his portrayal of the late WW II veteran, Gregory "Pappy Boyington" in the action-comedy series Baa Baa Black Sheep, a.k.a. Black Sheep Squadron which aired from 1976 until 1978.
Before his breakthrough role in Wild Wild West, Conrad had a long-running music career and released several songs as Bob Conrad with Warner Bros. label. He went on to feature in a countless number of TV shows and movies while occasionally taking up behind-the-camera roles. Robert Conrad retired from acting at the turn of the century. In 2007, Conrad began the radio show PM Show With Robert Conrad on CRN Digital Talk Radio.
Robert Conrad Bio, Age
Robert Conrad was born Conrad Robert Norton Falk on March 1, 1935, in Canaryville, Chicago, Illinois. His mother Jacqueline Hubbard was a publicist while his father Leonard Henry Falk was a construction worker.
He dropped out of high school as a teenager and began working as a dairyman to support himself. He completed his high school education in 1953 at Hyde Park High School in Chicago. After working for a few years, Conrad enrolled at the Northwestern University to study Theatre Arts. He found it hard to concentrate and therefore, he left college. With the help of his mother, he got a job at the Chicago theatre.
Robert Conrad moved to California in 1957 and began to get movie roles almost immediately. His early film credits include Juvenile Jungle and Thundering Jets, both films were produced in 1958. Conrad landed a contract with Warner Bros and in addition to his acting career, he released several pop/rock records between the late 50s and early 60s.
From 1959 to 1963, Robert Conrad headlined the weekly adventure series Hawaiian Eye in which he played the role of detective Tom Lopaka. He tried to revive his music career with a tour of Australia and Mexico before he landed his career-defining role in the cult classic The Wild Wild West.
On The Wild Wild West, Conrad loved doing his own stunts. This left him with serious injuries during the course of the show. However, he got inducted into the Stuntman's Hall of Fame in 1965. Pressures from the US Congress for networks to tone down the violence on TV led to the cancellation of the show in 1969.
Riding on the popularity of Wild Wild West, Robert Conrad made several unsuccessful attempts to rejig his career. He found fame again in 1976 when he landed a role in Black Sheep Squadron, a TV series based on the exploits of World War II ace Pappy Boyington. The performance got him a People's Choice Award for Favorite Male Actor in addition to a Golden Globe nomination.
After Black Sheep Squadron was cancelled in 1977, Conrad went on to feature in a number of other shows. He became a pitchman for Eveready Batteries during the late 1970s and featured in a famous series of adverts for the company. He deviated from the hard guy role in the epic 1979 miniseries Centennial and in the titular role in the 1981 Will: The Autobiography of G. Gordon Liddy.
Conrad went on to star in many made-for-TV films, including Two Fathers' Justice (1985), Anything to Survive (1991) and Samurai Cowboy (1993). In 1996, the actor made a brief appearance in the Christmas comedy film Jingle All the Way alongside Arnold Schwarzenegger.
Robert Conrad retired from acting in 2002 and unsuccessfully ran for president of the Screen Actors Guild in 2005. He turned 83 in March 2018.
Wife and Children
Robert Conrad is currently without a wife. However, the retired actor has been married twice in the past. His first marriage was to a woman named Joan Kenlay in 1952. He eloped with her at the age of 17 and adopted the name Robert Conrad to avoid being detected by either of their parents. The marriage lasted for 25 years and ended in an amicable divorce in 1977.
Conrad's second marriage was to actress LaVelda Ione Fann in 1983. Their marriage lasted for 27 years and ended in a divorce in 2010. His first marriage produced 5 children while the second produced 3.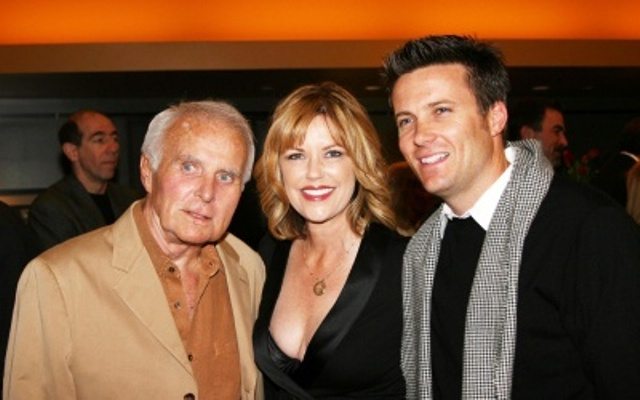 Robert Conrad has 2 sons and 2 daughters from his first marriage; Christian, Shane, Joan and Nancy. He has 3 daughters from his second marriage; Kaja, Camille and Chelsea.
A number of Conrad's children followed his career path. His eldest daughter Joan Conrad is a TV producer. His sons Shane and Christian joined him in 3 short-run series High Mountain Rangers (1988), Jesse Hawkes (1989) and High Sierra Search and Rescue (1995). His daughters Joan and Nancy also joined him on the crew of High Mountain Rangers and a few other shows. His daughter Chelsea Conrad is a jazz singer
See Also: Donna Mills Married, Husband, Daughter, Net Worth, Wiki, Bio
Is Robert Conrad Dead or Alive?
Wild Wild West star Robert Conrad is still very much alive, at the moment. However, a 2003 head-on car crash left him with a nerve injury and partial paralysis.
According to the police report, the retired actor had been driving with a blood alcohol level three times the legal limit. He was convicted of drunk driving, sentenced to 6 months of house arrest and was put on probation for 5 years. He was also ordered to complete an alcohol counselling program.
Net Worth
Robert Conrad's Hollywood career lasted over 3 decades. Throughout that time, he remained consistent by featuring in a countless number of TV shows and movies. We cannot also ignore his fairly successful stint as a recording artiste while signed on to Warner Bros.
With that in mind, it comes as no surprise that Robert Conrad has an estimated net worth of $2 million. He continues to work as the host of the weekly digital radio show PM Show With Robert Conrad. 
Here is a breakdown of Robert Conrad's salary at the peak of his acting career:
Hawaiian Eye (1959-1963) $300 per week
The Wild Wild West (1965-1969) $5,000 per week
Robert Conrad's Height
Height: 5′ 8″ or I73 cm
Robert Conrad's actual height was a bit of a controversy. In reality, the actor stands at a height of 5′ 8″. However, the CBS network insisted that their The Wild Wild West star was indeed 5′ 10″. To make up for the 2-inch deficit, Conrad had to wear lifts in his shoes while on set. Also, CBS ensured that the women cast on the show were less than 5′ 6″ in height.