It is arguably impossible to discuss Australian music history without mentioning Rick Springfield, especially when it comes to the rock genre. In over five decades, he has been one of the biggest music stars on the planet, providing timeless music to thousands of fans all around the world.
His career has been filled with ups and downs, both in music and his personal life. From achievements like Grammy wins, multiple published albums, to failed marriages and a battle with depression, Rick Springfield has lived a full life.
With so many details worth learning about the life of the Australian rock legend, here are a few things you might not know about him.
A Look at Rick Springfield's Lengthy Music Career
Thirteen years after his birth in South Wentworthville in August 1949, Rick Springfield, whose real name is Richard Lewis Springthorpe, picked up the guitar for the first time. In 1958, he joined his first band and spent the next five years with several other bands while his father, an officer in the Australian Army, was stationed in England.
Later on, they returned to Australia which led Rick to join the band, Rockhouse after the bass guitarist, Pete Watson approached him. By the time he was 19 years of age, he and his band were touring South Vietnam to perform for Australian troops.
About a year after joining Rockhouse, Rick Springfield joined the pop-rock band, Zoot. Despite charting a couple of times on the Go-Set's Top 40, the group struggled to gain a foothold at a rock band. This eventually led to their disbandment in May 1971.
The disbandment of Zoot was the pivotal moment that birthed the man known as Rick Springfield today. After he left the group, he signed his first record deal with Sparmac Records. He began a solo career and released his debut solo single, Speak to the Sky, in October 1971. The single was a success, peaking at no. 5 in the Go-Set singles chart.
In the following year, he released his debut album, Beginnings. The album featured ten tracks and charted on the US Billboard 200 at no. 35, 15 on the Australian Music Chart and 23 on the Canadian Albums Chart. After he released the album, Rick relocated to the United States in 1972. His move to the United States was followed by a record contract with Capitol Records in 1973.
Rick Springfield's Discography
Since he released his first solo album (Beginnings) in 1972, Rick Springfield has released an additional 16 studio albums, bringing his total studio albums to 17. His latest album, Orchestrating My Life, was released in March 2019.
Out of his 17 solo studio albums, four of them have gone platinum (Working Class Dog – 1981, Success Hasn't Spoiled Me Yet – 1982, Living in Oz – 1983, Hard to Hold – 1984, and another went gold (Tao – 1985). Ten of them charted on the Billboard 200, while only four of them made it onto the Australian Albums Chart, following his cross over to the US.
Rick has further released six compilation albums, two live albums, thirty-four singles (21 of them charted on the Billboard Hot 100), and eleven music videos. He has a studio album as a member of the group, Sahara Snow.
All of them, including his 18 studio albums, has sold more than 10 million copies worldwide. He has also performed at 265 concerts since his first one in 1981.
Awards and Achievements
Rick Springfield's five decade-plus career has seen him receive and record several achievements. One of his many recognitions is the Grammy Award, which he has been nominated four times, and won once. He won the Best Rock Vocal Male Performance for Jessie Girl in 1982.
He has also been nominated for three American Music Awards, and he has a star on the Hollywood Walk of Fame. He was inducted in May 2014 for his contributions to music.
More than a musician, Rick Springfield, who is also an actor with more than 40 credits to his name, has received award nominations from the Boston Film Festival and the Online Film & Television Association.
Additionally, his memoir, Late, Late at Night, is no. 23 on The 25 Great Rock Memoirs of All Time by Rolling Stone. He has also had a couple of songs written about him – Eat Your Heart Out Rick Springfield by Jimmy Hart and Je Suis Rick Springfield by Jonathan Coulton.
Rick Springfield's Family Members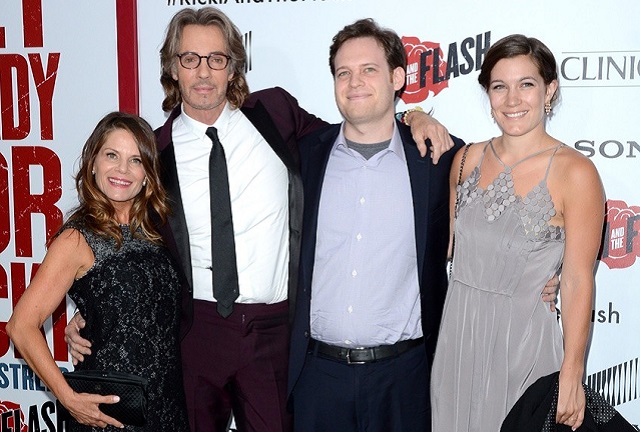 Despite a semi-high profile relationship with Linda Blair in the early 70s, Rick Springfield married Barbara Potter, a former studio receptionist. They got married in October 1984, and they have remained together ever since.
Rick and his wife, Barbara, are a family of four – two sons, Liam and Joshua, who were born in 1985 and 1989, respectively. His son, Liam, is an actor who has appeared in Grace, Bill Shakespeare in Hollywood, and short films like Assist and The Pearl Necklace.
As for his extended family, his father's name is Norman Springthorpe. He died on the 24th of April, 1981. His mother is named Eileen Springthorpe, and he has a brother, Mike Springthorpe. Eileen died on the 21st of December, 2016.
Life-Long Battle with Depression
Rick Springfield's life and successful career have been an achievement in overcoming a lifelong battle with depression. The iconic rock musician's struggle with depression began when he was a teenager. At the age of 17, he tried to commit suicide by hanging himself, only managing to stay alive due to the rope's unraveling.
He has continued to struggle with the illness ever since, taking time off music in 1985 to work on his mental health. Over the years, Rick has been open about the times he has contemplated killing himself, including as recently as 2017.
According to him, he has been battling the disease and winning the urge to stay alive with medication, therapy, and meditation.