Richard Dawson was an actor, comedian and game show host of British origin. As an actor, he became known to TV audiences in the 1960s when he landed the role of Corporal Peter Newkirk on the sitcom Hogan's Heroes. Dawson later gained much more prominence as the original host of the game show Family Feud, a role which earned him the Daytime Emmy Award for Best Game Show Host in 1978.
Richard Dawson's Bio
Dawson was born Colin Lionel Emm on November 20, 1932. He was born to Arthur and Josephine Emm in Gosport, Hampshire, England. He left home at age 14 to join the British Merchant Navy and there, he began a career in boxing. He was discharged from the navy after 2 years and he opted to pursue a career in comedy, bearing the stage moniker "Dickie Dawson". Upon attaining adulthood, he changed his stage name to "Richard Dawson" which he eventually adopted as his legal name.
After nearly a decade of stand-up comedy, Richard Dawson delved into acting in the early 1960s. He marked his debut as an uncredited extra in the epic war film The Longest Day (1962). In 1963, he appeared in the sex comedy film Promises! Promises! followed by a guest role on the sitcom The Dick Van Dyke Show. He equally featured in several other TV series including The Outer Limits (1964) and The Alfred Hitchcock Hour (1964).
Dawson got his breakthrough role on the sitcom Hogan's Heroes (1965-71) starring as Corporal Newkirk. During his long run on the show, he recorded further acting credits in films like Munster, Go Home! (1966) and The Devil's Brigade (1968). He served as a panellist on the short-lived comedy game show Can You Top This? (1970) followed by regular spots on comedy shows like Rowan & Martin's Laugh-In (1971–73) and The New Dick Van Dyke Show (1973–74). On the big screen, the multitalented entertainer lent his voice to the lead role in the animated feature film Treasure Island (1973).
Richard Dawson's role as a regular panellist on the game show Match Game lasted from 1973 to 1978. In 1976, he landed his most notable role on television as the first host of the ABC game show Family Feud. Dawson was a fan favourite during his long stint on Family Feud (1976–85, 1994–95) and he received much acclaim for his work on the show including a Daytime Emmy Award in 1978. He had his last film role in the Sci-Fi flick The Running Man (1987) which also featured Arnold Schwarzenegger. Dawson officially retired as the host of the Family Feud game show in May 1995.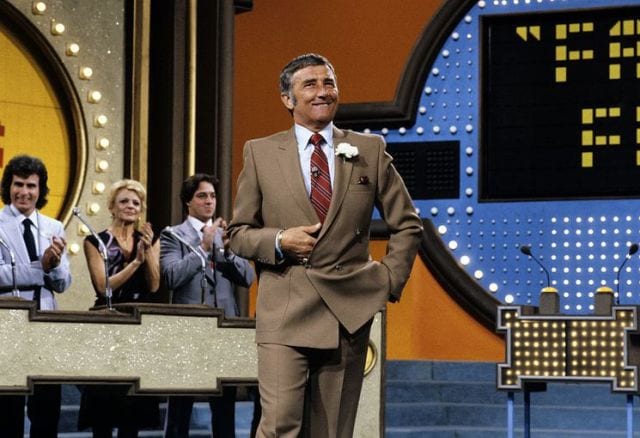 Net Worth
Richard Dawson was undoubtedly a multitalented star who was known for his work on the small screen as well as the big screen. In addition to several other credits, he is best known for his long illustrious stint as the host of the game show Family Feud. With this and several other business ventures, Dawson amassed a fairly impressive amount of wealth. By the time of his death in 2002, Richard Dawson's net worth was pegged at a conservative estimate of $100,000.
See Also: Who is Mike Myers (American Actor and Comedian): How Much is He Worth
Wife – Gretchen Johnson
Richard Dawson was married to Gretchen Johnson for over a decade. Interestingly, the duo met in May 1981 when Johnson featured as a contestant on Dawson's show Family Feud. The couple dated for a long while and eventually tied the knot in 1991. There was a gaping 25-year age difference between the two, however, their marriage proved to be a huge success. They had one child together, a daughter named Shannon Nicole Dawson, born in 1990.
Prior to his marital union with Gretchen Johnson, Dawson was previously married to British actress Diana Dior. His marriage to her lasted from 1959 to 1966 and they had 2 sons together. Their first son Mark was born on February 4, 1960, and their second son Gary was born on June 27, 1962. Dawson gained custody of both sons following his divorce from Dior in 1966.
Cause Of Death
Following his retirement from showbiz, Richard Dawson remained resident in Beverly Hills, California. He died at the Ronald Reagan UCLA Medical Center on June 2, 2012. His death was a result of complications from oesophageal cancer and he was 79 years old at the time of his death. His remains were buried at Westwood Memorial Park, Los Angeles. To mark the anniversary of Dawson's death, a 4-hour compilation of his greatest moments on Match Game and Family Feud was aired by Game Show Network.