Richard Dawson was an actor, comedian and game show host of British origin. As an actor, he became known to TV audiences in the 1960s when he landed the role of Corporal Peter Newkirk on the sitcom Hogan's Heroes. Dawson later gained much more prominence as the original host of the game show Family Feud, a role which earned him the Daytime Emmy Award for Best Game Show Host in 1978.
Richard Dawson at a Glance
In a career that spanned more than three decades, he appeared in less than 10 feature films, some of which were not credited as well as less than 20 TV shows. Here is a look at his career as an actor.
Important Lessons From The Life of Richard Dawson
1. Discover yourself
Dawson was born Colin Lionel Emm on November 20, 1932 to Arthur and Josephine Emm in Gosport, Hampshire, England. After he left home at age 14 Dawson proceeded to join the British Merchant Navy. It was there that he discovered himself as a boxer.
Having spent two years in the Navy, he was discharged and he decided to reinvent himself as a comedian using the name Dickie Dawson. It was years later that he would finally change back to using the name for which he could come to be popular; Richard Dawson. The name was legally adopted by the actor.
2. Expand your horizon
Richard Dawson remained a comedian for the next 10 years before he decided to try his hands on acting in the early 1960s. He marked his debut as an uncredited extra in the epic war film The Longest Day (1962) and then in 1963, he made yet another appearance in the sex comedy film Promises! Promises! Next, the actor made a guest appearance on the sitcom The Dick Van Dyke Show. He equally featured in several other TV series including The Outer Limits (1964) and The Alfred Hitchcock Hour (1964).
He got his breakthrough role on the sitcom Hogan's Heroes (1965-71) starring as Corporal Newkirk. During his long run on the show, he made further acting credits in films like Munster, Go Home! (1966) and The Devil's Brigade (1968).
3. Go ahead and try new things
All through, Dawson was never afraid of trying new things. He served as a panelist on the short-lived comedy game show Can You Top This? (1970) followed by regular spots on comedy shows like Rowan & Martin's Laugh-In (1971–73) and The New Dick Van Dyke Show (1973–74). On the big screen, the multitalented entertainer lent his voice to the lead role in the animated feature film Treasure Island (1973).
Richard Dawson's role as a regular panelist on the game show Match Game lasted from 1973 to 1978. In 1976, he landed his most notable role on television as the first host of the ABC game show Family Feud.
Dawson was a fan favorite during his long stint on Family Feud (1976–85, 1994–95) and he received much acclaim for his work on the show including a Daytime Emmy Award in 1978. He had his last film role in the Sci-Fi flick The Running Man (1987) which also featured Arnold Schwarzenegger. Dawson officially retired as the host of the Family Feud game show in May 1995.
Through all he has been able to achieve, one of the most important lessons from the life of Richard Dawson is that it is never too late for one to start something.
Was He Ever Married?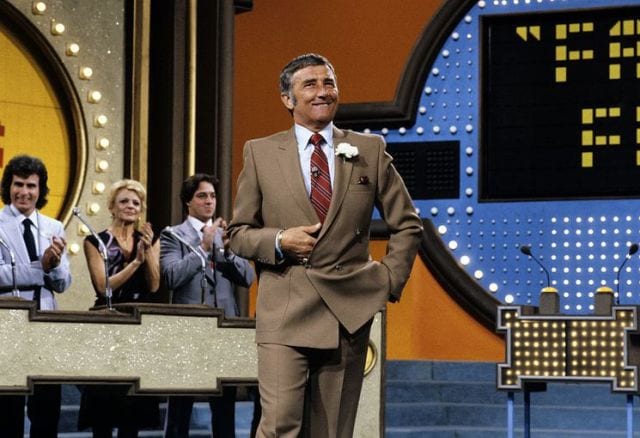 Richard Dawson was married to Gretchen Johnson for over two decades before his death having met her in May 1981 when Johnson featured as a contestant on Dawson's show Family Feud. The couple dated for a long while and eventually tied the knot in 1991.
There was a gaping 25-year age difference between the two, however, their marriage proved to be a huge success. They had one child together, a daughter named Shannon Nicole Dawson, born in 1990.
Prior to his marital union with Gretchen Johnson, Dawson was previously married to British actress Diana Dior. The union lasted from 1959 to 1966 and they had 2 sons together. Their first son Mark was born on February 4, 1960, and their second son Gary was born on June 27, 1962. Dawson gained custody of both sons following his divorce from Dior in 1966.
How Did Richard Dawson Die?
Following his retirement from showbiz, the great actor remained resident in Beverly Hills, California.
On June 2, 2012, the world was hit with the sad news of his demise at the Ronald Reagan UCLA Medical Center. Before his unfortunate death at 79, he suffered from oesophageal cancer which led to his demise. At a point during his lifetime, he was said to have smoked as much as four packs of cigarettes a day for many years before his daughter convinced him to finally stop in 1994. Unfortunately, quitting it could not undo the damage that would surface many years later.
His remains were buried at Westwood Memorial Park, Los Angeles. To mark the anniversary of Dawson's death, a 4-hour compilation of his greatest moments on Match Game and Family Feud was aired by Game Show Network.