Richard Burr is an American politician who has served as a member of the House of Representatives and Senate. Born on November 30, 1955, the now 67 year-old has had a political career spanning nearly three decades. He is the dean of North Carolina's congressional delegation and also a member of both the board of Brenner Children's Hospital and the West Point Board of Visitors. Although he is most popular for his political career, there is more about Richard than just that.
10. Richard Burr was Born Into a Conservative Christian Family
The congressman was born in the quaint town of Charlottesville, Virginia to Martha and David Horace White Burr. His father was a Reverend and had previously served as a chaplain at Princeton University, and later at the University of Virginia in the early fifties. Richard himself is an alumnus of Wake Forest University, from where he graduated in 1978.
Richard was a member of the Kappa Sigma fraternity during his days in college. He also played football as a defensive back for his school's football team. His conservative upbringing influenced his political affiliations, as he remains a staunch Republican, no matter what. The politician is a member of the United Methodist Church, the same church he was born into.
9. Burr Decided to Run for Congress Because He was Sick of the Incessant Tax Increments
Sometimes, one has to be extremely determined, or extremely pissed off as in Richard's case, in order to actually make a dream come true. Before he ever dreamed of pursuing a career in politics, Richard Burr was only a salesman. But not quite an ordinary one. Immediately after graduating college, he got a job as a sales manager for Carswell Distributing Company, a job in which he worked for seventeen years.
Within that period of time, he worked his way up from the bottom, all the way to the position of national manager. Guess what the company sold? Lawn Equipment! Burr is currently a signatory of the Taxpayer Protection Pledge, a pledge that vows to oppose tax increments at all costs. He also doesn't agree with the government practice of heavily taxing small businesses just to fund their activities.
8. His Time at the House of Representatives Ran From 1994 till 2004
In 1992, Richard decided to run for the House of Representatives against the incumbent for Winston-Salem. Sadly, he lost. He contested again two years later in 1994 under the Republican party and won by a landslide. That marked the beginning of a 10-year tenure as the Representative for that district.
Since the length of one tenure is two years, it means that Burr was re-elected for that position four times. For his last re-election in 2002, he ran uncontested. As a matter of fact, at no point during his re-election bid did he get less than 62% of the total votes.
7. Richard Burr was a Senator From 2004 to 2020
In July 2004, Richard decided to run for the Senate. He won the Republican primaries and succeeded former Senator John Edwards, who had stepped down in order to run as John Kerry's vice president in the 2004 elections. Burr contested against candidates Erskine Bowles of the Democratic Party and Tom Bailey of the Libertarians. He later emerged the winner.
A senator in the United States holds office for a period of 6 years per tenure. Richard has held the post for the past eighteen years (three tenures in total). He broke the record of being the first senator for Winston-Salem to have been reelected since Sam Ervin in 1968. He also chaired the Senate Intelligence Committee from 2015 to 2020. Richard Burr has since declared his intentions to step down in 2022, as he had promised not to contest for a fourth term in 2016.
6. Some Heavy Allegations were Leveled Against Him in 2020
In the middle of 2020, while everyone was dealing with the effect of the COVID-19 pandemic, Richard Burr was dealing with serious issues of his own. It was alleged that he colluded with stockbrokers and other investors to manipulate the stock and security markets. In the US and many other places in the world, this is known as insider trading and is illegal as it increases the risk of a stock market crash, leading to a decrease in the overall credibility of the market.
These allegations led to Richard temporarily stepping down from his position as chairman of the Intelligence Committee on May 15, 2020. However, an FBI-led investigation into the allegations found nothing on him. And he was cleared of all charges on January 19, 2021, by the Department of Justice.
5. Richard Burr is a Family Man and has Two Children with his wife Brooke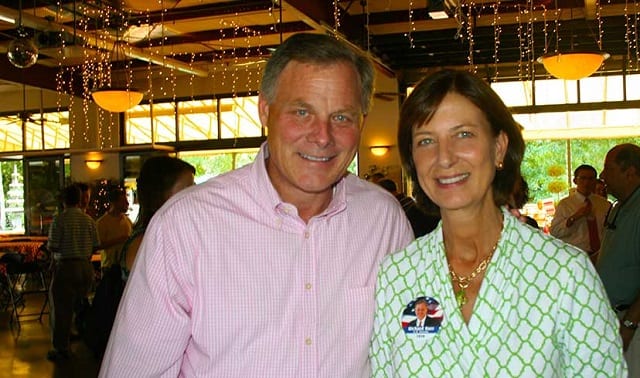 Richard Burr got married to Brooke Faith Burr in 1984. Brooke is the daughter of Gerald Fauth Jr., a U.S. Navy war veteran who passed on at the age of 82 in November 2010. Her father and mother (Carole Barber) were married for four decades.
The politician's wife is a graduate of Salem college from where she bagged a Bachelor of Arts degree in Economic Management in 1979. In line with what she studied in the university, she ventured into real estate as an agent after college and currently has more than 20 years of experience as a realtor.
Richard and Brooke's over thirty-year union has been blessed with two sons named Tyler and William Burr. While Tyler serves as the vice president of Brand Intelligence group, William, a bachelor of Arts degree holder in Economics from the University of North Carolina, works for the Department of Defense in Quantico, Virginia, United States.
4. Burr Held Notable Positions in the Senate
In February 2021, Richard Burr became a signatory member of the Senate Health, Education, Labor, and Pensions Committee, a position previously held by Patty Murray. He was also chair of the Senate Intelligence Committee from January 3, 2015, till May 15, 2020. Marco Rubio now holds the position as acting chair, because Richard stepped down in 2020. A new chair is yet to be appointed.
3. Richard Burr is not the First Politician in His Bloodline 
Richard Burr happens to be a distant relative of a 19th-century American vice-president named Aaron Burr. Researchers of the Burr family tree discovered that he (Richard) was a descendant of one of Aaron's brothers, making Aaron Richard's great uncle.
2. The Politician Has an Estimated Net Worth of $7 Million 
As a businessman, Burr has several investments in various sectors like real estate and insurance. He is a very rich man as a result, with a net worth estimated to be around $7.4 million as of 2018.
However rich he might be though, Richard is known for his love for energy and resource conservation. Little wonder he was made chairman of the energy conservation committee. The senator is known for shopping at the most ordinary stores and still owns a 1973 Volkswagen Thing model.
1. Burr Might be Conservative but He has Constantly Proven to be Unbiased and Fair
In 2020, Richard Burr was one of only seven Republican senators who voted to convict Donald Trump of incitement of insurrection during his second impeachment trial. His love for the truth goes all the way back to 2015. It was said that Richard agreed to sponsor Democrat Mark Warner's opposition, even though he was a Republican member himself. Warner returned the favor in 2016 when he backed Richard's third senatorial bid.