Preity Zinta is one of the more accomplished faces in the Indian entertainment industry. The Actress, media personality and business mogul has successfully carved out a niche for herself beyond Bollywood.
Biography (Age)
Preity Zinta is a Bollywood actress born into a family from the town Rohru in the district of Shimla, Himachal Pradesh, India. Preity Zinta was born on the 31st of January 1975. Her father Durgarand Zinta was an officer in the Indian army.  But he tragically passed away in an accident that also involved Pietry's mother Nilphrabha. Prietry was just a child at the age of 13 when she lost her father.
Her mother was bedridden as a result of the accident for the next two years. The horrible turn of events forced her to grow up pretty quickly, she has an older brother Deepankar and a younger brother Manish. The oldest followed his father's footsteps and joined the army. Her father's military background and brothers turned her into what she describes as a tomboy.
She schooled at the Convent of Jesus and Mary, a boarding school in Shimla. While still in school she developed a flair for literature and in particular William Shakespeare and poetry. After High school, she graduated with an English Honor's degree and then proceeded to start a graduate program in Psychology all which she earned at the St. Bede's College in Shimla. She later also moved on to earn a Post Graduate degree in criminal psychology.
Also Read: Sanaa Lathan Husband, Age, Height, Kids, Net Worth, Boyfriend and Children
But she later decided on pursuing a modeling career, but it was in acting that she made her name, featuring in Hindi movies in Bollywood and also Punjabi, Telugu, and English language films. She made her acting debut in 1998 when she appeared in the movie Soldier. Her debut movie earned her a Film fare Award for The Best Female Debut. Also in 2000, she was recognized for her role as a teenage single mother in the movie Kya Kehna. The movie showed the themes of single parenthood and infant pregnancy. This movie gave Zinta a wider audience, recognition, as well as increased amount of critics.
Aside from acting, Zinta joined up with a group of South Asian commentators for the BBC News Online. Prior to her leaving the film industry, Zinta was involved with different charitable organizations and she is known for her huge support for the women's cause in her native country India. An example of that is when she took part in protesting against female infanticide. She also took part significantly in an AIDS awareness campaign which swept through the city of Mumbai.
In 2005, she and a host of Bollywood stars rallied around at the HELP! Telethon Concert which was to raise funds for the 2004 victims of an earthquake in India. Aside from her acting and flair for the theatre arts, she showed some versatility in business when in 2008 she alongside Ness Wadia and Mohit Burman acquired ownership rights for a Twenty20 cricket team in the Indian Premier League.
Husband
After a lot of speculation and anticipation, she finally tied the knot and got married to her long-term boo Gene Goodenough on the 28th of February 2016. The couple got married in a Hindi wedding ceremony in LA with the attendants being family and very intimate friends. Her husband studied Management and is a graduate of Marshall School of Business in Los Angeles. He was classmates with Rob Kardashian. He currently works with NLine Energy Inc.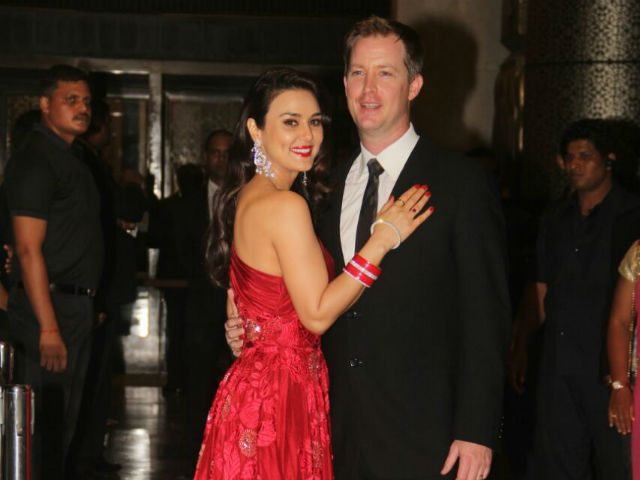 Height / Body Measurements
She has a height of 162 cm (1.62 meters) which translates to 5 feet 4" inches. She also weighs 52kg and 114 lbs in pounds. Her vital statistics are 32-26-32.
Preity Zinta Net Worth
Preity Zinta is an amazing actress with a golden heart. Her estimated net worth is around $135 million which is about eight hundred and seventy crore. Most of her earnings have come from brand endorsements and she is a co-owner of an Indian Premier League team. Also, she invested quite heavily in real estate. She has business interests in modeling and advertising.
Kids
Preity got married in 2016. Some time in 2018, she was photographed outside her parents Mumbai home trying to cover a baby bump which if reports are to be believed means the couple is expecting their first child.
In keeping with her philanthropic demeanor, Preity adopted 34 orphaned kids on her 34th birthday. She is committed to seeing all the kids through school and providing care and love to them all to the best of her ability.