Philip Rivers has been a breaker of records from the very beginning. His impressive records are a sure attestation to that fact. But beyond his excellence in the field of play, the number of children the champ has is a sure indication that he does whatever he sets his mind on in the most excellent fashion. Here's a little reveal on what the football champ is up to.
Philip Rivers' Bio, Age
Philip Rivers was born on December 8, 1981, as Philip Michael Rivers. His birthplace is Decatur in Alabama, where he learned his trade under the tutelage of his father who worked at their hometown school – Decatur High School as the school football team coach. His mother was also a teacher at the school. His parents are Steve and Joan Rivers.
He began his high school education at Decatur High and played football with the school team as his father was the head coach at the time. And when his father got another coaching at another high school – Athens High School – it only meant one thing which was a change of school for young Philip. Rivers always knew he would play football as his father guided him in that part having played the sports himself when he was younger.
While in school, young Philip was asked to draw a representation of his dreams and aspirations and he wasted no time in making the picture of a Minnesota Vikings player whom he had seen on the cover of the sports magazine, Sports Illustrated. As he started his football career in 1994, he would go on to play as a starter for his high school team. The trend continued even in college as Rivers rejected offers from schools that he felt would not give him playing time talk more of a starting berth in collegiate games when he left high school in 1999, and that's how he landed in North Carolina State University as a quarterback.
College Career
He played for the Wolfpack (as the Raleigh-based North Carolina State University football team is called) under the guidance of coach Chuck Amato and he led the team to victory in the Tangerine Bowl against Minnesota where he was named MVP in 2000. As a rookie, he picked up (as well as he broke) several records in college football as far as NC State is concerned. He was named in the All-American after scooping eight ACC Rookie of the Week accolades. In his second season, the Wolfpack made it to a second Tangerine Bowl which they lost to Pitts. However, Rivers was named MVP again – making it two Tangerine Bowl MVP awards in a row.
The 2002 season started on a highflying note and the Wolfpack won their first nine games culminating in the best start to a collegiate football season the NC State has ever had. Their successes would see them win another Tangerine Bowl and play at the Gator Bowl against Notre Dame – a match which the Wolfpack won 28-6 with Rivers turning in an MVP performance in the game.
He led the team to the Tangerine Bowl for the fourth time the following season which was his senior year and it ended in a win for NC State over Kansas. And again – for the fourth time in four years – Rivers was named MVP. He was also named ACC Athlete and Player of the Year for the 2003 football season.
Philip Rivers started all the games in his 4-year college football career – 51 games in total – in which he recorded 13,484 passing yards, 1,147 passes in 1,710 tries, with 95 touchdowns. He was therefore named the toughest and most efficient quarterback in ACC history. His 95 touchdowns at NC State tied him at eighth all-time highest with Brady Quinn and Kliff Kingsbury.
Professional Career and Stats
Rivers made it to the 2004 NFL Draft as one of the seventeen quarterbacks that were available for selection. He was the selected by the New York Giants as the fourth pick of the first round. However, he was traded to the San Diego Chargers for another quarterback, Eli Manning who had initially been selected as a first overall pick by the Chargers. Rivers agreed to a six-year contract worth $40.5 million with the Chargers, however, his first NFL start would not come until two years later in a win against the Oakland Raiders on September 11, 2006, and despite having just 8 completed passes in that game, Rivers went on to become the Chargers' all-time passing yards leader tens years on.
Having played a total of 196 games in the NFL for the San Diego Chargers (2004-2016) and the Los Angeles Chargers (2017) and started in 192 of those games, Philip Rivers recorded 6,492 attempted passes and completed 4,171 of them. He also recorded 50,348 passing yards, 166 interceptions, and 342 touchdowns. His 192 starts as a quarterback in the NFL makes him the 4th overall in the list of NFL quarterback starts.
Salary & Net Worth
Philip Rivers' net worth is estimated to be about $50 million which he uses to stay afloat of things. He owns a luxury home in Los Angeles worth $5.2 million. His taste in automobiles is quite an exotic one and his garage boasts of quite a number of them. He has a Cadillac, Lamborghini, Range Rover, Ferrari, Corvette and an SUV. His $50 million net worth is doing a good job in maintaining his lavish lifestyle.
Philip Rivers' Wife, Kids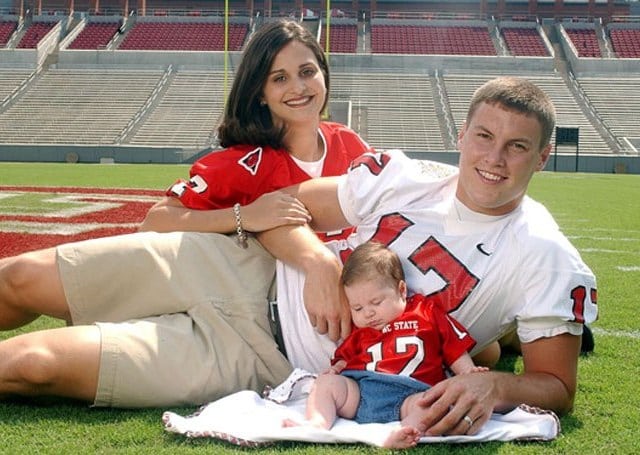 The Chargers quarterback is married to a lady whose name is given as Tiffany, she was his longtime girlfriend from high school. The couple got married in May 2001 and they have eight children together – six daughters and two sons whose names are Halle, Grace, Caroline, Rebecca, Sarah Catherine, and Clare Rivers, all daughters. The boys are Gunner and Peter Rivers.
Family Members – Siblings, Parents
Philip Rivers' parents are Steve and Joan Rivers. His father was a football coach who played a role in his early formation in the sports while he attended Decatur High School. Rivers has two siblings – a younger brother, Stephen Rivers and a sister, Anna Rivers and he is not the only athlete in his family (besides his father). His younger brother is also a football quarterback who played collegiate football at Louisiana State University, Vanderbilt University, and Northwestern State University, even though his stats are not anywhere close to his older brother's collegiate numbers.