Having established himself as one of the best coaches in the NFL, it is no surprise that 72-year-old Pete Carroll has garnered an estimated net worth of $30 million. Bill Belichick is paid an annual salary of $12.5 million by the Patriots.
It is hard to find too many coaches as good as Pete Carroll in the National Football League (NFL) going by his many achievements. He is one of the only three coaches in NFL history that has won both the college football national championship and the Super Bowl. He is the head coach of the Seattle Seahawks of the NFL, as well as the executive vice president of football operations. Prior to coming on board the Seahawks, he managed the New York Jets and New England Patriots in the NFL, and the University of Southern California football team (USC Trojans) where he had one of the most successful runs in USC history in the college ranks.
Although he is very popular as a result of his career, there is more to Pete Carroll than being a coach. He is a husband, father, grandfather, philanthropist, role model to younger men, and more.
Pete Carroll's Profile Summary
Full Name: Peter Clay Carroll 
Gender: Male
Date of Birth: September 15, 1951
Pete Carroll's Age: 72
Ethnicity: White
Nationality: American
Zodiac Sign: Virgo
Sexual Orientation: Straight
Marital Status: Married
Pete Carroll's Wife: Glena (née Goranson)
Pete Carroll's Children: Brennan (elder son), Jaime (daughter), and Nate (younger son)
Pete Carroll's Parents: Rita (née Ban) and James Edward "Jim" Carroll
Education/Schools Attended: Greenbrae School, Redwood High School in Larkspur, California, College of Marin, and the University of the Pacific (where he earned a Bsc. in Business Administration)
Occupation: American football coach
Clubs Managed: New York Jets and New England Patriots
Current Club: Seattle Seahawks
Position On The Team: Head Coach and Executive Vice President
Pete Carroll's Net worth: $30 Million
Famous for: Being the oldest head coach in the NFL
Pete Carroll's Instagram: petecarroll
Twitter: Pete Carroll
Facebook: Pete Carroll
1. Pete Carroll Is 72 Years Old
Born on the 15th of September 1951, Pete is currently 72 years old. He began his coaching career with the New York Jets in 1994 at the age of 43 and is currently the oldest active coach in the NFL and the only coach in his 70s. Considering his four-year contract extension with the Seahawks signed in November 2020, Pete will still be very much active in the league even at the age of 74.
Meanwhile, when he turned 67 in 2018, the Seahawks head coach joined the league of top oldest NFL head coaches of all-time behind Joe Gibbs (67), Wilbur Charles "Weeb" Ewbank (67), Dick Vermeil (69), Marv Levy (72), and George Halas (72).
2. The Seahawks Coach's Salary Runs In Millions Of Dollars Annually
While NFL players' salaries become public records, those of the brilliant minds (such as the coaches) who mold these talents into million-dollar assets are not usually officially disclosed, however, there are sources that report estimated contract figures when at all possible. According to one of those sources, in January 2010 when Pete began his journey as head coach of the Seahawks, he received a salary of $7 million per year as the deal was said to be worth about $35 million. When his initial tenure was over, Carroll signed a three-year contract extension with the club in 2016 after they agreed on a salary renegotiation. Thus, his salary reportedly rose to an estimated $11 million per season.
Pete once again agreed to a four-year contract extension with the Seahawks in November 2020 but as always, details of the contract were not made public. However, according to an October 14, 2021 report by Sports Boston, Pete Carroll was the second-highest-paid head coach in the NFL that season with a salary of $11 million, just $1.5 million short of what the highest-paid man, Bill Belichick, received. If this report is anything to go by then it means that Pete Carroll's salary remained the same after his latest contract.
3. Pete Carroll's Net Worth Is Quite Enviable
Over the years, Pete Carroll has been responsible for an entire locker room and the amazing results on the field. As a result, he has been continuously rewarded lucrative deals which have increased his net worth a great deal. According to Celebrity Net Worth, the famous coach has an estimated net worth of $30 million, most of which came from his coaching career. Apart from that, however, Pete has also made some money from real estate. In 2014, Pete Carroll and his wife Glena acquired a home located in Hunts Point, the Seattle metropolitan area for $5.9 million.
The residence which spans 3,860 square feet featured three bedrooms, a private beach, a moorage dock, and a detached guest suite. Surprisingly, for reasons best known to the couple, they decided to sell the property less than one year after in 2015 for $6.1 million, earning very little return of just $200,000. The following year, Pete sold another home, a beach cottage, for $2.05 million ($50,000 more than the asking price). The property which is located in Manhattan Beach, California, spans 1,200 square feet and offers a wonderful view of the ocean, two bedrooms, and a brick patio.
Carroll initially purchased the property in 1999 at the price of $540,000 and for some time, he was giving it out for rent for $4,500 every month. With the sale of this home, coach Carroll recorded much more return than the previous sale. In 2017, he sold another property, this time, his 1950s home in Rolling Hills, Washington, for $3.05 million in an off-market deal.
4. Pete Was A Star Athlete In His Hay Days
Pete Carroll was an accomplished athlete in his school days. A three-fold athlete, he played football, basketball, and baseball at Redwood High School and was honored as the school's athlete of the year in 1969. After he graduated from high school, Pete played football at the College of Marin for two years before moving to the University of the Pacific where he was a free safety for the school's gridiron team, the Tigers, for two years.
Added to a Bachelor of Science in Business Administration degree in 1973, he also earned All-Pacific Coast Athletic Conference honors twice, in 1971 and 1972. Unable to go pro after graduation due to his stature and shoulder problems, Pete Carroll transferred his energy to coaching.
5. He Kicked Off His Coaching Career In 1973
Pete Carroll began his career as a graduate assistant for the Pacific Tigers Football team in 1973, working with the wide receivers and secondary defenders for three years. He then moved to the Arkansas Razorbacks football team, also as a graduate assistant from 1977 to 1978. In his second season, the team won the 1978 Orange Bowl. Carroll continued his graduate assistant streak at Iowa State University and Ohio State University and then, the defensive coordinator at North Carolina State University in 1980. He was the assistant head coach as well as defensive coordinator of the Tigers from 1983 to 1984.
In 1984, Pete Carroll joined the NFL as the defensive backs coach of the Buffalo Bills, then the Minnesota Vikings and the New York Jets. Having risen through the ranks, he became the head coach of New York Jets in 1994 before moving to the San Francisco 49ers where he served as the defensive coordinator in 1995. Two years later, he was with the New England Patriots as the head coach until 1999. Despite winning the AFC East division title in his first season, his team did not fare well in his last two seasons. Carroll's combined NFL record as a head coach was 33–31 before he returned to college coaching.
6. His Time At USC Was A Huge Success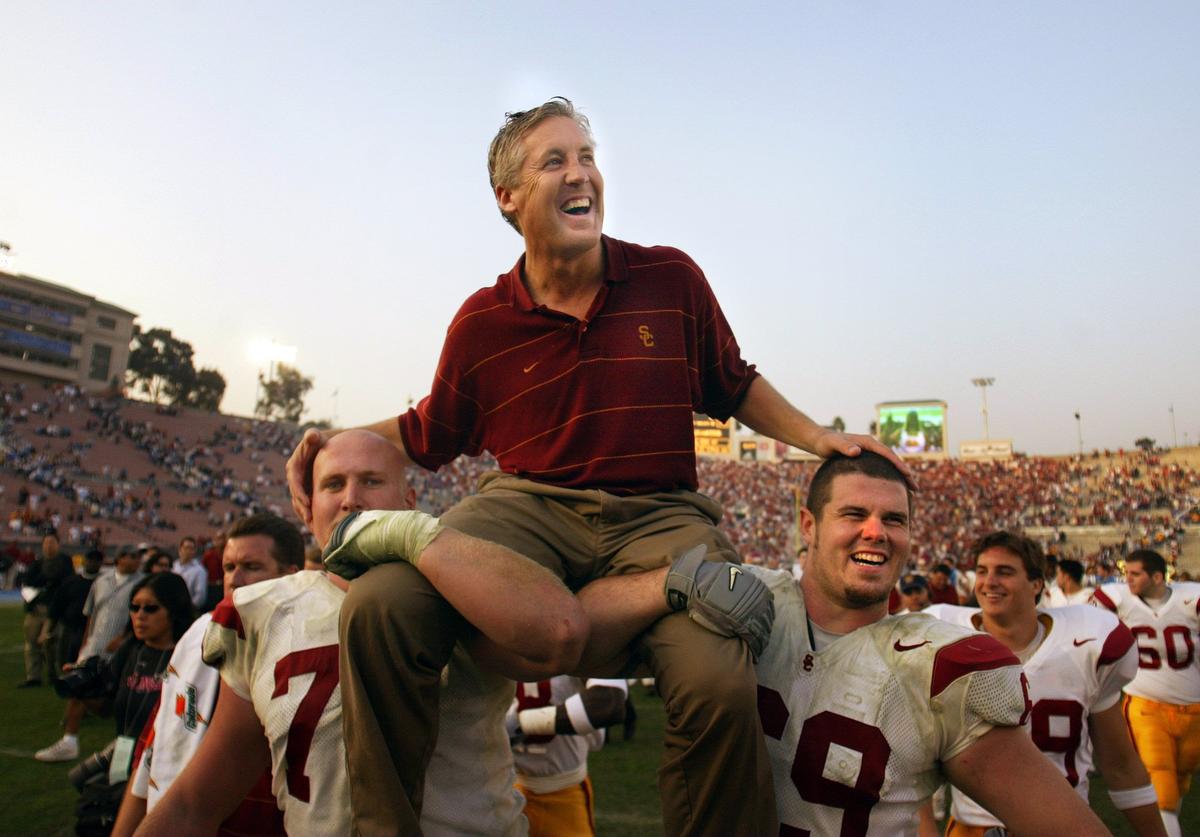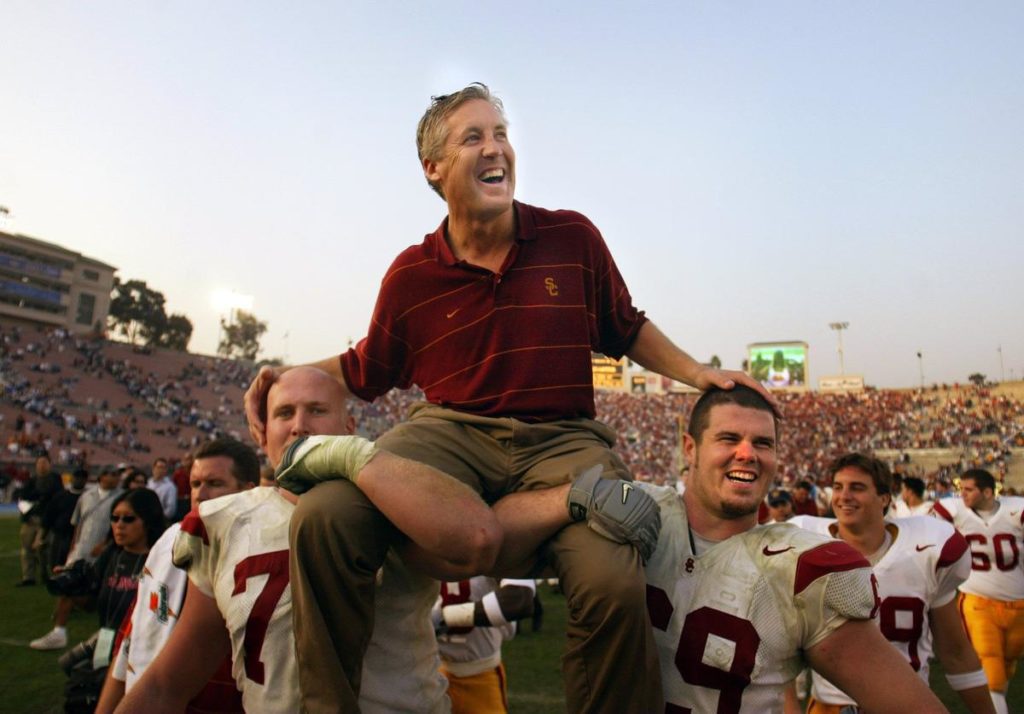 Pete Carroll was appointed USC's head coach in 2001 and he remained in the position until 2009. Going by his record as an NFL head coach and being nearly two decades away from college level, his choice as USC head coach was severely criticized. However, within a year into his tenure, many prominent critics reversed course. At the time, he led a resurgence of USC football, reviving a once dying program.
Pete Carroll brought in multiple top-ranked recruiting classes, thus, building a reputation as one of the most effective recruiters in college football. Consequently, ESPN.com named his hiring number 1 in a list of the Pac-10's top ten moments of the BCS era. He was named the Home Depot Coach of the Year in 2003 as well as the Coach of the Decade by Lindy's in 2009.
As the head coach of the Trojans, Carroll won seven consecutive Pac-10 titles, two national championships (2003-04) and led the team to a 97-19 record. From 2002-08, the Trojans appeared in an NCAA-record seven consecutive BCS bowls. His team also recorded at least 11 victories seven times (an NCAA record) and an Associated Press (AP) Top-4 finish.
He reached a bowl in each of his nine seasons, winning seven. He reached 50 career USC wins faster than any head coach in Trojans history. Additionally, USC held a national record for 33 consecutive weeks (including two preseason polls) as the AP's No. 1-ranked team. They were also ranked in the AP Top 10 for a school record of 63 consecutive games. Pete Carroll also set a school record by ranking in the AP Top 25 for 102 consecutive games.
Also under his tenure, USC became the first school to have three Heisman Trophy winners in a four-year span (Carson Palmer, Matt Leinart, Reggie Bush). He also produced 34 All-American first-teamers and 53 NFL draft picks (including 14 first-rounders). He won the Rose Bowl four times and was an Orange Bowl champion twice. A year before Pete left his collegiate career, USC finished first in scoring defense (9.8 ppg, its finest in 41 years), surrendering just 14 touchdowns.
7. Pete Carroll Returned To The NFL In 2010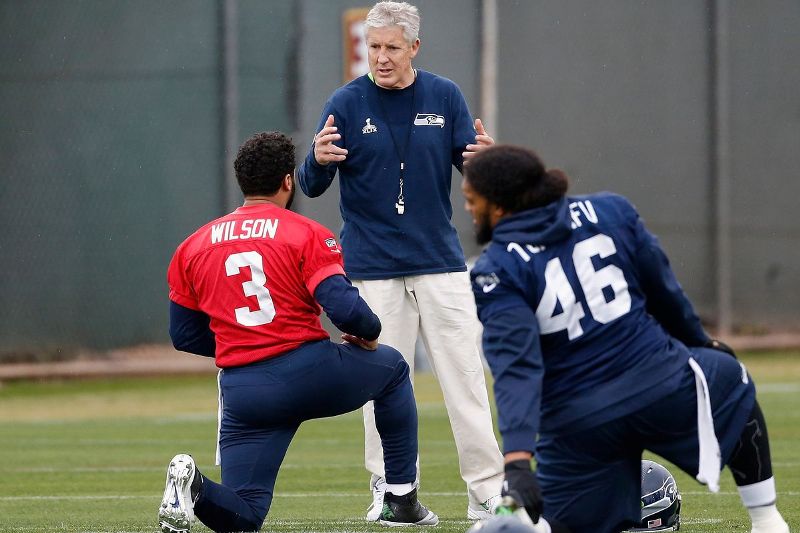 Following his raving success at USC, his many critics turned the table and Pete Carroll was considered a much better fit for college football than the NFL. He, however, returned to the league as the head coach of the Seattle Seahawks in 2010. Pete Carroll was named the Seahawks head coach on January 11, 2010, bringing 26 years of NFL experience and 19 years of collegiate experience to Seattle. He signed a five-year contract with the team, becoming the eighth head coach in Seahawks history.
He would go on to win the Super Bowl in 2013 and is also a two-time NFC champion in 2013 and 2014. Carroll extended his contract with the Seahawks by three years in July 2016. He won his 100th game as the team's head coach with a 28-26 victory over the Pittsburgh Steelers on September 15, 2019 (his 68th birthday).
With more than four decades of coaching experience, two Super Bowl appearances, and one championship, Pete Carroll is easily one of the best coaches in the league. He was inducted into the USC Athletic Hall of Fame in 2015, the Redwood High School Athletic Hall of Fame in 2009, and the Pacific Athletic Hall of Fame in 1995.
8. A Walk Through Pete Carroll's Family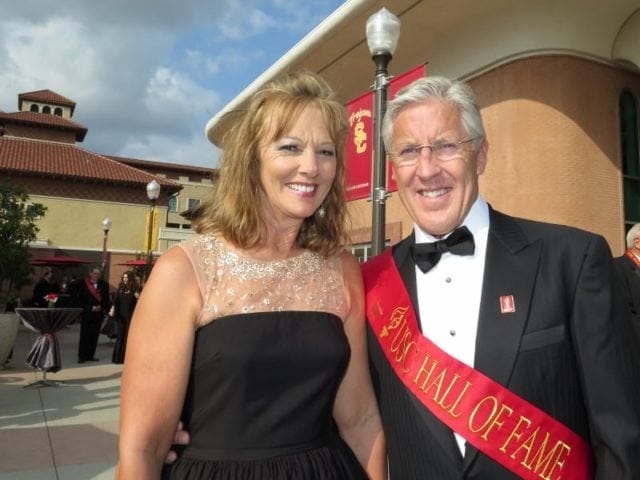 The Seattle Seahawks head coach is not only a veteran in the coaching business but in the family front as well. Carroll is married to Glena Carroll who attended the University of Pacific where she played indoor volleyball. Prior to their nuptials in 1975, Pete was married to Wendy Pearl for two years, from 1973 to 1975.
Pete and Glena have three children together: two sons, Brennan and Nathan "Nate", and one daughter named Jamie, with a handful of grandchildren. Their eldest son, Brennan (20 March 1979) is married to Amber with whom he has one son named Dillon. A graduate of the University of Pittsburgh from where he earned a bachelor's degree in social sciences in 2001, he has been in the coaching business since graduation. He joined his father in the USC staff as a graduate assistant before becoming an assistant coach. He is now the offensive assistant coach for the Seattle Seahawks.
Nate (born March 24, 1987), on the other end, has been on the Seahawks' staff as long as his dad. He bagged a bachelor's degree in psychology from USC in May 2010 and joined his dad the same year as a personnel assistant in the scouting department. He moved to the coaching rank the following year and became an offensive assistant coach for the team in 2013. Together with his wife Anna, he has two children.
Pete Carroll and Glena's only daughter Jamie, who is also their middle child, was born on 12 April 1982. Like her younger brother, she attended USC where she majored in communications and media studies as well as played on the Women of Troy's volleyball team. The team competed in the 2000 NCAA Final Four. Unlike her siblings who have joined their father in the coaching business, Jamie helped to launch the company named Compete to Create in 2013. The company is a performance institute that focuses on helping people and companies be the best they can be. It was founded by her father and she serves as the president. She tied the knot with Mike Davern on July 6, 2012, in Hermosa Beach, California.