Payton Moormeier is an American TikTok star who gained fame by uploading videos of pranks, challenges, Q&As, routines, and vlogs to his accounts to entertain his fans. Payton's rise to fame was purely by accident as he never set out to become famous or build a career out of his online venture.
Things, however, turned out for the good as he now has a robust career online with over 15.2 million fans on TikTok and over 849.6 million likes. He also has 4.8 million followers on Instagram and over 1.39 million subscribers on YouTube.
Background Details
Payton Moormeier was born on July 28th, 2003, in St. Mary's, a city in Camden County, Georgia. He was born to parents Chris Addario and Joanne, alongside a sister named Faith who is very supportive of his achievements. Moormeier was raised by his mother alone, with no information available on why his father wasn't present. Not much else is known about his early life nor his educational background so far.
Payton Moormeier was a member of the TikTok group JrElite until his departure in the summer of 2017 to focus on his single career. In a 2019 TikTok video captioned "Anthony's teaching me his ways", he featured fellow TikTok star, Anthony Reeves. The video has earned over 1 million likes. He has also collaborated with other social media stars like King Tino to create TikTok duets. In July 2019, Payton competed in a Wall of Fame challenge against Jaden Hossler and Tayson Madkour.
Besides his normal vlogs on TikTok and YouTube. Payton also shares videos of himself lip-synching to contemporary pop songs. He has a deep passion and interest in astronomy and spends a lot of his time studying the subject. His favorite holiday destinations are Iceland and Tokyo.
Payton Moormeier's Fact Sheet
He Is Represented by An Agency
Payton Moormeier is represented by Vivid Management; they handle most of his bookings and career arrangements. The management is also in charge of wardrobe, sponsorship and just about everything that concerns him. They also handle his merchandising, selling exclusive Payton Moormeier merch. Payton's merch line includes products like hoodies, t-shirts, iPhone cases, accessories, and embroidery, with prices ranging between $10 on $55.
Rumor About His Death
Payton Moormeier had to go on Instagram to debunk the bogus news story which circulated in August 2019 claiming he was killed in a car crash. Before the bogus news spread like wildfire, Payton was documenting a road trip to Venice Beach and TikTok headquarters with his friends. The road trip may have inspired the troll behind the death hoax. A lot of his fans were panicking and sending messages in a bid to verify the rumour before he released his statement to clear the air.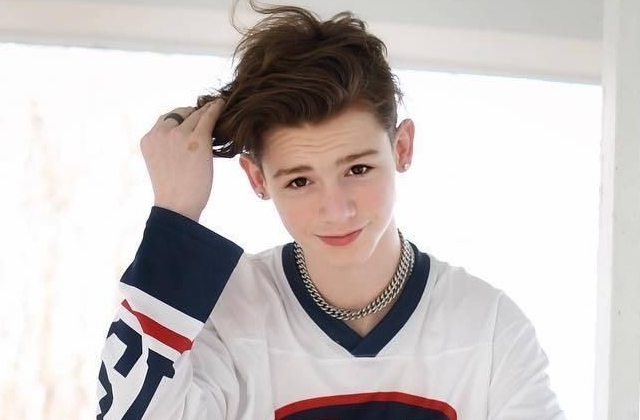 Payton Has Attended Playlist Live
Playlist Live is a convention held annually over a three-day period that features gatherings of video content creators, most especially YouTubers. Payton Moormeier has attended Playlist Live twice; attending for the first time in 2017 in Washington DC and then again in 2018 in Orlando.
Payton Moormeier's Endorsements
The social media star has leveraged his fame to secure sponsorship and brand endorsement deals from companies like Hollister Co., BANGS Shoes, and rue21. Payton appeals to Gen Z and a lot of new companies want to use his direct influence to engage with his target audience.
Payton Moormeier's YouTube Channel
Payton uses his YouTube channel to share random entertaining videos with his thousands of fans. However, he has posted only eight videos to date. He featured his sister, Faith in one of the videos, while another video was about him traveling a long distance just to surprise his mum. The channel has around 500,000 subscribers. He made his YouTube debut in 2018 when he uploaded "MORNING ROUTINE – EXPECTATION VS REALITY". He also made a video explaining why he hadn't posted frequently and apologized to his fans. Still, the channel has not lost its fanbase.
What is Payton Moormeier's Age?
Payton Moormeier is 20 years old. He was born on 28 July 2003.
What is Payton Moormeier's Height?
Payton Moormeier's height is listed at 5 feet 11 inches.
Who is Payton Moormeier's Current Girlfriend?
Payton Moormeier does not appear to currently have a girlfriend. In the past, he was rumored to be dating the TikTok phenomenon, Avani Gregg.