Paul Anka has been married three times and has six children. He has five daughters named Amanda, Anthea, Alexandra, Amelia and Alicia and a son named Ethan. Meet his ex-wives and children
Paul Anka's First Wife was Anne De Zogheb Whom He Married in 1963
Paul Anka's first spouse was Anne de Zogheb, a fashion model he married in 1963. Anne is of English, French, Dutch, and Greek descent. Paul met Anne, the daughter of a Lebanese diplomat, in San Juan, Puerto Rico in 1962 when she was on a fashion assignment for Eileen Ford Agency. About a year after meeting her, Anne de Zogheb and Paul Anka tied the knot in Orly Airport in Paris.
The Couple Fell Out of Love After Three Decades Together
By the time the couple had their second child, Anne decided to leave modeling for good. Their marriage which lasted from 1963 to 2001 (3 decades) produced five daughters; Amanda Anka, Anthea Anka, Alexandra Anka, Alicia Anka, and Amelia Anka.
Over time, Paul Anka and Anne de Zogheb's marriage went sour. Anne filed for divorce on the grounds of irreconcilable differences. The divorce between the pair was amicable and as Anne recalled, Paul took the house and she took the art. Anne then successfully launched a career as a painter and an art collector. Unfortunately, she died on March 29, 2017.
Anna Åberg Became Paul Anka's Second Spouse in 2008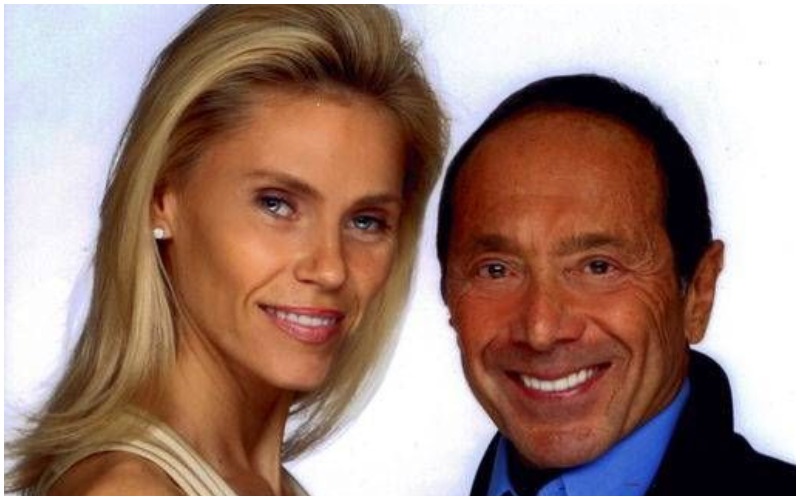 The next woman who became the wife of the legendary singer is the Swedish model, actress, and author, Anna Åberg. The two met after she was hired as his personal trainer in 2001. Although it was in 2008 that they got married, they had already started dating for a long time before then, and she had given birth to Anka's sixth child, a son, in 2004. She also had a daughter from a previous marriage.
Unfortunately, Paul and Anna Anka's marriage came to an end in 2010 although it was in 2009 that Paul filed the divorce papers. Paul won full custody of their son Ethan after a protracted divorce and child custody battle between the two.
Paul Had Some Choice Words For Anna
Paul Anka described his marriage to Anna Åberg as an accident; a casual encounter that saw Anna with an unplanned pregnancy. Their marriage was rocky, filled with daily fights and accusations. Paul said that Anna never loved him but only married him for fame.
Anna, on the other hand, also made some suggestive statements alluding to problems in their intimate life. Things however came to a dead-end after Anna fired their housekeeper, and the ensuing quarrel warranted the presence of the police in their home. Anna even accused Paul of pointing a gun at her, an allegation that was later disproved.
Perhaps the 30 years age difference between the couple led to the inevitable demise of their union. The 52 years old Anna Åberg who was born on 28th April 1971 was 37 years old when she married the now 82 years old Paul Anka who was 67 years old at the time of their nuptials. Paul was born on 30th July 1941.
Following the divorce, Paul was granted full custody of their son, a ruling Anna vehemently contested. As of now, Anna is estranged from her son and isn't permitted to see him without her ex-husband's permission or supervision.
Lisa Pemberton Became Paul Anka's Third Spouse in 2016
Paul Anka moved from his second marriage and in 2016, the then 75-year old singer got married a third time to Lisa Pemberton after dating her for six years. Paul had met Lisa at a friend's wedding in 2001. Their own wedding took place six years later at the Four Seasons Hotel in Beverly Hills, California, where Paul's son Ethan walked Lisa down the aisle.
Paul Anka and Lisa Pemberton's marriage, however, did not last long as they were divorced in 2020, with Paul stating that he wasn't happy in the marriage.
How Many Children Does Paul Anka Have From His 3 Marriages?
All together Paul Anka has six children from his three marriages. While he had no child with his third wife Lisa Pemberton, he had five daughters with his first wife Anne de Zogheb, and a son with his second wife Anna Åberg. Paul's daughters are all adults now with the last daughter being born in 1974. His only son Ethan is yet a teenager. He also has about eight grandchildren.
1. Alexandra Anka
Date of Birth: 12th of August 1966
Age: 57 years old
Parents: Paul Anka and Anne de Zogheb
Occupation: Lawyer
Alexandra Anka is Paul's first daughter with his first wife Anne de Zogheb. She was born on the 12th of August 1966 and is now 57 years old. She is a lawyer by profession, having obtained her license in 1996. Alexandra Anka, however, appears to not be in practice anymore. She currently resides in Switzerland.
2. Amanda Anka
Date of Birth: 10th December 1968
Age: 54 years old
Parents: Paul Anka and Anne de Zogheb
Occupation: Voice Actress and Producer
Spouse: Jason Bateman (2001 to date)
Children: Francesca Nora Bateman and Maple Sylvie Bateman
Amanda Katherine Anka-Bateman is Paul Anna's daughter with first wife Anne de Zogheb. She was born in New York City on 10th December 1968 and is now 54 years old. Amanda is a voice actress and a producer. She got married to actor Jason Bateman in 2001 and they have two kids together; Francesca Nora Bateman born October 28, 2006, and Maple Sylvie Bateman born on February 10, 2012.
3. Alicia Anka
Birth Year: 1970
Age: 53 years old
Parents: Paul Anka and Anne de Zogheb
Alicia Anka was born in 1970 to Paul Anka and his first wife Anne de Zogheb. Alicia became a U.S. citizen in July 1987 at the age of 16 years old. Her oath was administered by Magistrate Philip Pro. Other info on Alicia's private life is very sketchy as she is a very private person.
4. Anthea Anka
Birth Year: 1971
Age: 52 years old
Parents: Paul Anka and Anne de Zogheb
Occupation: Content Creator and Musician
Trying out hair and make up on set ! http://t.co/NXSg031a5R

— Anthea Anka (@AntheaAnka) November 2, 2014
Anthea Anka was born in 1971. She is currently a scriptwriter, musician, and online blogger. Anthea has worked as a writer in movie productions like Battlecreek (2017) and Alleycats (2016). She is the only daughter of Paul who seems to have taken in her father's footsteps. She sang a duet with him on the track "Do I Love You" from his album A Body of Work (1998). She currently lives in London with her family.
5. Amelia Anka
Birth Year: 1977
Age: 46 years old
Parents: Paul Anka and Anne de Zogheb
Child: Anessa Anka-Powell
Amelia Anka is the last of the five daughters born to Paul Anka and his first wife Anne de Zogheb. Amelia was born in 1977, making her 46 years old now. There is limited information available on her as she lives a very private life. She, however, has a kid; a daughter named Anessa Anka-Powell who is an avid baseball fan but also loves singing, just like her grandpa.
6. Ethan Anka
Year of Birth: 2004
Age: 19 years old
Parents: Paul Anka and Anna Åberg
Paul Anka's second spouse Anna Åberg bore his only son, Ethan Anka, in 2004. Ethan was born four years before his parents even got married and according to Paul, Ethan "has an intense dislike of his mother." He has been living with his dad since he was 11 years old and appears to have formed a strong bond with him. Information on Ethan Anka's personal life is however scarce and even his Instagram account is private.
Who Is Paul Anka Married to Now?
Paul Anka has not yet taken a fourth wife. However, he is in a loving relationship that might take him down the aisle in the future. The veteran musician has definitely come a long way from his humble beginnings. Despite his marriages, successful or not, he has proven to be a wonderful father and enjoys a close relationship with all of his kids.
Under his watch, his son Ethan has grown to become a fine young man, and his daughters are all settled, each with their own family. Three of his daughters live in Geneva, Monte Carlo, and London respectively.