Pascale Hutton has been married to a man named Danny Dorosh since 2002 and together they have two sons who they have kept safely away from the public eye. As a result, their names have remained unknown. 
Some celebrities have been able to nullify and demystify the saying and belief that 'most celebrity marriages don't work' with the success they have enjoyed in their career and marriage. Pascale Hutton is a well-celebrated actress who has been happily married to another actor for close to two decades. She has successfully managed her home, marriage, and blossoming acting career.
Moreover, Pascale's most popular and regular role of Rosemary in Hallmark's When Calls the Heart sees her starring as the spouse of Kavan Smith. The pair have grown to become one of the show's favorite couples, especially due to their great on-screen chemistry.
Pascale seems to have discovered the secret to having a successful relationship as she continues to enjoy the same on-screen success in her real-life marriage. Here are facts about her family life you never knew.
Pascale Hutton's Married Life With Danny Dorosh
Considering Pascale and Kavan's beautiful on-screen romance, some of their ardent followers might wish or assume that they are a real-life couple. Fortunately, both of them are happily married but to different people. The British Columbian-born actress got married to Danny Dorosh in 2002.
One of the reasons Pascale and Danny have been able to maintain a successful and beautiful home is because they have been able to keep most of their private lives from the media. They are careful to keep the negative energy away from their family and children which has been a good thing.
In an interview, Pascale Hutton revealed that she has known Danny since her teenage years and they met when she was just 19 years of age. She revealed that Danny confidently told her he was going to marry her someday. She was really shocked by his boldness but soon saw herself falling for him. Four years down the lane, they tied the knot in a beautiful ceremony witnessed by their family and friends when Pascale was twenty-three years old.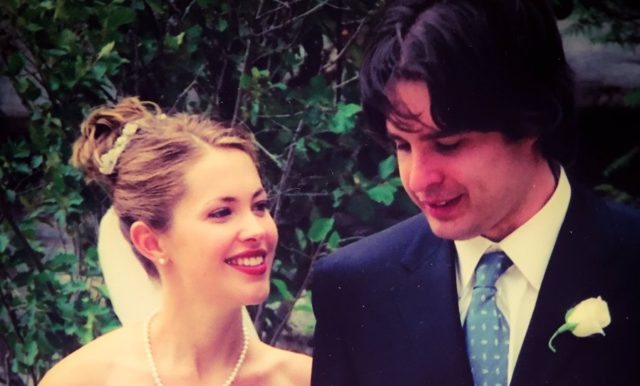 Moreover, Danny has shown himself a worthy and supportive spouse as Pascale who didn't begin acting until after her marriage has gone ahead to have a successful acting career. According to Pascale, she won't have the success she has today without the support of her husband. She describes him as the "most incredible man in the world". The couple lives in Vancouver, British Columbia.
What You Don't Know About Pascale's Children
Pascale has successfully separated her professional and personal life and appears to be happier with the way things are. She promotes all her projects but chooses to leave her personal life outside the public glare.
So it came as a surprise in 2018 when she participated in the "Awesome Challenge" with her two kids by posting a picture of them pampering her cheeks with kisses. People were wondering when and how she has been able to keep this news under wraps. While there was a rumor in 2014 that she was pregnant, Pascale never came out to openly dispel or confirm the news. Her second son was welcomed on the 14th of May 2015 while her first was born four years earlier.
In a rare move, Pascale Hutton spoke about juggling motherhood and her acting career in an interview. She revealed that she has learned to prioritize as she loves her family but also wants to work. She admits that she always feels a tug whenever she has to go off to work.
In a regular year, she goes to film locations for about 5 to 6 months then has the rest of the year to concentrate on her family. She also admits to having a great support system in her husband and nanny who helps balance their household when work is really hectic. Her husband has been very much hands-on and present in raising their sons. Pascale revealed that the boys love him very much and think their father is the best person who has ever walked the earth.
Moreover, Pascale admits that motherhood has changed her. She used to travel a lot for work before the kids but now finds work closer to her home more appealing as she believes that there's no substitute for being a present parent. Pascale Hutton also revealed that her parents who were both school teachers were very busy while she was growing up. This is one of the reasons why she strives to be present in raising her children.