Pamela Brown is an American television reporter and newscaster who is currently pitching her tent at CNN as an anchor. She is a weekend anchor and senior Washington Correspondent for the media giant but before CNN, she worked at ABC Washington, D.C., affiliate WJLA-TV.
The CNN anchor was the subject of online rumors that speculated she was pregnant in 2021 despite welcoming her second child the previous year. The pregnancy claims turned out to be false.
Without doubt, Pamela Brown is one of the foremost newscasters and television reporters in the United States of America. She kicked off her career professionally in 2006 when she joined WJLA-TV (now known as News Channel 8) and eventually left seven years later to join CNN.
This was after she carried out an investigative expose into the girl trafficking business in Northern Virginia, which marked a major breakthrough in her career. Over eight years down the line, the widely acclaimed reporter is still a staff of CNN.
She currently serves as an anchor for the weekend primetime edition of CNN Newsroom in Washington, DC.
Pamela Brown Bio and Profile Summary
Full Name: Pamela Ashley Brown
Place Of Birth: Lexington, Kentucky, United States.
Date Of Birth: November 29, 1983
Age: 39 Years Old
Zodiac Sign: Sagittarius
Height: 5 Feet 8 Inches
Marital Status: Married
Spouse: Adam Wright (married in 2017)
Children: Ben and Vivienne
Father: John Y. Brown Jr.
Mother: Phyllis George
Siblings: Lincoln (older brother), John Y. Brown, III (former Kentucky Secretary of State- half-brother), and two other half-siblings.
Education: Henry Clay High School, Lexington and the University of North Carolina, Chapel Hill
Occupation: Journalist
Net Worth: $2.5 million
Pamela Brown Is A Kentucky Native Who

Comes From A Family Of Well-Known People
The daughter of John Young Brown Jr. and Phyllis George, Pamela Brown was born on November 29, 1983, in Lexington County, Kentucky, where she also grew up alongside her older brother, Lincoln Brown. Sadly, when she was just 13 years old, her parents ended their union after being married for 17 years.
Young Brown Jr. was a revered politician, businessman, and entrepreneur. He was elected the Governor of Kentucky in 1979 where he served for only one term. His legacy includes, amongst other things, growing the famous Kentucky Fried Chicken into a multi-million dollar franchise. Phyllis George, on the other hand, was a sportscaster, actress, and businesswoman.
She was well known for winning both the Miss Texas and Miss America beauty pageants held in 1970 and 1971 respectively. As a sportscaster, she co-anchored an NFL pregame show on the CBS network known as The NFL Today, becoming the first female co-anchor of the program. Phyllis died in May 2020 after a long battle with a rare blood cancer known as polycythemia vera.
A look at Brown's extended family also shows that she comes from an affluent lineage as they consist of astute politicians and businesspeople. Her grandfather, John Young Brown Sr., up until his death in 1985, was a politician and attorney.
He served in the Kentucky House of Representatives for almost 30 years. During his time at the legislative chamber, Brown Sr. took up the positions of majority floor leader and speaker. Running on the Democratic Party ticket, the U.S attorney was elected into the U.S House of representatives in 1933 where he served for just one term.
Meanwhile, before Pamela's parents got married, her father had been previously married and divorced. This marriage produced three children, Pamela's half-siblings, and notable among them is foremost Kentucky politician, John Young Brown III, who served as the Secretary of State of Kentucky for a period of 8 years spanning from 1996 to 2004. The identities and whereabouts of the reporter's other siblings are unknown.
The Journalist Began Her Career While In College
Growing up in Lexington, Pamela Brown attended Henry Clay High School. Upon the completion of her high school education, she proceeded to the University of North Carolina to pursue a course in Broadcast Journalism. While at the University, the Kentucky native served as a reporter on the Carolina Week held at the University. This role helped hone Pamela Brown's skills and also provided her with invaluable experience in the reporting field.
Shortly after graduating from the university, Pamela started out at WJLA-TV, an affiliate television station with the American Broadcasting Company. She worked at the Washington-based broadcasting station for a period of six years and eight months (from August 2006 to March 2013) as a Sunday evening anchor. While there, she became a special projects reporter, covering many stories both within the nation and internationally, and she has an Emmy nomination as proof of the amazing job she did.
Some of the stories she covered while at WJLA-TV include the Haiti earthquake and Hurricane Sandy. She was among the few journalists who traveled to Haiti in January 2010 to cover the earthquake which ravaged the Caribbean country and subsequently went back on her own to report on the rebuilding of the country's capital city of Port-au-Prince and the areas surrounding it.

Pamela Brown's Career Breakthrough and Move To CNN
Brown's career breakthrough came in 2013 when she carried out an investigative expose into the business of girl trafficking in North Virginia. Her report helped the local police clamp down on the activities of human trafficking in that region.
The talented reporter soon caught the attention of the world-renowned news network, CNN, which didn't hesitate to offer her a job. She joined the news outlet in March 2014 as a national correspondent.
From being a national correspondent, she was made the network's Justice and Supreme Court correspondent in March 2014. In her new position, Pamela covered law enforcement, national security, and the United States Supreme Court. She worked in this capacity until January 2018 when she was promoted to the position of Senior White House Correspondent and Justice Correspondent.
As the Senior White House correspondent, she covered the administration of former President Donald Trump for all of CNN's programs and platforms. Her reporting of the administration covered several major moments some of which include the firing of FBI Director James Comey, two impeachment proceedings, missile strikes in Syria, the Covid pandemic, child separation policies, and the controversial travel restrictions.
After serving in the position of Senior White House Correspondent for three years and a month (and about eight years of reporting for CNN), it was announced that Pamela Brown will be taking over the anchor chair on the CNN Newsroom in January 2021. She stepped into her new position on January 23, 2021, and anchors the Saturdays and Sundays primetime edition of CNN Newsroom from their base in Washington, DC.
Additionally, Brown was also moved to the position of senior Washington correspondent, according to the announcement. All through her career, Pamela Brown has worked on and covered many intriguing stories making the rounds both in America and all over the world.
She joined Kate Bouldan and Chris Cuomo on CNN's New Day where she covered major stories that made national headlines. Notable among them are the Cleveland kidnappings, Oklahoma tornado, and the Boston Marathon Bombings.
Her exceptional reporting of these stories earned her wide praise and acclaim. The popular newscaster has also worked at The Politico, a Virginia-based political opinion company. Brown was often spotted providing the lead-in to the daily recap of the U.S late-night talk show.
As smoothly as she appears to be doing her job, Pamela, sometimes, has gloomy days at work but the memory of her late mother, who was her "biggest fan", keeps her going. She told Courier Journal that on very hard days when she feels battered as a journalist, she reminds herself of everything her mother went through to make things easier for women in sports, and with that in mind, she tells herself that she can persevere just like her mom did. She also revealed that sometimes she goes through old text messages she had with her mother just for inspiration.
Pamela Brown's Net Worth Is Millions Of Dollars
Although Brown was born into a very wealthy and affluent Kentucky family, she chose to pursue her own career path and earn a living for herself. That choice has paid off quite nicely as she now happens to be one of America's highly rated reporters.
Asides from the wide viewership of her program and the sterling reputation she has built for herself, the widely acclaimed newscaster has also amassed quite a fortune for herself. Through sheer hard work and talent,
Pamela Brown has amassed over $2.5 million dollars according to online sources. This figure is largely attributed to proceeds gotten from her career as a journalist.
The CNN News Anchor Met Her Husband Through A Friend
Pamela Brown is married to her longtime sweetheart and heartthrob, Adam Wright, a native of Kansas. The on-air personality and her now-husband, Adam, who formerly lived in Los Angeles, met through a mutual friend who believed they would be a perfect fit for each other.
The duo hit it off and eventually began dating long-distance until Adam later moved to Washington, D.C. where Pamela lived. Convinced she was the one for him, he proposed in September 2016.
Speaking to The Knot about the proposal afterward, Pamela Brown said, "When I walked in, there was a dress hanging and a card with instructions to put it on." Not only that, her dog, Bubs, came around the corner wearing a bow tie and Adam came down the stairs dressed in a tux.
However, she never knew something was up until she realized that Adam had made dinner for her, the journalist said. When they were done eating, "he left the room and came back with Bubs wearing the ring box on his doggie bow tie. He reached down to get the ring box and proposed."
At the time, the CNN reporter shared what makes her love her then-husband-to-be and according to her, they have the best time together irrespective of where they are. She also revealed that Adam has a great sense of humor and makes her laugh often.
Continuing, she said she could talk to him about anything "and I always say he knows everything about everything," she added. Most importantly, Pamela said, she admires his strong values and character. "He is one of the most upstanding people I have ever met. Plus, he puts up with all my quirks and my unpredictable work schedule–added bonus."
Pamela Brown and Adam Wright Tied The Knot In 2017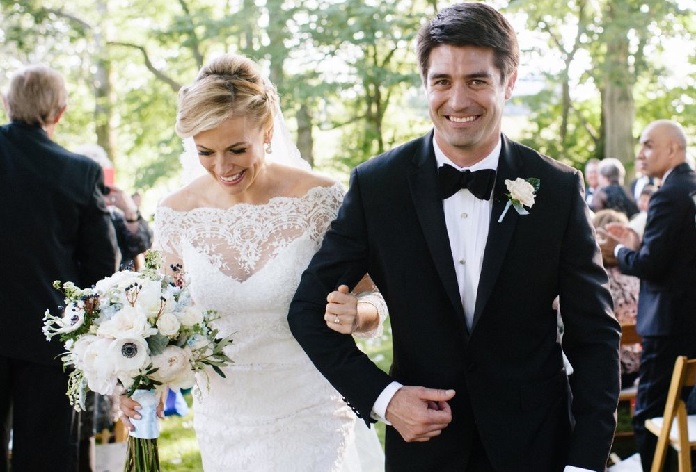 The couple eventually got married on June 5, 2017, at Pamela's childhood home in Cave Hill, Lexington, Kentucky, where both she and her brother were raised. For the special occasion, the CNN newsroom anchor was dressed in a beautiful Legends Romona Keveza gown while Adam wore a black tux that complimented her.
For the planning of her big day, Pamela employed the services of some local vendors, including Sarah Leer, the planner; florist Elizabeth Hemphill of Rose & Thistle; and caterer  Cooper Vaughan of The Apiary. As part of the traditional ceremony, the couple honored Pamela's storied Kentucky roots by treating their guests to a Woodford Reserve bourbon whiskey.
Other local touches to the event were ice cream made by the popular Lexington ice-cream lounge Crank & Boom, a "Call to Post" delivered by Steve Buttleman (official bugler and the Kentucky Derby at Churchill Downs).
Present at the wedding ceremony was almost 250 guests, including many of Pamela's CNN colleagues such as executives Virginia Moseley, Amy Entelis, and Jeff Zucker, and the channel's chief political correspondent, Dana Bash, who was accompanied by her boyfriend Spencer Garrett. Jerry Bruckheimer, producer of the movie Pirates of the Caribbean, and his wife, Linda Bruckheimer, were also in attendance at the nuptials.
Pamela Brown and Her Husband Have Two Children
In June 2018, Pamela and Adam became first-time parents after they welcomed their first child, a son named Ben. In February 2020, their second child, daughter Vivienne, was born. Counting on her current position at CNN as a weekend anchor, Pamela hopes to have a more consistent schedule that'll allow her to spend more time with her family.
"I do hope to be more 'in the moment' with my family now instead of worrying about the next tweet the president may put out," she told Courier-Journal at the time she was given her new position. She went further to say that losing her mother reminded her of how fleeting time was and how important it was to not take moments with family for granted.
The CNN Anchor Is Rumoured To Be Pregnant; Here are Facts
For some unknown reason, rumor peddlers began to circulate the news that Pamela Brown was pregnant in 2021. This came as a surprise to many owing to the fact that she had her second baby the previous year, and while some people believed the news, many others did not as the TV personality showed no physical sign of being pregnant.
In the long run, it turned out that the information was nothing more than a rumor. Pamela is still focused on her job and taking care of her two kids and does not seem to have plans of birthing another child just yet.