As a young lady, Paige Hurd made an outstanding performance in the TV series Everybody Hates Chris. In the series, she starred in a reoccurring role as Tasha Clarkson from 2006 to 2009. Hurd has also been in music videos of star musicians like Justin Bieber, Romeo Miller and G-Easy.
Paige Hurd Bio – Age
The American actress was born Paige Audrey Marie Hurd on 20th July 1992 in Dallas Texas and developed an interest in acting when she was a child. She started her acting career in 2000 in the series Felicity where she was featured in an episode as Natasha. Following this appearance, she landed two other guest appearances in 2002 sitcoms like Boomtown where she was featured as Grace Adams and George Lopez where she appeared as Little Girl.
The following year, she was in the series The Division in which she portrayed the character, Chloe. She also landed a role in two sitcoms in 2005 titled The Suite Life OF Zack & Cody as Tiffany and Medium as Ashley. The actress made a guest appearance in the famous sitcom ER as Danielle in 2006 and that same year, she landed her role as Tasha in Everybody Hates Chris. Her latest series work is titled Hawaii Five-0 as Samantha Grover which has been running since 2013.
See Also: Asa Akira Bio, Husband, Age, Height, Quick Facts and Body Measurements
The youngster made her first film debut in the movie Cradle 2 the Grave released in 2003 wherein she starred as DMX's child in a story about precious stones that got misplaced also featuring the popular actor Jet Li. That same year, she landed a role in the movie The Cat in the Hat as Denise which followed with two roles in 2004 films like Time Out starring as Lauren Martin and Never Die Alone in which she was Young Ella.
2005 was also a successful year for the young actress as she was featured in 3 major films tilted Virginia, The Adventures of Tango McNorton: Licensed Hero and the popular comedy Beauty Shop which also featured Queen Latifah. Paige Hurd was also in the 2007 Ben 10: Race Against Time as Stephanie including two short videos titled Pick or Press and Surviving Brotherhood. Other films she has been featured in are Peep Game, Greencard Warriors, A Girl Like Grace and a new movie titled Crosstown which also featured star actress Vivica .A. Fox.
Aside from series and films Paige Hurd has been featured in music videos as well which include Jasmine Villegas' "I Own This", Steph Jones' " Excellent" and was portrayed as Justin Bieber's heartthrob in the music video "Never Let You Go".  The singer Romeo Miller featured her in his video for the song "Mistletoe" including the videos for the songs "Be your First" and "For eternity" by the musician Trevante. The 2014 music video of G-Eazy's song "I Mean It" also featured the gorgeous actress.
Paige's Twin, Parents and Family
The talented young actress is said to be born to an African-American dad and a Puerto Rican mum. She was raised by her mum alongside 4 other siblings. Not much is known about her having a twin but her little brother named Pierce was said to have suffered from cancer but is now free of the ailment.
 Her Boyfriend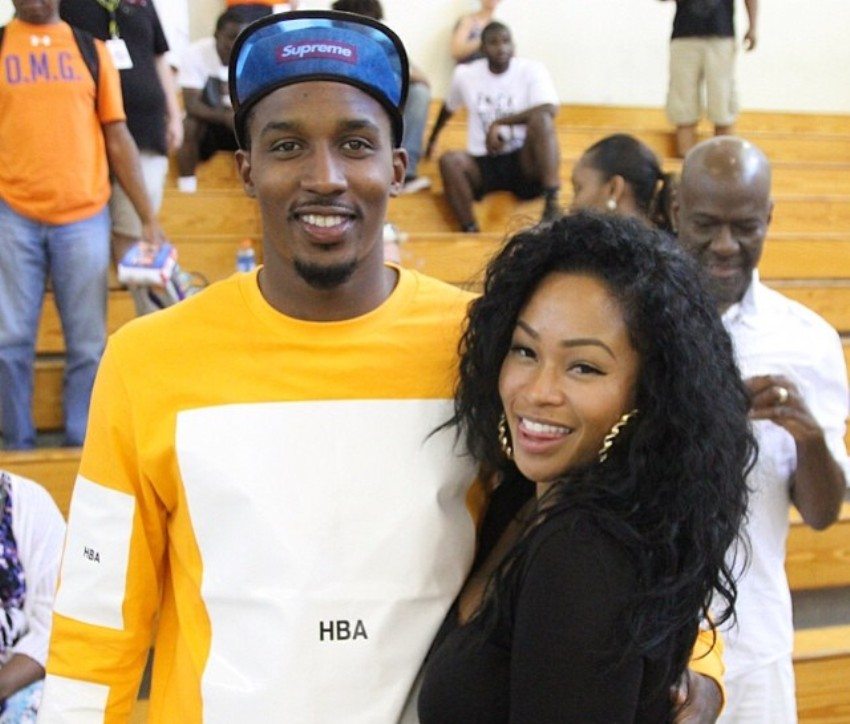 A look into the actress's romantic life reveals that she is quite a hottie that has caught the attention of numerous men over the years. She started dating Pj Scott in 2007 but they split in 2009 and that same year she had a fling with Corde Broadus which ended in 2010. She was also said to have dated Steph Jones and Percy Miller in 2010 Before moving on to Justin Combs, Lil Twist and Cortez Bryant whom she dated between 2012 to 2013.
The gorgeous actress is currently dating Maurice Harkless a Professional basketball player of American-Puerto Rican descent. The pair has been together since 2013 and so far they seem to have developed a strong bond with no sign of a break up which could actually be her happily ever after story.
See Also: Jennifer Hudson Bio, Husband, Weight Loss, Net Worth, Age, Height and Family
Paige Hurd's Net Worth
The young actress has really worked hard over the years and her work have been appreciated as she is said to have accumulated a net worth of $1 million.