Pablo Escobar was a Colombian drug lord and narcoterrorist who was the founder and sole leader of the Medellín Cartel. He was arguably the world's most powerful drug trafficker in the 1980s and early '90s. Escobar was married to Maria Victoria Henao (m. 1976–1993), and together they have two kids Manuela Escobar, Sebastián Marroquín (Juan Pablo Escobar) 
Escobar is considered the wealthiest criminal in history, having amassed an estimated net worth of US$30 billion by the time of his death—equivalent to $64 billion as of 2022
Age/Date of Birth:

Born: 1 December 1949; Died: 2 December 1993 at age 44
Height:

5 feet, 6 inches (1.67 m)
Ethnicity/Race:

Colombian
Nationality:
Colombian
Wife or Girlfriend:
Maria Victoria Henao
m. 1976–1993
Parents:
Father: Abel de Jesús Dari Escobar Echeverri
Mother: Hilda de Los Dolores Gaviria Berrío
Net Worth:
$64 billion
Widely known as The King of Cocaine, Pablo Escobar was among the famously recognized billionaires in the late 1980s. From perpetrating crimes like sale of contraband products and fake lottery tickets in his teen years, he then ventured into drug smuggling. Eventually, he became the leader of a highly sophisticated drug cartel called The Medellín cartel that had its base in the city of Medellín, Colombia.
Throughout the 1970s and 1980s, the cartel smuggled cocaine across several countries such as Peru, Panama, Bolivia, the United States, Canada and Europe as well. They mainly became notorious for their activities in the United States, where they supplied cocaine to at least 85 percent of the drug market in the country, and equally 80 percent of the global cocaine market. Hence, they were earning up to $60 million in drug profits on a daily basis.
Not only was Escobar infamous for drug smuggling, but he was also known for being behind most of the killings in Colombia, as he was constantly in a bloody fight with rival cartels.
Having gained popularity for his incessant criminal activities, the world's famous drug lord came under the watchlist of the Colombian and United States law enforcement agencies. His movement was trailed, as a result, he was eventually nabbed a day after his 44th birthday – December 2nd, 1993; the day he died from a shootout between himself, his bodyguard and the Colombian National Police.
Who Was Pablo Escobar?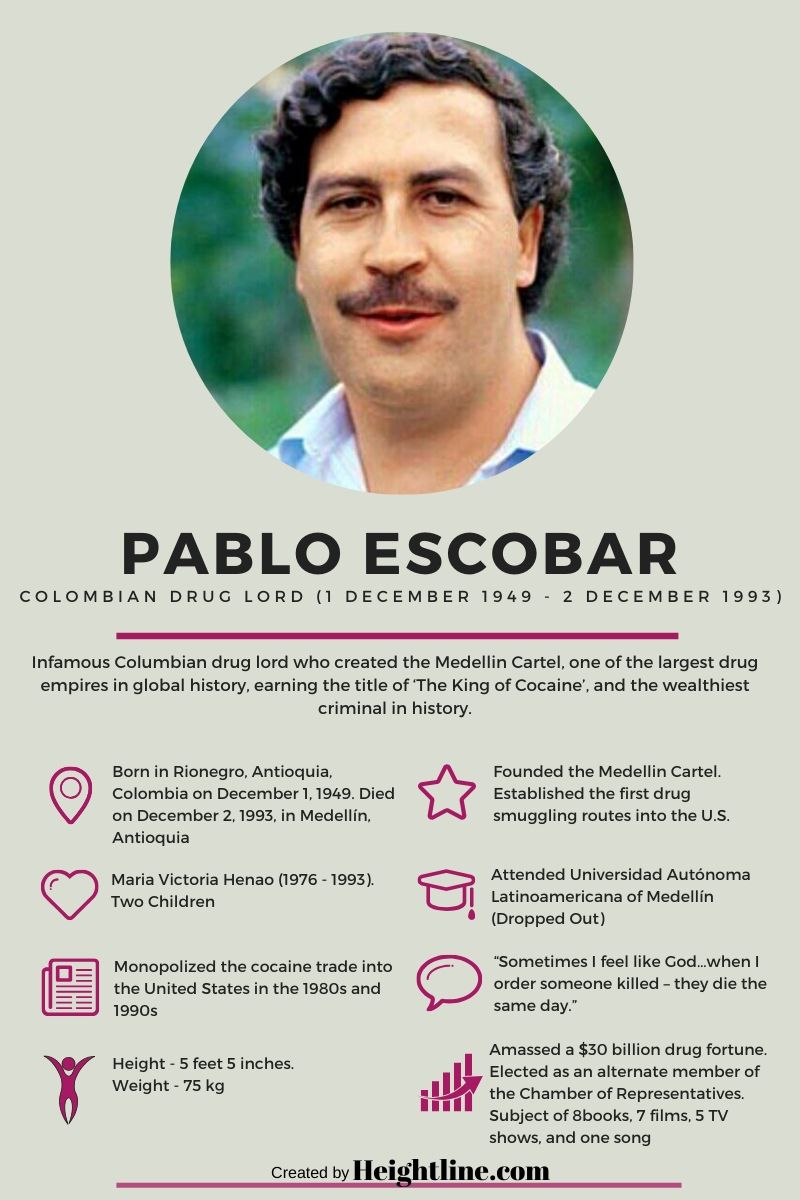 The infamous drug smuggler was the third child of his parents, Abel de Jesús Dari Escobar Echeverri and Hilda de Los Dolores Gaviria Berrío. He was born in Rionegro, Antioquia in Colombia on December 1, 1949. His father worked as a farmer while his mother taught in elementary school. He was raised alongside his siblings in Medellín.
Regarding his education, Pablo Escobar briefly attended the Universidad Autónoma Latinoamericana situated in Medellín, before quitting school to venture into a life of crime properly. Although it was stated that he started getting involved in criminal acts by selling stolen gravestones to smugglers in his teen years, his son Sebastían Marroquín believes that his father began his criminal career by selling forged high school diplomas.
Following his childhood ambitious desire of accumulating COL$1 million by the time he turns 22 years, Pablo Escobar got fully involved in criminal activities such as stealing of cars, selling contraband cigarettes and kidnapping. The latter earned him US$100,000 for each successful activity. By the time he was 26 years old, the drug kingpin had already amassed about COL$100 million and thus, had lived up to his childhood dream. He then decided to expand his territory by becoming a drug smuggler and a leader of the infamous drug cartel The Medellín Cartel.
Why Was Pablo Escobar Notorious?
Pablo Escobar began smuggling cocaine into the United States in 1975. He later founded The Medellín Cartel which operated throughout the 1970s and 1980s. Afterward, he developed his cocaine operations by buying numerous airplanes which included helicopters and a Learjet as well as submarines.
He further extended his distribution networks, as his smuggling routes covered many countries such as Bolivia, Panama, Peru, and Canada.
He solely led the highly organized activities of the drug cartel which was initially shipping between 70 to 80 tons of cocaine to the US. At the height of their operation, they began shipping up to 15 tons of cocaine to the US on a daily basis, with an estimated daily profit of over US$70 million.
By the late 1980s, Pablo Escobar had acquired a financial value of about $3 million as he was listed by Forbes among the 227 billionaires in the world in the year 1989. His drug network eventually grew intensely, such that his drug cartel controlled 80 percent of cocaine distributed across the globe.
Escobar was additionally gathering profit returns from drug dealers in Medellín and other parts of Colombia. This accounts for the staggering net worth of $30 billion (USD) he had at the time of his demise, which actually makes him the richest criminal in history.
He also had many properties in Colombia as well as in other countries. He was famed for building a state-of-the-art mansion, Hacienda Nápoles on 7.7 square miles of land situated in Antioquia.
Furthermore, Pablo Escobar also committed other crimes during his lifetime such as murder. He allegedly ordered the assassination of top Colombian politician Luis Carlos Galán, Minister of Justice Rodrigo Lara Bonilla; as well as the massacre of over 600 Colombian Police officers and judges at the Colombian Supreme Court in 1985.
More so, he masterminded the bombing of the DAS Building and Avianca Flight 203, as he and other rival cartels turned Colombia into the world's murder capital during that time.
Pablo Escobar's Family Life

At the age of 26, Pablo Escobar exchanged vows with 15-year-old Maria Victoria Henao in 1976. Though the bride's family were against the union, the two, who were head over heels in love, decided to elope. They welcomed two children together; a son Juan Pablo Escobar (born February 24, 1977), and a daughter named Manuela Escobar (born in 1984).
While Pablo Escobar was alive, he cherished his daughter so much, that he was ready to do anything to make her happy. For instance, during one of Manuela's birthday, the notorious drug smuggler fulfilled her birthday wish of having a unicorn (which only exists in fairy tales), by making one out of a horse.
He was additionally said to have burned stacks of dollars worth US$2 million when she suffered from hypothermia during their fleeing days on the mountainside.
During his lifetime, Maria gained a reputation as a result of her loyalty and support to her husband despite his extramarital affairs. Escobar was known to have had multiple mistresses, of which the popular Colombian journalist and author, Virginia Vallejo was one. Although the drug lord committed many atrocities, Maria never left his side for once. She was still married to him at the time of his demise.
Who Are His Family (Wife and Children) and Where Are They Now?
Contrary to the luxurious lifestyle they led when Escobar was alive, Maria Victoria Henao and her kids faced a life of hardship as her husband's assets were confiscated by the government following his death.
With the Colombian Police and Escobar's drug cartel rivals coming after them, she tried to seek refuge in multiple countries which appeared abortive. Eventually, she gained residence in Argentina after briefly staying in other countries such as Mozambique, South Africa, Ecuador, Brazil, and Peru.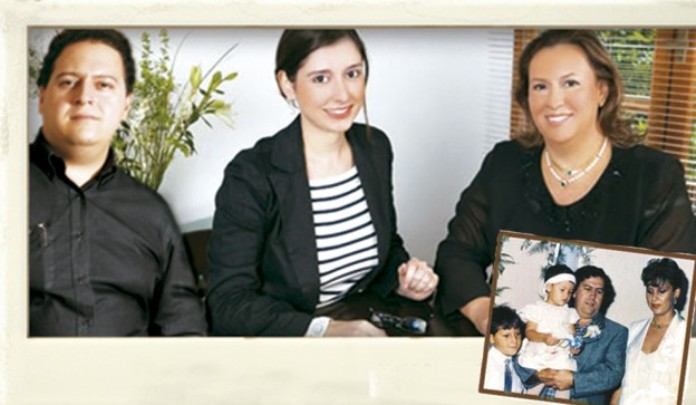 Living as fugitives, Pablo Escobar's widow and his children constantly changed their names in an attempt to hide their real identities. Presently, Maria is known as Maria Isabel Santos Caballero. Juan Pablo now goes by the name Sebastían Marroquín; whereas, Manuela is called Juana Manuela Marroquín Santos.
Following their arrival in Argentina, Maria became a real estate agent. She was very successful at the business until one of her business partners found out her real identity and reported to the police. As a result, Maria was apprehended and spent eighteen months behind bars, while she was being investigated for her involvement in her late husband's drug trafficking business. She was later released as the authorities couldn't provide any proof to the alleged charges.
Escobar's son, Sebastían now works as an author and architect. His notable publications include "Sins of My Father" that was adapted into a documentary film of the same name and "Pablo Escobar: My Father".
He reportedly lives in North Carolina with his wife and kids, while his mother still resides in Argentina. On the other hand, Pablo Escobar's daughter Manuela has kept herself away from the spotlight. She is said to be working as an electrical engineer.
How Did Pablo Escobar Die?
In 1991, Pablo Escobar surrendered to the Colombian authorities after reaching a negotiation with the government. He was later confined in La Cathedral, a private prison he built for himself with luxurious features like jacuzzi, football pitch and waterfall. Having failed on his part to keep away from criminal activities, the Colombian authorities planned to transfer him to a more conventional prison in July 1992.
However, before that happened, the notorious drug trafficker heard of the plan and escaped. His whereabouts was eventually tracked by the Colombian National Police as he was found in Medellín. Alongside his bodyguard Álvaro de Jesús Agudelo, Pablo Escobar engaged in a shootout with the Police which resulted in his death on December 2nd 1993.
His funeral was attended by over 25,000 people, as many in Medellín especially the poor, saw him as a hero, who built houses for them and equally aided them financially.
Profile Summary
First Name:
Pablo
Last Name:
Escobar
Also Known As:

Don Pablo, El Doctor,
Sex/Gender:

Male
Profession:

Drug lord
Famous For:
Founder and sole leader of the Medellín Cartel.
Colleges/Universities Attended:

Universidad Autónoma Latinoamericana situated in Medellíne
Educational Qualifications:

N/A
Religion:

N/A
Birthday & Zodiac

Age/Date of Birth:

Born: 1 December 1949;
Died: 2 December 1993
Zodiac Sign:
Sagittarius
Birth Place:

Rionegro, Colombia
Nationality:
Colombian
Ethnicity/Race:

Colombian
Country of Residence:

Colombia
Physical Attributes

Height:

5 feet, 6 inches (1.67 m)
Weight:

N/A
Eye Colour:

Brown
Hair Color:

Brown
Other Body Measurements:

N/A
Relationships

Marital Status:

Married
Spouse/Partner:

Maria Victoria Henao (m. 1976–1993)
Family and Relatives

Father:

Abel de Jesús Dari Escobar Echeverri
Mother:
Hilda de Los Dolores Gaviria Berrío
Children:

Manuela Escobar, Sebastián Marroquín
Siblings:
Roberto Escobar, Luis Fernando Escobar, Alba Marina Escobar, Argemiro Escobar, Luz María Escobar, Gloria Inés Escobar
Other Relatives:

N/A
Net Worth
Estimated Net Worth:

$64 billion
Salary:
N/A
Source of Wealth:

Drug Cartel