Orlando Brown is an American actor known for his roles in several Disney television shows as well as in films. He is also a voice actor, rapper, and singer. His name became fan's favorite after he starred in Disney's That's So Raven as Eddie for which he won a Young Artist Award in 2005 for Outstanding Young Performers in a TV Series. Other of his prominent works include 3J in Family Matters, Tiger in Major Payne, Max in Two of a Kind.
Although he has not been a regular on the screens recently, he has, however, not lost his spot in the limelight for other reasons besides his acting career. He has had a lot of run-ins with the law for reasons ranging from a misdemeanor, domestic battery, obstruction of justice, drug possession to resisting a police officer.
Orlando Brown's Bio
He was born on December 4, 1987, in Los Angeles, California but moved with his grandmother to Perris, California. Brown debuted on the television in 1995 as a child actor on the show Coach. Following his debut, he was cast in other works including the TV movie Family Values as Chuckie and Major Payne where he played the role of Tiger.
In no time, Brown found his footing in the show arena and was cast more regularly. His breakthrough roles came in 1996 on the TV series, Waynehead (1996-1997) as Damey Wayne as well as Family Matters (1996-1998) as 3J. He also landed small roles in series such as Malcolm & Eddie, Sister, Sister, The Pretender, The Wayans Bro, Friend and Foes, One on One, and Hell's Kitchen.
Orlando Brown landed more roles as a regular in these series: Max in Two of a Kind (1998–1999), Nelson in The Jamie Foxx Show (1998–2001), and Safe Harbor (1999) as Chris. For his performance in Safe Harbor, he was nominated for Best Performance in a TV Series award in 2000.
His talent and skills gained more appreciation, scoring him roles on the big screen in the early 2000's. His film credits include Perfect Game (2000), a voice role in The Tangerine Bear (2000), Max Keeble's Big Move (2001), Eddie's Million Dollar Cook-Off (2003), Suits on the Loose (2005).
Orlando became a Disney star in 2001 after he appeared in an episode of the series Lizzie McGuire as Travis Elliot. After that, he voiced the roles of Sticky Webb on Disney's animated series The Proud Family (2001-2005), and the titular character Cornelius Fillmore on Filmore (2002-2004), as well as appeared severally as himself on Express Yourself (2002-2007). He laid his claim to fame when he portrayed Edward 'Eddie' Thomas from 2003 to 2007 in the popular sitcom That's So Raven.
Furthermore, he launched his musical career while in association with Disney Channel. Orlando Brown was part of Disney Channel Circle of Stars and recorded many songs including theme songs of That's So Raven, Circle of Life (2004), Little By Little (2006), and A Dream Is a Wish Your Heart Makes (2008). Following his Disney career, he went solo, exploring the rap and hip-hop genre and released his debut album Trade it All in 2006 and single Fuck My Fame in 2016. He has also collaborated with artists like Akon, Sean Kingston, Raven Symoné, Rayven Justice.
Post That's So Raven, his career witnessed a dwindle. He had box office failures like We the Party (2012), American Bad Boy (2015), and Bloody Hands (2016) and was not re-cast as Eddie Thomas in 2017 in That's So Raven spin-off, Raven's Home.
Orlando Brown Net Worth
The actor cum singer may no longer be a regular feature on our screens but he has managed to amass a six-figure net worth. It is estimated to be $200,000 which has the potential to increase if he ever decides to make a comeback or probably venture into other businesses.
See Also: Rowan Blanchard Age, Height, Ethnicity, Boyfriend, Sister, Is She Gay?
Wife, Girlfriend, Baby Mother, Kids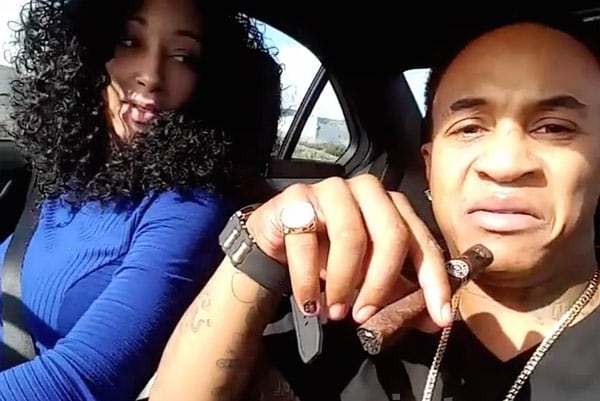 Orlando Brown is not married. However, he has been in a number of relationships that have served as fodder for the media following their controversial nature. He has also been arrested a number of times and charged with battery of a spouse not to talk of his drug possessions and misdemeanor. That leaves us wondering who his girlfriend is or rather was.
He was arrested in February 2016 for domestic battery, then on January 18, 2018 after an alleged argument with his girlfriend and for the third time on June 5, 2018 in Las Vegas after he was found in possession of bags of drugs which were identified as crack and booked on felony narcotics possession, drug paraphernalia, and resisting a police officer.
After much digging, we found out that the supposed girlfriend is Omena Alexandria who he was engaged to at one time. Omena worked as a surrogate for families but had to give up her job to start a family with Orlando according to the shaderoom. He shared a video in April 2016 announcing that he and Omena were expecting a baby but took another turn denying the paternity of the said baby after his birth in December 2016.
Prior to Omena, he has been linked to his co-stars, Anneliese Van der Pol and Raven Symone. While he reportedly dated the former from 2001 to 2004, he never seemed to have had a way with Raven. Recently, he debuted a tattoo of her face on his chest but that does not translate into something going on between the two.