Apart from being an actor, Orlando Brown is a rapper and he is admired for the various characters he has portrayed in Disney television shows. His fame touched the skies after he starred in Disney's That's So Raven as Eddie, for which he won a Young Artist Award in 2005. Some of his other notable roles are in Family Matters, Two of a Kind, and Major Payne. Although Brown has not been an active actor of late, he has not lost his spot in the limelight. For one thing, the actor has had a lot of run-ins with the law for reasons ranging from domestic battery to obstruction of justice and drug possession. Let's take a look at what he's been up to and the facts surrounding his love life.
Here's What Orlando Brown Has Been Up To
Although he has been missing in action on both the small and big screens for some years now, he has often made appearances on the TV screen in recent times as an offender. Orlando Brown has been apprehended in many cities for illicit behaviors which earned him some time in jail. He was first apprehended in February 2016 for being in possession of drugs, obstructing justice, and domestic violence. Two years later, he was caught up with the law once again but in a different city; Barstow, California.
Following the charges leveled against him which included the battery of a spouse and possession of harmful substances, Brown obtained a jail booking. He was again arrested in subsequent months for trespassing after he broke into a restaurant.
Having been suffering from drug addiction for quite a long time, Orlando Brown visited a mental health treatment facility in September 2018. He had previously embraced rehab for substance issues. In a recent interview with Dr. Phil, the actor revealed that he had been addicted to marijuana and crystal meth. He even sold the latter in order to make ends meet. Additionally, Brown had issues with alcohol, especially vodka. Even though he claims to be sober for more than three years now, the music artist has made headlines on several occasions for his erratic behavior, which made his friends who fear that he is near death to seek for help on his behalf by contacting Dr. Phil.
As a result of his eccentric display on the show, Orlando Brown was given an offer to receive treatment at a California-based facility which he accepted. As of this writing, he had completed the treatment program and has moved on to release a single titled 'Empire'.
His Rise to Stardom
Brown debuted on television in 1995 as a child actor. Following his debut, he was cast in other works including the TV movie Family Values as Chuckie and Major Payne wherein he played the role of Tiger. In no time, Brown found his footing in the business and was cast more regularly. His breakthrough roles came in 1996 with TV series like Waynehead and Family Matters. He also landed roles in other series such as Malcolm & Eddie, Sister, Sister, The Pretender, The Wayans Bro, Friend and Foes, One on One, Safe Harbor, and Hell's Kitchen.
His talent and skills gained more appreciation, landing him roles on the big screen in the early 2000s. His film credits include Perfect Game (2000), a voice role in The Tangerine Bear (2000), Max Keeble's Big Move (2001), Eddie's Million Dollar Cook-Off (2003), and Suits on the Loose (2005).
Orlando became a Disney star in 2001 after he appeared in an episode of the series Lizzie McGuire as Travis Elliot. Afterward, he voiced the roles of Sticky Webb on Disney's animated series The Proud Family (2001-2005), and the titular character Cornelius Fillmore in Filmore (2002-2004). He established his claim to fame when he portrayed Edward 'Eddie' Thomas from 2003 to 2007 in That's So Raven.
Furthermore, he launched his musical career while in association with Disney Channel. Orlando Brown was part of Disney Channel Circle of Stars and recorded many songs including the theme songs of That's So Raven, Circle of Life (2004), Little By Little (2006), and A Dream Is a Wish Your Heart Makes (2008). He soon went solo, exploring the hip-hop genre and dropping his debut album titled Trade it All in 2006. He has also collaborated with artists like Akon, Sean Kingston, Raven Symoné, and Rayven Justice.
Who Is Orlando Brown's Wife?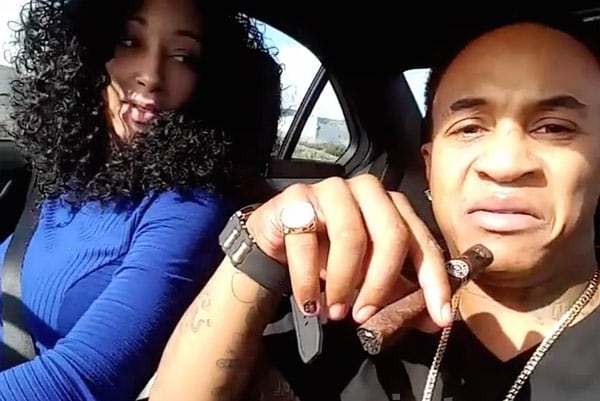 Orlando Brown is not married, however, he has been in a number of relationships in the past. He has had an affair with his co-star in That's So Raven, Anneliese van der Pol, who has been active in the movie industry for more than two decades. The former couple kicked off the relationship in 2001 and after three years of dating, they broke up.
At some point, it was rumored that he had an encounter with fellow child star, Raven Symone. Well, the rumor appeared to be false and the actor has recently disclosed that he harbors a desire to marry the beautiful damsel. According to him, he is still trying to figure out a way to make his desires known to her, though he stated that they have always been in good terms.
Having been charged with battery of a spouse, many have wondered who his then-girlfriend was. After much digging, we found that the supposed ex-girlfriend is Omena Alexandria whom he was once engaged to. Omena worked as a surrogate for families but had to give up her job to start a family with Orlando. As fate would have it, they never got married.
Anyway, Orlando Brown found love again. In November 2019, he revealed on his social media handle that he has a girlfriend who makes him happy, but unfortunately, she has disappeared from his life.
Does Orlando Brown Have Kids?
Orlando Brown is a proud father who publicly announced on Dr. Phil's show that he has four children. He said that his first child whom he doesn't know his name should be between sixteen and eighteen years of age, while others are yet to turn fifteen.
Meanwhile, in April 2016, Brown shared a video announcing that he and Omena were expecting a baby. He took another turn denying the paternity of the said baby, a son named Hunter Duke Brown after his birth in December 2016. Again, the actor announced on his Instagram handle in late 2019 that he is expecting another child with his current girlfriend whose identity is still unknown.