Fans of the History Channel hit series Pawn stars would remember Olivia Black – the young attractive lady that was added in the show's fifth season to work during the night shift.
Black's addition to the show dominated by male casts was a bit refreshing and it didn't take long before she won the hearts of many fans of the show. One can rightly say that apart from Chumlee, Olivia Black was the other break out star of the show.
Fans did enjoy seeing Chumlee squirm at the sight of her. It was rather unfortunate that viewers never got to see how things unfolded between them as Olivia's berth on the show ended soon after it began.
She was fired from the show after being cast for only just season. Let's explore the details of that firing as well as other interesting facts about the former Pawn Stars TV personality…
1. Olivia wasn't told why she was fired from Pawn Stars, but hey! it was all too obvious…
Her firing from the show was abrupt, to say the least, and like the rest of us all, it came as a shock to her. Pawn Star's production company, Leftfield Pictures notified her that her services on the show would no longer be needed without stating why!
"I don't have the actual reason as to why I am not a part of the show anymore. They didn't state it, and I didn't ask—I was just in such shock I didn't think to ask," the TV star told FOX 411.
Leftfield may not have spelled in black and white the reason they let Black go. However, it was obvious for all to see as the sack came just two days after the National Enquirer leaked photos of Olivia's porn past. NE in a post published in 2013 revealed photos from a photoshoot that Olivia did back in 2008 for a softcore porn website SuicideGirls.com.
Well, it turns out that Olivia didn't tell her employers that she had a raunchy past.
2. Her direct boss Rick Harrison had no hand in her firing
Viewers of the show know quite well how much Rick loved Olivia. Contrary to what many speculated after news of her firing hit the news, Rick Harrison had no hand in it. That is a bit ironic considering that he was the one that hired her.
However, it turns out that the show's production company has the final say on who stays on. When the photos got out, they probably thought that the History Channel won't feel comfortable having Oliva continue with the show or that it would have just been simply bad for their image.
"I never fired her. She's out doing her own thing now."  Rick told Fox 411. "It's just the production company did not want her working there anymore. What she does in her personal life…is her business."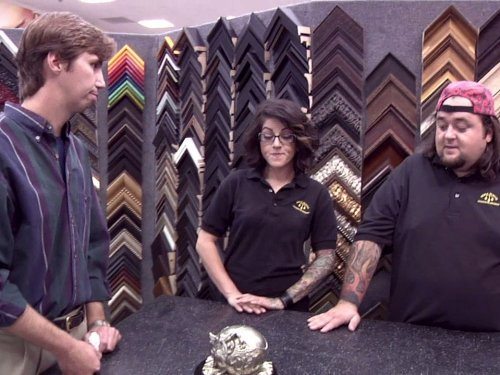 Rick did exercise his authority by telling Olivia that she could keep working in the shop off cameras. Olivia agreed but she could only stick around for so long as she soon left to pursue other things.
3. Olivia started a Change.org petition to get back on the show.
Initially, Olivia looked like she didn't give a sh$t after getting fired, but later on, she took to Change.org to start a petition to get herself back on the show. Sadly, it received just under 6,000 signatures which weren't enough to get it considered.
Read Also: Who is Elizabeth Banks Husband, What's Her Net Worth? Bio and Quick Facts
Also, her PR had advised her to press charges for wrongful termination. However, no details of a lawsuit surfaced in the news. Did she go on with it and didn't win? or did Leftfield compensate her with a worthy paycheck? Guess we'll never know
4. She went back to working with the porn site few days after getting fired.
When people get fired for something they've done wrong, they usually regret their actions and seek to become better people or even hide from the shame. BUT! Oliva Black isn't one of those people, at least she wasn't, in this case.
Four days after getting fired, Olivia returned to SuicideGirls.com and signed up for yet another project. This girl has always dreamed of posing nude for the cameras and not even a sack letter from a production company was going to make her change her ways.
"I have always been comfortable with my body and found nude photography as an artistic outlet," she once said in a Ask Me Anything session on her Reddit account.
Read Also: Sarah Lancaster Husband, Net Worth, Height, Body Measurements, Bio 
5. She is a married Lesbian woman
Guess Chumlee would have never stood a chance with her… Olivia is proudly lesbian and married to a certain Chef Maria. Together, they operate the sex toy online shop barenakedmob.com. They also feature together on their YouTube channel "Miss Olivia Black."
6. Olivia Black's Net Worth
Getting the accurate figure is a bit tricky. Unlike other Pawn Stars cast members, her earnings per episode were never revealed. Chumlee earned $25,000 per episode, so we're guessing that Olivia could've been making somewhere between $5,000 – $10,000? RReturningto the porn world after achieving fame, sure did a lot to up her usual paycheck. We estimate her net worth to fall somewhere between $100,000 – $300,000.