Noah Centineo's height is listed at 6 feet 1 inch (1.85 meters or 185 centimeters). The actor who became famous playing the role of Peter Kavinsky in the Netflix rom-com film series To All The Boys, is less than 1 foot taller than Lana Condor, who was his co-star in the movie, and stands at 5 feet 3 inches (1.6 meters or 160 centimeters) tall.
Several outlets have pointed out the fact that the actor fibbed about his height to get his role in the film series, and following those bold claims, we have taken it upon ourselves to explore the Miami, Florida-born actor's height, especially when compared directly to that of his co-star Lana Condor who plays the role of the leading lady Lara Jean in the film series.
Summary of Noah Centineo's Bio
Age: 27 Years Old
Birthday: May 9, 1996
Birth Place: Miami, Florida, United States
Birth Sign: Taurus
Ethnicity: Mixed (Italian, Puerto Rican, Dutch, and German)
Father: Gregory Vincent Centineo
Mother: Kellee Janel Centineo nee Andres
Siblings: Taylor Centineo
Noah Centineo's Height: 6 feet 1 inch
Height in Centimeters: 165 centimeters/1.65 meters
Weight In KG/LBS: 76 kg/168 lbs
Hair Color: Dark Brown
Eye Color: Hazel
Body Measurements In Inches: 42-32-38-17.5 (Chest-Waist-Thighs-Biceps)
Body Measurements In Centimeters: 107-81-97-44 (Chest-Waist-Thighs-Biceps)
Shoe Size: 11.5 US (10.5 UK)
Noah Centineo's Height Compared To The Average American Actor
When compared to the average American actor, who reportedly stands at 5 feet 9 inches (175 cm or 1.75 m) tall, Noah Centineo is certainly very tall. Despite believing himself to be 6 feet 4 inches tall for a long time, the Miami-born actor's official height has been recorded as 6 feet 1 inch (185 cm or 1.85 m).
Based on the aforementioned figures for Noah and the average American actor, respectively, the rising star towers above his average colleague in the industry by at least 4 inches.
By extension, Noah is also taller than the average American male, who is 5 feet 9 inches tall. Some believe that an actor's height does not matter when auditioning for a leading male role because of the technology that enables 5 feet 8 inches actors like Tom Cruise to appear much taller than they truly are by using lifts in their shoes.
However, it is important to note that actors like Tom Cruise are the exception rather than the preferred option to naturally tall actors like Dwayne The Rock Johnson, Jason Momoa, or Noah Centineo himself. With that said, and technology notwithstanding, Hollywood is one place where it helps to be as tall as one can be because of the added advantage it provides when auditioning for leading male roles.
For all his height, however, Noah Centineo is still about 3 inches shorter than Jason Momoa, who recent reports have revealed to be the 15th tallest actor in Hollywood as of 2022. He is also 4 inches shorter than Tyler Perry, who is 6 feet 5 tall.
Other well-known actors who are taller than Noah include Brad Garrett, who is one of the tallest actors in Hollywood at 6 feet 8 inches, and James Cromwell, closely following at 6 feet 7 inches.
Noah Centineo's Height Is Just Under a Foot Taller Than Lana Condor
Fans fell in love with the characters Peter Kavinsky and Lara Jean in Netflix's To All The Boys Trilogy, and beyond noticing the apparent chemistry between Noah Centineo and Lana Condor, the actors who portrayed those roles, fans couldn't help but notice the glaring height difference between the pair of them.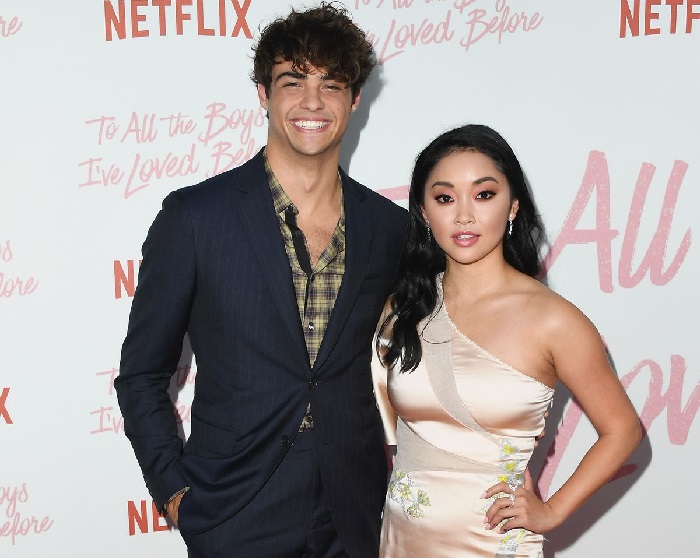 Further research revealed that Noah Centineo (Peter Kavinsky), at 6 feet 1 inch tall, was almost 1 foot taller than his on-screen love interest Lana Condor (Lara Jean), who was revealed to be a rather diminutive 5 feet 3 inches (160 cm or 1.6 m) in height. One of TV's most loved on-screen couples would never have been a reality were it not for Noah's ingenuity or tricks, depending on your point of view.
Anyone who has seen the well-structured trilogy would have realized that Lana's character Lara Jean wore platform shoes virtually throughout the movies. In recent interviews, the actress has explained the rationale behind her chic dress sense in the movie. She puts it down to the fact that Noah's desperation to land the part of Peter Kavinsky prompted him to all but lie to the producers about his height.
Lana further revealed that Noah achieved his aim by constantly scrunching down behind her to make himself appear shorter than he actually is. She claimed that the producers of the film realized too late what Noah was up to and could do nothing to change the outcome, hence the platform shoes.
Noah Centineo's Weight Balances Out His Height
In-depth, well-detailed research has shown that the ideal weight for a 6 feet 1 inch male above the age of 20 is somewhere between 65 to 82.5 kg (144 to 182 lbs). A lot of factors, such as body type and profession, etc, were considered before this conclusion was arrived at, but the results were accurate.
At 76 kg (168 lbs), Noah Centineo falls within the aforementioned range, thereby achieving the right height-weight balance for his physique. Other aspects of Noah's body measurements are 42-32-38-17.5 inches (107-81-97-44 centimeters) being measured for his Chest, Waist, Thighs, and Biceps, respectively.
Noah Centineo Has Well-Toned Abs
Fans who saw the trailer of the upcoming DC movie Black Adam noticed that Noah Centineo looks a lot more buff than he looked in the To All The Boys Trilogy. Noah revealed that he had to gain some muscles and lose fat for the role and had to engage in some pretty hectic workout routines and diet plans to achieve the required physique for his role as Atom Smasher in the movie.
He shared his workout routine, which includes cardio training, weight training, back workouts, shoulder training, arms workout, legs workout, hips, and calves workouts, strength training, and several abs crunch to achieve his now well-toned abs. Noah also revealed that while the average person is supposed to consume around 2,000 calories a day, he was required to consume around 6,000 calories daily, 3-times the normal ratio.
His general diet included wild-caught game, wild-caught fish, vegetables, oat, bran, chia seeds, hemp seeds, almond butter, whole-grain bread, and protein shakes. He also revealed that he avoided artificial additives, chemicals, processed foods, junk food, simple sugars, and meat that comes wrapped in plastic.