American social media personality, Noah Beck, is 22 years old and stands at not less than 5 feet 11 inches.
If you are familiar with the video-sharing app TikTok, you have likely heard of Noah Beck, a former aspiring professional soccer player turned internet sensation. He is one of the young adults who joined TikTok in 2020. But unlike most of the others who joined the platform with him, he was able to garner millions of followers before the year ended, thanks to the many clips he posted that year for which TikTok named him among its top 10 breakout creators of 2020.
His TikTok videos aside, the social media star is known for several reasons, including his good looks, his well-defined six-packs, his association with the popular Sway House, his relationship with the TikTok queen Dixie D'Amelio, and his viral explicit photoshoot with the UK-born photographer named Damon Baker.
But if that is all you know about Noah Beck, you really have a lot to catch up on. Thankfully, you can find a large amount of information about him here, ranging from his height to his age and much more.
10. Noah Beck Is Over 5 Feet Tall
Different sources have reported different figures as Noah Beck's height, however, the disparity is not much. Noah turned 20 on the 4th of May 2021 and according to data published by the Centers for Disease Control and Prevention (CDC) in December 2018, the average height for American men aged 20 and above is 5 feet 9 inches (175.4 cm).
According to Famous Birthdays, the TikTok star stands at 5 feet 11 inches (180.3 cm), but Wikipedia has it that the former soccer player is 6 feet 0 inches tall (182.8 cm), just an inch or 2.5 cm difference from the former's report. Either way though, he is still taller than an average American man. This explains why he could play college football as a midfielder as the average height of college midfielders by division level is 5 feet 10 inches.
9. He Was Born In The Month Of May 
The TikTok celebrity was born on the 4th of May 2001 in Peoria, Arizona. He, however, grew up in West Valley, and currently lives in Los Angeles, California. Based on his date of birth, Noah's zodiac sign is Taurus. While nothing is known about his childhood and parents, except for his mother's name which is said to be Amy, it is common knowledge that he has two older sisters named Haley Beck and Tatum Beck.
Haley, the oldest of the siblings, was born on June 14, 1998, while Tatum was born on September 29, 1999. This means that the former is almost three years older than Noah while the latter is approximately one year and eight months older than him. Haley is a teacher, according to her Instagram bio, but just like Noah, Tatum is a star on TikTok. She joined the app in January 2018 and has gained more than 2.6 million followers, thanks to her comedy video clips and her lip-sync videos. The siblings also have a cousin named Holly Beck, who is also popular on TikTok.
8. Beck's Fame Came Exclusively From TikTok
Before he ventured into TikTok, Noah's social media presence was almost at zero. He started using the app actively during the coronavirus pandemic that hit the entire world in 2020, resulting in a lockdown. As a result of his good looks, he started receiving a lot of attention on the app. His content involves dances and skits that make use of viral sounds, which are audio selections from trending TV shows, movies, songs, or TikTok videos of other people.
Noah posted his first video on the platform in January 2020, and it shows him doing a lip-sync of DaBaby's explicit verse on rapper Megan Thee Stallion's song titled "Cash Shit". Since then, the video has had more than two million views, over 387,000 likes, and received more than 35,000 comments.
The star spoke of how the whole TikTok journey started in an interview with Complex published on February 18, 2021. According to him, around the end of January 2020, he was back in Arizona with his family and his older sister came into his room, asking him if he had TikTok and he said yes. She went further to ask if he had an account on the app and he said no then she began to sort of brag about the number of followers she had (7,000 at the time). Unimpressed, Noah simply told her, "Good for you." Meanwhile, he had about 2,000 followers on Instagram then.
Continuing, Noah said his sister kept telling him that she had more than triple of his followers on Instagram, and this kind of lit a spark in him. Although he said it really had nothing to do with competition, he made it that and his sister also made it so. As a result, Noah created a TikTok account that night and posted two videos. Surprisingly, by the time he woke up the following morning, he already had a whopping 20,000 followers. Excitedly, he got up immediately and went to show his sister.
After that night, he said, he sort of put it aside. Having enjoyed his little moment of fame, he was ready to let it go while continuing with his studies and soccer training. Unfortunately, quarantine happened and in the middle of March 2020, his university sent all students home. He was back in Arizona and no one knew just how long the lockdown would last, so he kept on with his soccer training. However, you can only train for so long, so he began to ask himself what else he could do while at home, and cranking out videos quickly came to his mind.
Beck posted three to four 15-second long videos each day but it was never a big deal for him. His videos kept on doing well and in a short while, what he began as a way of whiling away time turned into a hobby. Within a few months, he had garnered a million followers while still at home. By late May and early June 2020, he had gained 2.5 million followers. According to the TikTok star, he did not know what was happening but somehow, every single video he posted got at least two or three million views – this was big deal for him because, at that time, he had around 1.5 million followers, so getting more views than his followers consistently was no mean feat.
Following his massive success on the app, Noah eventually decided to drop out of college and pursue a TikTok career in Los Angeles. As of July 1, 2021, he had 28.2 million followers on TikTok, 1.56 million subscribers on YouTube, 7.4 million followers on Instagram, and more than 800,000 followers on Twitter.
7. The Star Wanted To Become a Professional Soccer Player Before Tiktok Happened
From the time Noah Beck was a child, he had always wanted to become a professional soccer player and he worked towards it. He was a student of Ironwood High School and while there, he combined his studies with playing for the SC del Sol club soccer team in Phoenix. From 2014 to 2017, he was also part of the U.S. Youth Soccer Olympic Development Program in Arizona and even served as the team's captain. Two years before he finished high school, he moved to Utah where he joined the pro feeder school, Real Salt Lake Academy in Herriman, Utah.
In 2019, Noah was admitted into the University of Portland on a full-ride scholarship and he played for the Portland Pilots men's soccer team as a midfielder. Speaking with Complex, he said he wanted to go pro, adding that he had the conviction that he was on the right career path and he had the opportunities coming. "I had trials set up in Europe that I was going to go to," he said in a video uploaded to YouTube by Chase Hudson in December 2020. But COVID happened and all those got canceled and now he is TikTok famous.
Although TikTok is currently his number one career, Noah Beck misses his first love – soccer. As he said during his conversation with Complex, he misses soccer so much and it will forever be his passion. The former athlete also agreed to the fact that soccer made him who he is, and he feels it created all his friendships growing up. Even though TikTok is going all smoothly for him, the star admitted that there are times he asks himself if he made the right decision by abandoning soccer. However, he says he thinks he did, and as a result, he has no single regret about it…but he does miss it.
Explaining why he traded soccer for TikTok, the then 19-year-old said he understands that anything can happen with his social media career and that he may not even have the platform again in the next two to three years but that notwithstanding, he just needed to take advantage of what he had "right now". But if anything ever happened, he would love to pick up from where he left his soccer career.
6. He Was A Member of The Sway House
The Sway House is a content-creator collective that was established in January 2020 by TalentX Entertainment. It is made up of some of TikTok's biggest stars who live together in a mansion for the purpose of collaborating on content and cross-promoting their brands.
Speaking of his Sway House membership, Noah told Complex that at the time he had 50,000 followers in 2020, another TikTok giant named Blake Gray sent him a direct message on Instagram telling him that he sees a lot of potential in him and that he can really be very successful in the business of creating content on TikTok. Noah felt excited hearing that from a celebrity on the app but did not give much thought to it because he was still chasing his soccer dream, however, they kept in touch.
On seeing how well Noah's videos were doing, Blake sent him a text message inviting him to Los Angeles to meet the other members of the Sway House. Able to convince his parents to let him go, he honored the invitation and on getting there, he clicked with the Sway House members immediately, recorded some videos with them, and began getting Sway followers. With that, he gained about seven or eight million additional followers within the one and half weeks he stayed with the Sway Boys.
In the course of his stay, Noah had a meeting with one of the main Boys and one of the managers. According to him, they told him they thought he would be a great fit at the Sway House and that if he wants, there's a spot for him. They also told him that he could make a living doing TikTok. Convinced that he could have a good life doing TikTok with the Sway House boys, Noah joined them in June 2020 and officially left Arizona for Los Angeles, California.
Sadly, barely a year after the group was created, and less than one year after Noah joined them, Sway House was disbanded.
5. The TikTok Star Has Been At The Centre of Some Controversies
Noah Beck was first involved in controversy when his sister Tatum went on TikTok to claim that he had scored a 28 on his ACT test and received a full-ride scholarship to Yale University. Responding to the claims in a comment on TikTok, Noah said a Yale coach began to recruit him when he was a junior and that the coach constantly texted him, saying that they would accept him into the school if he scored 26 in his ACT test.
However, the app users opposed the claim, saying that Ivy League schools do not offer scholarships to athletes, rather, they only give scholarships based on need. Defending himself in another comment, Beck explained that Yale was one of the schools he talked to, adding that he was aware they do not give out athletic scholarships. But that some other schools he mentioned, all gave him a full ride.
In September 2020, he further cleared the air on the matter when he appeared on the video of Dixie D'Amelio's YouTube series titled "The Dixie D'Amelio Show." When Dixie asked him why he lied about getting a full-ride to Yale he said he never lied about it and that he never said he got a full-ride from Yale. He explained that he only said Yale had an interest in him for soccer and that they gave him an academic scholarship.
In November 2020, Noah was again under fire for charging his fans the sum of $10,000 to perform duets with them on TikTok. This enraged both his fans and critics with many of them dragging him on different social media platforms. On Twitter, a displeased fan, @vt_dominick, made a tweet targeted at Beck saying he wasn't criticizing him, but he felt it was a bit unfair that he charged ten thousand dollars for a simple duet to all the people who supported and believed in him.
Another Twitter user referenced Noah Beck's previous controversies and ended it with the rhetorical question "Who's paying 10k to make a TikTok with f*****g racist and harasser Noah Beck?" On Instagram, Noah's fans were so pissed with him that many of them ridiculed him for "thinking he was Harry Styles". Others talked about how huge the amount was, with one user commenting, that $10,000 was more than what his father earns as salary while another called it "some college fees."
While the social media uproar continued, Noah chose not to comment. However, he was eventually forced to speak when a paparazzi group name Pap Galore confronted him while he was taking a walk with his dog. Speaking in his defense, the TikTok celebrity explained that the $10,000 price for a duet on TikTok was set for a brand and that it was not even set by him. He, nevertheless, agreed to the fact that the price was somewhat "ridiculous".
Noah went further to state that he had done duets before and has never taken a fee for it. Acknowledging that he knew people were saying he thinks he is Harry Styles, Noah clearly stated that it was not actually like that and that it was nothing besides a brand deal. Continuing, he said he does not think anyone should be charging $10,000 for a TikTok duet.
Another controversy surrounding the soccer player-turned-TikTok star is his supposed homophobia. In August 2020, he uploaded a video of himself and the Sway House boys dancing to the song "Eisha No!" by Ayo Eisha, with moves that many critics found offensive. The song features a lyric that says, "Look at the way that I walk", and at this point, the boys walk in a way that some people felt was a mockery of how feminine gay men walk.
Some TikTok users reacted to the video in the comment section with one person saying it was kind of suspicious. In response, Beck wrote, "HAHA, that's the point silly." Both the video and Beck's response were not received with smiles. To make matters worse, one of Noah's followers also accused him of being homophobic because of some tweets he liked in the past. One of the tweets that was screenshotted read, "Bro the LGBT community is f–king out of control in this generation." Another one read, "I'm gonna say it. Da LGBTQ community is annoying as f–k."
This gave rise to the hashtag #noahbeckisoverparty, which went viral on social media. But to date, he has not made any comment about the accusation.
4. Beck Went On A Vacation During The Covid-19 Pandemic and Was Heavily Criticized For It
Several social media celebrities were criticized for either throwing parties or going on vacations during the coronavirus pandemic despite warnings against unnecessary travel by health officials. Some of those who traveled were TikTok stars such as Avani Gregg, Chase Hudson, Bryant, Madi Monroe, Noah Beck, and the D'Amelio sisters – Charli and Dixie, who vacationed alongside their family.
All the named TokTok influencers, and more, were spotted on a trip to Nassau in the Bahamas in December 2020 and this left their fans outraged because the pandemic was getting worse in the U.S at the time. Fans described the TikTok stars as selfish and irresponsible for embarking on the getaway trip.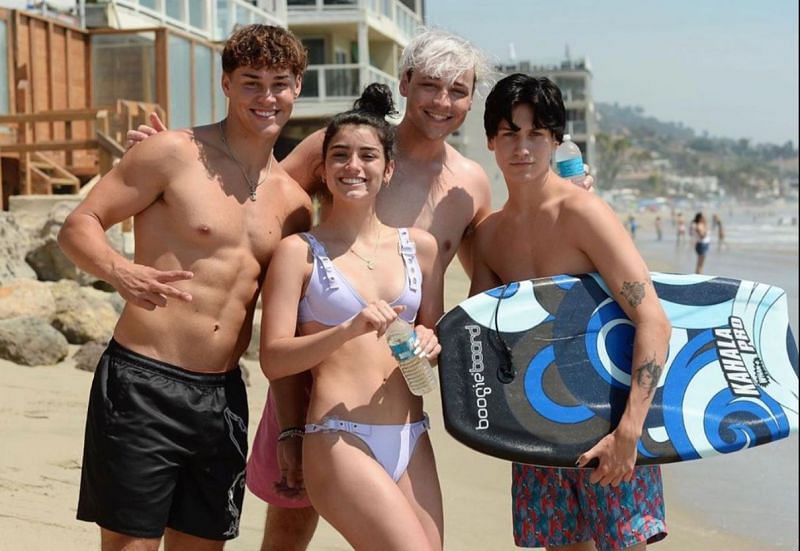 Following the resulting backlash, Noah was among the first to comment. Speaking to Pop Galore in January 2020, he defended himself and his co-stars saying that their TikTok business takes so much from them, and as a result, they needed some time to disconnect for a little while and that's what the trip was meant for.
While the trip was quite fun, Noah claimed that they were "very cautious" while in the Bahamas. According to him, the island where they stayed in a cabana was located in a secluded environment and no one was near them. They also flew there in a private jet. He also said they went into the water park area a few times, but the entire hotel was only 20% full so there was hardly anyone there.
When he was asked if he thought fans were going overboard with their reactions, Beck said he understood where they were coming from but added that they would have gladly joined him if they had the chance. According to him, the whole reaction was funny because assuming they sent a message to one of the people who were hurling insulting comments at them, telling him that they wanted to fly him to the Bahamas, the person would have gladly accepted the invitation.
Noah went on to say that people are always going to say things no matter what one does in life, as a result, he always says "do what makes you happy." Unimpressed by his remarks, fans continued to drag the influencers online.
3. Noah Beck Is In a Relationship With Fellow TikTok Celeb, Dixie D'Amelio
Dixie D'Amelio is the sister of TikTok's most-followed person, Charli D'Amelio. Although her sister is the biggest influencer on the platform, Dixie is also a TikTok star in her own right. In July 2020, rumors that Noah and Dixie were in a relationship began to make the rounds. This was prompted by the videos of their work together which they began posting on TikTok.
The speculations increased in August when the duo was seen grabbing dinner together at a Los Angeles restaurant. But they kept making the rumors seem like a lie with claims that they were just close friends and nothing more. In September, Noah Beck made an appearance as the love interest of Dixie in her music video for the remix of her song "Be Happy," featuring Lil Mosey and Blackbear. The social media personalities shared a kiss on screen, further fuelling dating rumors.
They finally confirmed that they were an item in October 2020 when Noah marked their one-month anniversary, posting a beautiful picture of them to his Instagram story. On it, he wrote, "Happy 1 month bub.. I love you<3 @dixiedamelio." They have openly shared their relationship online since then, but Noah told People in October that Dixie wanted them to keep their relationship private in the beginning.
According to him, Dixie previously came out of a relationship that was public, so she did not want theirs to be public due to her previous experiences. Noah said this referring to Miss D'Amelio's former romance with Sway House member Griffin Johnson, who happens to also be his friend. He revealed that they wanted to keep everything between them and so they decided not to post many things about them online.
Narrating how he asked Dixie out on a YouTube series called "Jeff's Barbershop," the former soccer player said he took her to Malibu on the 25th of September 2020. They went to the lifeguard post and he decorated it with candles, rose petals, and the likes. When he was done decorating, he said, he came back and walked Dixie there. Somehow, Noah said he thinks she knew what was going on, but that notwithstanding, he just popped the question!
Despite making it clear that they were involved with each other, a lot of people have questioned the genuineness of their relationship. However, while it gets to Dixie sometimes, as revealed by Noah, he says he doesn't take it personally because these people do not really know them and at the end of the day, they are the only ones that know how they feel for each other.
Fans of the couple were scared to their bones on January 22, 2021, when some sharp-eyed fans noticed that Dixie had stopped following Noah on Instagram. This quickly led to speculations that the two had parted ways for some undisclosed reasons. In a more confusing twist, Dixie re-followed Noah shortly after, leaving fans wondering what could have prompted the initial social media breakup.
Thankfully, it was nothing serious as Dixie explained under a fan's comment on Instagram that it was only a case of her becoming salty after losing a game to Noah, and in that state, she chose to unfollow him jokingly but forgot to re-follow him.
2. The Socal Media Star Had A Viral Moment In January 2019
Even though Noah's relationship with Dixie made him more famous than he was before, he became much more popular in 2021. This was after he shared photos from his explicit photoshoot with photographer Damon Baker on his Instagram page. In the black and white photo (seen above), the then 19-year-old displayed his well-toned, attractive, and well-formed body, dressed in nothing but a pair of Calvin Klein boxer briefs.
The pictures went viral on various social media platforms as different users shared and reposted it thousand of times. Noah posted the picture around morning and by afternoon, his name had been mentioned in 43,000 new tweets. But while his fans were happy to see the photos, Instagram frowned at it and as a result, they were removed from the app. This prompted both Noah Beck and Damon Baker to speak out against the platform.
The first to voice his displeasure, the photographer took to his Instagram story and threw a question at the owners of the app wanting to know what exactly was offensive about a confident male body. He went on to tell them to quit censoring art and ended his message with "Thanks". In another post on his story, Damon explained that we, as the new generation, have the utmost responsibility of ensuring that art survives. Continuing, he noted that art cannot be silenced, adding that history has done that too much. "Without art, without expression, who do we become?! FREE ART!!!!", he concluded.
On his own part, Noah also employed his Instagram story to tell the Instagram company to stop taking down his pictures. The social media celebrity acknowledged that he was kind of naked but not completely and also noted that he did not violate any guidelines.
1. The 22-Year-Old Launched His Very Own Reality Television Show In January 2021
Noah does not intend to make TikTok videos for the rest of his life. He wants to become an actor, not just that, but a movie star eventually, and knowing that there are steps to it, he revealed in January 2020 that he has enrolled in acting classes and he is doing everything in his power to get better at the craft. Although he is yet to venture into acting, the star has taken advantage of his social media success to make his first foray into TV. He collaborated with AwesomenessTV, a ViacomCBS owned studio, to bring his reality show, Noah Beck Tries Things, to life.
News of him getting his own television show went public on January 12 and it was revealed that the show will premier on Friday, January 22 on the digital platforms of AwesomenessTV, not excluding its YouTube channel. Subsequently, new episodes of the show were aired every Friday for the next six weeks, featuring a special guest.
Noah Beck Tries Things is all about Noah Beck's life after his relocation to Los Angeles in the summer of 2020 to start off his career as a full-time content creator. As the TikTok personality attempts to do new things such as cooking, making diss tracks, DIY crafts, makeup application, and more, his new influencer friends, who are special guests on the series, help him.
Speaking of the six-episode series before its debut, the collegiate soccer player-turned-TikTok star told People that he was "super excited" about it. He gave a little insight into what the show was like, saying views will see his friends taking him through a little Bootcamp of what they're good at, and then they will grade him at the end. These friends include his girlfriend Dixie D'Amelio, YouTube star James Charles, Fellow TikTok Celebrity Blake Gray, and Dance Moms alum Mackenzie Ziegler.