Dropping out of high school to pursue an acting career was almost disastrous for Nicolas Cage who experienced many challenges and even had to sell popcorn at the Fairfax Theater before working his way into the limelight.
Born Nicolas Kim Coppola, Cage decided to change to his present moniker to avoid speculation that his milestones in Hollywood were achieved due to the influence of his famous uncle, director Francis Ford Coppola.
Nicolas Cage Wiki, Bio, Family
The Award-winning actor was born on January 7, 1964, in Long Beach, California, to August Coppola, a professor of literature, and Joy Vogelsang, a dancer and choreographer. While his father was of Italian descent, his mother was of German and Polish descent. Cage who was raised in a Catholic home was surrounded by entertainers including; director Francis Ford Coppola (uncle), actress Talia Shire (aunt) and brothers – New York radio personality Marc "The Cope" Coppola and director Christopher Coppola. He also has cousins; directors Roman Coppola, Sofia Coppola, film producer Gian-Carlo Coppola, actors Robert Carmine and Jason Schwartzman.
Read Also: Ryan Reynolds Wife, Daughter, Brothers, Height, Kids, Gay, Family, Wiki
Cage attended Beverly Hills High School as well as UCLA School of Theater, Film and Television as his desire to become an actor started from a very young age. American actor James Dean received the credit as the key inspiration for Cage's acting career. He decided he wanted to act after seeing Dean in Rebel Without a Cause, East of Eden. Afterwards, Cage started working towards his passion and tried to persuade his uncle Francis Ford Coppola to give him the opportunity to show his talent. He was fifteen at the time. He made his film debut with a minor role in Fast Times at Ridgemont High (1982), opposite Judge Reinhold and Sean Penn.
His career blossomed into a success and Cage went on to appear in a wide range of films, both mainstream and offbeat. He appeared in movies like Raising Arizona, Moonstruck, Con Air and Leaving Las Vegas. The latter won him accolades including; Academy Award, a Golden Globe, and Screen Actors Guild Award, paving the way and attracting more prominent roles in other notable films, like The Rock (1996), Face/Off (1997), City of Angels (1998), and National Treasure (2004).
He earned several other accolades after appearing in The Weather Man (2005), Lord of War (2005), The Bad Lieutenant: Port of Call New Orleans (2009), and Kick-Ass (2010). Cage is mostly known for his role for in box office hits – Ghost Rider series (2007) and (2009).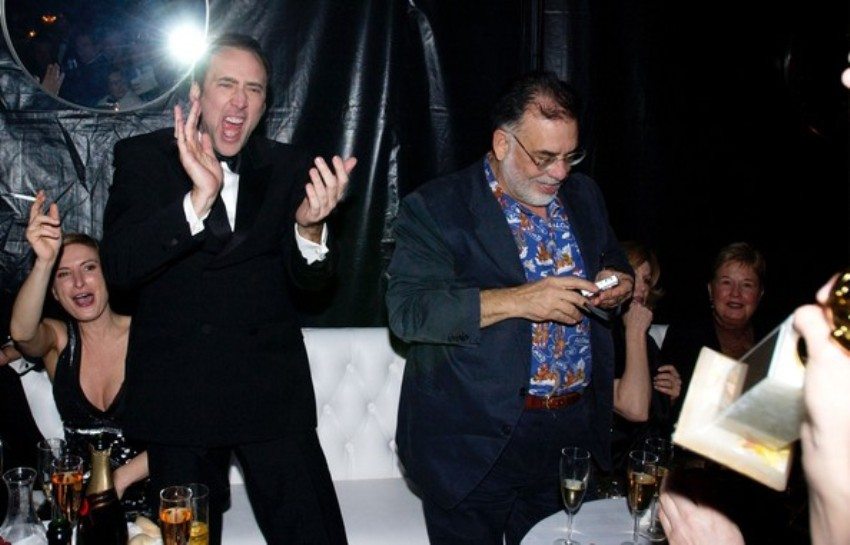 Today, without lurking in the shadows of his successful uncle's name, Nicolas Cage is, without doubt, one of the most famous actors in Hollywood and the world. His versatility and the discovery of the new acting process called 'method acting', has also marked him as one of Hollywood's most talented actors.
Net Worth and Height
After more than three decades in the industry with several blockbusters under his belt, there's no doubt that Cage has made a fortune. Between 1996 and 2011, he made over $150 million from his acting career. Some of his highest grossing movies include Gone in Sixty Seconds ($20 million), National Treasure ($20 million), Snake Eyes ($16 million) and Windtalkers ($20 million). He has also made Forbes list of the highest-paid actors of all time.
In recent times, Cage's wild spending habits and tax liens by the IRS have done a number on his net worth, an issue which his managers received the blame for. Notwithstanding, his net worth as of March 2017 is $25 million.
Cage is also known to have a tall frame with the towering height of 1.83 m.
Read Also: Gene Wilder Spouse, Daughter, Dead, Children, Net Worth, Wiki, Bio
Nicholas Cage's Wife and Son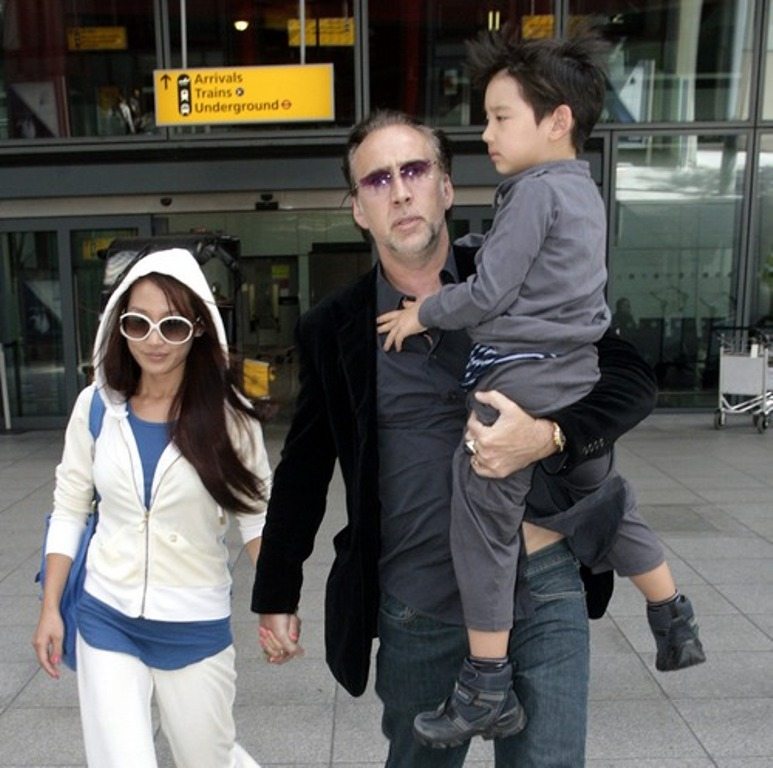 The Hollywood icon has been married three times. His first marriage was to actress Patricia Arquette in 1995; the second was a rather brief marriage to Lisa-Marie Presley, the only daughter of Elvis, the late King of Rock and Roll in August 2002. In August 2004, Cage married his 20-year-old girlfriend, Alice Kim, at a private ranch in Northern California. Cage and Kim welcomed a son, Kal-el Coppola Cage, on October 3, 2005.
Cage also has another son named Weston Coppola Cage born in 1990 with a former girlfriend, actress Christina Fulton.
Is Nicolas Cage Dead?
In July 2016, Hollywood star Nicolas Cage died an online death like most of his counterparts. The malicious rumour spread after a message reporting that the actor had died in a motorcycle accident was widely circulated on Facebook.
However, it was later confirmed that the actor was neither involved in any motorcycle accident nor did he die in one. Apparently, the report is one of those scams that try to trick visitors into paying fees for rogue antivirus scanners or divulging their personal information.