Nick Groff left Ghost Adventures after its tenth season but he never mentioned his reason for leaving. However, there have been varying reports as to why he left. Since leaving the show, he has remained busy with his businesses, music career, and the production of several shows and documentaries, including his own show called Ghost Stalkers.
43 years old Nicholas Groff, better known as Nick Groff, is an American musician and television personality but what has earned him most of the attention and admiration he gets are his exploits as a paranormal investigator.
Throughout history, people have held on to paranormal beliefs and as much as science has insisted that there is no basis for such beliefs, many people across the globe would swear that ghosts are real and that there are places haunted by supernatural beings. Because of this, paranormal movies and shows like Ghost Adventures have become an enduring part of pop culture.
The American paranormal and reality television series premiered in October 2008 and has so far spewed over 231 episodes and specials across 21 seasons. The premise of the show is quite simple: it follows a group of ghost hunters who go about investigating locations that are said to be haunted.
The hunters include Zak Bagans, Aaron Goodwin, Billy Tolley, Jay Wasley, and of course Nick Groff. While others are still part of the show, Nick has since moved on and has left a lot of people wondering why he left.
Nick Groff Left The Show In 2014 After Its Tenth Season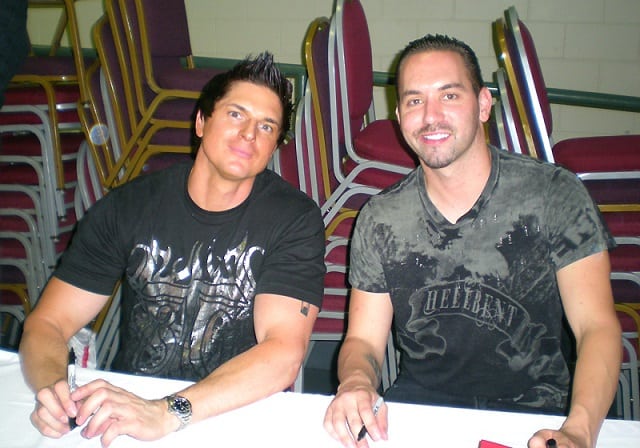 The genesis of the popular series dates back to a documentary film of the same title released in 2004 and Nick Groff was part of the project. He co-wrote and directed the film which he also starred in with Zak Bagans.
The film follows the two and Aaron Goodwin as they explored and investigated what is considered to be two of the most notorious haunted sites in Nevada: the Goldfield Hotel in Goldfield and the Old Washoe Club in Virginia City.
A few years later, the film inspired the Ghost Adventures series which aired its first episode on the 17th of October 2008. In addition to being one of the ghost hunters the show followed, he served in various capacities to see the project through.
Between 2008 and 2012, he co-edited at least 56 episodes of the show and within the same time frame, he worked in the camera and electrical department of the show as a camera operator for 46 episodes. More so, he wrote or co-wrote more than 50 episodes and executed the production of no fewer than 135 episodes from 2008 to 2014.
There was no doubt he was one of the major brains behind the show, which explains the surprise that followed the announcement that he was leaving the show in late 2014. In an online statement, Nick related that he would no longer be a part of the Travel Channel show.
Although he didn't state why he was leaving, he promised that he would continue to research and investigate paranormal phenomena while he thanked Ghost Adventure fans for the support he had enjoyed over the years.
He Left To Focus On His Own Show But There Are Claims That He and Zak Bagans Fell Apart
In all, Nick Groff was part of the show from 2008 to 2014. He actively participated in the production of ten seasons and at least 135 episodes. Before he announced that he was leaving Ghost Adventures in November 2014, his show titled Ghost Stalkers had debuted the previous month on Destination America.
So naturally, it was assumed that he was leaving to focus on producing the show which also revolved around investigating paranormal activities.
Amid claims that he was fired from the show, the predominant report was that he had to leave the show because he had fallen out with Zak Bagans who was allegedly trifling his contributions to the show.
Bagans and Groff had been collaborating to produce the show right from day one. It is said that the former became egotistical over the years and stifled Groff's efforts to make meaningful inputs to the project. If one must believe this narrative, Bagans' attitude became so unbearable that it forced Nick Groff to leave Ghost Adventures. 
While the claims of a dispute between Nick and Bagans have never been directly confirmed by either of the two, there seem to be some elements of truth to it. Back in 2016, it emerged that Groff was set to launch another paranormal reality television series titled Paranormal Lockdown.
Around the same time, Zak Bagans took to Twitter to condemn an unnamed fellow who according to him, was shamelessly using the Ghost Adventurers brand to promote himself. Based on what Zak tweeted, the person was fired for "doing bad things" and should stop using Ghost Adventurers in his "resume of achievements".
How Has The Show Fared Since He Left and Would He Return to It?
The San Jose, California native left the show in 2014 after its tenth season. Ghost Adventures continues to air to date and its 22nd season is currently in the pipeline. This means that more than 10 seasons and hundreds of episodes have aired since Nick Groff left.
Based on that fact alone, one wouldn't say the show has suffered because of his absence. Nonetheless, it would be mischievous to deny that his absence hasn't been missed. Since he left, it has been rumored several times that he would return to the show; this is yet to happen and there has never been any official statement that hinted at this.
The way things are, it is very unlikely that he would return to the show. Nick Groff has clearly moved on and has a lot on his plate.
Where Is Nick Groff and What Is He Doing Now?
The paranormal investigator has been a busy man since he left Ghost Adventures. He has led the production of several shows and documentaries, including Ghost Stalkers, Paranormal Lockdown, Winchester A Ghost Finders Special, Sounds Scary, Death Walker, and Dead Remains which is being filmed as of this writing.
Disregarding his work on television, Groff is also an entrepreneur. He runs a gym in Methuen, Massachusetts called Drive, Health & Fitness, and owns a clothing brand known as Phantom Collection.
That's not all, he owns a music label called Groff Entertainment. Through the label, he produced his first and second albums respectively titled The Other Side and Spiritual War: Good vs Evil.