Nick Groff has been enraptured by the supernatural as long as anyone – including himself – can remember. He is an American musician, producer, television personality, and paranormal investigator. Nick has many interests but he is almost solely known for his endeavors in tracking and investigating paranormal events.
In 2004, he became executive producer, cameraman, and editor of a documentary called Ghost Busters. He was also part of the cast as a co-investigator. In 2008, he started work on a television series of the same name. The series saw him reprise the same roles and responsibilities from the documentary as he was involved in the show for ten seasons culminating in 2014.
In his time with the Ghost Busters franchise, Nick was also involved in many other projects, most of them leaning towards the paranormal. In 2016, he launched his television series, Paranormal Lockdown. He has also produced a few movies, released some music albums and worked with other networks and channels like Travel Channel, TLC, and Destination America.
Nick Groff's Early Life, Family Tragedy
Nicholas Groff came into the world on April 19, 1980, in San Jose, California. However, he grew up in Nashua, New Hampshire. Nick's interest in the supernatural goes far back into his childhood. Nick revealed that at the age of eight, he had a near-death experience. He was playing in a tree in the yard of his family home when he fell to the ground from a branch of the tree.
At the age of ten, young Nick talked about seeing an apparition of a black man. He believes that his accident at eight had led made him more open and receptive to the supernatural. He attended Pelham High School in New Hampshire after which he attended the University of Nevada, graduating with a degree in film.
Career 
Nicholas met Zak Bagans in 2004 and the two hit it off after they discovered their mutual interest in paranormal activity. They started together as DJ and cameraman for weddings until they decided to become a team of paranormal investigators. For this they hired an had to hire an extra hand so they chose Aaron Goodwin, who was Groff's colleague from his time at the University of Nevada.
In 2004, the trio started seeking out and filming a documentary in some of the creepiest places in Nevada in search of any evidence of paranormal activity. Soon their work got noticed by some producers and critics who evaluated it positively. Nick and his Ghost Adventurers buddies were soon given a contract to make their own show that would air on the Travel Channel. During the show, Nick claimed at one point that he saw a female spirit while they were filming at Linda Vista Hospital in Los Angeles. This experience and a few others helped to strengthen his belief in the afterlife.
The series was called Ghost Adventurers and premiered on October 17, 2008. Nick Groff sat at the helm of affairs as executive producer and co-investigator for ten seasons of the show with the tenth coming in 2014. This was his final season in any capacity on the show. After leaving the show, Nick Groff created another show dubbed Ghost Stalkers for Destination America. However, the show could not match the success of his previous effort and lasted for only six episodes.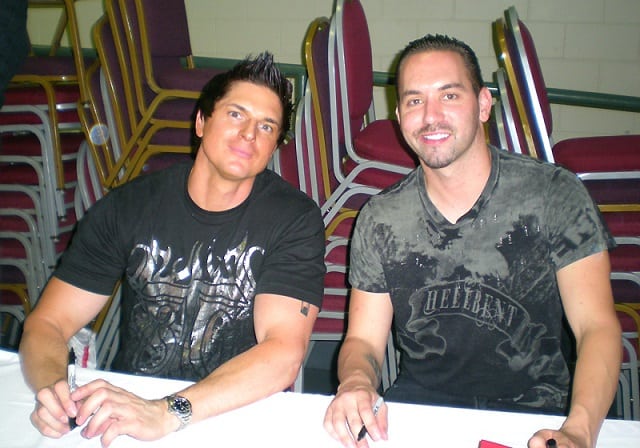 Other Endeavors
The California boy also has a little bit of business in him and has worked to monetize his brand. Nick Groff has his own clothing brand which he dubbed the "Phantom Collection". In 2012, he also published a book titled Chasing Spirits: The Building of the Ghost Adventure Crew. This was a sort of memoir covering his experiences and that of his crew during his time with the Ghost Adventures franchise. In the same year, Nick also put out two music albums under Groff Entertainment, his entertainment company. The first was The Other Side and the next was titled Spiritual War: Good vs Evil.
Nick has also leveraged Groff Entertainment to produce songs and albums for some independent artists. He has also produced (as executive producer), written and directed some movies and television projects. These included 2004's Malevolence, and Travel Channel's 2012 series Vegas Stripped.
His other business endeavors include a gym which he opened in the city of Methuen, Massachusetts in June 2013. He named it the Drive, Health & Fitness and was co-owner of the place until August 2015. He also participated in the televised competition American Ninja Warrior in 2014.
His latest effort in the world of the paranormal came on March 4, 2016, when Destination America he premiered his new show Paranormal Lockdown. This project was much more successful than their previous collaboration and set network-high ratings for the network. As a result, it was picked up by TLC for its second and third season. His relationship with Destination America also saw him involved in their Ghosts of Shepherdstown project in 2016. Here, he played the role of a paranormal expert who was called in to assist the Police department in cases that involved the paranormal.
See Also: Ryan Stiles Wife, Children, Family, Height, Net Worth, Age, Is He Gay?
Why Nick Groff Left Ghost Adventurers
While Nick was with the Ghost Adventurers he started drawing interest from other networks, especially from Discovery Channel's sister network Destination America. Reports reveal that Nick had planned a new show with the network that was wooing him and could not find a way to solve scheduling problems between them and the Travel Channel so the only option was to leave the show.
While some other reports suggest that he was fired from the show, there were other rumors that suggested there was a fallout between Nick Groof and Zak Bagans. The fires of these rumors were stoked when in 2016, days after the premiere of Nick's Paranormal Lockdown, Bagans released a series of tweets accusing an unnamed character of shamelessly using the Ghost Adventurers brand to promote his own endeavors.
Is he married, who is his wife?
Nicholas is married to Veronique Roussel. The couple met in high school and got engaged in their senior year. Veronica is his earliest confidant and partner as concerns his early days as a supernatural investigator. The couple got married in 2004, which is where Nick met Zak Bagans who was the DJ for the ceremony.
Nick and Veronica live in have lived in New England since 2012 which is where they had their second daughter Chloë in September 2014. Their first child is a girl named Annabelle who was born in December 2010.
Nick Groff's Net Worth
Nick's musical and film pursuits along with his clothing brand and other endeavors mean he is sitting on a decent pile of cash. According to various sources, he is sitting on a net worth of $1 million.