Nick Foles is an American football quarterback for the Chicago Bears of the NFL who has a net worth of $30 million and earns $6 million as salary. Foles is 6 ft 5 in tall and has been married to Tori Moore since 2014.
It is commonly said that a sportsman is only as good as his last game. This time-honored cliché certainly proves true in the case of Nick Foles. The athlete once held sway as one of the most prolific quarterbacks in the NFL; setting records and winning the super bowl. He has however witnessed a sharp decline in fortunes in recent times and this has turned fans against him. So, what really happened to Foles and how did he go from grace to grass? All these and more questions are answered below.
Nick Foles's Biography Summary
Full name: Nicholas Edward Foles
Gender: Male
Date of birth: January 20, 1989
Nick Foles's Age: 34
Ethnicity: Caucasian
Nationality: American
Zodiac Sign: Aquarius
Sexual Orientation: Straight
Religion: Christian
Marital Status: Married
Nick Foles's Wife: Tori Moore
Nick Foles's Children: Lily James Foles and Duke Nathan Foles
Nick Foles's Parents: Larry Foles and Melissa Foles
Siblings: Katie Foles and Lacey Foles
Nick Foles's Height in Inches: 6 feet 6 inches
Nick Foles's Height in Centimetres: 198 cm
Nick Foles's Weight: 119 kg
Nick Foles's Net worth: $30 million
Famous for: being an NFL player
Nick Foles's Instagram: @nickfoles
Twitter: @NickFoles
Nick Foles at a Glance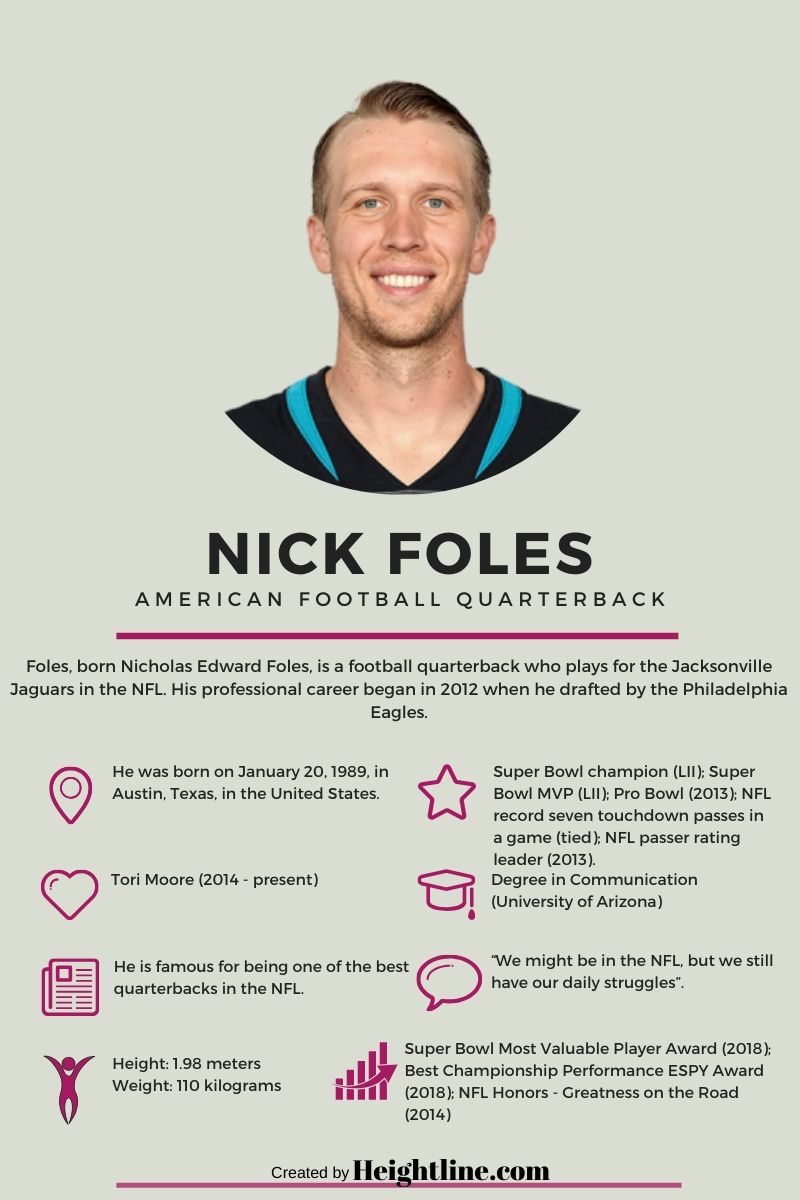 Nick Foles' Humble Beginnings
Nicholas Edwards Foles was born on the 20th of January 1989 in Austin, Texas. His father's name is Larry while his mother's name is Melissa. The quarterback also has two sisters named Katie and Lacey. Foles grew up in Austin and attended Westlake High School where he played both football and basketball and equally excelled at the two. He thus received both football and basketball scholarships but choose to focus on football.
Foles spent one-year playing college football at Michigan State University. He subsequently transferred to the University of Arizona where he played for three more seasons. In four years of college football, Foles completed 938 of 1,404 passes for 10,068 yards, 67 TDs, and 33 INTs. He achieved top conference rankings in his senior year and also completed his degree in communications.
His Impressive Pro Career and Super Bowl Run
Nick Foles was picked by the Philadelphia Eagles with the 88th overall pick during the 2012 NFL Draft. He subsequently penned a four-year deal with the franchise but would only spend three years with the team. The climax of these three years came in the 2013 season when the Austin native completed 203 of 317 passes for 2,891 yards, 27 TDs, and 2 INTs. He led the Eagles to the NFC East Divisional title.
He also set several records, including the best TD-INT ratio in NFL history (27-2) and the third-best passer rating in NFL history. Following his three-year stint with the Philadelphia Eagles, Foles moved on to teams such as St. Louis Rams (2015) and the Kansas City Chiefs (2016).
He subsequently returned to the Philadelphia Eagles in March 2017. During this second coming, Foles started out as the backup quarterback but was upgraded to the first string after an injury to Carson Wentz. He repaid the confidence reposed in him by leading the team to 10 victories in 13 matches.
The Eagles made it all the way to Super Bowl LII and defeated the New England Patriots to clinch the coveted trophy. Foles personally completed 28 of 43 passes for 373 yards, 3 TDs, and 1 INT and was named the super bowl MVP. He also made history as the first quarterback to throw and receive a touchdown pass in a super bowl.
Subsequent Fall From Grace
Nick Foles said he thinks about life after football "all the time." Whatever he does next, he wants it to have purpose.

"It can't be in this game. It's got to be in something greater, and I've always said mine's in Jesus Christ.@NickFoleshttps://t.co/vhKEJHReZ4

— Sports Spectrum (@Sports_Spectrum) February 23, 2022
Following his 2017 super bowl heroics, Nick Foles spent one extra season with the Eagles before buying himself out of the remainder of his contract. He subsequently joined the Jacksonville Jaguars in March 2019 in a deal worth $88 million. In shelling out such a huge sum, the Jaguars had high hopes that Foles would lead them to championship glory. That dream was however shattered after the quarterback suffered a clavicle injury in the very first game of the season.
Foles had to spend the next ten weeks recuperating before making a comeback in November 2019. His return has however been disastrous as he has suffered a consistent dip in form. The Jaguars lost the first two games he started and in the third game, he committed several costly blunders as his team fell 25 – 0 at halftime.
This dismal performance led to boos from his own fans. It also made the team coach bench him before the second half. Foles has since stated that he would continue giving his best in order to ensure a turnaround. The truth, however, remains that his playing days may be over sooner than expected if a miracle doesn't happen.
Nick Foles Has a Net Worth of $30 Million
Despite the challenges he has faced in his career, Nick Foles can still be categorized among the richest NFL players with his net worth pegged at $30 million. The Chicago Bears quarterback is currently earning $6 million as salary and has been on a recovery route since he experienced setbacks in his career.
As one of the famous players in the NFL right now, Nick Foles' net worth doesn't just accrue from his salary. The quarterback also earns from bonuses, endorsements, and other contracts. Jacksonville Jaguars acquired his services in 2019 for $88 million and he has been playing for the Chicago Bears since 2020.
Teams Nick Foles Has Played For
Philadelphia Eagles – 2012-2014
St. Louis Rams – 2015
Kansas City Chiefs – 2016
Philadelphia Eagles 2017–2018
Jacksonville Jaguars – 2019
Chicago Bears – 2020–present
Some of His Career Achievements
Ѕuреr Воwl Сhаmріоn (LІІ)
Ѕuреr Воwl МVР (LІІ)
Рrо Воwl Ѕеlесtіоn (2013)
NFL Раѕѕеr rаtіng lеаdеr (2013)
NFL rесоrd fоr mоѕt соnѕесutіvе раѕѕ соmрlеtіоnѕ (25) іn оnе gаmе (tіеd wіth Рhіllір Rіvеrѕ)
Ніghеѕt саrееr раѕѕеr rаtіng іn Еаglеѕ frаnсhіѕе hіѕtоrу: 92.9
Height and Other Body Measurements
Nick Foles has an advantage when it comes to height as he stands tall at 6 ft 6 in (1.98 m), which helps him play the role of quarterback better. His tall frame is supported by his weight of 262 lb (119 kg)
As a football player, there are other body measurements that play key roles in the success of the game and Foles has some impressive stats. His arm length is 34 1⁄4 in
(0.87 m) while his hand span measures 10 5⁄8 in (0.27 m).
Nick Foles' Wife Is A Fellow Athlete
Foles not only hails from a happy family but has also been able to establish his own stable family unit. The quarterback is married to a former volleyball player, Tori Foles nee Moore. Tori is a native of California and was born on the 6th of June 1990. She hails from a family of five. It comprises her dad, Daniel, mom – Rosina, and siblings, Evan and Ryan.
Evan is a former NFL tight end and now works as a sports analyst. Tori was a standout volleyball player in high school. She also played all throughout college before subsequently retiring. So, how did this love story start? Well. Foles first met his wife while they were both students at the University of Arizona.
They bonded over their mutual Christian faith, as well as their shared passion for sports. The pair, however, refrained from anything romantic until they left college in 2011. Foles and Tori dated for three years before tying the knot in April 2014. The couple has been together ever since then and welcomed a daughter, Lily James, in June 2017.
It must be noted that Foles and his wife have not had it all easy. Tori suffers from Postural Orthostatic Tachycardia Syndrome (POTS) which causes profound dizziness, fatigue, pain, and elevated heartbeats. Additionally, in May 2019, the lady shared a heartfelt Instagram post in which she disclosed that they had suffered a miscarriage at 15 weeks. She, however, reaffirmed that they would hold on to their faith in God.
What is Nick Foles Net Worth?
Nick Foles's net worth is pegged at $30 million. The Chicago Bears quarterback earns a salary of $6 million.
How Tall is Nick Foles?
Nick Foles is 6 ft 6 in tall. The NFL star weighs a commensurate 119kg to go with his tall frame.
Who is Nick Foles' Wife?
The name of Nick Foles' wife is Tori Moore. She is a former college volleyball player and comes from a family of athletes.
How Many Kids Does Nick Foles Have and Who Are They?
Nick Foles has two children named Lily James Foles, Duke Nathan Foles with his wife Tori. While Lily James was born in 2017, Duke Nathan was born in 2020.
Who Are Nick Foles' Parents?
Larry and Melissa Foles are the parents of Nick Foles. They are restaurateurs but allowed their son to follow his chosen career path.