Nancy Pelosi is a famous American politician of Italian descent. She is 83 years old and has five children (Nancy Corinne Prowda, Christine Paule Pelosi, Jacqueline Pelosi, Paul Pelosi, Jr., and Alexandra Pelosi) with her husband of almost six decades, Paul Pelosi.
The world has always had a healthy dose of respect for women who are breaking new grounds for their kind in the world of politics like Nancy Patricia D'Alesandro Pelosi. She transcended the gender barrier to become the first female Democratic leader of the House of Representatives. She also made history as the first female speaker of the house, a feat that has distinguished her as the first female politician to ever attain one of the highest political offices in the history of the United States of America.
Her career journey dates back to 1976 when she was elected as a Democratic National Committee member from California. Nancy first became a member of the U.S. House of Representatives from California in 1987 following the death of Sala Burton. She represented the 5th district from that year to 1993, the 8th district from the latter year to 2013, and the 12th district since 2013.
Other notable political offices she has held include serving as the House Minority Whip from 2002 to 2003; Leader of the House Democratic Caucus since 2003, House Minority Leader from 2003 to 2007 and again from 2011 to 2019, and Speaker of the United States House of Representatives first from 2007 to 2011, and then since 2019.
Profile Summary of Nancy Pelosi
Full Name: Nancy Patricia Pelosi (

née

D'Alesandro)
Nationality: American
Place of Birth: Baltimore, Maryland, U.S.
Date of Birth: March 26, 1940
Age: 83 Years Old
High School: Institute of Notre Dame, Baltimore, Maryland
College: Trinity College, Washington, D.C. (BA Political Science)
Occupation: Politician
Political Party: Democratic
Mother: Annunciata M. "Nancy" D'Alesandro (née Lombardi)
Father: Thomas D'Alesandro Jr.
No. of Siblings: Six
Husband: Paul Pelosi (1963 – Present)
No. of Children: Five
The American Politician of Italian Descent Is 83 Years Old
You wouldn't have to search hard to find that Nancy Pelosi was born in Baltimore, Maryland. She was born on the 26th of March 1940 and is the youngest and only girl child of the seven children of Annunciata M. "Nancy" D'Alesandro (née Lombardi) and Thomas D'Alesandro, Jr. It is also not a secret that the famous American politician is of Italian descent and hails from a political family.
Reports have it that her mother is originally from Italy. From what we gathered, she was born in Fornelli, a comune located in the Province of Isernia in Molise, South Italy. It is said that she came to the United States of America sometime in 1912. Like her mother, Nancy Pelosi's father was also of Italian ancestry traced to Genoa, Venice, and Abruzzo. Hailing from a political family, Nancy got involved with politics when she was still a child.
Her father was a popular Democratic Congressman from Maryland when she was born and around the time she was seven or eight years old, he emerged as the Mayor of Baltimore. Little Nancy was often seen around her father at his campaign events. Her mother who was also active in politics and known for rallying Democratic women together reportedly taught Nancy the far-reaching benefits of social networking in politics.
Apart from her parents, she was also influenced by her late brother Thomas D'Alesandro III; a Democrat who served as the 43rd mayor of Baltimore from 1967 to 1971.
The congresswoman had her high school education at the Institute of Notre Dame which was a well-known Catholic all-girls high school in Baltimore. After this, she proceeded to Trinity College, a private university in Washington, D.C. where she bagged a degree in political science.
Nancy Pelosi Was Elected To Her First Political Position In 1976 When She Was 36 Years Old
The fact that Pelosi studied political science in college, amongst other things, suggests that she had already decided on what she wanted to spend the rest of her life doing around the time she graduated from high school. She dived right into politics after she graduated from college in 1962.
In the 1960s, she interned for Senator Daniel Brewster, a Democratic member of the United States Senate who represented the State of Maryland from 1963 to 1969. She volunteered for party events and political campaigns, working her way up the ladder and popularizing her name in Democratic politics.
The first major leap in her career came after she relocated to San Francisco and befriended Phillip Burton, the late American politician who was famous for serving as the United States Representative from California from 1964 until he passed in 1983. By 1976, Nancy has gained enough clout in Democratic politics that she was elected as a Democratic National Committee member from California. The following year saw her emerge as the party chair for Northern California and in 1981, she became the head of the California Democratic Party.
Nancy held this position until 1983 and became the chairwoman of the San Francisco Democratic National Convention Host Committee in 1984. Thereafter, she served as the Democratic Senatorial Campaign Committee finance chair; this was from 1985 to 1986. All of these positions prepared her to become a Member of the U.S. House of Representatives when the opportunity called for it in 1987.
She Was 47 Years Old When She Became a Member of The U.S. House of Representatives In 1987
It was on the 2nd of June 1987 that a 47 years old Nancy Pelosi assumed office as a member of the U.S. House of Representatives from California. As it played out, her friend Phillip Burton died in 1983 and was succeeded by his wife Sala Burton after she won a special election held that same year. After this, Sala won the 1984 and 1986 United States House of Representatives elections in California but declared that she wouldn't run for re-election in 1988 as she had been diagnosed with cancer in late 1986.
With that, she named Nancy as her successor and rallied the allies of the Burton family to support her when the time comes. As fate would have it, Sala passed on the 1st of February 1987, about a month after she was sworn in for her second term. A special election was held on the 7th of April that year to determine her successor and Nancy narrowly defeated late Harry Britt to emerge the candidate of the Democratic party. She then defeated Harriet Ross of the Republican party to take the office and represented the 5th district until 1993.
Pelosi Became The First Female Speaker of the United States House of Representatives at The Age of 66 in 2007
From 1993 to 2013, Nancy Pelosi represented California's 8th congressional district. It was within this time frame as a member of the U.S. House of Representatives that she first became the Speaker of the Houses. The first political office that nudged her towards speakership came in 2001 when she was elected the House Minority Whip.
It was a historic moment as she was the first woman in the history of the country to hold the post. The following year, Dick Gephardt who was the Minority Leader vacated the position to seek the party nomination for the 2004 presidential election.
With that, Pelosi was elected to replace Gephardt as the House leader of the party and she yet again, made history as the first woman to hold such a position in the United States. Following the November 7, 2006, United States House of Representatives elections, the Democrats picked up 30 seats which positioned the party to take control of the House. Given that Nancy Pelosi has been leading the party in the House, she naturally became the top candidate for the speakership position. Unsurprisingly, her party unanimously picked her for the position; this was on the 16th of November 2006.
On the 3rd of January 2007, she defeated John Boehner of the Republican party in the election for Speaker of the House and was sworn in by the dean of the House of Representatives at that point – late John Dingell of the Democratic party. As such, Nancy got recognized by history as the first woman to hold the speakership. She also became the first Italian-American and the first Californian to hold the office.
The Politician Was 78 Years Old When She Was Elected For Her Second Speakership
At the November 2010 United States House of Representatives elections, Nancy Pelosi's party lost 63 seats and control of the House of Representatives. So she returned to being the minority leader after defeating Heath Shuler in the caucus vote. After the 2016 presidential election, Tim Ryan sought to take over from Pelosi as House minority leader; this was in mid-November 2016. Towards the end of that month, Nancy soundly defeated him to retain the position.
Some members of her party agitated for her replacement after the party lost four consecutive special elections in the House in 2017. Nothing came out of this and Nancy served as the House minority leader consecutively from the 112th to the 115th Congress, spanning from 2011 to 2019. As fate would have it, the Democrats regained control of the House after the 2018 midterm elections held on the 6th of November 2018. On the 28th of that same month, she was nominated for her second speakership.
She was opposed by fellow Democrats who wanted a new generation of leadership but Nancy triumphed after she reportedly made a deal to not serve for more than four years. It was on the 3rd of January 2019 that she was re-elected to serve as the speaker of the United States House of Representatives. Thus far, Pelosi is the only woman to serve as speaker in the history of the country and it seems she doesn't have plans to retire from politics. It was reported in December 2021 that she announced she would run for re-election come 2022.
Nancy Pelosi Got Married To Her Husband At The Age of 23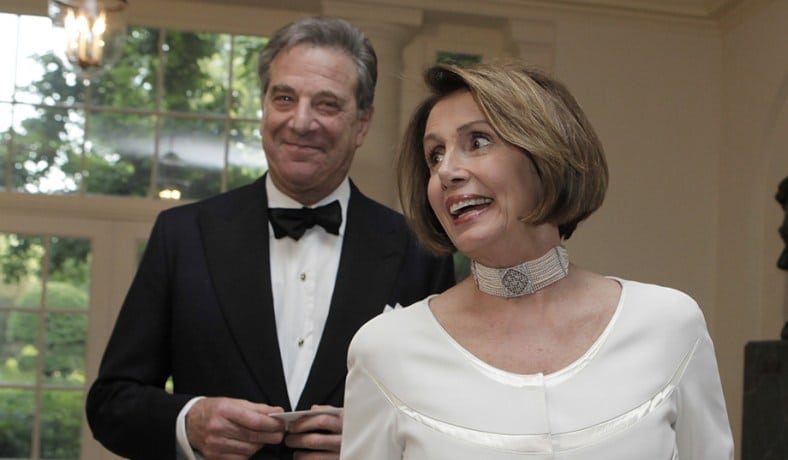 It's no secret that the veteran politician has a fulfilling family life, just as her career has been rewarding. She has been married to the husband of her youth for multiple decades and happily so. Nancy is married to Paul Francis Pelosi Sr. who was born on the 15th of April 1940. This means he is 83 years old and Nancy is three weeks older than him.
Paul was born and raised in San Francisco, California. While he is mostly known as the husband of the current U.S. House Speaker, Nancy Pelosi, he is a prominent businessman. Following his graduation from high school, Paul furthered his education at Georgetown University, a private research university in Washington, D.C. There, he obtained a bachelor of science degree in foreign service. He would later earn an MBA from the business school of New York University — Stern School of Business.
Nancy Pelosi's husband is the founder and owner of a popular real estate and venture capital investment/consulting firm called Financial Leasing Services, Inc. Reports have it that Paul and his wife have acquired riches estimated at around $114 million through the investment company based in San Francisco. Paul was also the owner of the Sacramento Mountain Lions, a defunct professional American football team that competed in the United Football League.
The Couple Met While Nancy Was a College Student and Got Married In September 1963
Although details of how they met and fell in love are sketchy, it is said that Paul and Nancy met while she was schooling at Trinity College. In 1962, the politician graduated from the aforementioned college, and the following year, she got married to Paul. The couple walked down the aisle on the 7th of September 1963 at the Cathedral of Mary Our Queen in Baltimore, Maryland.
After they got married, they decided to begin their life as a couple in New York but would soon relocate to Paul's hometown — they relocated to San Francisco in 1969 and still regards it as their home. Because of Nancy's career, they also have a home in Washington, D.C. It is said that Paul normally spends three weeks in San Francisco where he runs his business and dedicates every last week of each month to be with his wife in Washington.
By 2023, the couple would be celebrating 60 years in marriage. From what we know, theirs' have been a blissful union blessed with five kids.
Meet Nancy Pelosi's Five Children With Her Husband, Paul
The five children of the famous politician and her husband are Nancy, Christine, Jacqueline, Paul, and Alexandra. They also have at least nine grandchildren.
1. Nancy Corinne Prowda
Gender: Female
Date of Birth: Sometime In 1964
Age: 59 Years Old
Spouse: Theodore Jeffrey Prowda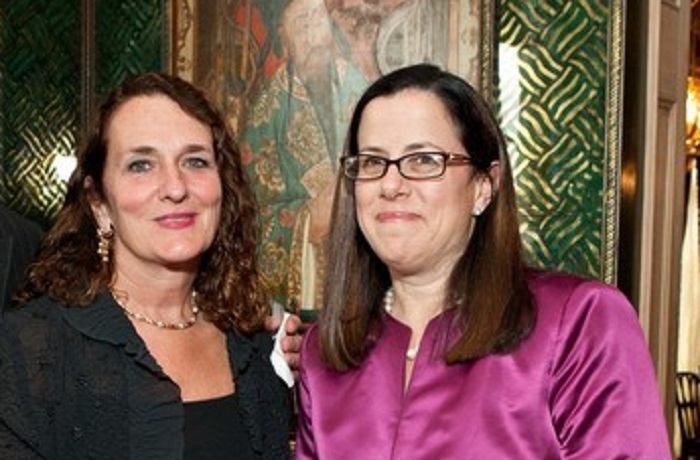 Nancy Pelosi gave birth for the first time when she was 24 years old, roughly a year after she got married. Although she was named after her mother, Nancy Corinne Pelosi who adopted her husband's surname in 2008, is one of the least popular kids of the famous politician.
Most people learned about Nancy Prowda when she commented on her mother's response to President Trump's cancelation of Nancy Pelosi's scheduled trip to a war zone after she stopped him from giving his State of the Union speech in the House while the government was shut down.
Nancy Prowda, from what we gathered, is college-educated. She graduated from Mount Vernon College and once worked as the director of group sales at the Fairmont Hotel located in San Jose, California. She has been married since the 8th of April 1995 to Theodore Jeffrey Prowda.
Fondly called Jeff, he graduated from the University of Denver and later obtained a master's degree in special education from the public university in St. Cloud, Minnesota – St. Cloud University. As of the time they got married, Jeff was reportedly working as an administrator of the special education programs in the San Francisco Unified School District.
2. Christine Paule Pelosi
Full Name: Christine Paule Pelosi
Gender: Female
Date of Birth: May 5, 1966
Age: 57 Years Old
Occupation: Political Strategist
Spouse: Peter Kaufman
The second child and daughter of Nancy and Paul Pelosi, Christine Pelosi was born about two years after the couple welcomed their first child. She was born in California on the 5th of May 1966 and is involved in politics like her mother.
Christine acquired a bachelor's degree from the school of international relations at Georgetown University — Edmund A. Walsh School of Foreign Service. After that, she obtained a Juris Doctor degree from a public law school in San Francisco, California — the University of California Hastings College of the Law.
One of the most famous children of Nancy Pelosi, Christine is often described as the person to carry on the political legacy of the Pelosi family. She sees herself as a "lifelong little-d democrat" committed to public advocacy and community organizing at the grassroots level. She has built a robust resume as a political strategist which includes serving as an Assistant District Attorney and Deputy City Attorney in San Francisco.
For at least 10 years, Christine served as the California Democratic Party Women's Caucus Chair. She has also served on the executive board of the National Federation of Democratic Women and has been a member of the Democratic National Committee Executive since 2017.
Also an author, she has co-written dozens of policy statements for the Democratic National Committee and has published three books: Boot Camp, Campaign Boot Camp 2.0, and The Nancy Pelosi Way. She has been married to Peter Kaufman since the 16th of February 2008. They have a daughter named Isabella and the family resides in San Francisco.
3. Jacqueline Pelosi
Gender: Female
Date of Birth: Sometime in 1968
Age: 55 Years Old
Occupation: Art Teacher
Spouse:

Michael Terence Kenneally
Jacqueline Pelosi is the third child and daughter of Nancy Pelosi. Apart from this fact, it is hard to tell anything else about her. She is the least popular child of the famous politician. Nonetheless, we can confirm that she works as a teacher at ArtMix Studio and has been married to Michael Terence Kenneally since 1993. They have at least three sons.
4. Paul Pelosi, Jr.
Gender: Male
Date of Birth: January 23, 1969
Age: 54 Years Old
Occupation: Business Executive
Paul Pelosi Jr. is the fourth child and only son of Paul and Nancy Pelosi. He was born in San Francisco, California, on the 23rd of January 1969 and also spent most of his early life there. To the best of our knowledge, Paul has not involved himself in politics in any significant way but has opted for a career as a business executive like his father.
He graduated from Georgetown University and worked as a principal in the corporate finance and institutional sales of Bank of America for five years; from 1996 to 2001. In November 2003, he became a loan officer for the bank's branch in San Francisco and held the position until August 2008.
He left Bank of America and joined WR Hambrecht + Co as an associate in March 2009; Paul worked here for over three years. From October 2017 to November 2018, he served as the chairperson of Freedom Leaf, Inc. in Las Vegas. Since 2019, he has been working as a business development specialist for ST Biosciences in New York City. That's not all; Paul Pelosi Jr. has been a board member of the Shanghai Sister City Committee since January 2020 and is also a strategic advisor to EVSX —an eco-mining and recycling company based in Quebec, Canada.
Considering his age, he is probably married and a family man but much isn't known about his private life.
5. Alexandra Pelosi
Full Name: Alexandra Corinne Pelosi
Gender: Female
Date of Birth: October 5, 1970
Age: 53 Years Old
Occupation: Journalist, Writer, and Filmmaker
Spouse: Michiel Vos
Probably the most famous of the Pelosi siblings, Alexandra Pelosi is the last child and fourth daughter of Paul and Nancy Pelosi. Like the rest of her siblings, she was born and raised in San Francisco, California. She graduated from the private Jesuit research university in Los Angeles – Loyola Marymount University. Alexandra acquired a Bachelor of Arts degree from the institution and proceeded to the USE Annenberg School for Communication and Journalism where she bagged a master's degree.
Alexandra is a writer but is mostly known as a journalist and documentary filmmaker. In the early days of her career, she worked for NBC News for about ten years as a field producer. It was from this that she morphed into a filmmaker. While covering the George W. Bush presidential campaign in 2001, she documented her experience on the campaign trail with a camcorder. The footage she captured was later utilized for a documentary titled Journeys with George which earned her nominations for no fewer than six Emmy Awards.
Since then, Alexandra has produced multiple documentaries, including Meet the Donors: Does Money Talk? (2016), The Words That Built America (2017), Outside the Bubble: A Roadtrip with Alexandra Pelosi (2018), and Goodbye Congress (2019). She has been married to Michiel Vos, a Dutch-American journalist, and lawyer since the 18th of June 2005. They have two sons together named Paul and Thomas.
Key Takeaways
What is Nancy Pelosi's Age?
Nancy Pelosi is 83 years old. She was born on March 26, 1940, and celebrates her birthday every 26th of March.
How Many Kids Does Nancy Pelosi Have With Her Husband?
She has five children with her husband Paul. Her children are Alexandra Pelosi, Paul Pelosi, Jr., Nancy Corinne Pelosi, Jacqueline Pelosi, and Christine Pelosi.
Who is Nancy Pelosi's Husband Paul Pelosi?
Paul Pelosi is an American businessman and owner of Financial Leasing Services, Inc., a real estate and venture capital investment and consulting firm based in San Francisco. He also owned the now-defunct Sacramento Mountain Lions of the United Football League.